Pros and Cons of Keeping Chris Johnson in Tennessee for 2013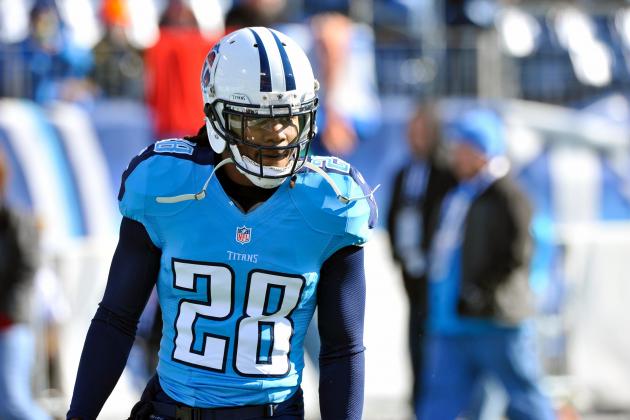 USA TODAY Sports

Bringing up Chris Johnson's name among those in the know is a surefire way to spark up a debate. At one point when his name was brought up, it was to argue who the best running back in the league was.
In the time since, the massive expectations of fans have left many unsatisfied with his consistency. The 2011-12 season called into question his desire and whether or nor he had lost the speed that made him great.
However, this past season has finally given us a full view of what Chris Johnson is, and he's been saying it all along, according to The Tennessean: "Like I've been saying all year, I'm going to be as good as my offensive line."
Begin Slideshow

»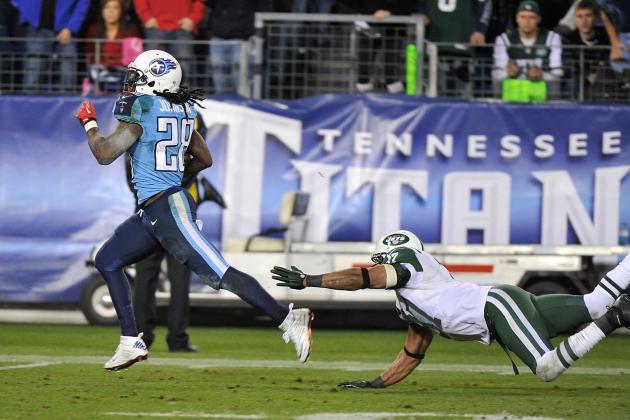 Frederick Breedon/Getty Images

While the Titans have attempted to step into the modern football world and equip themselves with the pieces for a more pass-heavy offense, the team's pass offense is still inept.
Jake Locker left a lot to be desired with his play throughout the year, as he seemingly got worse as the season wore on.
Nate Washington and Kendall Wright proved that they are both quality WR2s or WR3s, but Kenny Britt has his picture in Webster's next to "unreliable."
Britt's constant run-ins with the law show an extreme lack of maturity, and his inability to stay healthy make you question whether he's even worth the trouble anymore.
Having CJ2K on the team provides this young offense with the quick-strike ability it cannot seem to capture in its passing attack.
Johnson has the ability to take any run the distance at any point in the game. There are maybe two or three other running backs in the league capable of doing that.
If the Titans passing attack were the main focus of opposing defenses, it's scary to think how Locker would perform if there weren't eight men in the box half the game.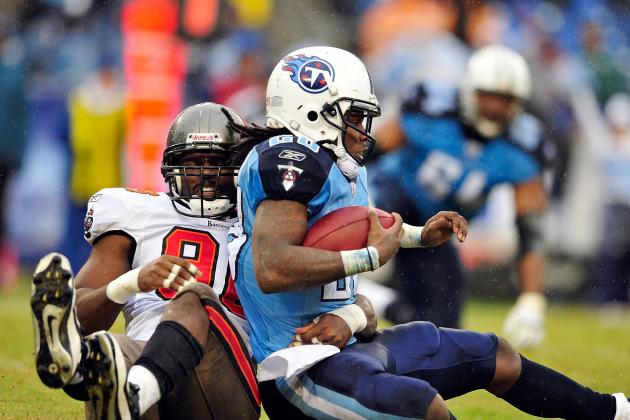 Grant Halverson/Getty Images

Like any other running back, Chris Johnson gets caught up in the backfield from time to time. The problem is that he doesn't get enough carries of the four to eight yard variety to counter them.
As quoted earlier, Johnson relies heavily on his offensive line to do all the work for him, while he just bursts through with his amazing speed.
He isn't a truly elusive back; instead, he relies much more on his straight-line speed to simply beat defenders down the field.
Think to yourself: When was the last time you saw him juke a defender and it worked?
Having Johnson on the Titans means that taking negative plays while he tries to hit home runs is the price that they have to pay for his big-play ability.
When the offensive line is elite, a la the Kevin Mawae days, CJ2K is a terror, but until the offensive line is fixed, he will continue to struggle with consistency.
Harry How/Getty Images

Although he may not make huge plays after the catch in the current offense, Johnson has been a very reliable receiver out of the backfield for the entirety of his career.
There are only a handful of feature backs in the NFL, and even fewer that can be can called legitimate receiving threats as well.
If the new coordinator would like to succeed next season, he would be wise to create some passing plays for the speedster.
Don McPeak-USA TODAY Sports

Despite the things that Johnson is capable of, running backs just aren't as valuable as they were eight to 10 years ago.
As I've said before, the NFL is a passing league now, and if Johnson is only going to be as good as his offensive line, then why not concentrate their efforts into building a decent O-line and put a cheaper option back there.
Johnson will be pulling in $10 million for the 2013 season, making him a $625,000 a game player. How can anyone justify paying him that much money when in just this most recent season, he wasn't even capable of rushing for more than 56 yards in eight games.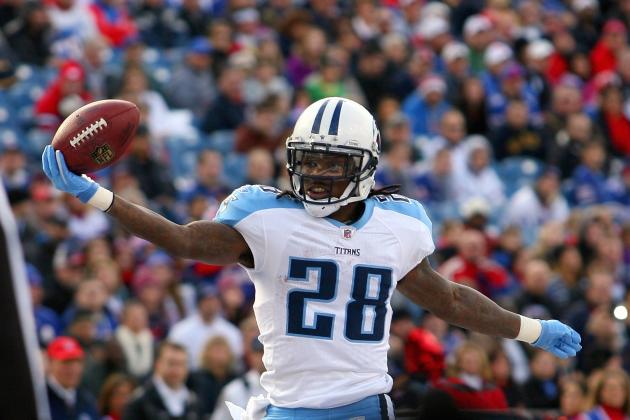 Rick Stewart/Getty Images

The Titans are a small-market team. We all know this. As a result, it's much more difficult to pick up appearances on the national stage if the team is not playoff quality.
It's even harder to appear on Sunday Night Football, Monday Night Football or Thursday Night Football without a star whom everyone across the country recognizes.
For the Titans, Chris Johnson is that player, and it will remain that way until they become a winning franchise again.
It may seem like a weak pro, but he's the sole reason the Titans get any national airtime. Accept it.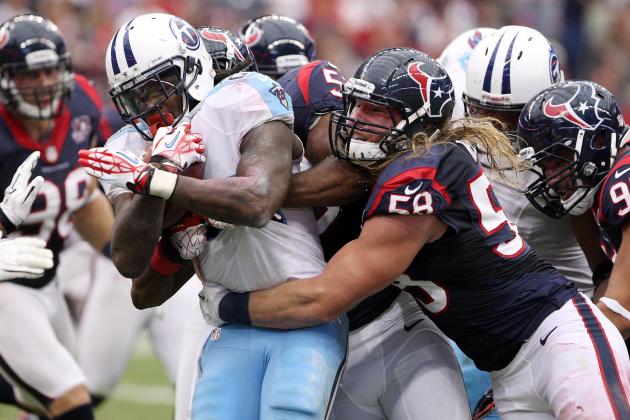 Troy Taormina-USA TODAY Sports

In Johnson's five-year career, the Titans have finished with a winning record twice. Both times happened to coincide with Johnson getting fewer carries.
Not only were they the two seasons he received the fewest carries, but 2011 was easily the worst season of his career.
The 2009 season continues to remain a major outlier in his career with 1,364 being his second-best season effort.
Like most stars, Johnson becomes a bit ornery when he doesn't get his touches, but with the way the NFL is headed, the focus probably shouldn't be on helping Johnson out so much anymore.