2013 NFL Draft: Riskiest Quarterback Picks in This Year's Class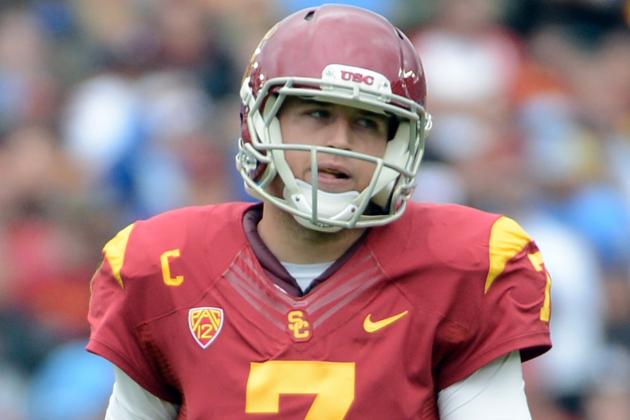 Harry How/Getty Images
Matt Barkley is among the riskiest NFL draft picks from this year's class of quarterbacks.
Since 1998, 12 quarterbacks have been selected with the No. 1 overall pick in the NFL draft, but the burning question about the class of 2013 is whether or not there will be any signal-callers selected in the first round.
The Kansas City Chiefs, Arizona Cardinals and New York Jets appear to be the three franchises in dire need of a game-changing quarterback, though several others could be eyeballing a talented rookie signal-caller.
"There's a very good chance none (go in the first round)," one team executive told NFL.com's Albert Greer last week. "I don't know who the top one is—total crapshoot. Geno (Smith)? (Matt) Barkley? (Mike) Glennon? (Landry) Jones? It's a toss-up."
Who are some of the riskiest quarterbacks teams could wind up taking? Click ahead to find out!
Note: Prospects are ranked based on the likelihood they will be drafted earlier than they should be and whether or not they will be able to make an impact for an NFL franchise as a rookie.
Begin Slideshow

»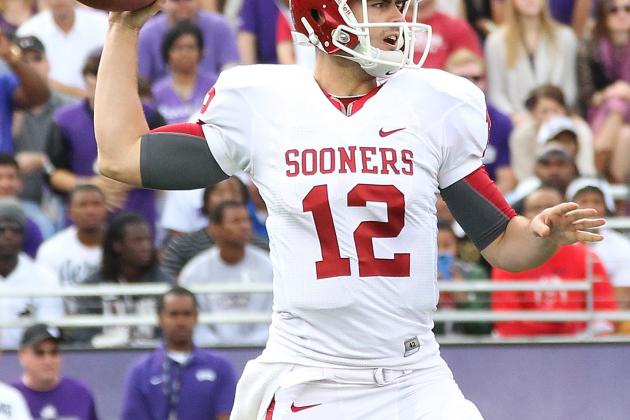 R. Yeatts/Getty Images
Landry Jones is a risky pick even for the third or fourth round of the draft.
Everybody loves a winner, and if that were the only criteria for quarterbacks entering the NFL draft, Landry Jones would be one of the first players at his position taken off of the board this April.
Jones amassed a 39-12 record over the course of his four-year career as the starting quarterback for the Oklahoma Sooners, in addition to piling up over 16,000 passing yards and 123 touchdowns during his time in Norman.
Those eye-popping statistics combined with his size, arm strength and reputation as a winner will make Jones attractive to teams looking for a quarterback in the middle rounds of the 2013 draft.
However, there are plenty of reasons NFL executives should be wary of taking Jones with anything higher than a fifth-round pick.
Jones threw 11 or more interceptions in every season of his college career, and didn't exactly face a high number of elite defenses in the Big 12 Conference. Additionally, Jones struggled in some of Oklahoma's biggest games and has a tendency to get rattled after taking a few hits or making a mistake.
At the end of the day, Jones is not a huge risk since he will likely be selected somewhere between the third and fifth round, which means whoever is drafting him won't lose much if his skills do not translate to the professional level.
Another mid-round quarterback that will be a hefty risk, Bray opted to declare for the 2013 NFL draft as a junior rather than return to play one last season with the Tennessee Volunteers.
Although Bray might very well have the best arm out of any quarterback in the upcoming draft class—to go along with his 6'6", 215-pound frame—there are major concerns about his decision-making both on and off the field.
Bray threw 12 interceptions this season, and only one of the teams against which he didn't turn the ball over finished with winning records. The Georgia Bulldogs, Alabama Crimson Tide, Florida Gators and Vanderbilt Commodores combined to pick Bray off nine times.
The Kingsburg, Calif. native's maturity is the biggest red flag for executives around the league right now, though. Bray had an incident involving a jet ski last August and made the "real stupid decision" of throwing beer bottles and golf balls onto the windshields of parked cars from the balcony of his apartment in July.
Given how weak this year's class of quarterbacks looks right now, Bray could wind up being a second- or third-round pick with an impressive showing at the NFL combine.
Much like a team that takes Landry Jones, whichever franchise opts to draft Bray will not thrust him into a starting role right away, so it would be only be a medium-level risk compared to a very high reward if he is able make better decisions as a professional quarterback.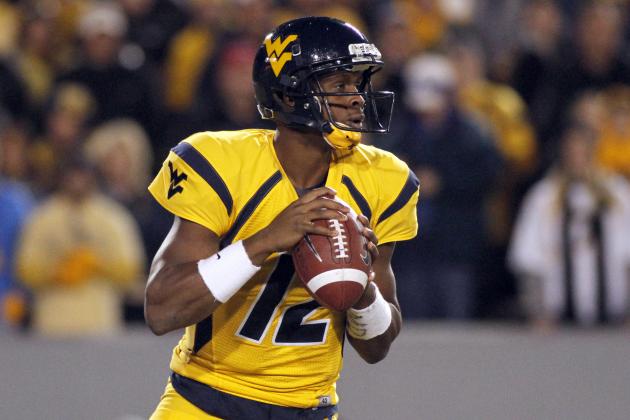 Justin K. Aller/Getty Images
Geno Smith looks like the quarterback most likely to pan out at the next level.
The quarterback most likely to have success at the NFL level is Geno Smith of the West Virginia Mountaineers, but is he really worthy of being taken with the No. 1 overall pick or even being selected in the first round of the draft?
Unfortunately for teams in the top half of the draft, Smith is not the type of can't miss signal-caller Andrew Luck or Robert Griffin III were coming out of college.
Smith completed 71 percent of his passes in 2012, has a quick release and has proven he can take care of the football as demonstrated by his 20 interceptions in his three years as a key contributor to West Virginia's offense.
The 6'3", 220-pounder's athleticism will help him extend plays with his feet at the next level, though there are some concerns as to whether or not Smith will be able to play in a pro-style offense.
Smith would be a safe pick in the early portion of the second round, but he isn't ready to be a starting quarterback as a rookie and becomes a risky prospect if he is taken by a struggling team in the first round of the draft.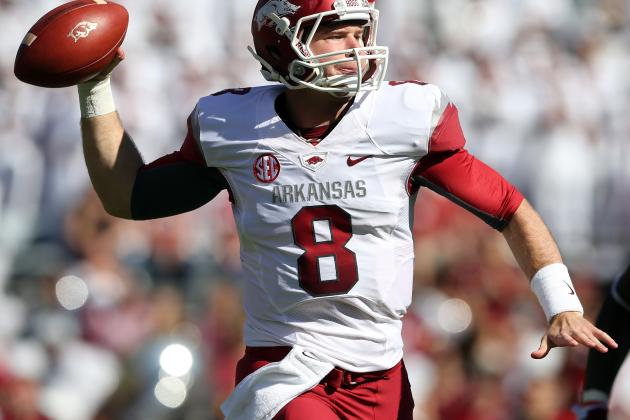 Streeter Lecka/Getty Images
Tyler Wilson has seen his stock drop over the past year at Arkansas.
Another quarterback prospect that could be either the first player taken at his position or drop out of the first round is Tyler Wilson from the Arkansas Razorbacks.
The Greenwood, Ark. native saw his passing yards and touchdowns dip this season, while his interceptions rose.
Wilson's size is not overly concerning, especially considering the toughness he displayed over the past two seasons with a mediocre offensive line blocking for him. Since 2011, Wilson has been sacked 40 times, but the added pressure did give him a chance to show off his ability to throw on the move.
This is an area where Wilson draws some praise from NFL scouts, though it is more than neutralized by his spells of inaccuracy, "loose" footwork and awkward mechanics.
Wilson would not be much of a risk as a late-round pick, but he will be taken much higher than he should be with the lack of quality quarterbacks in the 2013 draft class, which is why the 6'2", 210-pounder is an extremely dangerous prospect.
Doesn't it seem like we've heard some stories similar to Matt Barkley's over the past decade? A record-breaking quarterback that won a bunch of games, garnered plenty of Heisman Trophy consideration during his time with the USC Trojans—but couldn't hack it in the NFL?
If you're nodding in agreement right now it's because Carson Palmer, Mark Sanchez and Matt Leinart all had intangibles and a skill set similar to Barkley when they came out of USC.
After returning for his senior season with the Trojans, Barkley struggled with his decision-making and threw a career-high 15 interceptions after only tossing seven picks in 2011.
Barkley has a great arm for the college level, but he is not going to wow a lot of NFL scouts with his throwing power. There are also some concerns about Barkley's durability since he missed time in three of his four seasons with the Trojans.
Much like Sanchez, Barkley is not going to be a franchise quarterback at the professional level and will require a lot of help on both sides of the ball to have a successful run as a starter—something a team in the early portion of the first round will be unable to provide him.
If Barkley manages to fall to the second round of the draft he will not be a very risky pick, but there might be a desperate team looking to make a splash by taking a quarterback with their first pick, which is not the type of situation that will benefit the 6'2", 220-pounder.