5 Key Position Battles for the Seattle Mariners in 2013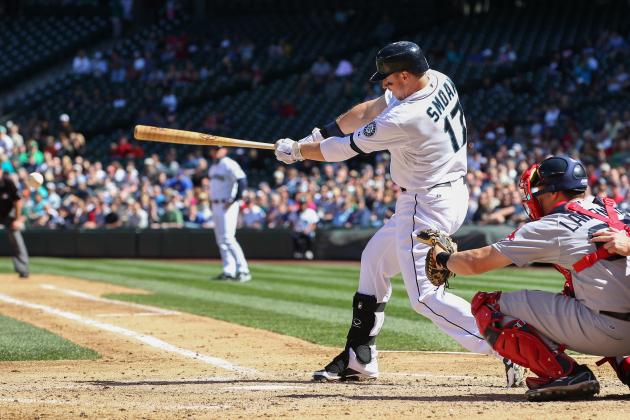 Otto Greule Jr/Getty Images

The Seattle Mariners will have a lot of choices at several different positions in 2013.

Sometimes, having many choices is a good thing. Unfortunately, having choices can also mean that there is not a clear favorite. When it comes to the Seattle's lineup, this is an unfortunate reality.

In theory, someone could step up and definitively claim certain roles. Then again, Seattle may be in an awkward situation if a bevy of players put together unspectacular performances in spring training.

Determining certain positions will have a direct impact on others as there are players who can theoretically play multiple positions. Only time will tell which domino will fall first and which dominos will get pushed aside.

The hope is that clear winners will step forward, grab the jobs and lead Seattle to victory in 2013. Where are the biggest battles? Here are a few spots to watch as players start swinging in Arizona.
Begin Slideshow

»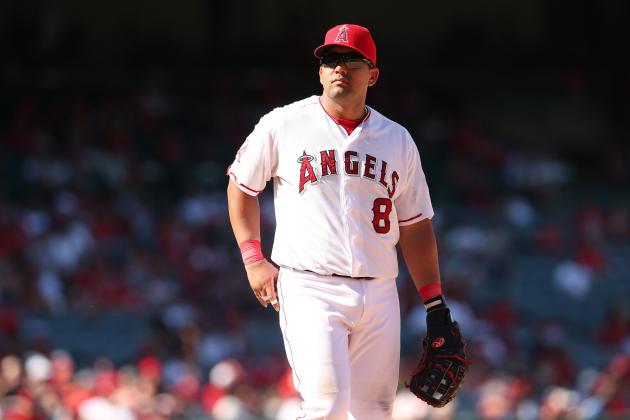 Stephen Dunn/Getty Images

Potential players: Kendrys Morales, Justin Smoak, Mike Morse and Raul Ibanez

On paper, Kendrys Morales may be first baseman based on prior experience and production with the bat. This may be the first domino to fall, particularly since Justin Smoak is in that odd category of being a "hot young prospect" who is almost out of chances.

If Smoak hits well in the spring, he may compete for time at first base. Or, Morales and Smoak may trade time between first place and designated hitter. At this point, Smoak may be fighting for his future with the Mariners regardless of which position he plays.

Morse played mostly outfield in 2012, but he played 85 games at first base in 2011. Given that Morse is not exactly regarded as a star defender in the outfield, Seattle may be concerned about having him roam the wide-open spaces of Safeco Field.

Unfortunately, putting Morse at first could crowd an already crowded position.

Raul Ibanez may spend his time splitting between outfield and DH, but he could also be a substitute at first base. If the 40-year-old Ibanez hits with any consistency, there may be value in limiting his play in the field. Granted, the most that Ibanez has ever played at first base was 49 games, and that was in 2002.

Oh, and you could probably throw Mike Carp in there as well, just to complicate matters.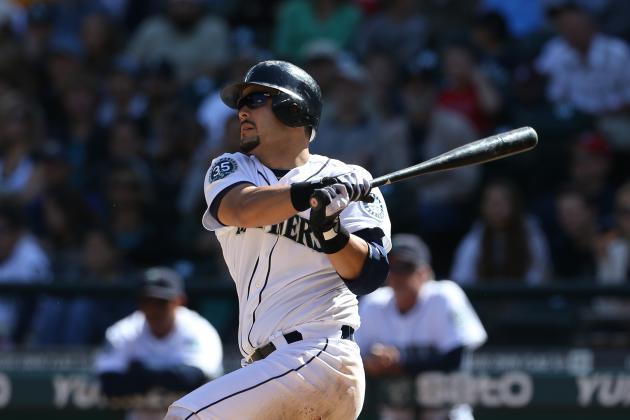 Otto Greule Jr/Getty Images

Potential players: Jesus Montero, Mike Zunino and player-to-be-named

This is going to be Jesus Montero, right? Yes, probably.

Why are we discussing catcher? After all, John Jaso is gone and Jesus Montero is currently the most viable catcher on the roster.

The challenge is that Montero is not the best defensive catcher ever to put on the gear. That, combined with his potential ability with the bat, may lead management to move him out from behind the plate.

Fans will conclude that this clears the way for prospect Mike Zunino to share time behind the dish in 2013. This is fine, assuming Zunino is actually ready for the big club. However, excitement about a top draft pick and readiness for the big time are two different things.

If the soon-to-be 22-year-old can hit at the major league level, there may be some split time between Zunino and Montero at catcher. Otherwise, Seattle may need to sign a veteran backstop and sacrifice some offensive productivity.

Player-to-be-named later?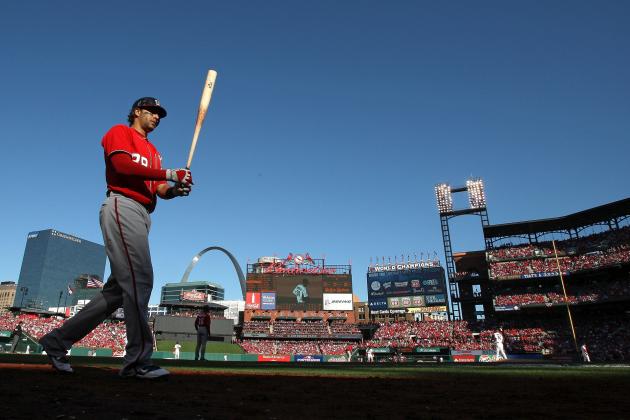 Jamie Squire/Getty Images

Potential players: Kendrys Morales, Justin Smoak, Jesus Montero, Mike Morse, Raul Ibanez and Jason Bay.

This is where it could potentially start to get a little complicated.

In theory, the designated hitter is a position where you put a valuable bat or a defensive liability. Or, both. If Morales is at first, Smoak may DH. Then again, if Montero is out from behind the dish, he may DH. Or, maybe Smoak will play first and Morales will DH, unless Montero is DHing that day.

Confused yet?

This may be a revolving position depending on other positions in the lineup. Adding Mike Morse will make it more complicated because, as mentioned, Morse is not regarded as a great outfielder. Therefore, his bat may put him in the lineup, but if first base is occupied, he could be the DH on some cards.

There is also the possibility that Raul Ibanez or Jason Bay could see a few games at DH, but that might be more likely in a spot start or pinch-hitting situation.

Tough decisions abound.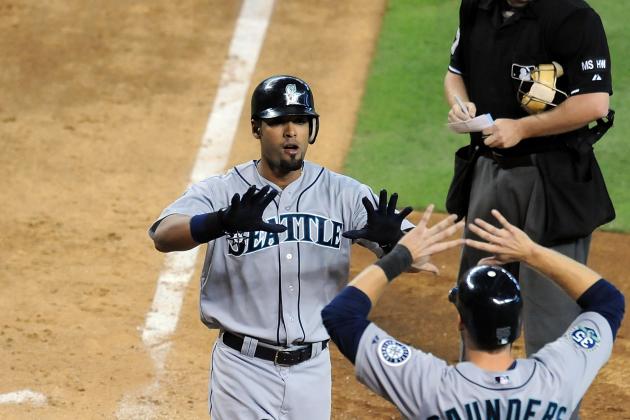 Norm Hall/Getty Images

Potential players: Raul Ibanez, Franklin Gutierrez, Michael Saunders, Jason Bay, Carlos Peguero, Mike Carp, Mike Morse, Casper Wells, Eric Thames, Alex Liddi, Johermyn Chavez and assorted minor league prospects.

Oh boy. Where do you start?

There are obviously specific positions in the outfield, but it is fair to suggest that the outfield is fairly wide open. Sure, there are players like Franklin Gutierrez and Michael Saunders who should be starters.

Should.

If Saunders falters at the plate or Guti struggles with health (again), it could be open season in the Seattle outfield. There are clearly questions throughout the list.

Can Casper Wells hit consistently? Does Raul Ibanez have anything left? Jason Bay...uh, same question. Will Carp or Peguero ever have breakout seasons? Is Michael Saunders on the cusp of greatness, or already at the peak of his potential?

Questions, questions. Get ready for some interesting position battles in the open grass.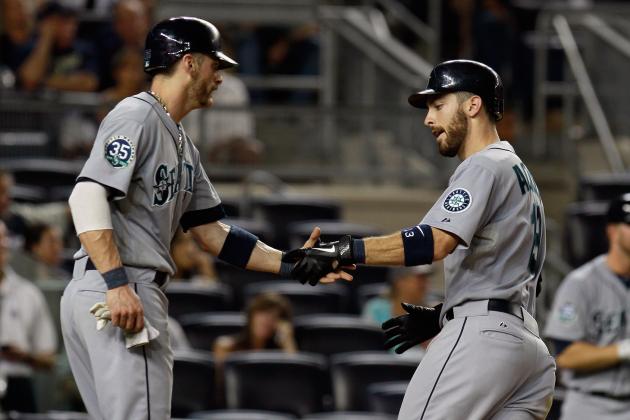 Mike Stobe/Getty Images

Finally, there is the middle of the infield. These are obviously two positions, but one may impact the other.

The addition of Robert Andino means that there will be a battle at shortstop as Brendan Ryan will be fighting for playing time. It would be even more complicated if Munenori Kawasaki was still with the team. What happens if Nick Franklin comes to camp and starts to look like a viable major leaguer?

This is where it could get complicated. Franklin may not be ready but if he is, he will compete with the veterans for a roster spot. The other interesting factor is that Franklin has been playing some second base in the minors.

In theory, Dustin Ackley could have second base locked up for the next decade. Unfortunately, Ackley took a step back in 2012, as the young infielder hit .226 in his first full season. Ackley hit .273 in 90 games during 2011 so there were high expectations. Therefore, if Ackley continues to struggle at the plate, there may be reason to give Franklin time at second base.

Decisions, decisions. It should be a very interesting spring for the Seattle Mariners.

Follow @tpheifer