Updated NBA Superstar Rankings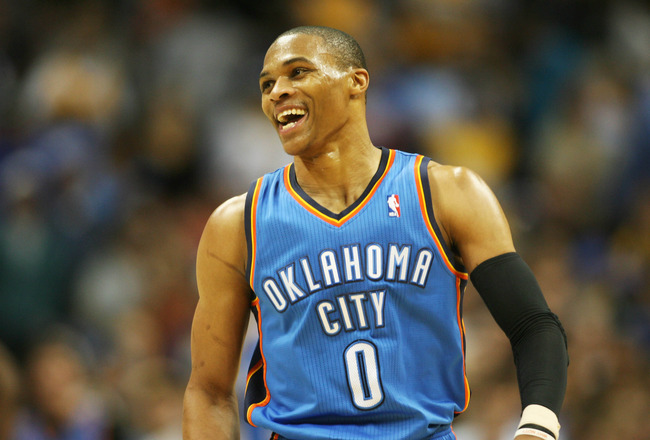 USA TODAY Sports
The 2013 All-Star Game is fast approaching, and as they do every season, the NBA's superstars have differentiated themselves from the pack with their stellar play. However, not every superstar is created equal, and the only way to truly evaluate the play of the Association's elite is to compare them with one another.
Some usually stellar players have actually had relatively down years, while others have had unexpected resurgences or added new facets to their game.
This league is constantly improving, and for a player to remain a superstar he must be able to not only consistently dominate his competition, but also help this team win basketball games in any way possible.
With the 2012-13 campaign roughly halfway over and plenty of evidence to go on, here is a ranking of the top 10 superstars in the NBA based on their performance this season.
Statistics courtesy of ESPN.com (accurate as of January 21, 2013), and advanced statistics courtesy of Hoopdata.com.
10. Dwyane Wade, Miami Heat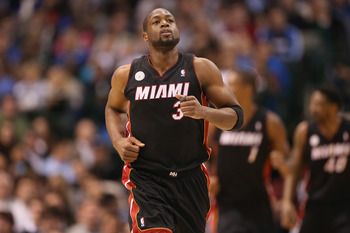 Ronald Martinez/Getty Images
The Miami Heat's Dwyane Wade remains a superstar in this league, but he has not been playing his best basketball in 2012-13, which can largely be attributed to a handful of injuries hampering him.
Wade is still putting up sensational numbers of 20.1 points, 4.6 rebounds and 4.4 assists per game on 50.6 percent shooting from the field, but he has simply not been the same dominant athlete he was in the early portion of his career.
At times Wade can show flashes of his old self—slashing to the hole, locking down the perimeter defensively and handling the ball like a point guard—but he has also become prone to disappearing on the court and making some uncharacteristic mistakes.
His explosiveness is beginning to decline, and he is not as adept at getting to the rim. His 5.5 shot attempts at the hoop are his lowest since the 2005-06 campaign.
Wade remains a top 2-guard in an NBA devoid of many elite players at the position. That being said, this is a down year for the Marquette product, and that's reflected in his ranking.
9. Dwight Howard, Los Angeles Lakers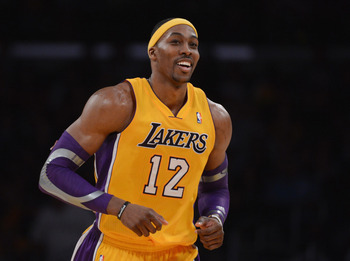 Harry How/Getty Images
Dwight Howard was expected to lead the Los Angeles Lakers back to the top of the Western Conference from day one, but his new team has struggled mightily, and Howard has not looked nearly as sharp as in years past.
Coming off offseason back surgery and a shoulder injury midway through the year, Howard is not moving around on the court as well as he did with the Orlando Magic and has not been the same dominant presence defensively.
His averages of 17.1 points, 12.3 rebounds, 1.7 assists and 2.5 blocks per game on 58.2 percent shooting are still sterling, but Howard is not taking over games as easily as he once could.
To make matters worse, his anemic free-throw shooting (50.4 percent in 2012-13) allows teams to hack him consistently and keep the ball away from the Lakers offense.
His post game has developed somewhat, but he is still far from a polished offensive player, and though he remains an elite shot-blocker, Los Angeles' opponents are finding more open lanes to the basket. He has not been quite as effective of a help defender as he was in the past.
L.A. has time to turn around its season, and in order to do that Howard needs to kick his play up one more gear, even though he is likely the NBA's best center.
8. Tim Duncan, San Antonio Spurs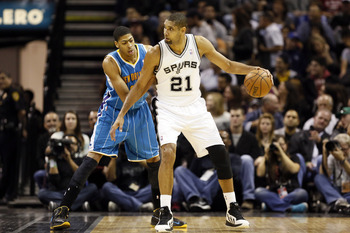 USA TODAY Sports
Easily one of the most surprising storylines of the NBA season has been the resurgence of Tim Duncan. The San Antonio Spurs power forward has had an absolute renaissance and appears poised to lead his squad deep into the postseason once again.
Duncan is playing like a younger version of himself, posting 17.5 points, 9.8 rebounds, 2.8 assists and 2.7 blocks per game on 50.5 percent shooting from the floor. His minutes are slightly higher than they were in 2010-11 or 2011-12, but only marginally so.
He remains one of the game's top post defenders and has been revitalized as a shot-blocker. He is rotating faster, playing outstanding help defense and keeping opponents from driving the lane consistently.
His most noticeable change from last season has been on the offensive end, though, as Duncan has been looking for his shot more often and knocking it down when he does.
He is taking more shots at the rim than he has since 2008-09 and is hitting them at an impressive 71.7 percent. His post moves remain reliable, and he can knock down the mid-range jump shot to keep a defense honest.
Whether he can sustain this level of play will be key as the season wears on, but Tim Duncan has been nothing short of sensational.
7. James Harden, Houston Rockets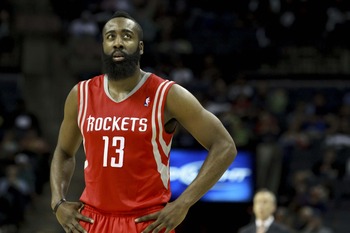 USA TODAY Sports
Everyone expected James Harden to have a breakout year as the Houston Rockets' go-to scorer, but no one quite expected him to play the kind of sensational basketball that he has for this young but dangerous club.
Starting after three years as a sixth man, Harden may not be especially quick or strong, but he is an exceptionally savvy player who knows how to create quality shots and knock them down.
Harden's presence has vaulted the Houston Rockets into the Western Conference's playoff picture, as he has been averaging 25.9 points, 4.5 boards and 5.4 assists per game while shooting 43.3 percent from the field and 32.4 percent from distance.
He has been less efficient than during his Sixth Man of the Year campaign, but that typically happens to players when they go from being a second or third option to a first.
What is most staggering about Harden's game is the way he plays. He rarely takes a mid-range jump shot or tough shot in the lane; his game consists of good looks from three-point range and layups.
He has a quick first step and a handle that allows him to drive the ball and collapse a defense to find open teammates.
Harden's defense leaves a little to be desired given his talent level, but the fourth-year 2-guard is posting a career-best PER of 22.3 and has emerged as a franchise player for the Rockets.
6. Russell Westbrook, Oklahoma City Thunder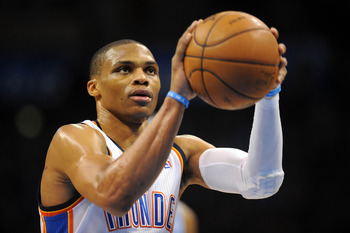 USA TODAY Sports
In the wake of Harden's departure, Russell Westbrook has stepped up in a major way for the Oklahoma City Thunder and may be having the best campaign of his young career. Westbrook is playing more of a pure point guard role and has emerged as one of the game's most versatile players.
He is posting 23 points, 5.3 boards, 8.3 assists and two steals per game, although his 42.1 percent shooting from the field and 33.9 percent from three do hurt the team at times.
Westbrook has demonstrated great growth in 2012-13. He forces the issue less, finds open teammates and has taken slightly better care of the ball than in seasons past.
However, he needs to work on his shot and had a particularly rough time shooting the ball in the month of December. He is one of the most aggressive scorers in the game, but that can lead him to make some questionable choices.
Defensively, Westbrook causes havoc thanks to his quickness and athleticism, but he gambles too often on steals, which results in his assignment having an easier time driving the ball. He is quick enough to stay in front of anyone in the league but simply needs to become more disciplined.
Despite these shortcomings, there is plenty to like about the maturation of Russell Westbrook. The Thunder have not missed a beat since dealing Harden, and the improved play of their star point guard has been instrumental in that.
5. Chris Paul, Los Angeles Clippers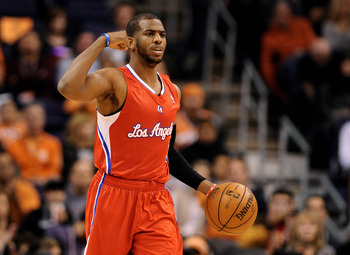 Jennifer Stewart-USA TODAY Sports
Looking purely at statistics, Russell Westbrook clearly seems like the better player compared to Chris Paul, but anyone who has watched a Los Angeles Clippers game knows that is not necessarily the case.
Paul's numbers are strong—16.6 points, 3.5 rebounds, 9.7 dimes and a league-leading 2.6 steals per game on 47.3 percent shooting from the field and 34.7 percent from three-point territory are nothing to scoff at—but he has contributed in other ways as well.
He remains quite possibly the game's best facilitator; he has unparalleled court vision and always manages to make the right pass to find an open teammate. Paul rarely forces things and makes his assignment work for every shot that he gets.
His shooting remains stellar for a point guard because he takes shots in the rhythm of the offense, and he is creating 4.4 assists directly at the rim, an outstanding number.
Defensively, he is one of the game's tougher point guards despite his relatively small stature. He stays in front of his man, knows how to jump into passing lanes and stays aggressive throughout the course of the contest.
Playing just 33.5 minutes per game due to the Clippers' depth, Paul has brought a sense of selflessness to this team that makes the Clippers incredibly dangerous. They play for each other, share the ball and are as lethal as anyone when running the break in transition.
4. Kobe Bryant, Los Angeles Lakers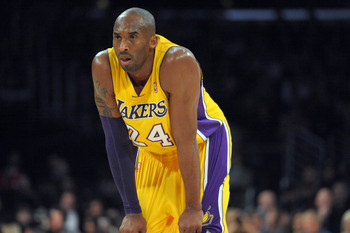 USA TODAY Sports
The Lakers' losing ways certainly hurt Kobe Bryant's stock, but there is no denying that the 34-year-old shooting guard is having an unbelievable 2012-13 season. He ranks second in the league in scoring and is doing everything he possibly can to keep this Los Angeles team afloat in a brutal Western Conference.
Kobe is averaging 29.2 points, 4.9 boards and 4.8 assists per game on impressive 46.4 percent shooting from the field and 35.3 percent from three-point range while playing nearly 39 minutes per night.
Bryant is having one of the most efficient seasons of his storied career. He is taking high-percentage shots, including 5.4 attempts per night at the rim, drilling his outside shots and not jacking up ill-advised attempts as regularly as he used to.
His PER of 23.4 is his higher than his PER of 21.9 in 2011-12.
Yes, Los Angeles is not necessarily winning when Bryant drops gaudy stat lines, but he has been practically unguardable, even at his age. Bryant has a lethal post-up game, can knife his way into the lane and is always capable of selling contact and finding his way to the charity stripe.
He is no longer one of the game's top wing defenders, but he is incredibly solid and cagey, making him tough to score on despite losing some quickness.
Bryant is thriving offensively under Mike D'Antoni, knocking down open perimeter shots and also finding himself with more room to work alongside Dwight Howard and Steve Nash.
His team's defense leaves plenty to be desired, but L.A.'s offense, led by Kobe, remains one of the most dangerous in the game.
Unfortunately, his individual brilliance has not translated into many Lakers wins, and Bryant's frustration is growing increasingly apparent with each loss.
3. Carmelo Anthony, New York Knicks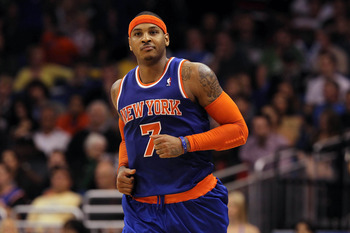 Kim Klement-USA TODAY Sports
The New York Knicks have cooled down somewhat since a blistering start to their 2012-13 campaign, but superstar Carmelo Anthony continues to play easily the best basketball of his career. Anthony has emerged in his second full season with New York as the franchise scorer the team hoped for when it broke the bank trading for him back in 2011.
Finally handed the keys to an offense that suits his style of play, 'Melo is averaging 29.2 points, 6.0 rebounds and 2.6 assists on 45.6 percent shooting overall and 42 percent from three-point territory for coach Mike Woodson.
Carmelo is as versatile of an offense player as they come. He can post up and back down his assignment, splash shots from outside and bully his way to the rim and the charity stripe as well. What has been most impressive about Anthony this season, though, has been the other aspects of his game.
Often criticized for his shot selection, Anthony is taking plenty of high-percentage shots but also encouraging ball movement and making the extra pass to find the open man. No longer does a possession that starts with 'Melo always end in him taking a questionable shot.
Defensively, he is sticking closer to his man, putting in more consistent effort and proving to be capable of covering both small forwards and power forwards fairly effectively. He may never be an elite defender, but he is finally playing solid two-way basketball.
His 25.2 PER is easily the highest of his career, and he has finally led New York back to relevance in the Eastern Conference after years of mediocrity.
No wonder people consider Carmelo a legitimate candidate for MVP.
2. Kevin Durant, Oklahoma City Thunder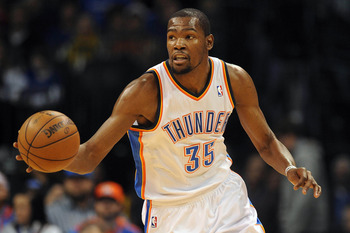 USA TODAY Sports
Fresh off a heartbreaking loss in the 2012 NBA Finals and a successful run with Team USA, many expected Kevin Durant to take his game to a new level in the 2012-13 season.
That has certainly been the case thus far, as the sixth-year forward has played his best all-around basketball and led Oklahoma City to the top of the Western Conference.
Durant is averaging an absurd 29.5 points, 7.5 rebounds and 4.2 assists per game for the Thunder while shooting 51.6 percent from the field and 40.4 percent from three-point range. He is yet again leading the league in scoring.
At the moment he appears poised to join the exclusive 50-40-90 percentages club and has improved not just as a scorer but also as a complete player.
Durant can seemingly create any shot he wants in the course of the game; his outside shot is deadly, his handle is solid and he needs just a sliver of light to raise up and connect on an open shot. There is no team in the league that can shut Durant down, as he has shown the ability to absolutely torch defenses and make them pay from the foul line.
He has excelled in the point forward role, doing more playmaking for his team and handling the ball a good amount. Despite being 6'10", Durant has excellent floor vision and has been more willing to dish the ball off to an open teammate when defenses collapse on him.
He is not the strongest forward in the league, but he uses his body and long arms to attack the glass and to contest shots. He has made great strides as a defender, and teams can no longer pick on him on that end of the court.
Durant has the quickness of a guard but the size of a power forward, a rare combination that makes him one of the most unique players to contain in the league.
His 29 PER is the highest of his career, and at just 24 years old he will do nothing but improve in the future.
Still, there is just one superstar in this league who shines brighter than KD...
1. LeBron James, Miami Heat
Ed Szczepanski-USA TODAY Sports
That man, of course, is the Miami Heat's LeBron James. James has carried the momentum of his first NBA championship into the 2012-13 season, having yet another brilliant campaign and playing the game as well as anyone ever has.
James is posting 26.3 points, 8.1 rebounds and seven assists per game while shooting a blistering 55 percent from the field and 40 percent from beyond the arc. He remains the NBA's most versatile player; someone legitimately capable of playing every position on the floor and taking over the game in a myriad of different ways.
Because of his strength and ability to drive the ball, he can score almost at will by penetrating the lane, but he has boasted a considerably improved outside shot. Daring James to shoot from the perimeter used to be the best way to take him out of the contest, but now he is making defenses pay for playing off him.
The Heat have their issues, chiefly rebounding and playing defense, but James is doing both at an incredibly high level. His strength prevents bigger players from taking advantage of him physically, and he has the quickness to cover ground and shut down wings to boot.
Spending more time at power forward, James remains as talented a facilitator as they come, but he is putting more of an emphasis on playing in the paint and attacking the glass. His 8.1 rebounds are a career best.
His 2.8 turnovers per game are a career low, and he is doing a phenomenal job of playing defense without fouling so that he can stay on the court and be aggressive.
James is not a lock to win the 2013 MVP Award, but one would be hard pressed to make a case that any player in the league is performing at a higher level than he is.
Keep Reading