Catching Up on the MAAC: Updates on Midseason Award Races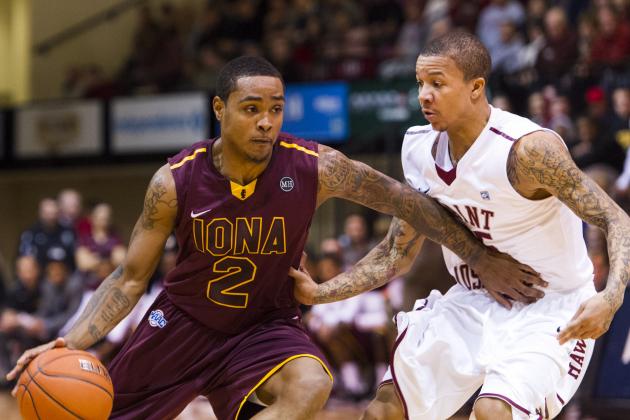 USA TODAY Sports

So far, every team in the MAAC team has played eight games, and the race for the conference title is tight.
At 7-1, Niagara is in first place, but the Purple Eagles' lead is only one game. Right behind them are Loyola (MD), Iona and Rider.
Nearly halfway into the conference schedule, the difference between first place and fifth place is only two games.
With February nearing, the time has come to look at how the various award races in the conference are shaping up, including Player of the Year, Freshman of the Year, Coach of the Year and more.
Begin Slideshow

»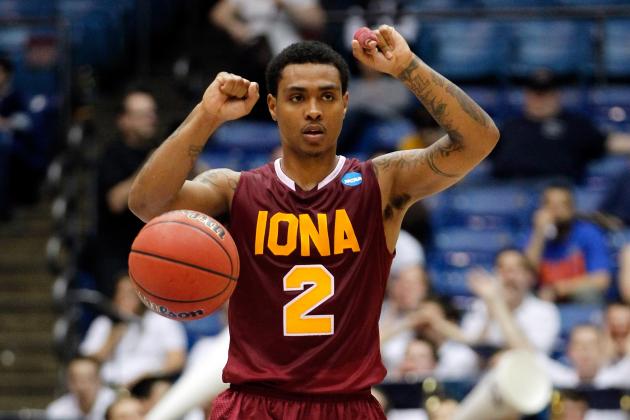 Gregory Shamus/Getty Images

Momo Jones, Iona
Jones has been nothing short of spectacular in his senior season. HIs 22.2 points per game lead the MAAC and are good enough for No. 4 in the nation. Meanwhile, he is shooting a conference-best 89.4 percent from the foul line while also averaging 4.1 assists and 1.3 steals per contest. Jones is the most valuable piece to Iona's success.
Billy Baron, Canisius
Baron, who followed his father, Canisius head coach Jim Baron, from Rhode Island to Buffalo, immediately became a sensation in the MAAC, and he has been an integral part of the Golden Griffins' outstanding turnaround. Baron leads the conference in assists with 5.7 dimes per game, and he is also No. 5 in the MAAC with 16.4 points. He is also No. 10 in three-point shooting, draining triples at a 39.8 percent clip, and his 4.6 rebounds per contest put him in the top 20.
Erik Etherly, Loyola (MD)
Etherly was a hot pick for Player of the Year in the preseason, but the senior has been hampered by an injury that has made his season slightly disappointing. Although he is averaging career highs of 15.4 points and 1.4 steals per game, his rebounds, assists, blocks and field-goal percentage have all fallen. However, Etherly has been much better since returning from the injury. In his first five MAAC contests, he is averaging 17.6 points and six rebounds.
O.D. Anosike, Siena
Anosike is not the most talented forward in the conference, but his numbers the past two seasons have been phenomenal. After averaging a double-double last season while leading the nation in rebounding, Anosike is repeating those accomplishments this year. With 11.6 rebounds per game, he is No. 3 in the nation and easily No. 1 in the MAAC. His 13 points per game put him at No. 12 in the MAAC, and he is second in field-goal shooting at 52.9 percent.
Sean Armand, Iona
Armand has had a breakout season as he has emerged as Iona's No. 2 option after Jones. The junior is averaging 18.9 points, 5.5 rebounds, 3.1 assists and 1.3 steals while shooting 43.6 percent on three-pointers. Armand has been quite reliable this season after a streaky sophomore year, scoring in double figures in all but one contest and reaching at least 20 points six times.
Juan'ya Green, Niagara
Green received some national attention last season after being the No. 2 scorer among freshmen with 17.7 points per game. This year, Green's scoring is down to 16.2 points, but he has become a better all-around player with 4.6 assists and only three turnovers per contest compared to last year's 3.5 giveaways. Green is also shooting 43.1 percent from the field and 37 percent from beyond the arc.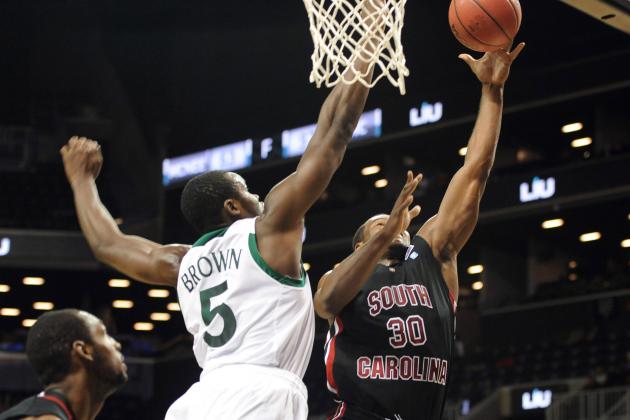 USA TODAY Sports

Rhamel Brown, Manhattan
Just like last season, Brown is running away with the Defensive Player of the Year award. He is leading the conference with 2.7 blocks per game, which is also good for No. 23 in the nation, and 1.3 steals to stand at No. 13 in the conference. Most impressively, his block percentage is No. 9 in all of Division I. This award race is Brown's to lose.
David Laury, Iona
Laury has made a huge impact for Iona in his first season. In addition to averaging a double-double, he is blocking 1.7 shots per game and swiping 1.4 steals. In a win over Fairfield last week, Laury blocked a career-high five shots.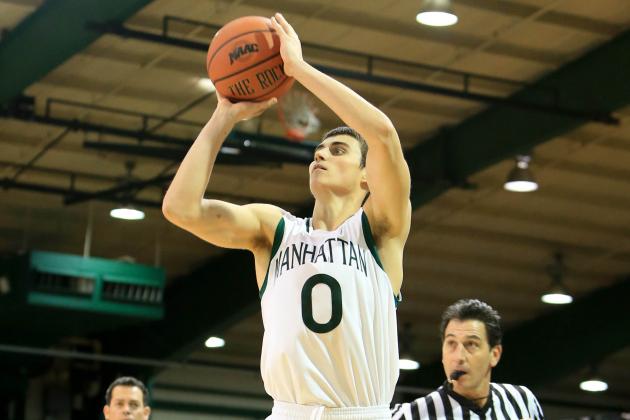 USA TODAY Sports

T.J. Cline, Niagara
Thanks to Niagara having a very thin frontcourt, Cline has received 20.6 minutes per game as a rookie, and he has taken advantage, averaging 7.4 points and 5.2 rebounds. After a hot start, Cline cooled off, but in his past four games he is averaging 10.8 points and six rebounds.
Shane Richards, Manhattan
With George Beamon injured for the season, Richards has emerged as one of Manhattan's top scoring threats. After receiving minimal playing time his first six games, in his past 12 games he is posting 10.6 points per game on 40.2 percent three-point shooting. In his past four games, Richards is averaging 14.3 points while shooting 47.2 percent from beyond the arc, putting him with the likes of Armand and Canisius' Isaac Sosa as a premier shooter in the MAAC.
A.J. English, Iona
English started off slow, but since Iona's December 8 matchup with Rutgers, he has been a legitimate scoring threat. In his past 13 games, he is averaging 7.5 points while shooting 44.2 percent from the field and 44.3 percent on treys.
Amadou Sidibe, Fairfield
Sidibe has been very inconsistent, but he has had moments where he looks like the top rookie in the MAAC. He is averaging six points and 5.3 rebounds per game while making 58.2 percent of his shot attempts. In order to be the Freshman of the Year, though, he will have to step up his play in conference games. Through eight contests, he is averaging only 3.3 points and 4.2 rebounds.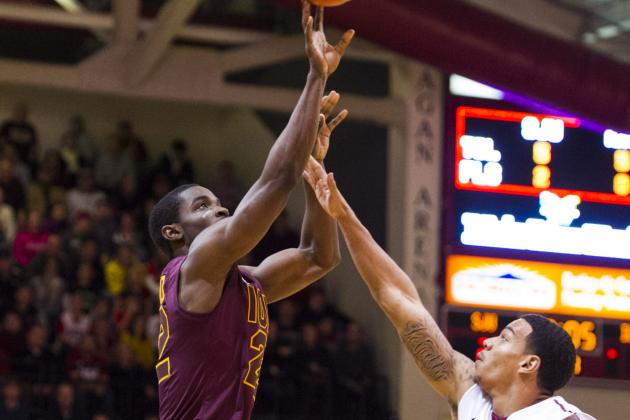 USA TODAY Sports

Sean Armand, Iona
During his first two seasons, Armand was almost exclusively a shooter. This season, he has become an all-around player who can do many things for the Gaels. He has doubled his scoring output and now attempts about five two-point field-goals per game as opposed to last year's 1.6. His steals per game have also doubled, and his assists per game have more than doubled.
Rhamel Brown, Manhattan
Brown was a defensive force in each of his first two years, but this season he has become one of the more efficient players on the offensive end of the floor as well in the MAAC. The junior is averaging 11.7 points and 6.9 rebounds per game while shooting 56 percent from the field.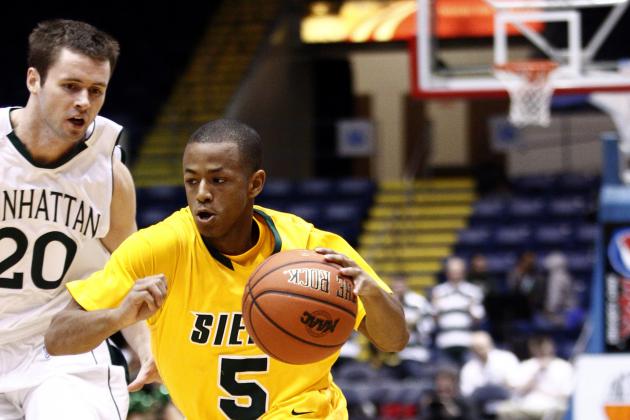 Mark L. Baer-USA TODAY Sports

Evan Hymes, Siena
Hymes showed loads of promise as a freshman last season, averaging 13.4 points, 3.7 assists and 1.2 steals per game. But this year, the 5'8" guard has been a wreck. Although he is averaging a solid 10.6 points and 3.6 assists, his turnovers have ballooned to 4.3 per game, and his shooting percentage has dropped to 32.2 percent. Hymes looked ready to be break his slump after a 20-point effort against Canisius, but since then he is posting only 8.3 points on 29.2 percent shooting.
Emmy Andujar, Manhattan
Similarly to Hymes, Andujar was a high-quality freshman. The point forward averaged 8.5 points, 5.7 rebounds and 3.2 assists, and he even flirted with a triple-double a few times. But he has also hit a sophomore slump. The drop in his numbers is not quite as dramatic as that of Hymes, but, except for a few short stretches, he has hampered an already struggling Manhattan offense.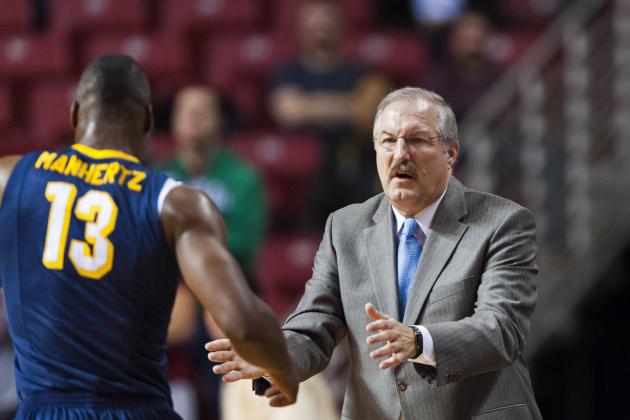 USA TODAY Sports

Jim Baron, Canisius
Right now, the Coach of the Year award is really a toss-up between all the coaches at the top of the league. It's hard not to give Baron the edge, as he inherited a five-win team and has already taken it to 12 wins. After more than a decade of losing, Baron has instilled a winning attitude in his first season.
Kevin Baggett, Rider
Baggett, a first-year head coach, took over a Rider team that went 13-19 last season and had small expectations for the 2012-13 campaign. Although the Broncs did not do much in nonconference play, Baggett has them tied for second in MAAC play at 6-2. Also, the Broncs already have wins over Loyola, Iona and Manhattan, which were the top three teams in the preseason.
Joe Mihalich, Niagara
Mihalich made Niagara the class of the MAAC for much of the first decade of the 2000s, but the Purple Eagles have not finished above .500 in the conference since 2008-09. That is going to change this year, as they are already 7-1, putting them in first place nearly halfway deep.
Tim Cluess, Iona
Cluess took Iona to a regular-season championship last year and then an at-large NCAA tournament berth, but Loyola coach Jimmy Patsos won the Coach of the Year award. This year, despite losing three starters, Iona has reloaded with transfers and is once again in contention for a MAAC championship at 6-2.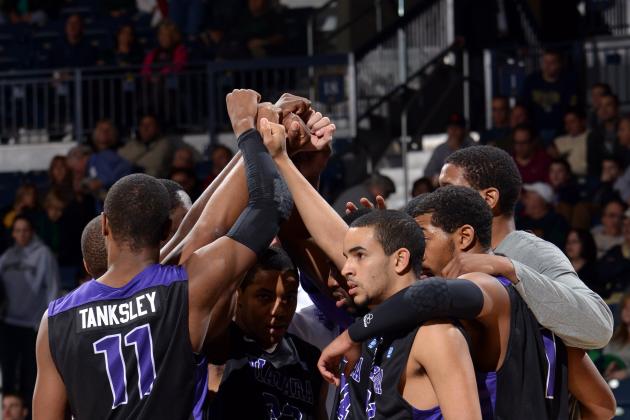 USA TODAY Sports

1. Niagara, 7-1
T-2. Loyola (MD), 6-2
T-2. Rider, 6-2
T-2. Iona, 6-2
5. Canisius, 5-3
6. Manhattan, 3-5
T-7. Fairfield, 2-6
T-7. Marist, 2-6
T-7. Siena, 2-6
10. St. Peter's, 1-7