Chris Weidman Not Going to "Cry" If He Doesn't Get a Title Shot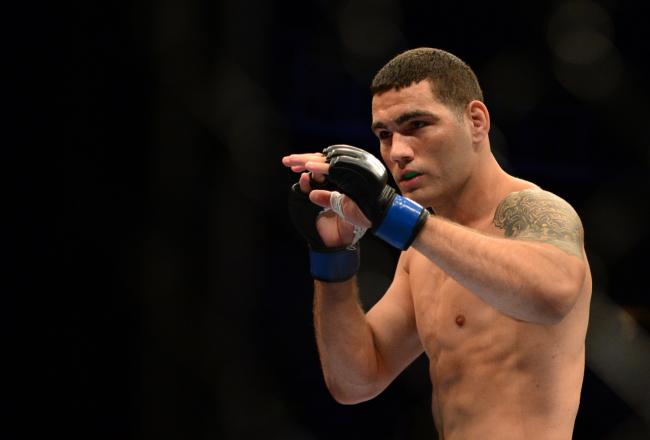 Kyle Terada-USA TODAY Sports
The grey clouds have suddenly parted for UFC middleweight Chris Weidman. On Friday, he was just another injured fighter looking on at a division which has been shaking out without him, wondering when his time would come to fight for the belt. On Sunday, he suddenly became the No. 1 contender.
Michael Bisping's failure to get past Vitor Belfort at UFC on FX 7 on Saturday has thrown the door open for Weidman to get the shot.
The New York native spoke to Ariel Helwani on thee MMA Hour about the turn of events.
"Yeah I think it's pretty funny how it works," said Weidman. "You have people who say that I don't deserve a shot, that I just fought a fat Mark Munoz, and now everything has cleared for me."
Since Anderson Silva's victory over Chael Sonnen in July last year, no clear frontrunner has emerged to challenge the Brazilian's six-year reign as champion. Both Bisping and Weidman were being talked about as possible opponents: Bisping for his long and accomplished career in the UFC, and Weidman for his superlative performance against the aforementioned Munoz in his last fight.
In the end, both men were given one more opponent to face. But because Weidman injured himself before his fight against Tim Boetsch in Decemebr, Bisping jumped to the front.
Weidman believes that the British fighter's loss on Saturday now clearly makes him the No. 1 contender. He told Helwani that he's ready to face Silva.
"If I had to choose, I'd chose to fight Silva, but I don't know what [UFC president] Dana [White] wants to do with the middleweight division…" he said. "And I don't know if Anderson Silva be interested."
Many consider Weidman as the likeliest fighter to dethrone Silva, who has gone undefeated in 17 fights.
The American's vicious style of wrestling is something Silva has been shown to have problems with, and Weidman is convinced that makes him a bad matchup for the Brazilian.
"I beat him in a lot of areas and I don't think he's faced anyone like me before," he said. "But I think there's a lot of reasons he doesn't want to fight me. There's a lot of risk for little reward, that's on his mind."
With no announcement yet from the UFC as to who will face Silva next, Weidman says that he isn't going to "cry" if that man isn't him.
"My goal is to be champion, and I want to fight Anderson Silva… That's the fight I really want and I'd love to take it but it's going to be up to them… I'm not going to start saying Silva is a chicken and he's scared of me."
He added that he would be happy to take on Luke Rockhold, the former Strikeforce champion who just joined the promotion, or Vitor Belfort, whose stock has been considerably raised with his win over Bisping.
For now, though, he is still recovering from an injury, and doesn't expect to return to action until June.
This article is
What is the duplicate article?
Why is this article offensive?
Where is this article plagiarized from?
Why is this article poorly edited?