Buying or Selling Every NBA Team as a Playoff Contender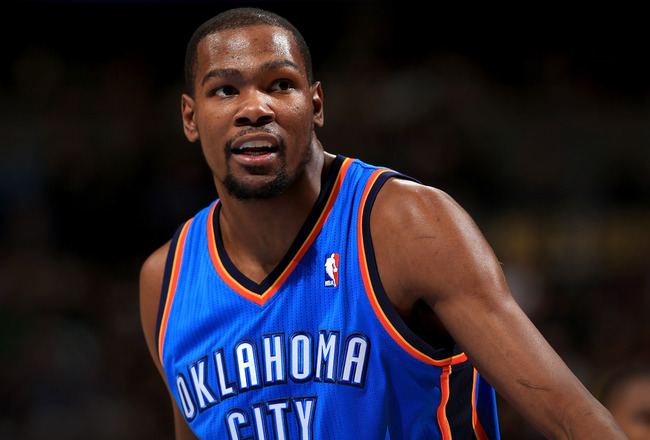 Doug Pensinger/Getty Images
It doesn't take a genius to figure out that LeBron James and the Miami Heat are a pretty safe "buy" when it comes to NBA playoff contention this year. We've seen enough in half a season to know that it'd take some kind of catastrophic natural disaster to keep LBJ and his squad out of the postseason.
The same goes for Kevin Durant's Oklahoma City Thunder, as well as a handful of other "sure things."
But around here, we're all about being thorough. So we're going to parse out every single NBA team's chances as a playoff contender. We won't be tossing out some half-cocked percentage or any sort of odds, though.
Instead, we're simply going to "buy" or "sell" each of the league's clubs. It'll be simple, a few feelings might get hurt on the "sell" side and some of the verdicts are going to be blatantly obvious. (Hint: The Washington Wizards probably aren't going to fare well in our analysis).
Don't worry, though; we've got a few shakeups to the current playoff picture, too. So you might be surprised to find that we think there are a few teams poised to shoot up or fall down the current standings.
Let's break down which teams to buy and which teams to sell as playoff contenders this year, shall we?
*All stats accurate through games played Jan. 21, 2013
Atlanta Hawks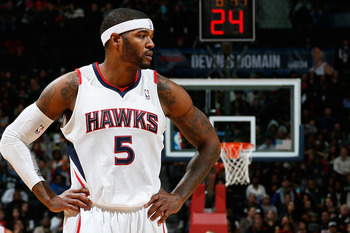 Kevin C. Cox/Getty Images
Current Record: 23-18
Current Seed: No. 6 in the Eastern Conference
Over the last couple of weeks, the Atlanta Hawks have dropped seven out of 10 games, suspended Josh Smith for conduct detrimental to the team, scored just 58 points against the Chicago Bulls and lost sixth man Lou Williams for the season with a torn ACL.
In other words, things could be going better for the East's No. 6 seed.
There's a pretty strong potential for more upheaval, too. With Smith's contract expiring after this season, it'll be interesting to see if GM Danny Ferry reconsiders his desire to keep the athletic forward around.
What's sort of amazing is that the bottom half of the Eastern Conference playoff race is so full of flawed teams that the Hawks could conceivably play .500 ball the rest of the way and make the dance. We're not bursting with confidence here, but it seems like the Hawks are tentatively still a playoff contender.
The Verdict: Buy
Boston Celtics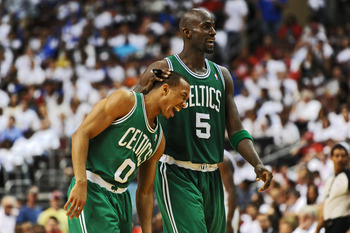 Drew Hallowell/Getty Images
Current Record: 20-20
Current Seed: No. 8 in the Eastern Conference
With a top-heavy roster that still boasts three All-Star caliber players in Rajon Rondo, Paul Pierce and Kevin Garnett, you'd have to figure that the Boston Celtics have enough to sneak into the postseason this year.
As a matter of fact, we have them pegged as the fifth seed when it's all said and done.
Moving up will require hopping over the Milwaukee Bucks and Atlanta Hawks, who presently sit in the sixth and seventh slots, but that seems doable for the veteran Celtics. As Avery Bradley continues to get his legs underneath him and players like Jeff Green and Jared Sullinger settle into their roles off the bench, Boston should see its rotation solidify in the season's second half.
And don't forget, GM Danny Ainge has always been active in trade talks. There's always the possibility that the Celtics make a splashy move to spice up their roster. Of course, there's also the chance they blow things up and build for the future if things go wrong.
The Celtics have played better of late, boast three legitimate stars and have room to improve.
The Verdict: Buy
Brooklyn Nets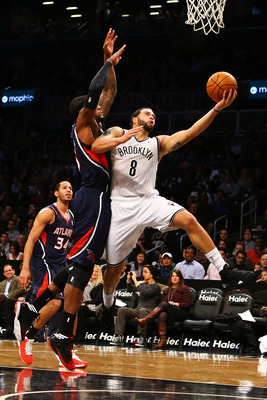 Al Bello/Getty Images
Current Record: 25-16
Current Seed: No. 4 in the Eastern Conference
Apparently, all you have to do to jump-start your season is fire your coach. And if your coach is Avery Johnson, all the better.
The Brooklyn Nets have won nine out of their last 10 games, going from being a .500 team under Johnson to a real threat to secure home-court advantage during the postseason under P.J. Carlesimo.
At this point, there's little doubt that the Nets will be around for the postseason. What is in question, though, is whether they'll finish the year with the best record in New York.
After an 88-85 win over the Knicks on Jan. 21, Brooklyn is now just one game behind Carmelo Anthony's club in the Eastern Conference standings. For the record, we still think the Celtics are likely to catch and surpass the Nets by season's end. But if Deron Williams ever straightens out his shaky jumper (he's shooting 41 percent over his last 10 games), Brooklyn could hold onto its current seed.
The Verdict: Buy
Charlotte Bobcats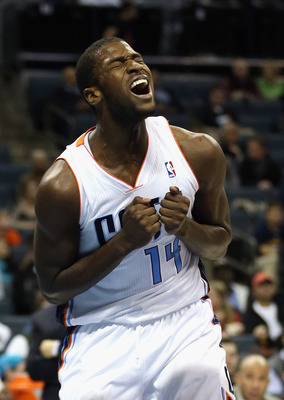 Streeter Lecka/Getty Images
Current Record: 10-31
Current Seed: No. 13 in the Eastern Conference
The good news is that the Charlotte Bobcats have already blown away their NBA-worst win total from last season. With a mighty 10 victories, Mike Dunlap's scrappy Kitties are already assured a better winning percentage than 2012-13's .106 mark.
The bad news is that the Bobcats have absolutely no chance to make the postseason.
After a surprising start, Dunlap's ultra-aggressive pressing and trapping defensive style lost its novelty, and Charlotte now allows the second-most points per game in the NBA.
Michael Kidd-Gilchrist looks like a solid rotation player who could be much more than that if he ever cuts that horrible hitch out of his jumper, and Kemba Walker could someday be a halfway decent point guard on a good team. But right now, both of those guys are suffering through growing pains with the rest of the Bobcats.
As a result, Charlotte has—by far—the NBA's worst point differential, at an abysmal minus-8.2 per game.
The Verdict: Sell
Chicago Bulls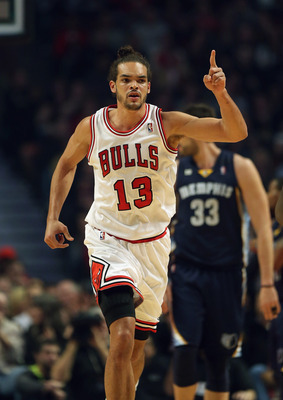 Jonathan Daniel/Getty Images
Current Record: 24-16
Current Seed: No. 5 in the Eastern Conference
No other team has the potential upward mobility of the Chicago Bulls...unless there's another soon-to-return former MVP we're forgetting about.
Thanks to a stifling defense and terrific performances from Carlos Boozer (the Eastern Conference's leader in double-doubles), Joakim Noah and Luol Deng, the Bulls are currently sitting pretty in the middle of the playoff race.
And Derrick Rose is set to get full contact in practice as soon as this week, according to Aggrey Sam of CSN Chicago. With Chicago just three games behind the Miami Heat for the No. 1 seed, there's still a shockingly good chance that the Bulls could finish with the East's best record for the third season in a row.
Under Tom Thibodeau, the Bulls will always defend at an elite level and play until they drop. Adding Rose to the mix—even if he's only playing at 60 or 70 percent—is a massive upgrade for Chicago's messy offense.
When D-Rose returns, watch out.
The Verdict: Buy
Cleveland Cavaliers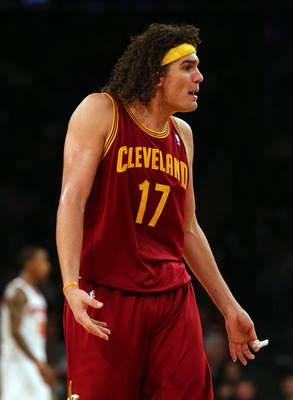 Elsa/Getty Images
Current Record: 10-32
Current Seed: No. 14 in the Eastern Conference
So, uh, Kyrie Irving is probably going to be a top-10 player in the league pretty soon. Can we just stop there?
Beyond their star point guard, there's really not a lot worth discussing about the Cleveland Cavaliers—except for how terrible they're going to be for the rest of this season.
Anderson Varejao is now out for the season, Dion Waiters is shooting 38 percent from the field, and other than Irving, not one active player on Cleveland's roster has a PER above the league average of 15.
Seriously, this roster is filled out with players who simply don't belong in the NBA. If Alonzo Gee, Jeremy Pargo and Shaun Livingston are still collecting paychecks from the league in three years, we'll be stunned.
The real shame here is that Irving is probably having his growth stunted by the hapless front office that has surrounded him with such a woeful cast of forgettable faces. Let's just move on.
The Verdict: Sell
Dallas Mavericks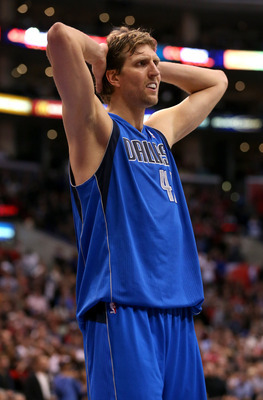 Stephen Dunn/Getty Images
Current Record: 18-24
Current Seed: No. 11 in the Western Conference
The Dallas Mavericks have won five out of their last six games and they're still six games under .500 on the season. It's nice that they're playing better of late, but the fact that they're still just the 11th seed in the West shows how far they've still got to go.
As Dirk Nowitzki continues to round into form, the Mavs' chances to make a run improve. Having a superstar at full strength makes any team dangerous. But the supporting cast, comprised largely of players on one-year deals and aging veterans, just doesn't look like a group that's capable of hopping over the Minnesota Timberwolves, Portland Trail Blazers and Houston Rockets.
And we haven't even mentioned the L.A. Lakers, who are just percentage points behind the Mavs in the standings.
If you had to bet on either the Mavericks or the Lakers finding another gear down the stretch, which team would you pick? We know where we'd put our money.
Sorry, Dirk.
The Verdict: Sell
Denver Nuggets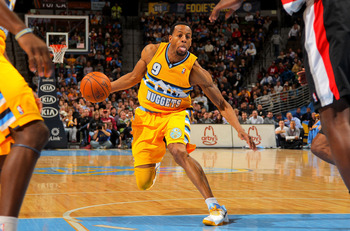 Doug Pensinger/Getty Images
Current Record: 25-18
Current Seed: No. 6 in the Western Conference
The Denver Nuggets are a scary team. They've compiled the West's fifth-best point differential (plus-2.3 points per game) despite 24 games on the road so far this year. As everyone knows, the Nuggets have the league's most significant home-court advantage, as visitors to the Mile High City find themselves gasping for breath at altitude.
The Nuggets have won seven of their last 10 and are 16-3 at home. Both of those figures are truly impressive, considering that Denver's three primary scorers (Danilo Gallinari, Ty Lawson and Andre Iguodala) are all shooting 43 percent or worse.
As the Nuggets' shooters find their range and the home games start to appear more regularly on the schedule, Denver is going to threaten the West's top four.
The Verdict: Buy
Detroit Pistons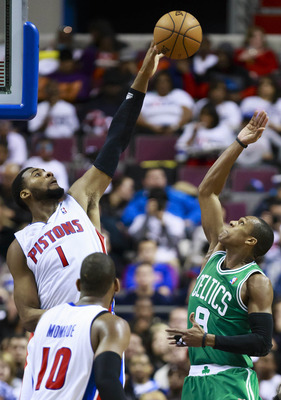 USA TODAY Sports
Current Record: 15-25
Current Seed: No. 10 in the Eastern Conference
There are a few things to be excited about if you're a Detroit Pistons fan. Well, actually, there are just two.
Andre Drummond is having one of the best seasons by a teenager in NBA history. At just 19 years old, the big man from Connecticut is 11th in the NBA in PER and has the sixth-highest rebound rate in the league. He is an absolute beast, and we're probably just scratching the surface of his potential.
In addition to that, Greg Monroe continues to look like a better-than-average frontcourt starter.
If you're looking to build a franchise, you could do a lot worse than Drummond and Monroe as its cornerstones.
Unfortunately, Detroit's big-man tandem is just about the only thing worthy of enthusiasm in the Motor City. The future looks bright, but the Pistons just aren't close to being one of the top eight teams in the East right now. Until they find some scoring wings and a pass-first point guard, they'll be on the outside looking in.
The Verdict: Sell
Golden State Warriors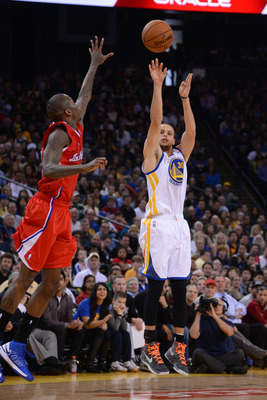 Kyle Terada-USA TODAY Sports
Current Record: 25-15
Current Seed: No. 5 in the Western Conference
The Golden State Warriors have kept their heads above water during a brutal January schedule that has so far featured eight games against teams that made the playoffs last year. Before the rough stretch ends, the Dubs will tangle with the Oklahoma City Thunder on Jan. 23 and the Chicago Bulls on Jan. 25.
That'll be 10 playoff teams in 11 games.
We're not just going through the schedule for fun; we're doing it to show that the Warriors belong where they are: in the fifth spot out West.
But what happens when Andrew Bogut returns? And what if his comeback coincides with a February and March schedule that features a bevy of pushover opponents? It sounds crazy to say it, but the Warriors could make a real move to challenge the Memphis Grizzlies for the No. 4 seed.
Home-court advantage for the Warriors? What world are we living in?
The Verdict: Buy
Houston Rockets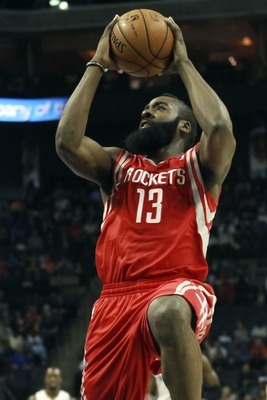 USA TODAY Sports
Current Record: 22-21
Current Seed: No. 8 in the Western Conference
The Houston Rockets got off a major slide by beating the lowly Charlotte Bobcats on Jan. 21, but there are legitimate reasons to remain concerned about the playoff fate of Kevin McHale's bunch.
The Rockets don't defend well at all; they allow the most points per game in the league. That's somewhat misleading because of how fast they play, but even when adjusting for pace, the Rockets are a below-average team in defensive efficiency.
Defensive indifference aside, the Rockets have had excellent injury luck that could normalize at any time. Add in the declining performance of Jeremy Lin, the impending rise of the L.A. Lakers and the overall youth of the roster and Houston's grasp on the West's final spot looks mighty tenuous.
James Harden and Omer Asik are great pieces, and there are plenty of good assets to move for a superstar down the road, but Houston's time is not now.
The Verdict: Sell
Indiana Pacers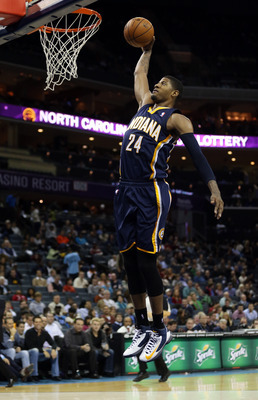 Streeter Lecka/Getty Images
Current Record: 26-16
Current Seed: No. 3 in the Eastern Conference
Does anyone remember when Danny Granger was the cornerstone of the Indiana Pacers? Well, that time's long gone now. The new-and-improved age of Pacer basketball features a well-rounded roster filled with gritty vets, tough bigs and athletic wings.
Sorry Danny, this isn't your team anymore.
Paul George has stepped into Granger's vacated alpha dog role, and the team as a whole is locking down opponents at a league-best rate. Nobody allows fewer points per game than the Pacers' 89.1 average. The much more heralded Chicago Bulls defense is closest, and even that unit permits nearly two more points per game than Frank Vogel's club.
The Miami Heat don't seem all that interested in dominating the regular season, and the New York Knicks are dealing with age and a regression on D.
Indiana is two games out of the top spot now, and it has the look of a team capable of snatching the No. 1 seed. Suffice it to say the Pacers are a playoff lock.
The Verdict: Buy
Los Angeles Clippers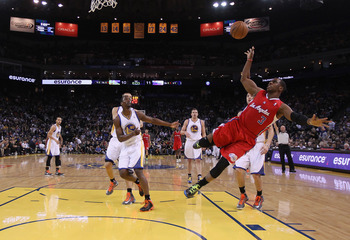 Ezra Shaw/Getty Images
Current Record: 32-10
Current Seed: No. 2 in the Western Conference
Chris Paul looked a little gimpy in the L.A. Clippers' Jan. 21 loss to the Golden State Warriors, but he'd have to miss the rest of the season (and take half of the starting lineup with him) for the Clippers to slip out of the playoff picture.
Even then, the Clippers bench might find a way to win enough games to sneak in.
The Clips go more than 10-deep on the bench and have plenty of star power in Paul and Blake Griffin, so they'll be somewhere in the top four spots when the postseason rolls around. The real question is how far they'll be able to push themselves in the playoffs when rotations shrink and coaching starts to matter more.
An early exit may be in the cards, but that's beside the point. There's no question L.A. is a playoff team.
The Verdict: Buy
Los Angeles Lakers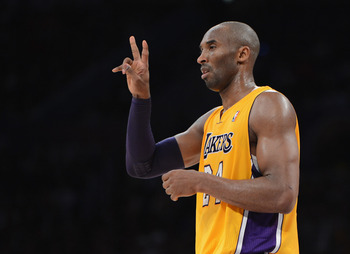 I think the No. 2 seed is out of reach, Kobe.
Harry How/Getty Images
Current Record: 17-24
Current Seed: No. 12 in the Western Conference
It's almost impossible to think of ways for the L.A. Lakers' season to have gone worse. Steve Nash broke his leg, Pau Gasol has lost his game, Mike D'Antoni doesn't seem to have a clue what to do with the talent he has and Dwight Howard hasn't looked like himself.
Despite all that, the Lakers are four games out of a playoff spot with half a season left to play.
You see where this is going, don't you?
Yeah, we think the Lakers are going to make the playoffs. There's too much top-end talent for L.A. to continue to flounder around forever. Sure, the bench is awful and the defensive issues are real, but the teams they've got to leapfrog to make the postseason (the Dallas Mavericks, Minnesota Timberwolves, Portland Trail Blazers and Houston Rockets) all have plenty of issues themselves.
It wouldn't have been particularly bold to predict a Lakers playoff berth two months ago, but it is now.
The Verdict: Buy
Memphis Grizzlies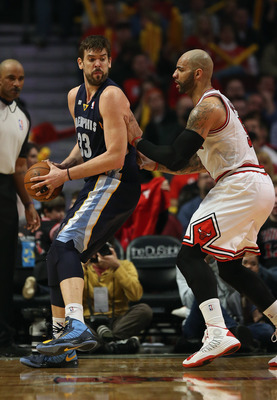 Jonathan Daniel/Getty Images
Current Record: 26-14
Current Seed: No. 4 in the Western Conference
If the Memphis Grizzlies had a shooter to space the floor, they'd be a legitimate championship contender. That kind of talk probably removes any tension about whether we think Marc Gasol and Co. are going to make the playoffs, huh?
Come on, let's be realistic. The Grizzlies have a massive frontcourt that does everything well, a criminally underrated two-way point guard in Mike Conley and a bona fide defensive stopper in Tony Allen. Thanks to all that size and grit, Memphis plays terrific defense (No. 2 in the NBA in points allowed per possession) and dominates on the glass (No. 3 in rebound rate).
This is a decidedly unfun team to play against.
If they flip Rudy Gay and his massive contract for a long-range sniper or two, don't be surprised if the Grizzlies go deep in the postseason this year.
The Verdict: Buy
Miami Heat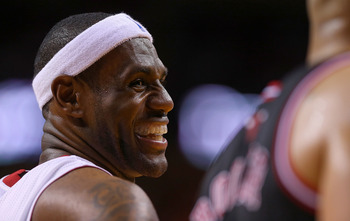 Mike Ehrmann/Getty Images
Current Record: 26-12
Current Seed: No. 1 in the Eastern Conference
Sometimes it's fun to try to think of ways for the Miami Heat to miss the playoffs. Most of our best ideas feature alien abduction, the abolition of basketball in its entirety and a series of volcanic eruptions that wipe the state of Florida off the map.
Other than those somewhat unlikely scenarios, it seems like a pretty solid bet that LeBron James and his South Beach gang will make the postseason.
They may be a little disinterested during the regular season and their rebounding issues are bothersome, but let's be serious; unless the world ends, the Heat will be there this spring.
The Verdict: Buy
Milwaukee Bucks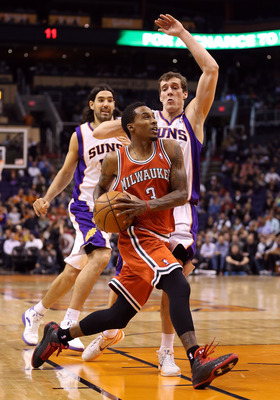 Christian Petersen/Getty Images
Current Record: 21-18
Current Seed: No. 7 in the Eastern Conference
One of two teams currently in playoff position that has a negative point differential, the Milwaukee Bucks are holding down the No. 7 spot in the East.
But they may not stay there for long.
The biggest issue is that Monta Ellis and Brandon Jennings are too undersized and defensively indifferent to ever be part of a serious contender. Don't be surprised if the Bucks realize this over the summer and allow Jennings to walk as a free agent and wave goodbye as Ellis exercises his player option.
Basically, it seems like a foregone conclusion that the dysfunctional Bucks—who have already lost a coach this year—will slip below the improving Boston Celtics at some point in the coming months. The only question then is whether the Philadelphia 76ers will have enough to overtake them for the eighth spot.
We think that's likely.
Of course, there's also the chance that the Bucks blow their roster up, trading Ellis, Jennings or both before they each walk away for nothing this offseason. Either way, we're not confident in their ability to retain a playoff spot.
The Verdict: Sell
Minnesota Timberwolves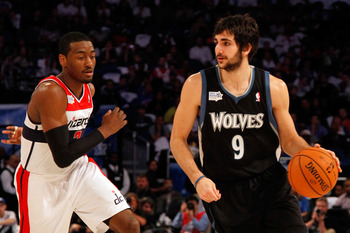 Mike Ehrmann/Getty Images
Current Record: 17-21
Current Seed: No. 10 in the Western Conference
It feels like a lost season for the Minnesota Timberwolves, doesn't it?
Not long ago, it looked like the Wolves had put together a scary, deep roster that was poised to contend in the West if a few things went right. Well, nothing has gone right.
Kevin Love has broken his hand twice, Ricky Rubio is struggling to work his way back, Brandon Roy didn't stay healthy and Chase Budinger hurt his knee. All of that bad fortune (some of which was predictable, by the way) seems to have finally taken its toll on Minnesota. The team has won just three times in its last 10 tries.
The Wolves are still young, so assuming they keep Kevin Love happy, they'll be back and ready to try again next season. This one is too far gone.
The Verdict: Sell
New Orleans Hornets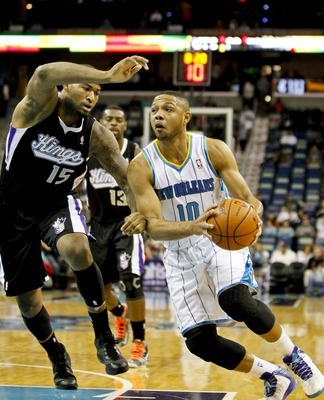 Derick E. Hingle-USA TODAY Sports
Current Record: 14-27
Current Seed: No. 14 in the Western Conference
If the New Orleans Hornets won every game they played for the rest of the year, they'd finish 55-27, which would put them somewhere around the second or third seed in the West.
That seems somewhat unlikely, even though Monty Williams' boys have won seven of 10 recently.
Eric Gordon looks healthy, and if Anthony Davis can avoid his bi-weekly ankle sprains, the Hornets could play spoiler to some of the West's better teams down the stretch. Other than that, they're just playing out the string while building toward next year.
The Verdict: Sell
New York Knicks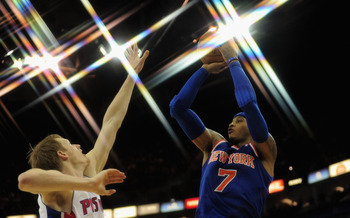 Jamie McDonald/Getty Images
Current Record: 25-14
Current Seed: No. 2 in the Eastern Conference
The New York Knicks have struggled of late, but deep down, everyone knew they wouldn't maintain the elite defense and three-point shooting they showcased during the season's first month. Now, instead of being great, they're simply good.
When Raymond Felton returns from injury, the Knicks will get the penetration they need to free up shooters and make defenses scramble. That was a huge part of their early success. Even when that happens, the Knicks will still have issues with age and the reintegration of Amar'e Stoudemire.
Overall, a slight dip in the standings (perhaps down the the fourth or fifth seed) seems possible. The Indiana Pacers and Chicago Bulls could both ride defense and rebounding to a higher seed than the Knicks ultimately finish with. But nobody in the Big Apple needs to panic.
They'll make the postseason; they just might not do it as a top-four seed.
The Verdict: Buy
Oklahoma City Thunder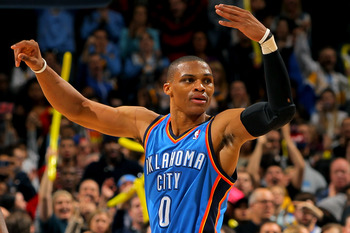 Doug Pensinger/Getty Images
Current Record: 32-9
Current Seed: No. 1 in the Western Conference
The Oklahoma City Thunder have two players in the top seven in PER. Their names are Kevin Durant and Russell Westbrook—perhaps you've heard of them.
OKC has sprinted to the NBA's best record on the strength of the league's most efficient offense and highest true shooting percentage. Durant's remarkable improvements and possible entry into the 50-40-90 club have a lot to do with that.
Sam Presti made the tough decision to deal James Harden before the season started, and although it was hard to stomach at the time, the move has allowed Serge Ibaka to assume a larger role alongside KD and Westbrook. The result is a more confident, more dangerous player who is now a knockdown shooter from up to 20 feet.
Nobody's catching OKC in the West.
The Verdict: Buy
Orlando Magic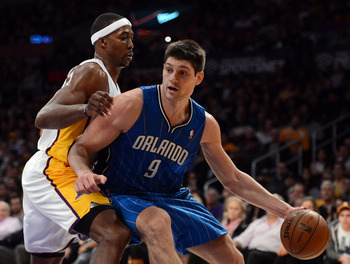 Harry How/Getty Images
Current Record: 14-26
Current Seed: No. 12 in the Eastern Conference
After a decent start to the season marked by some pretty solid offensive execution and hints of a good defensive philosophy, nobody in the NBA has been worse than the Orlando Magic in January. Winners of just two games in 2013, an overall lack of talent and experience has Jacque Vaughn's young club struggling to stay competitive.
Vaughn comes from the San Antonio Spurs coaching tree, which helps explain the ball movement and defensive discipline the Magic flashed in the season's first month. And as a matter of fact, they still play unselfish offensive basketball; Orlando is fifth in the league in assists per game.
Nikola Vucevic is a great center to build around, but there's not much else to like about the Magic's talent. That's okay though; they'll have a high lottery pick this year.
The Verdict: Sell
Phildadlephia 76ers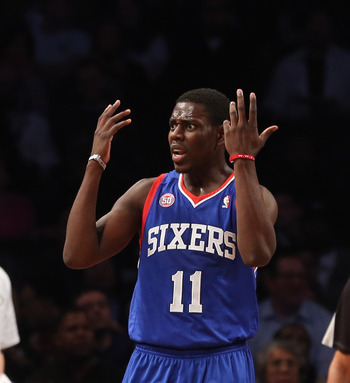 Bruce Bennett/Getty Images
Current Record: 17-24
Current Seed: No. 9 in the Eastern Conference
On paper, the Philadelphia 76ers look better than their record. Jrue Holiday is in the midst of a breakout season, Evan Turner has flashed an improving all-around game and Thaddeus Young looks like a player capable of contributing on a good team.
But Doug Collins' rotations are sometimes impossible to fathom, with his chief head-scratcher being an insistence on playing Nick Young 23 minutes per game. Hey, anytime you can get 40 percent shooting and no defense whatsoever from a wing player, you've got to get him out there, right?
Coaching issues aside, the eventual return of Andrew Bynum and the talent already on the roster just has to be enough to push the Sixers ahead into the playoff picture. That'll take a pretty solid run and some slippage from either the Milwaukee Bucks (highly likely) or the Atlanta Hawks (somewhat likely), but we're optimistic.
The other option, of course, is to give Nick Young 40 minutes per game and watch as the Sixers secure a top-three lottery pick.
The Verdict: Buy
Phoenix Suns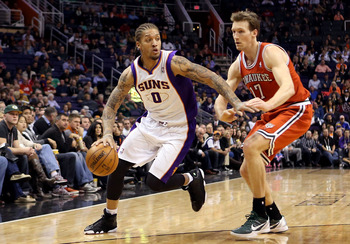 Christian Petersen/Getty Images
Current Record: 13-28
Current Seed: No. 15 in the Western Conference
If you're looking for a silver lining in a Phoenix Suns season that has already produced more than twice as many losses as wins, at least Alvin Gentry won't have to stick around to watch his former club continue to descend into total NBA irrelevance.
The questionable decision to draft point guard Kendall Marshall and the indefensible one to sign Michael Beasley are pretty good indicators that the Suns front office has a long way to go in its talent evaluation. In other words, this thing isn't turning around any time soon, so it's probably best that that classy Gentry got out when he did.
He wouldn't want to be around for the lean years ahead.
We're being rough on the Suns here, but in fairness to them, they've also had the league's toughest schedule so far. As the second-half slate eases up, they might climb out of the cellar in the West. But don't expect more than 30 wins this year. That won't be enough to get within smelling distance of the playoffs.
The Verdict: Sell
Portland Trail Blazers
Craig Mitchelldyer-USA TODAY Sports
Current Record: 20-21
Current Seed: No. 9 in the Western Conference
The Portland Trail Blazers have a stud rookie in Damian Lillard, an All-Star forward in LaMarcus Aldridge and one of the most versatile wings around in Nicolas Batum. Unfortunately, Portland's bench is so shallow that those three have to carry almost the entire load on both ends.
Portland has been swapping spots all season with the Houston Rockets on the fringes of the playoff picture, but as we've already said, the Lakers seem like the safest bet to elbow out the younger teams ahead of them.
The Blazers have lost six straight, and plenty more growing pains are ahead. They may not be a playoff team this year, but that'll give them time to focus on the important things—like re-signing the surprising J.J. Hickson to a long-term deal.
The Verdict: Sell
Sacramento Kings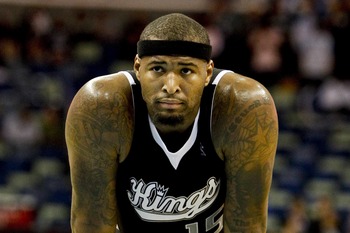 Derick E. Hingle-USA TODAY Sports
Current Record: 16-26
Current Seed: No. 13 in the Western Conference
Now that the Sacramento Kings are set to become the Seattle SuperSonics, the franchise can stop pretending like it wants to win games. Instead, the league's most poorly constructed roster can be quietly disassembled and sold for scrap before it debuts in a new city.
DeMarcus Cousins has a world of talent, but he hasn't yet shown that he's stable enough to serve as a franchise cornerstone. And everyone else on the roster? Well, let's just say they're expendable.
It's time to gut the team, which certainly won't help the Kings make the playoffs. But then again, if you ever thought they had a shot this year, you should seek immediate medical attention because it's highly likely you've suffered a stroke.
The Verdict: Sell
San Antonio Spurs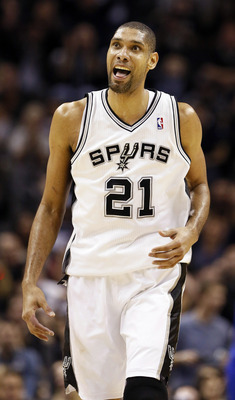 USA TODAY Sports
Current Record: 33-11
Current Seed: No. 3 in the Western Conference
Hang on, is Gregg Popovich still the coach of the San Antonio Spurs? He is? OK, great.
Is Tim Duncan still breathing? All right, good to hear.
Are the Spurs still mining ridiculous talent from all over the globe? Yes? Awesome.
Look, San Antonio has made the playoffs in every single year of Duncan's career, which means it's been in the postseason since dinosaurs roamed the earth. So it's going to take a meteor strike like the one that wiped out those big lizards to keep the Spurs from playing more than 82 games this year.
The Verdict: Buy
Toronto Raptors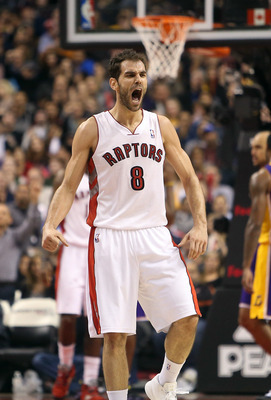 Trade me!
Tom Szczerbowski-USA TODAY Sports
Current Record: 15-26
Current Seed: No. 11 in the Eastern Conference
Unless there's some kind of weird exchange rate between Canadian wins and American wins, it seems unlikely that the Toronto Raptors' current 30-win pace is going to be enough to crack the playoffs, even in the inferior Eastern Conference.
When you factor in the likelihood that solid veterans like Jose Calderon are likely to be dealt before the February deadline, it's pretty clear that Toronto is going to be looking toward next year sooner than later.
In fact, it would behoove the Raps to bottom out by trading as many vets as possible; there's no point in fooling around in the late lottery. The way to improve is to trim your roster of all it excess fat while crossing your fingers for a big lottery jackpot.
Toronto may be stuck with the overpaid and overrated Andrea Bargnani and DeMar DeRozan, but they should be able to move just about anyone else they want.
As for the postseason...uh, no.
The Verdict: Sell
Utah Jazz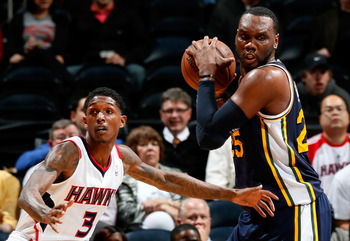 Kevin C. Cox/Getty Images
Current Record: 22-19
Current Seed: No. 7 in the West
We'll just tell you up front: We think the Utah Jazz are going to make the playoffs, but we're really not very confident in that prediction.
There's a logjam in the frontcourt, which could be alleviated by a couple of big trades. But that'd cost Utah Al Jefferson or Paul Millsap (both of whom will be free agents this summer). Unless the Jazz get back some pretty good value for their two forwards, it might be tough for them to sustain their current pace.
Add in the backcourt scoring issues and Tyrone Corbin's questionable rotation decisions (play Alec Burks, for Pete's sake!), and you can see why we're reluctant to put our stamp of approval on the Jazz.
Still, nothing ventured, nothing gained.
The Verdict: Buy
Washington Wizards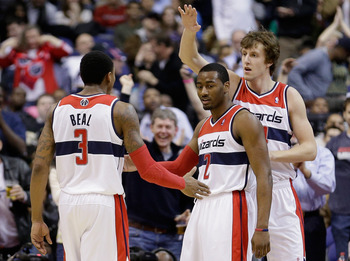 Rob Carr/Getty Images
Current Record: 9-30
Current Seed: No. 15 in the Eastern Conference
Ever hear of a compliment sandwich? It's when you put your real, negative opinion about something in between two positive platitudes. It's a great way to get your point across without seeming like a critical jerk.
Let's try it.
It's entirely possible that John Wall and Bradley Beal could mature into one of the most dynamic backcourts in the NBA. They're young, athletic and actually fit together nicely in a penetrator-shooter combo.
The Washington Wizards are horribly run, poorly constructed and have no chance of making the playoffs as presently put together.
Their uniforms are neat.
There you have it: The compliment sandwich. Did it work?
The Verdict: Sell
Keep Reading