UCLA Basketball: 5 Keys to Beating Arizona in Pac-12 Showdown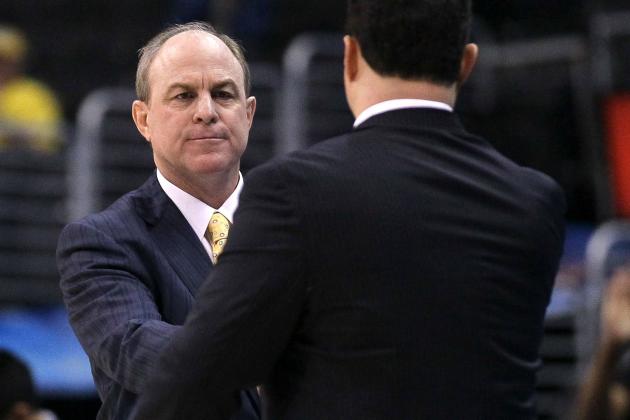 Stephen Dunn/Getty Images
Coaching will be a huge factor in UCLA's tough Pac-12 road matchup at No. 6 Arizona on Thursday.
Push came to shove on Saturday and UCLA fell.
While the Bruins flaunted a 10-game winning streak and an undefeated Pac-12 record approaching Saturday's contest against Oregon at Pauley Pavilion, they were unable to defeat a top-tier conference opponent.
This once again raises important questions about this Bruins team. Can it win when it matters? Most importantly, will it be a contender come March?
UCLA will have another chance to prove itself as a legitimate Pac-12 competitor this week with a telling road game at No. 6 Arizona.
A win would be monumental for the Bruins in their quest to win their first conference title since 2008. A win in this key matchup would bring them back into the national conversation.
Begin Slideshow

»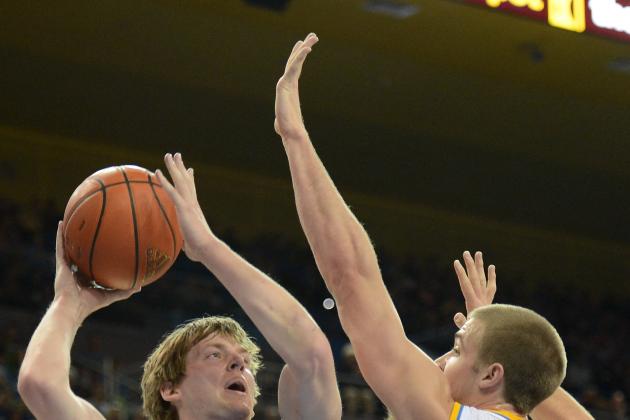 Harry How/Getty Images

While UCLA has improved tremendously on the defensive end since the beginning of the season, there are still visible holes in its defense that were exposed in its loss against Oregon.
The Bruins' perimeter guarding has been solid for the past few games, but there have been major lapses in their interior defense that have led to many easy points for the opposition.
The holes that Oregon exposed in UCLA's will become gaping when it plays Arizona, as the Wildcats not only attack the basket more efficiently than any other Pac-12 team but are also the conference's best three-point shooting team (38.2 %) and are ranked second in field-goal percentage (46.3%; UCLA: No. 1, 47.6 %).
Coach Ben Howland has been alternating between man-to-man and zone defenses this season after the Bruins' 2-3 zone defense was crumbling in the beginning of the season.
In order for UCLA to pull out a win against a team like Arizona that can penetrate the lane and shoot from outside as well, the Bruins must stymie the Wildcats' offense by switching defensive sets during the game when necessary.
If UCLA allows Arizona to find offensive rhythm in this game, the Bruins won't stand much of a chance.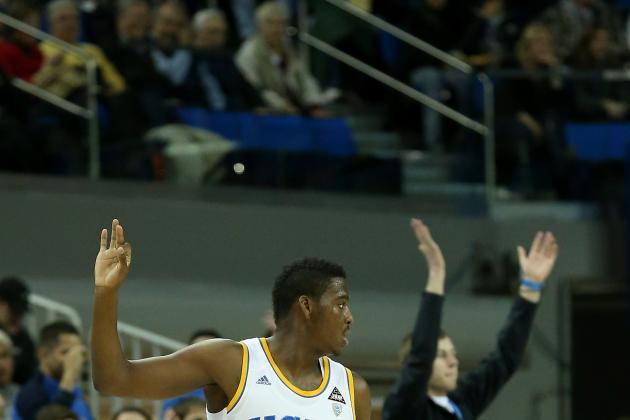 Stephen Dunn/Getty Images

UCLA's hot-handed freshman guard Jordan Adams hasn't been the same player in conference play that we saw in his first games in a Bruins jersey.
Adams may be averaging 15 points per game on the season (second, UCLA) but is only scoring 11.6 points per game in conference play and is a mere 29 percent (4-14) from three-point land.
Arizona possesses the toughest and most energized defense that the Bruins have seen in their conference games. In order for them to have a successful night on the offensive end, they'll have to have their shooters on, and Adams is UCLA's most prolific outside shooter.
If the 6'5" guard is hot from the perimeter, the Wildcats' defense will spread more and the pressure will also be lifted from the Bruins' current go-to duo Travis Wear and Shabazz Muhammad.
A couple of mid-range jumpers from the fingertips of Adams in the first half will help UCLA upset Arizona.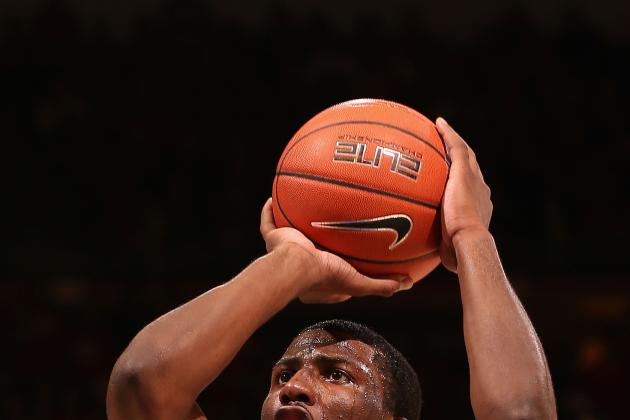 Christian Petersen/Getty Images

Arizona's senior forward Solomon Hill is a difference-maker and the team's best all-around player.
While Hill hasn't seen this specific group of Bruins players together, he played against the Wear twins last year and could easily dominate in the paint despite his height discrepancy (Hill: 6'7"; Wears: 6'10", Kyle Anderson: 6'9") if UCLA allows him as it did last year when he put up 25 points against them in the McKale Center.
The key word is "contain." UCLA doesn't need to shut down Hill (which would by all means be a tremendous feat if it occurred) but rather prevent him from taking control of the game.
The Bruins can survive if he posts similar numbers to his season averages (13.6 PPG 5.4 RPG) in this game, but they won't stand a chance if Hill dominates the paint and puts up 20 or more points.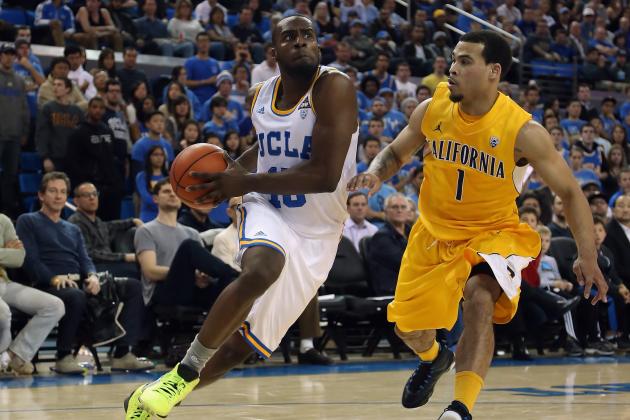 Jeff Gross/Getty Images

This UCLA team has been slow to get going in the early stages on the game, a habit that won't lead to victory over a very talented and unrelenting Arizona team coached by Sean Miller.
To their credit, the Bruins have improved upon this poor habit as the season has progressed, but it's critical that they come out of the gates running in this one.
If UCLA falls behind early in this game, which is being played on the road against one of college basketball's premier teams, it won't be leaving Tucson with a win and will lose back-to-back games for the first time this season.
On the contrary, if the Bruins can jump to an early lead and have a cushion going into halftime, they'll upset the Wildcats in the McKale Center.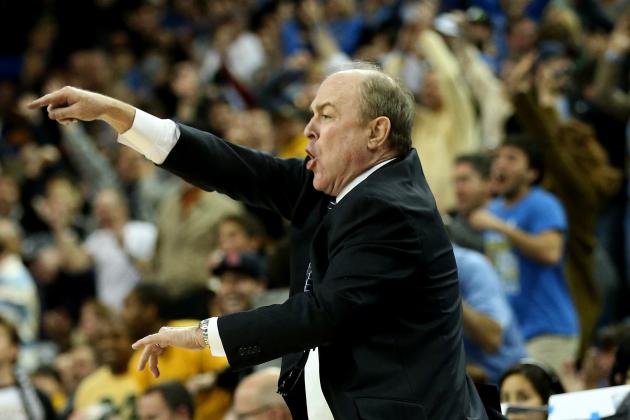 Stephen Dunn/Getty Images

Not only is there a need for the players to come out with their best game in this big-time conference matchup, but there's also a necessity for the coaches to bring their best to the game.
Based upon previous head-to-head matchups and both team's performance this season, the scale tips in Arizona head coach Sean Miller's favor in terms of both coaches' play-calling abilities and overall ability to influence their players.
However, amid his poorer coaching decisions, Coach Howland has made some good play calls—including the play he drew up for point guard Larry Drew II to make a key late-game layup against Utah that increased UCLA's lead to four points with nine seconds remaining—that suggest that he can out-coach Miller on Thursday.
Coaching will play a huge role in this game, as decisions like defensive strategy and out-of-bounds plays will decipher this game's winner.
UCLA and Arizona are the Pac-12's most talented teams on paper, and the onus is on Coach Howland to prove that his Bruins are the best in the conference.