Syracuse Basketball: Predictions for Orange's Most Intriguing Games Left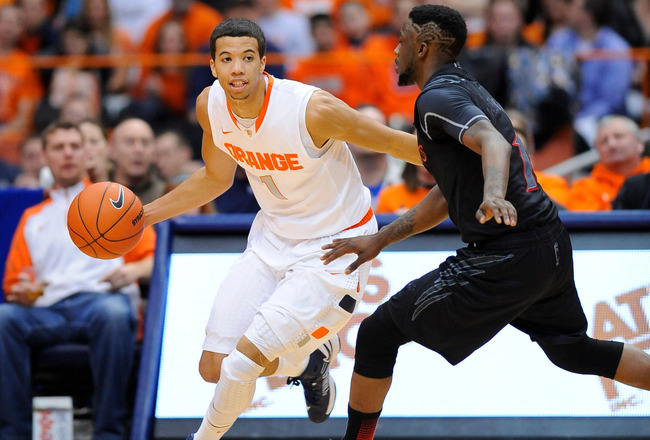 Michael Carter-Williams drives the lane
Rich Barnes-USA TODAY Sports
The No. 3 Syracuse Orange managed to squeak out a victory from the jaws of defeat for the second time in 48 hours with their 57-55 win over the No. 21 Cincinnati Bearcats on Monday afternoon at the Carrier Dome in Syracuse.
Fresh off of their improbable road win against then-No. 1 Louisville, the Orange (18-1, 6-0 Big East) used tight defense and clutch shooting from the backcourt to complete a comeback, keeping intact their 35-game home win streak, the longest such streak in the nation.
With Cincinnati (16-4, 4-3) leading 51-44, the Orange clamped down and allowed only four points in the final 5:09, while taking the lead on a tip shot by C.J. Fair off of a Jerami Grant miss.
Cincinnati gave Syracuse a dose of its own medicine by playing a suffocating 2-3 zone and limited the Orange to only 22 points in the first half.
With the score 22-18 at the break, the Bearcats when on a 10-2 run to take a four-point lead and did not relinquish that lead until Fair's tip with 0:22 left.
Both teams seemed to be a bit hung over from their Saturday games, with Syracuse narrowly beating Louisville and Cincinnati taking out No. 25 Marquette in overtime. Both get a bit of a rest as Cincinnati will get eight days off before it gets a home game against Rutgers and Syracuse gets to lick its wounds until Saturday when it travels to Philadelphia to take on Villanova.
With the win, the Orange cemented their position atop the Big East standings, but more importantly, showed that they could overcome adversity and could rely on each other to make heady plays in the clutch.
What lies ahead for the Orange only gets tougher, however, with 12 games remaining on the schedule. Syracuse's remaining opponents all have winning records and boast a combined 138 wins against only 59 losses.
The Big East has never seen an undefeated team in conference, but perhaps in its last year of existence as we know it, something special might be on the horizon. Last season, Syracuse went 17-1, tying the 1995-96 Connecticut Huskies for most wins all time in conference. Syracuse also tied Connecticut in regular-season conference titles last season with its 10th.
With the Cincinnati win, Syracuse is now 28-1 in its last 29 games in conference, with its only hiccup being a road loss to Notre Dame as the No. 1 team in the NCAA last season. Orange fans will remember this being the first of Fab Melo's infamous departures from the team last season and was Syracuse's only regular-season loss.
Of Syracuse's 12 remaining games, six are at home and six are on the road. With the potential for a losing effort on any given night in the Big East, here are five games the Orange can circle as the most intriguing of the group.
February 2 at Pittsburgh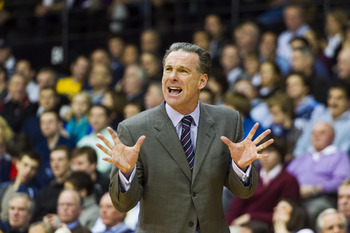 Pitt coach Jamie Dixon
Howard Smith-USA TODAY Sports
The Pittsburgh Panthers (15-4, 3-3) have one of the longest rivalries with Syracuse, going back to the 1913-14 season.
Pitt started the season strong, going 12-1, with the only loss coming against No. 4 Michigan back in November. The start of the Big East schedule turned out to be a bit of a stumbling block as Pitt lost its first two games to Cincinnati and Rutgers, beat Georgetown, but then lost to Marquette.
Pitt has regained its composure somewhat by winning its next two against Villanova and Connecticut, and probably won't be tested again until its January 28 date at Louisville.
Pitt's identity crisis will need to be addressed, but its 28-point road stomping of Georgetown shows that it can still play the top-level brand of basketball for which coach Jamie Dixon has been known and should never be discounted.
Syracuse leads the all-time series 62-38.
February 4 vs. Notre Dame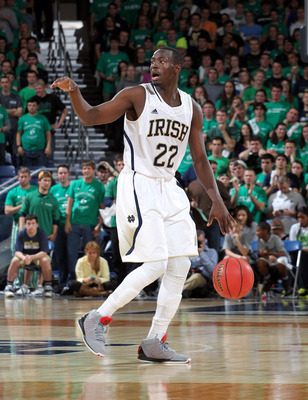 Brian Spurlock-USA TODAY Sports
The No. 24 Notre Dame Fighting Irish (15-4, 3-3) started the season 12-1, just like Pitt, but the Irish resume is bit stronger with wins against BYU, Kentucky and Cincinnati.
The Irish have faltered as of late, losing three of four, including a home thumping from Georgetown Monday night.
None of this matters to the Orange, who will have only one thing on their minds.
Revenge.
Notre Dame took advantage of a Fab Melo-less team last year and knocked Syracuse off of its top-ranked perch for its first loss and only blemish of the regular season. That game was in a very hostile South Bend, while this year Syracuse gets the Irish in the Carrier Dome.
Notre Dame is the only Big East school that Syracuse does not have a win against in its last meeting. Nothing would please the Irish nation more than to knock down Syracuse for a second year in a row.
Syracuse leads the all-time series 24-19.
February 25 at Marquette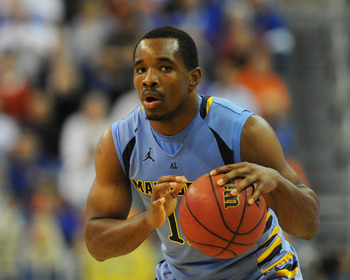 Al Messerschmidt/Getty Images
The Marquette Golden Eagles (13-4, 4-1) are a bit of a mystery. Earlier in the season, they lost a heartbreaker to Butler, 72-71, in the Maui Invitational on a buzzer-beating three-pointer. They ended up winning their next three, but then went to the swamp of Florida and lost by 33 to the Gators.
Brushing that loss aside, Marquette beat a very good Wisconsin team in its next game. After a 20-point win against Savannah State, inexplicably, Marquette lost to Green Bay of the Horizon League, 49-47.
That game must have been the straw that broke the camel's back for coach Buzz Williams, as the Golden Eagles rolled off six straight, only stumbling on Saturday in overtime against Cincinnati.
Marquette, under Williams, has taken on a physical identity that makes them the kind of team that no team wants to face. The Golden Eagles finished second in the Big East last season, behind Syracuse, and nearly gave the Orange their first loss of the season last year with a second-half comeback that fell just short after trailing by 23 in the first half.
Marquette is likely better than advertised and will be a very tough road game for the Orange.
Syracuse leads the all-time series 8-4.
March 2 vs. Louisville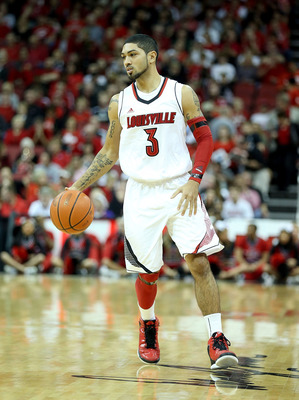 Andy Lyons/Getty Images
After taking a tough loss against Syracuse on Saturday, 70-68, No. 5 Louisville (16-2, 4-1) will have revenge on its mind at the second meeting of the two teams at the Carrier Dome.
Louisville has had its way with Syracuse, winning seven in a row, before getting swept last season and losing the first matchup this season. Syracuse was extremely lucky to get out of Louisville with a win.
A bounce here or a different call there and Louisville would still be the top-ranked team in the country and everyone would be talking about Syracuse's inability to win a big game on the road.
This doesn't mean that Louisville is the better team, as Syracuse had to put itself in a position to receive the luck it was given, but it doesn't mean that Syracuse is better either.
These are about as evenly matched teams as you can get, and the game in Syracuse, with all respect to Jim Ross, will be a slobberknocker.
Louisville is one of the few teams in America with a winning record against Syracuse, going 13-7 all time.
March 9 at Georgetown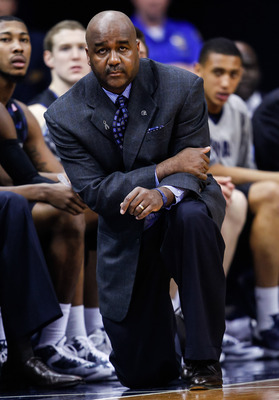 John Thompson III
Michael Hickey/Getty Images
The Georgetown Hoyas (13-4, 3-3) just put it on the chin of Notre Dame, 63-47, in South Bend, but Georgetown could be winless and this game would be a headliner.
For the last regular-season game the Orange will ever play in the Big East, the basketball gods gave us Syracuse and Georgetown—two teams that truly despise each other.
This game will be bittersweet, as it will be the last game in conference between these bitter enemies, but will also be eternal bragging rights for the team that comes out on top.
There is no better example of Big East teams going to war over the past 30-plus years than these two programs, with Syracuse having the edge, 48-39, all time.
It will be sad to see this rivalry end.
Keep Reading

Syracuse Basketball: Like this team?