Bill Wild Bracketology: Duke Still Top Seed; Champs in First Four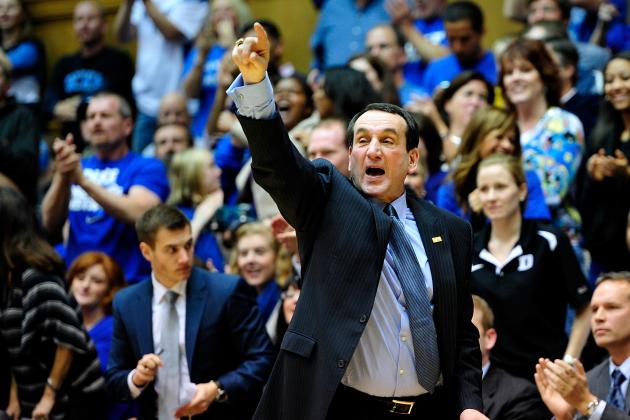 Grant Halverson/Getty Images

Another week of moving and shaking in the world of college hoops is in the books, which included Syracuse winning at Louisville over the weekend, and in the process, propelling themselves onto the top seed line. Duke remains our overall No. 1 seed, with Arizona and Kansas joining them on the top line.
As for defending champion Kentucky, they are staring Dayton right in the face. No, not Dayton's basketball team. I'm talking about UD Arena and a spot in the First Four. Sounds surreal, doesn't it? Well, start thinking about it, because it could very well happen.
I will reveal the bracket over the next few slides, each slide being one region.
Let's start in the East.
Begin Slideshow

»
Grant Halverson/Getty Images
Despite Ryan Kelly's injury, Duke remains the top overall seed in the bracket.
No. 1 Duke vs. No. 16 Albany; No. 8 Notre Dame vs. No. 9 Oklahoma State; No. 5 UNLV vs. No. 12 Belmont; No. 4 Creighton vs. No. 13 Bucknell; No. 6 VCU vs. No. 11 Kentucky or No. 11 Washington; No. 3 Minnesota vs. No. 14 Northeastern; No. 7 Oklahoma vs. No. 10 Boise State; No. 2 Louisville vs. No. 15 Bryant.
And here we find Kentucky in the First Four against Washington. Kentucky has, count them, zero top 50 RPI wins and just two in the top 100 (Maryland and Tennessee). Kentucky needs to keep winning in the SEC to stay above the cut line. Good news is they are off to a 3-1 start.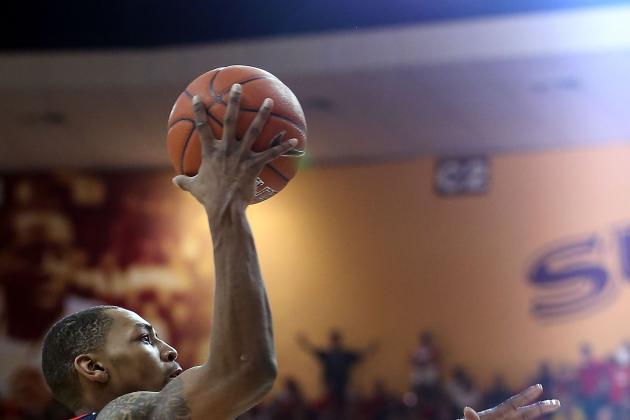 Christian Petersen/Getty Images
Mark Lyons has been key to Arizona's success this season.
No. 1 Arizona vs. No. 16 Charleston Southern or No. 16 Norfolk State; No. 8 Mississippi vs. No. 9 Marquette; No. 5 Miami vs. No. 12 Stephen F. Austin, No. 4 Michigan State vs. No. 13 Louisiana Tech; No. 6 San Diego State vs. No. 11 Indiana State; No. 3 Gonzaga vs. No. 14 Davidson; No. 7 Illinois vs. No. 10 Georgetown; No. 2 Florida vs. No. 15 Long Beach State.
I give Arizona the slight edge on Kansas, thanks to their six top 50 wins, but either way, Arizona would lead the West, Kansas would lead the Midwest.
Indiana State is currently the last team with a bye. They have neutral-court wins over two teams in this region (Mississippi and Miami). Right now, those are just enough for the Sycamores to sneak in.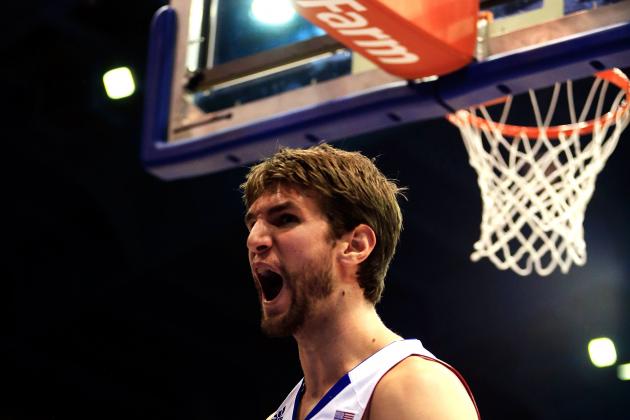 Jamie Squire/Getty Images
Defensive Player of the Year Candidate Jeff Withey has the Jayhawks in line for yet another top seed
No. 1 Kansas vs. No. 16 Niagara or No. 16 Stetson; No. 8 Wisconsin vs. No. 9 Wyoming; No. 5 Oregon vs. No. 12 Middle Tennessee; No. 4 North Carolina State vs. No. 13 North Dakota State; No. 6 Cincinnati vs. No. 11 Baylor; No. 3 Butler vs. No. 14 Harvard; No. 7 Missouri vs. No. 10 Colorado State; No. 2 Michigan vs. No. 15 Wright State.
Thanks to a top 20 RPI, Colorado State makes six teams from the Mountain West currently in the field. The Rams picked up a key win over UNLV over the weekend.
Missouri is clearly missing Laurence Bowers. That was pretty clear after they got hammered by Florida.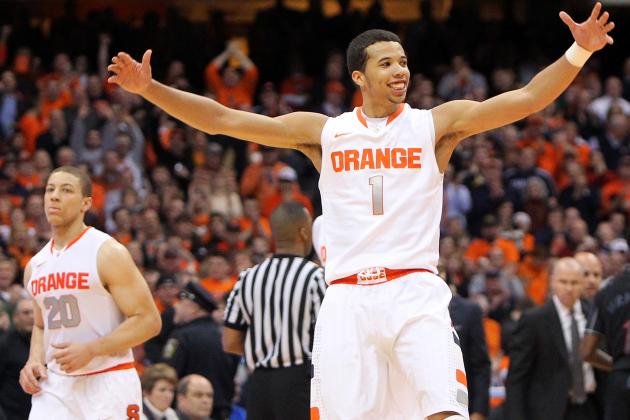 Nate Shron/Getty Images
MCW has done a nice job for the Orange in the absence of James Southerland
No. 1 Syracuse vs. No. 16 Southern U; No. 8 Colorado vs. No. 9 North Carolina; No. 5 Ohio State vs. No. 12 Saint Louis or No. 12 Iowa State; No. 4 Wichita State vs. No. 13 Akron; No. 6 Kansas State vs. No. 11 Pittsburgh; No. 3 New Mexico vs. No. 14 Southern Miss; No. 7 UCLA vs. No. 10 Temple; No. 2 Indiana vs. No. 15 Weber State.
Thanks to their win at Louisville (and avoiding the letdown against Cincinnati), the Orange have leap-frogged the Cardinals for the last No. 1 seed.
Iowa State is currently the last team in the field, so any bad loss from this point on will be a huge blow to the Cyclones' chances at dancing. And don't forget those potential bid thieves in March.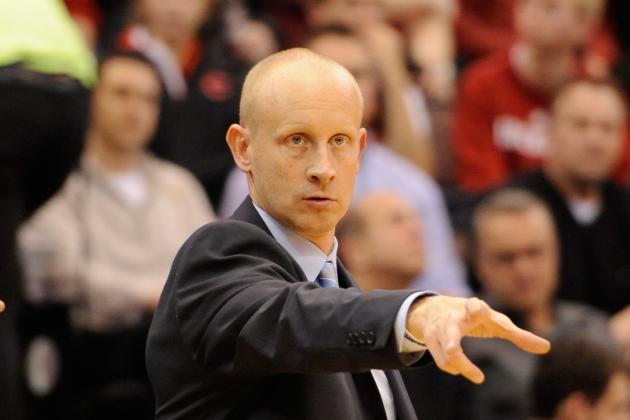 Jamie Sabau/Getty Images
Xavier's 4-0 start in Atlantic 10 play has them back in the bubble conversation
First Four Out—Saint Joseph's, Florida State, Maryland and Xavier.
Saint Joe's played tough against VCU, but came up short. They're gonna need more than that Notre Dame win to feel a bit better.
Maryland knocked off NC State, only to fall to Florida State a few days later. The Terps need to overcome a weak non-conference schedule, while the Seminoles desperately need big wins to outweigh the losses to South Alabama, Mercer and Auburn.
Xavier had a rough non-conference, but they have started 4-0 in conference, including a win over Temple. Don't look now, but here come the Musketeers.
Next Four Out—Texas A&M, Rutgers, Iowa and Saint Mary's.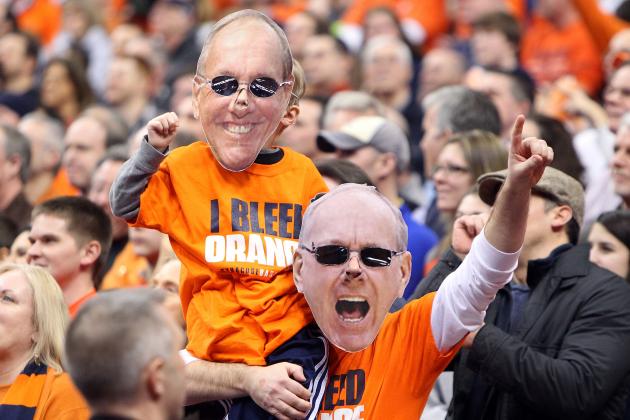 Nate Shron/Getty Images
Jim Boeheim and Syracuse are leading the Big East, which leads the pack, along with the Big Ten with seven NCAA Tournament teams.
Big East (7)—Syracuse, Louisville, Cincinnati, Notre Dame, Marquette, Georgetown and Pittsburgh.
Big Ten (7)—Michigan, Indiana, Minnesota, Michigan State, Ohio State, Illinois and Wisconsin.
Big 12 (6)—Kansas, Kansas State, Oklahoma, Oklahoma State, Baylor and Iowa State.
Mountain West (6)—New Mexico, UNLV, San Diego State, Wyoming, Boise State and Colorado State.
Pac-12 (5)—Arizona, Oregon, UCLA, Colorado and Washington.
ACC (4)—Duke, North Carolina State, Miami (FL) and North Carolina.
Atlantic 10 (4)—Butler, VCU, Temple and Saint Louis.
SEC (4)—Florida, Missouri, Mississippi and Kentucky.
Missouri Valley (3)—Wichita State, Creighton and Indiana State.
There are 22 one-bid leagues.
Teams listed in S-curve order.
You can follow me on Twitter @Bill_Riccette and you can compare my bracket to many others in the Bracket Matrix.
See you next week, where I'm sure we'll have more moving and shaking.