College Football: Why the Big 12 Hasn't Expanded Yet (Updated)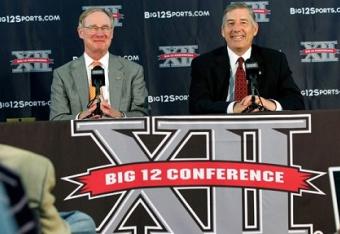 Photo Credit: ESPN.com
Kevin Jairaj-USA TODAY Sports
The Big 12 is going to expand. That is a given. The NCAA is not going to give them an exemption to have a championship game. It wouldn't matter if they did.
Things are progressing rapidly in terms of conferences adding members. The ACC started this mess, but it will end up suffering the most.
Like dominoes falling, the Big 10 will make the first move. The SEC is probably finished expanding. The PAC is waiting and so is the Big 12. Things will start to happen soon and and the ripple effect will change the college football landscape.
The Big 12 is standing pat and waiting in a very comfortable position. No one is leaving. You can't give up your broadcasting rights of $20 million per year for 13 years to change conferences.
No rumors, speculation or wishful thinking is going to overcome the loss of $260 million in revenue, that's way too many zeros to overcome. That is what it would cost any member of the Big 12 to leave. No conference is more stable for that reason.
So why would any team want to join a conference like that? Especially a relatively small one. The reason is third tier rights. No other conference allows a team to keep their third tier broadcasting rights.
How much could that amount to in addition to the $20 million per year share of the ESPN/FoxSports deal? Well one of the new members, WVU, is about to sign a deal for their third tier rights for in the neighborhood of $8 million per year.
That's on top of the $20 million for first and second tier broadcast rights and revenue from bowl games. Speaking of bowl games, the conference covers the unsold tickets, not the school. Now we're talking about an annual revenue of at least $34 million per year for each member on average.
The ACC broadcast deal pays each member $17 million per year on average over the length of their latest deal. And it's said to be very back loaded. And it includes those third tier rights.
Imagine how much money that is to a school like Florida State or even Clemson. So what are they waiting for? The Big 10 has to make the first move. The SEC is a little membership heavy, and is not very interested in many of the ACC schools.
The Big 10 is deciding which schools it wants to take, whether it's from the ACC, Big East or even the SEC. There is speculation that it will be Georgia Tech and UVA. It doesn't matter as far as the Big 12 is concerned.
The 10 member schools are not going to give up a share of their revenue to add members. That is not going to happen. The only way to avoid that scenario is for ESPN/FoxSports to increase their payout by $20 million per year for each school added to the conference.
That means any school the Big 12 school presidents would like to add to the conference has to be approved by ESPN/FoxSports. I have seen a very comprehensive and independent financial study that showed FSU and Clemson to be the only viable additions from the ACC at the time of the study.
The additions to the ACC could have changed that. But it all starts with the Big 10 and who they take. Whether the Big 12 adds two new members or four, it won't happen until then with the concurrence of ESPN/FoxSports.
Update: Bill Rabinowitz of the Columbus Dispatch recieved minutes from a meeting Ohio State President E. Gordon Gee had with the school Athletic Council in December. Gee told the Athletic Council that further expansion talks were ongoing.
Gee further stated that he ""believes there is movement towards three or four super conferences that are made up of 16-20 teams." Gee also said "There are opportunities to move further south in the east and possibly a couple of midwest universities."
Gee also assured the council the additional teams would be 'like minded academic integrity.' President Gees remarks were made after the announcement of the addition of Maryland and Rutgers.
You can draw your own conclusions which schools he was refering to. Comments and debate welcome and appreciated.
This article is
What is the duplicate article?
Why is this article offensive?
Where is this article plagiarized from?
Why is this article poorly edited?