5 Things Milwaukee Bucks Must Do to Reach Full Potential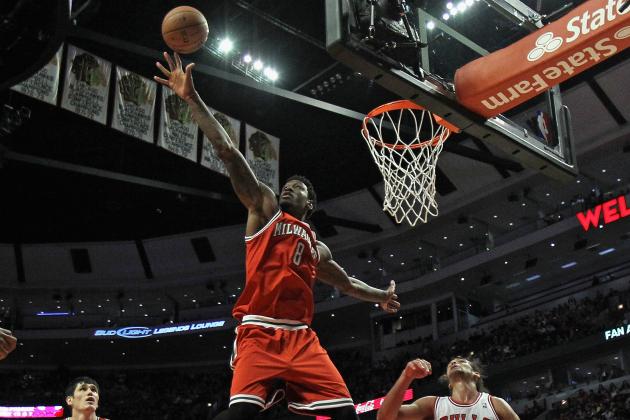 Jonathan Daniel/Getty Images

The Milwaukee Bucks came out of the gates playing at their full potential.
For the first two weeks of the 2012 season, the Bucks were putting the league on notice. Their young-stud center, Larry Sanders, and their dynamic guard duo of Brandon Jennings and Monta Ellis led their initially impressive team to a 6-2 record in their first eight games.
Then, starting with a November 19 loss to the perennially lowly Charlotte Bobcats, they dropped three in a row on their way to losing five out of six.
Since then, the Bucks have been a .500 team struggling to find an effective offensive identity.
Recently, things have begun looking up. The Bucks responded after the firing of head coach Scott Skiles and the installation of his replacement, Jim Boylan by winning five of their next seven games. Their 110-104 victory over the Portland Trail Blazers on January 20th showcased many encouraging developments from some of the young Bucks players.
They are, however, still far from perfect.
Let's take a look at five things the Bucks can do to regain the dominance they displayed early in the season.
Stats current as of 01/22/2013
Begin Slideshow

»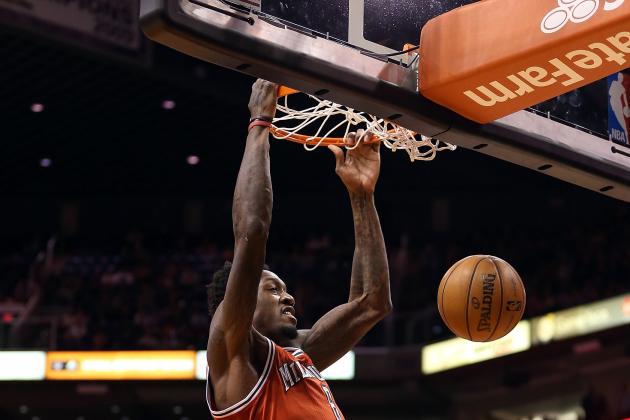 Christian Petersen/Getty Images

The Bucks are an uptempo team that likes to score points in transition. They rank ninth in the league in fast-break points per game.
But even the most prolifically scoring fast-break team has to run a half-court offense on occasion. When the Bucks find themselves in the half-court set, they need to get the ball to Larry Sanders in the post.
That Sanders is averaging a mere 8.2 points per game while shooting 53 percent from the floor says it all. This is a guy who can put the ball in the hoop from the post. The Bucks need to start giving him more opportunities to do just that.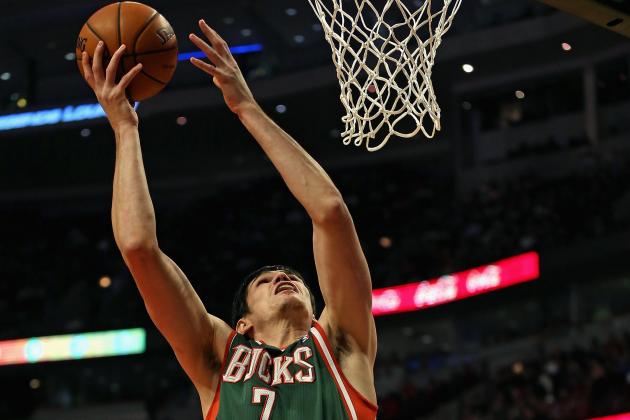 Jonathan Daniel/Getty Images

Ersan Ilyasova has been a disappointment since signing his big five-year, $40 million contract in the offseason. After averaging 13 points and 8.8 rebounds per game in the 2011-2012 season, his current season averages are down to 9.4 points and 5.8 rebounds.
Much of his early season struggles were due to recently fired head coach Scott Skiles. Ilyasova has said that it was "really hard" to get into a rhythm under Skiles, most likely because of Skiles' notoriously incessant lineup tinkering.
Though he has only started 18 of 37 games this season, Ilyasova's minutes have been steadily increasing since Skiles' departure and they should continue to do so. Interim head coach Jim Boylan has said, "This past summer we made a commitment to Ersan. We have to make sure we give him the support and the confidence, give him the minutes he deserves."
The results are already showing. Two days after saying new coach Boylan allowed him to "play more freely," Ilyasova produced his best game of the season, scoring 27 points on 10-14 shooting, including 3-3 from three-point range and grabbing 14 rebounds in the January 20 Bucks' victory over the Trail Blazers.
Despite his great offensive performance, coach Boylan decided to keep Ilyasova on the bench late in the game while trying to protect his team's lead. The reasoning is understandable—Ilyasova is somewhat of a defensive liability—but wrong nonetheless.
Playing not to lose never works. You don't sit a guy who is 10-14 from the floor, despite his defensive shortcomings. Boylan needs to keep Ilyasova on the court for 36 minutes a game no matter the situation to give his team the best chance to win.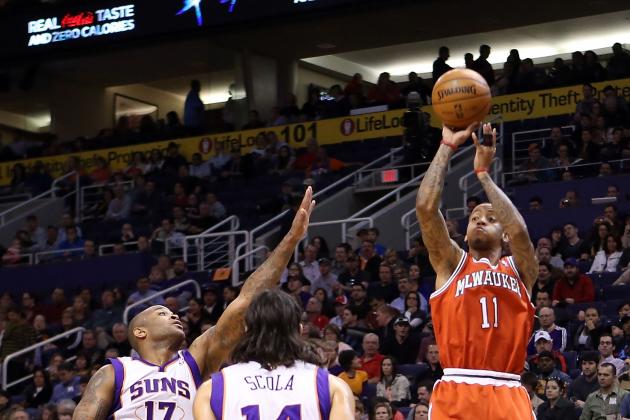 Christian Petersen/Getty Images

The Bucks average 94 possessions per game, fifth most in the league. They rank 15th in points scored.
This is a problem.
One needs to look no further than the guard duo of Brandon Jennings and Monta Ellis, at once team saviors and undoers, they score a lot of points, but they also miss a lot of shots. Both are shooting an inefficient 40 percent from the floor.
When a team plays at a fast pace, their best scorers are going to put up a lot of shots. If Jim Boylan tries to change the way they play, he will take them out of their element, effectually tying their hands while simultaneously making them extremely unhappy and consequently even less productive.
It's up to Jennings and Ellis to work to get better shots. If they find themselves being forced to pull up for a jump shot on a fast break, they need to dribble or pass the ball back out and set up their half-court offense.
Once that is done, the ball needs to go in to Larry Sanders while Jennings, Ellis and Ilyasova move without the ball to get open.
If they can do those things, their number of possessions will go down but their field-goal percentage and points scored will go up.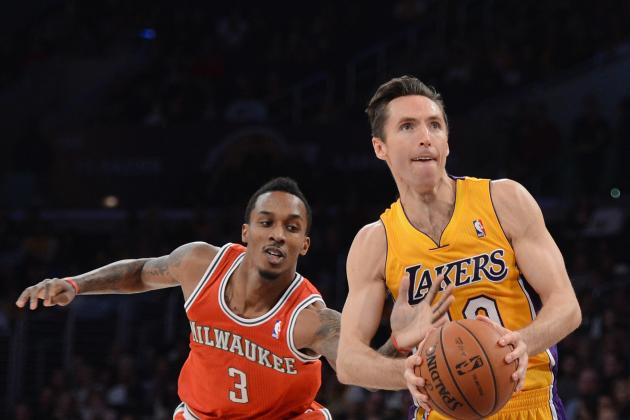 Harry How/Getty Images

If one were to look at only select defensive statistics for the Bucks, that person would be duly impressed.
They rank first in the league in blocks with 7.6 per game, fifth in steals with 8.6, second in forced turnovers with 16.2 and eighth in rebounds with 43.6.
Despite those great numbers in hugely important statistical categories, the Bucks still manage to rank a middling 17th in scoring defense, allowing 97.6 points per game.
How can this be?
At first, one might be tempted to look at their opponent field-goal percentage, half-expecting to see some gaudy number to explain the paradox.
They would find that the Bucks rank 12th in the league, only allowing their opponents to shoot 44 percent from the floor.
How then are their opponents able to put up nearly 98 points per game despite the Bucks blocking, stealing, rebounding and turnover-forcing abilities?
It comes down to second-chance opportunities. The Bucks 12.5 offensive rebounds allowed to their opponents per game ranks a desperately-low 27th in the league.
If they want their opponent's points to get more in line with the rest of their defensive statistics, they are going to have to do a much better job of limiting second-chance opportunities.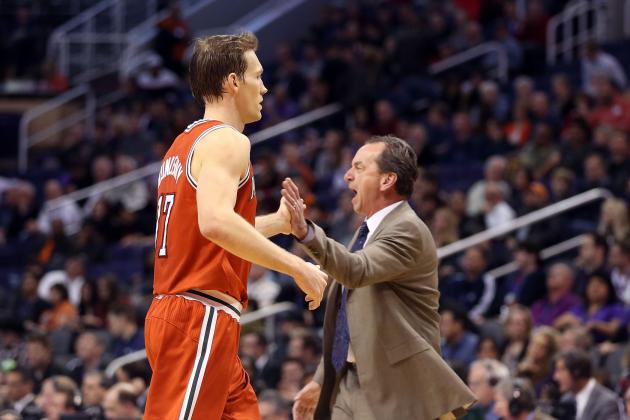 Christian Petersen/Getty Images

An effective second unit is paramount to any successful NBA team.
The Milwaukee Bucks have one of the best in the league.
As a whole, the Bucks bench ranks 10th in the league in points scored (36.8), first in rebounds (20.2) and first in blocks (3.7).
Point guard Beno Udrih is a great catalyst who could start on some teams.
Rookie power forward John Henson has length and an ability to shoot with either hand that combine to make him equally formidable on the defensive end and as a low-post presence on offense.
And Mike Dunleavy is excelling in his sixth-man role. In his last five games, Dunleavy is averaging 13.2 points and two assists while shooting 53.8 percent from the floor.
The unit as a whole has length, athleticism, quality ball-handling and veteran savvy that together make them worthy opponents for anyone, even other team's starting units.
The guys in the second unit are already performing at a high level. If the Bucks as a whole are going to maximize their potential, the bench players continuing their stellar play will be of the utmost importance.