10 Most Overrated and Underrated Players in 2013 Senior Bowl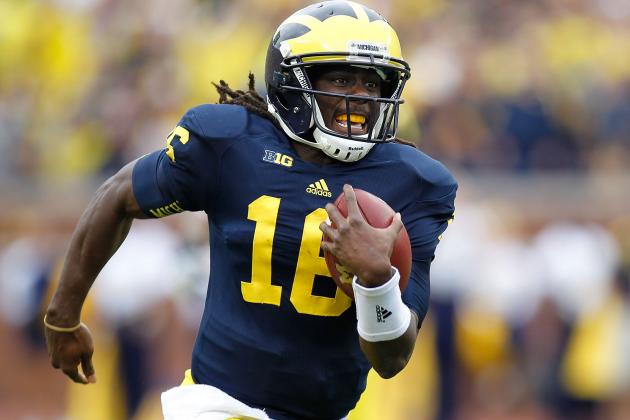 Gregory Shamus/Getty Images

Some of the top college football superstars from the 2012 season are no longer college kids once they suit up for the Senior Bowl. The game will take place on January 26 at 4 p.m. ET and is an all-star game between some of the best seniors in the country. This will give players another chance to either make or break their NFL draft stock, as they are going up against top-tier competition.
Everybody that will participate in this game has something to prove, but NFL scouts usually have a good idea of where each guy stacks up as far as draft position is concerned. However, sometimes a certain player can get too much hype, while others are often put on the back burner far too early.
Many players will enter this game either overrated or underrated.
Begin Slideshow

»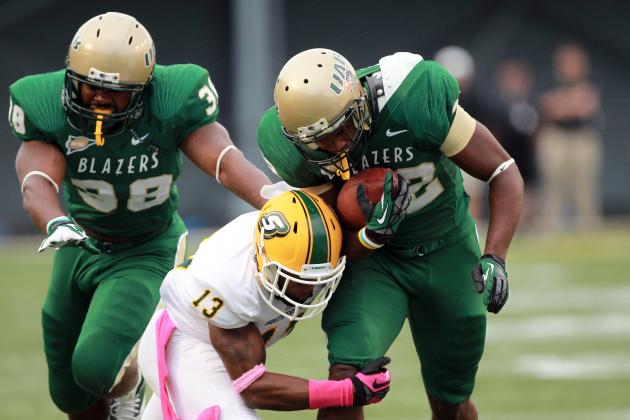 Marvin Gentry-USA TODAY Sports

South Team
Robert Alford has received a bunch of love as of late, which is amazing because he played for an FCS school.
At 5'10", 185 lbs, Alford has the size that NFL teams like at the cornerback position. But the thing that sticks out the most is his tremendous speed and ability to keep up with a receiver stride for stride. You rarely see Alford get beat in coverage, and when the ball is thrown his way, he often makes a play on the ball.
Due to his playmaking ability, Alford could play either side of the ball. You will likely hear his name mentioned a lot during the game, and if he can prove himself against better players in the Senior Bowl, he could go as high as the second round.
Verdict: Underrated
Justin K. Aller/Getty Images

South Team
Landry Jones has a lot of the traits you would look for in an NFL quarterback. He has the typical size at 6'4", 230 lbs and above-average arm strength, and he is accurate with the football. When given time in the pocket, Jones can shred a defense to pieces.
The issues with Jones are that he isn't the most mobile quarterback in the world and can panic when he begins to feel pressure. He sometimes becomes overconfident and forces passes where he shouldn't, which has resulted in costly turnovers throughout his career. It doesn't help that his confidence seems to break fairly easily after he makes a mistake.
Some would consider Jones a steal in the second or third round due to his upside, but I would stay away from the accomplished Sooners quarterback.
Verdict: Overrated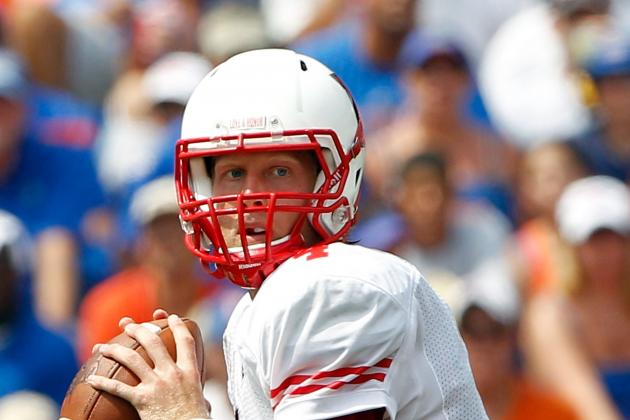 Sam Greenwood/Getty Images

North Team
Zac Dysert may be that quarterback that few are talking about but could sneak up into the early rounds and become the biggest steal of the draft.
There are so many things to like about him from his size (6'3") to his mobility in the pocket and his above-average accuracy. Dysert shouldn't be considered much of a dual threat, but he is an athletic player who is extremely impressive when rolling out of the pocket and throwing on the run.
Of course, there isn't much competition in the MAC, so this game is going to be big for Dysert and his draft stock. And if he shows the potential that he has shown throughout the 2012 season, more and more people will begin to take notice.
Verdict: Underrated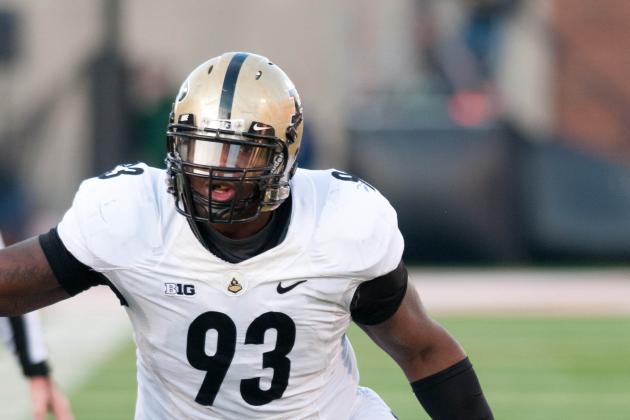 Bradley Leeb-USA TODAY Sports

North Team
With dominant defensive tackles in this draft such as Star Lotulelei, Johnathan Hankins and Sheldon Richardson, Kawann Short has a chance to provide value for an NFL team that isn't looking to spend a ridiculously high draft pick on a big man.
Short has the size and is one of the better pass-rushers you will see at the defensive tackle position. The problem is that he lacks that mean streak you want at the position and seems to take plays off at times. One minute he will be in the backfield making a big play; the next, he seems to have lost that edge. He also seems to run out of gas rather quickly.
The former Boilermaker will still be taken within the first couple of rounds, but there is a lot of potential to become a bust at the next level.
Verdict: Overrated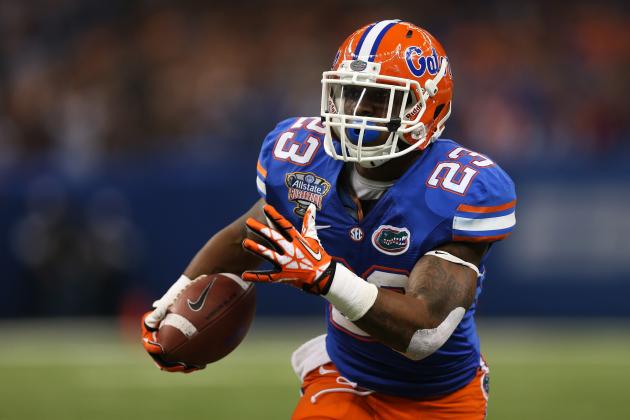 Matthew Stockman/Getty Images

South Team
We have seen many running backs come out of nowhere recently, and Mike Gillislee has the opportunity to be the next in line.
The Florida Gators' one-year wonder may in fact be the fastest running back in this entire draft. At 5'11", 200-plus pounds, Gillislee is more of a big-play threat than he is a power back. With his lateral agility and ability to get to the edge quickly, he can become a nice change-of-pace runner for a team looking for a playmaker. And while it may seem like Gillislee is a one-trick pony, he also has shown he can run between the tackles and be a reliable pass protector.
This draft has seen better running back prospects, but even with a weak bunch at the position, Gillislee is somebody who isn't talked about enough. A great Senior Bowl performance could change all of that.
Verdict: Underrated
North Team
Because there is no sure No. 1 prospect at the quarterback position in this draft, guys such as Mike Glennon have a chance to be the first player taken at the position. The former North Carolina State signal-caller will also have a chance to prove himself since Geno Smith is not playing in this ballgame.
Sorry, but I'm not on the Glennon bandwagon. He may have the strongest arm in the draft, but he has absolutely no pocket presence. He moves as much as the Statue of Liberty in the pocket and will make horrendous decisions with the ball when pressure gets in his face.
There are certain things you can teach a young player, but athleticism is not one of them. Unless he finds himself behind the best offensive line in the NFL, Glennon will likely become the next Jay Cutler.
Verdict: Overrated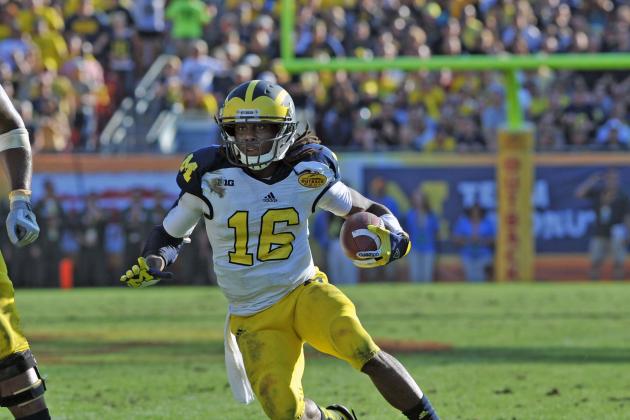 Al Messerschmidt/Getty Images

North Team
There are a lot of people who will tell you that Denard Robinson has no future in the next level. I'm not one of them. He won't be a quarterback, but for somebody this versatile, Robinson is worth a look from teams that are looking for a playmaker.
News flash: Every team is looking for a guy who can create a big play on the offensive side of the ball.
Robinson looked great as a running back in his final games with the Michigan Wolverines. He hasn't shown terrific ball skills, but with his quickness, he could bode well as a slot receiver. Robinson could give a team a spark on special teams, could also be taught to play cornerback and will still keep defenses honest with his ability to throw the football on offense. The upside is there with somebody who can help in many different areas.
There is a lot of potential with "Shoelace," and with his work ethic, you have to like his chances to succeed.
Verdict: Underrated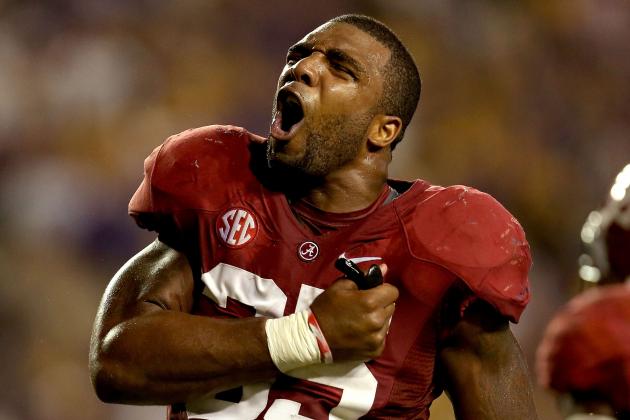 Matthew Stockman/Getty Images

South Team
It is not very often that you get the chance to label an Alabama prospect as overrated, so I have to take advantage when the opportunity presents itself. But let me first note that Nico Johnson is solid against the run and is about as sure of a tackler as you are going to find at linebacker.
The problem is that Johnson isn't an athletic defensive player and doesn't have the top-notch speed teams would like to see. He can't cover a lot of ground, and this hurts him when being asked to drop back into coverage.
Just like in Alabama, Johnson will likely be a situational linebacker at the next level. He is extremely valuable in stopping the run and could be used in blitz packages, but get him off the field when the opposing offense is going to pass.
Verdict: Overrated
South Team
I have been critical of E.J. Manuel in the past. He makes terrible decisions with the football and isn't as accurate as you would like, and he can show a lack of leadership when things don't exactly go his way on the field.
However, we are seeing the transition at the next level of dual-threat quarterbacks succeeding at a high rate. Teams want that next great athletic quarterback who can take their offense to another level, and that is Manuel.
At 6'4", 247 lbs, the former Florida State quarterback has the perfect NFL size and more than enough athleticism to be the next great running signal-caller. The arm strength and the poise in the pocket are also there; Manuel just needs to iron out a few wrinkles in the passing game to be a steal in the draft.
Whatever team that does draft him will need to be patient, but it is a low risk and high reward with Manuel.
Verdict: Underrated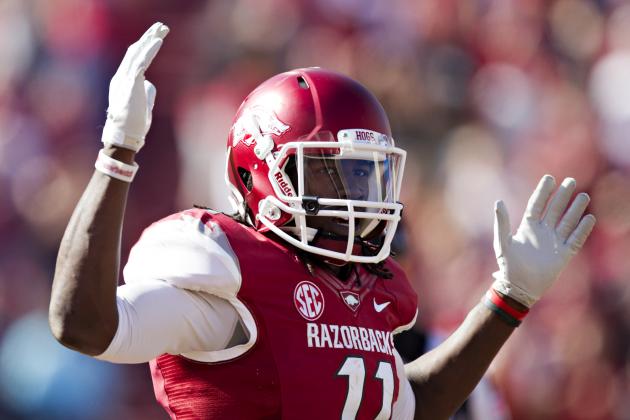 Wesley Hitt/Getty Images

South Team
Cobi Hamilton was one of the few bright spots for the Arkansas Razorbacks last season. He hauled in 90 passes for 1,335 yards and five touchdowns. The problem is that even at 6'3", Hamilton doesn't have enough speed or quickness to get downfield and be a deep threat that teams are looking for from somebody with his size. The majority of his receptions came on shorter passes across the middle, and he really didn't show much big-play ability.
Hamilton can also struggle to get off the line of scrimmage against bigger and more physical corners. He will have a hard time breaking free and creating separation, and he isn't quite polished as a route-runner.
Hamilton will likely be selected within the first three rounds, but he doesn't have as much upside as some of the other receivers in this draft.
Verdict: Overrated