Power Ranking Every Fight on the UFC on Fox 6 Card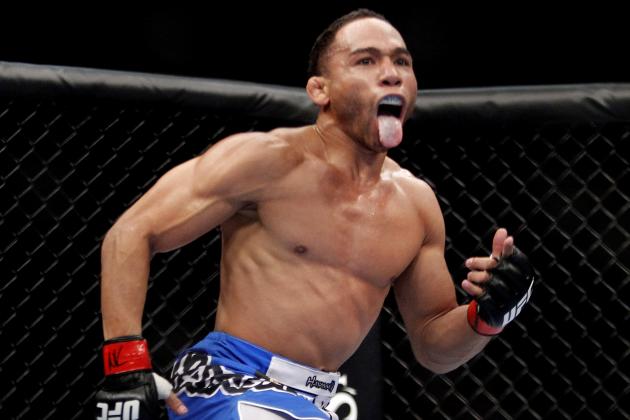 Bruce Kluckhohn-USA TODAY Sports

UFC on Fox 6 invades Chicago Saturday, Jan. 26 to determine the baddest little man on earth.
Flyweight champion Demetrious "Mighty Mouse" Johnson looks to defend his title against John "The Magician" Dodson, and the fight is sure to be a high-energy, action-packed bout for the ages.
Championship fights such as this typically headline UFC fight cards, and UFC on Fox 6 is no different.
That said, the rest of the card is loaded, and fans are in for a treat from top to bottom.
Let us take a look at how these bouts stack up.
Begin Slideshow

»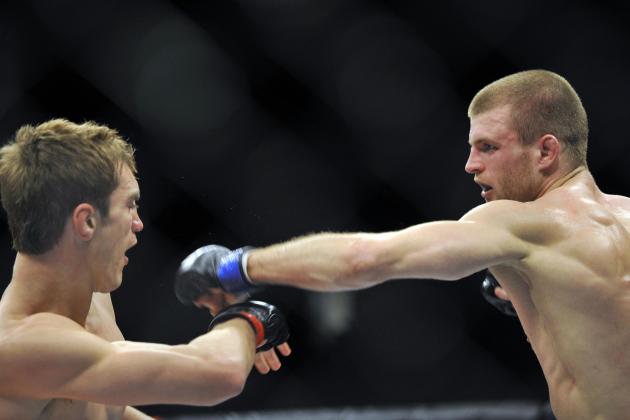 Joe Camporeale-USA TODAY Sports

Pascal Krauss vs. Mike Stumpf looks pretty weak on paper.
Both fighters are coming off of a loss, and neither has performed spectacularly inside the Octagon thus far.
In his most recent fight against T.J. Waldburger, Stumpf was submitted in Round 1 after offering little resistance to Waldburger's ground attack.
Krauss, with a 1-1 record in UFC action, has been to a decision twice in his Zuffa career, and I expect this fight to be decision No. 3 for the German fighter.
With more experience on the big stage, look for Krauss to get the nod and Stumpf to get his walking papers.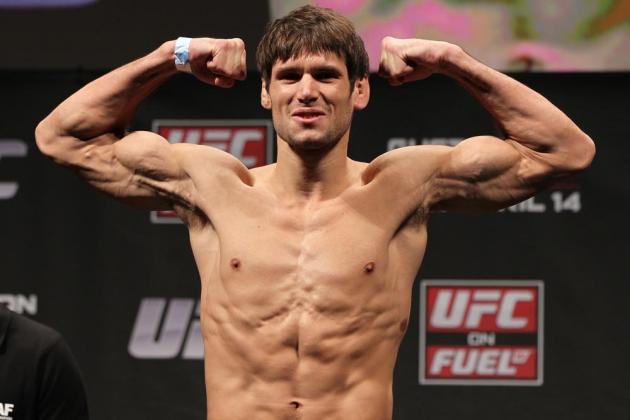 CREDIT: ufc.com
Simeon Thoresen and David Mitchell kick off the night's action, and this matchup provides little to get excited about.
Throesen, a grappling wizard, was brutally knocked out in his last fight against Seth Baczynski at UFC 152, and David Mitchell is 0-2 in the Octagon, with both losses coming via decision.
Neither of these welterweights has given fans reason to jump out of their seats or spill their beer, and I expect this to be a relatively lackluster matchup.
Thoresen holds an edge with his submission skills, and I look for him to cinch up a fight-ending choke early.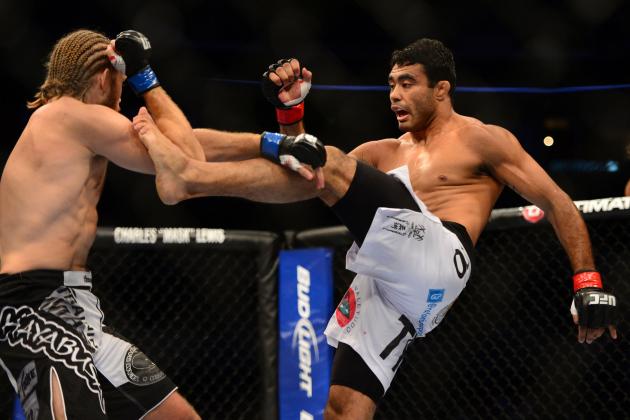 Kyle Terada-USA TODAY Sports

After suffering a brutal head-kick knockout loss to Andrew Craig in his last outing, Rafael Natal looks to get back on track against Octagon newcomer Sean Spencer at UFC on Fox 6.
A veteran of five fights inside the Octagon, Natal holds a significant experience advantage over Spencer in this one, but I do not think this alone can lead him to victory.
At 9-1, Spencer poses a legitimate threat to Natal with his power and ability to dictate where a fight takes place, and he would be wise to test Natal's suspect chin early in the fight.
If Natal can weather the early storm, however, he can overwhelm the newcomer on the ground and earn a submission victory.
With multiple directions this fight could conceivably go in, Natal vs. Spencer will provide the night's first dose of intrigue.
Gary A. Vasquez-USA TODAY Sports

Ryan Bader needs a big-time win if he hopes to stay relevant in the UFC's light heavyweight division.
Thankfully for him, Vladimir "The Janitor" Matyushenko has stood as a stepping stone of late, as he assumed the role of human punching bag and grappling dummy in bouts against Alexander Gustafsson and Jon Jones.
That said, Bader is no Gustafsson, and he surely is no Jones, so Matyushenko is not to be taken lightly in this contest.
With Bader's questionable chin and Matyushenko's veteran intuition, we may very well be in for an upset in this bout.
It wouldn't be the first time Bader got clipped by an experienced vet, after all...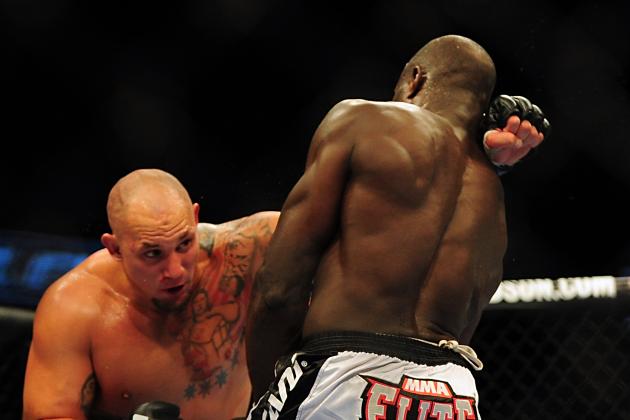 Anne-Marie Sorvin-USA TODAY Sports

Methinks Mike Russow vs. Shawn Jordan is a matchup that will surprise a lot of people.
Jordan, a former Louisiana State University fullback, is a scary blend of size, speed and athleticism, and Russow somehow always manages to exceed expectations inside the Octagon (except for that Werdum fight...but we won't talk about that).
When two big heavyweights step into the cage, the likelihood of a vicious knockout is massive, and I expect somebody to end up face-first on the canvas in this matchup.
Spoiler alert: It will be Russow.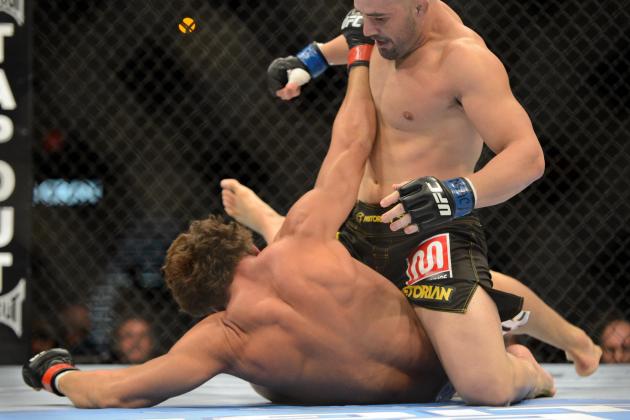 Ron Chenoy-USA TODAY Sports

Quinton "Rampage" Jackson is not the fighter he used to be.
In reality, "Rampage" hasn't looked truly great since a 2008 victory over Wanderlei Silva, and I do not think he has what it takes to compete at the highest level anymore.
Teixeira, on the other hand, has looked stellar since bursting onto the UFC scene in May 2012. Two fights and two stoppages later, Teixeira is already talked about as a potential threat to champion Jon Jones.
This is a case of a legendary fighter who is on a sharp decline in his career versus an up-and-comer who is just hitting his peak.
We know how this goes, and it's not pretty.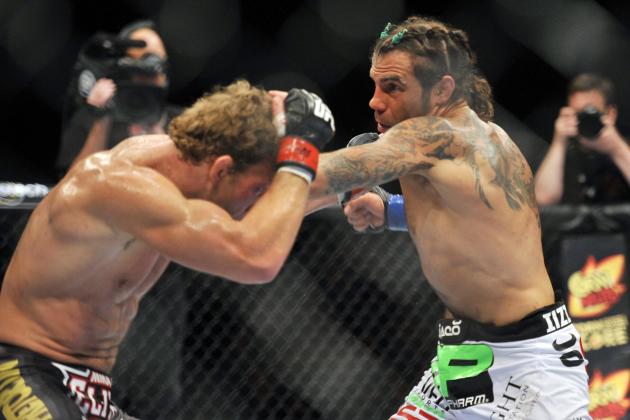 Joe Camporeale-USA TODAY Sports

I fully expect Clay "The Carpenter" Guida to get back to his aggressive, exciting ways at UFC on Fox 6 against Hatsu Hioki.
A former lightweight contender, Guida will make his featherweight debut in Chicago, and Hioki is not to be taken lightly.
Before dropping a decision to Ricardo Lamas at UFC on FX 4, Hioki was considered as an opponent for 145-pound champion Jose Aldo, but the Japanese fighter declined the opportunity, stating he didn't feel he was quite ready.
It was admirable, but it was also pretty dumb in retrospect, as he lost his next fight and now has to face the larger, more experienced Guida to further his career.
This fight provides a nice taste of strength versus strength, and I, for one, am very eager to see how Guida performs at featherweight.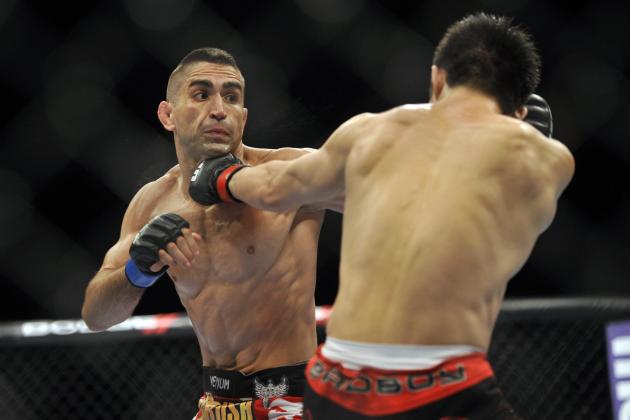 Joe Camporeale-USA TODAY Sports

Ricardo Lamas is the best featherweight that nobody wants to talk about.
"The Bully" is on a three-fight winning streak over Matt Grice, Cub Swanson and Hatsu Hioki, in that order.
Nice, right?
Now Lamas looks to make it four in a row against Erik Koch, a man who was previously penned to challenge Jose Aldo at UFC 153 before the inconvenient fangs of the injury bug sank into his knee, tearing his MCL.
Koch, like Lamas, puts an impressive streak on the line in this fight. With four straight victories, Koch will put his name right back into title talks with a big victory over Lamas.
Overall, this fight is a sure contender for Fight of the Night honors.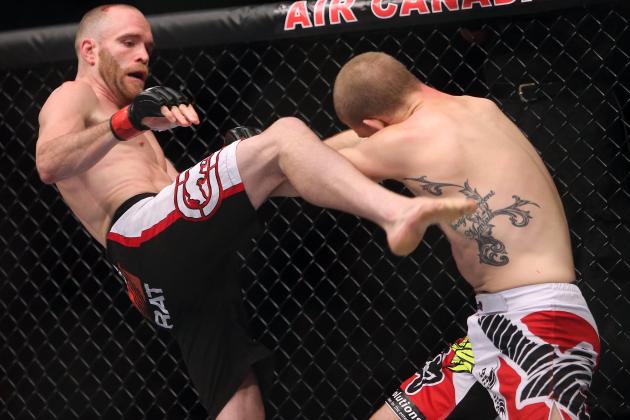 Tom Szczerbowski-USA TODAY Sports

T.J. Grant versus Matt Wiman is going to be an awesome fight.
Both guys are savvy on the ground and more than capable standing, and this clash will determine who takes the next step toward title contention in the UFC's stacked lightweight division.
Grant comes into the bout on a three-fight winning streak, while Wiman has won his last two, and there is no doubt fireworks will ensue as each fighter looks to continue his winning ways.
This fight has flown under the radar because of the relative lack of name recognition, but both of these fighters are legitimate lightweights, and if you did not know about them before, you will by the bout's conclusion.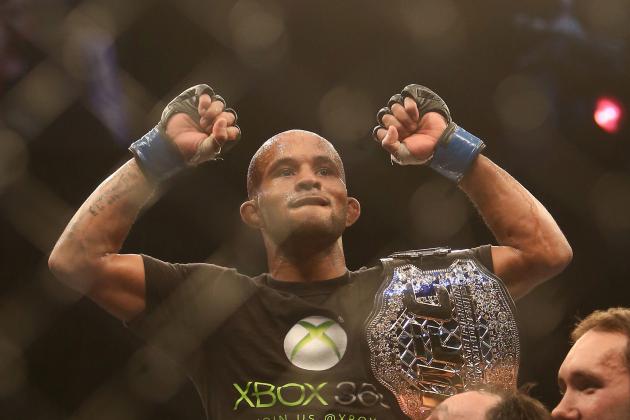 Tom Szczerbowski-USA TODAY Sports

Is John Dodson the man to steal Demetrious Johnson's flyweight belt?
With hellacious speed and power and jaw-dropping athleticism, Dodson certainly has the tools to upset the champion in this one, but Johnson is the king of the flyweight mountain for a reason.
"Mighty Mouse" scarcely finds himself in a bad position in his fights, and his ability to dictate where a bout takes place has led to his immense success inside the Octagon.
With a stifling wrestling game and a technical striking arsenal that gives his opponents fits, Johnson is a nightmare matchup for any 125-pound fighter in the world.
Dodson is more explosive, but Johnson is more well-rounded, and I expect the champ to retain his belt in unanimous-decision fashion.
Because of its championship implications and the evenness of the fighters involved, this matchup is sure to please fans and critics everywhere.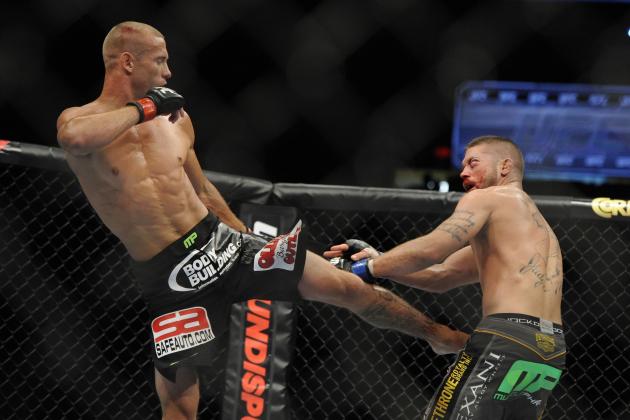 Rafael Suanes-USA TODAY Sports

No disrespect to the flyweights, but a shiny golden belt is the only thing keeping this fight from being the main event in my eyes.
"Now," you think, "that's strange, because this isn't even the co-main event! That's Rampage vs. Teixeira!"
You have a point, gentle reader. But, as I've already pointed out, Rampage is gifted that status simply because of his name and marketability.
If you're looking for the fight to watch Saturday evening at UFC on Fox 6, Donald "Cowboy" Cerrone versus Anthony "Showtime" Pettis is your ticket to MMA perfection.
There is bad blood, there are title implications and there are two ridiculously skilled fighters squaring off inside the Octagon.
What's not to love?
Whether this fight is contested on the feet or on the ground, either guy can end the fight at any time, and the tension will be palpable as these two elite lightweights go to battle.
As you have probably noticed, this entire card is pretty damn good, but this fight, in particular, is a sensational work of matchmaking.
Bravo, Joe Silva. Bravo.