Alistair Overeem Doesn't See Any Problem Getting Past Antonio Silva at UFC 156
Use your ← → (arrow) keys to browse more stories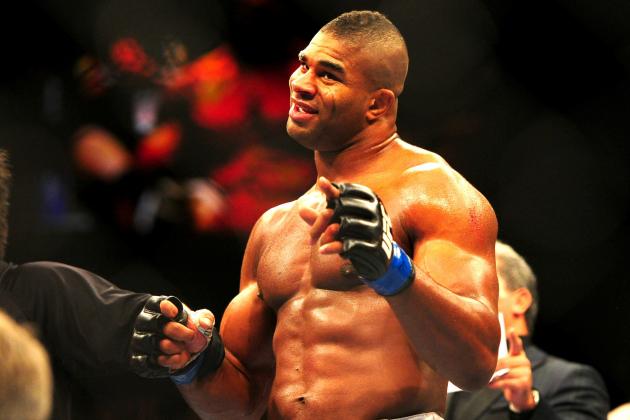 Throw the name Alistair Overeem out there, and you'll receive quite an array of differing opinions regarding the former Strikeforce, Dream and K-1 Grand Prix champion.
Overeem may have only one fight in the UFC—a first-round TKO win over former UFC heavyweight champion Brock Lesnar—but he has quickly turned into one of the most talked-about and divisive figures in the UFC. He's also quickly turned into a fighter that is on the verge of receiving a heavyweight title bout against current UFC champion Cain Velasquez. That is, if he can get past the man he will face at UFC 156, Antonio "Bigfoot" Silva.
Overeem recently served out a nine-month suspension after a random drug test revealed a testosterone to epitestosterone level of 14-to-1, well above the acceptable level of 6-to-1.
The eyes of the mixed martial arts world will be on him to see how he performs after a long layoff, not to mention what results will come back following his post-fight drug screen. But to hear Overeem tell it, he enjoys the focus that is on him: "There's always pressure, there's always tension. I like that, that is my fuel, but every fight is the same, you just need to get the job done. Winning the next fight is the most important thing."
When talking about that next fight, his first since sending Lesnar into retirement, Overeem seemed unconcerned, plainly stating, "There's one more mountain to climb and that's 'Bigfoot,' but to be honest I do not see any problem. It's going to be an exciting day, 12 nights from now."
If Overeem does climb that mountain and earns the victory over Silva—and if his post-fight test comes back clean—he will most likely be booked to face Velasquez.
Should Overeem get a title shot with a win at UFC 156?
Clean drug test or not, Overeem is now a man who will always be under suspicion due to his past drug test failure. When he stood before the Nevada Athletic Commission to be licensed for UFC 156, it was revealed that he had undergone random testing from the commission and also submitted five voluntary tests of his own. The fact that he passed all the tests does help his cause and will remove some suspicion, but not all.
When asked if he were going to undergo more voluntary testing in the future, Overeem said, "I did the drug testing, which was negotiated with my management. If it's necessary for me to do more testing I'll do that, if not I probably won't. It's something I'll have to take up with my management."
Hopefully the UFC and Overeem's management will strongly suggest Overeem continue those voluntary tests, as it will go a long way to help fans' perceptions, and that will be especially important if he goes on to become the UFC heavyweight champion sometime in the future.
All quotes obtained firsthand by BR MMA.