Boston Red Sox: Predicting Boston's Breakout Players of 2013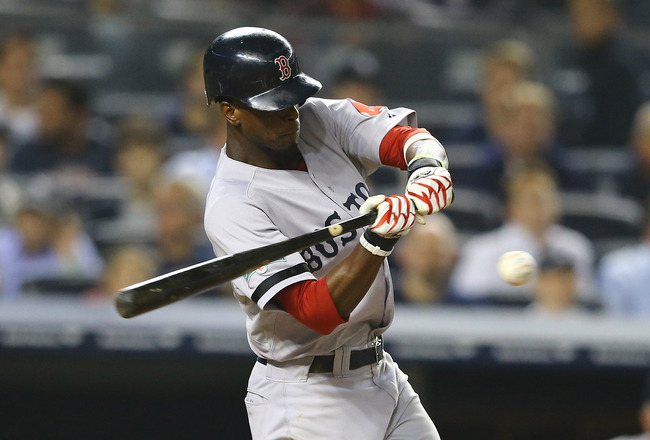 The Red Sox have several candidates who could be breakout players in 2013.
Al Bello/Getty Images
Despite all the money the Boston Red Sox spent in free agency this offseason, the team should also expect some breakout players to emerge in 2013.
Although there is no set way of determining who will be a surprise for Boston next season, in looking at the roster, there are a number of players who could make major strides and help the team make a push for the playoffs.
According to WEEI's Alex Speier, the Red Sox already have a 2013 payroll that has surpassed $160 million. While there will be pressure on the higher-paid players to produce, the success of the season could very well come down to those who may currently be under the radar.
The 2012 Red Sox floundered to a 93-loss season but still saw some players persevere and provide unexpected production, including Will Middlebrooks, Pedro Ciriaco and Franklin Morales.
With any luck, the Red Sox will have other players emerge in the same way this upcoming season.
Click through to see predictions for three breakout players for the Red Sox in 2013.
Felix Doubront: Starting Pitcher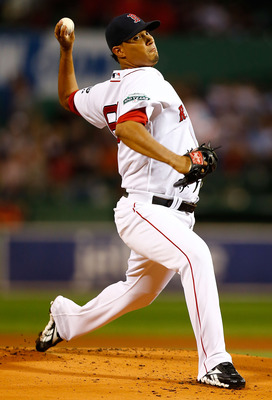 Doubront needs to add consistency to his repertoire.
Jared Wickerham/Getty Images
There is little argument that Doubront already had a breakout season last year, but he may not be done yet.
In 2012, the left-handed Venezuelan completed his first full year in the majors and more than held his own. In 29 starts, he went 11-10 with a 4.86 ERA and 167 strikeouts in 161 innings.
He set a professional career-high in innings pitched last season and tired noticeably down the stretch. In his final nine starts, he had just a 1-5 record with a 6.04 ERA, and his strikeout-to-walk ratio fell from 2.46-to-1 to 2.16-to-1 during that time.
There are two things Doubront needs to fix in order to be a more effective pitcher in 2013.
FanGraphs.com shows he averaged 17.8 pitches per inning last year. The Red Sox protected his young arm by limiting him to an average of 98.9 pitches per game, so he'll need to be more efficient with his pitch count in order to go deeper into games.
He also allowed a .331 batting average and an .894 OPS to batters hitting with runners in scoring position. In order to jump to the next level, bearing down more in such pressure situations is a must.
Just 25, Doubront has a rotation spot locked down for the upcoming season and should continue to get even better as he continues to develop and get more experience. 2013 could very well be his true coming-out season.
Junichi Tazawa: Relief Pitcher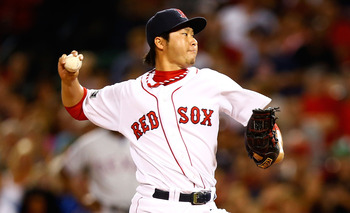 Tazawa became a dominant reliever in 2012.
Jared Wickerham/Getty Images
When the Red Sox signed Tazawa as a little-known but intriguing 21-year-old Japanese industrial league pitcher in 2008, it was thought he could develop into their next great starter.
Despite his rawness, Tazawa debuted with the Red Sox in 2009, after just 20 minor league games. He struggled to a 7.46 ERA in 25.1 innings in that first year in Boston, but it was assumed that more experience would help him reach his potential.
Unfortunately, Tazawa underwent Tommy John surgery in April, 2010, and spent most of 2011 trying to get all the way back physically.
Last season, the Red Sox decided to convert Tazawa into a reliever, and it was a smashing success.
In 37 major league games last year, he went 1-1 with a 1.43 ERA while striking out 45 and walking just five batters in 44 innings.
It will be a surprise if Tazawa doesn't leave spring training this season with a key role locked up in Boston's bullpen.
2013 could be a key step in Tazawa's development. If he continues to pitch well, he could possibly be Boston's closer of the future, according to The Boston Globe's Chad Finn. That could be as soon as 2014, since current closer Joel Hanrahan is set to be a free agent after this season.
Mauro Gomez: First Baseman/Designated Hitter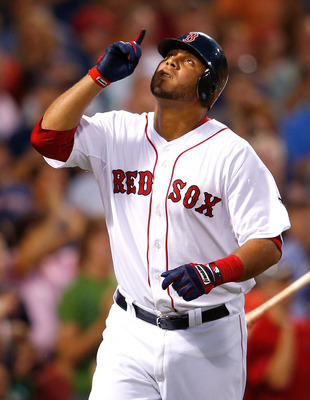 Gomez could play quite a bit in 2013 if injuries strike the Red Sox.
Jim Rogash/Getty Images
With free agent Mike Napoli finally signing a contract with the Red Sox last week to be their starting first baseman, there doesn't appear to be much room for Gomez in Boston in 2013.
However, breakout players often appear because they receive unexpected playing time, and that could happen to Gomez.
FoxSports.com's Ken Rosenthal reported that the Red Sox had major concerns over an issue with Napoli's hip that came to light when he took his physical for the team. It ultimately led to him having to accept just $5 million in guaranteed money instead of the $39 million that was originally agreed upon.
Although Napoli is supposedly healthy entering spring training, that could change as the season progresses.
Additionally, starting DH David Ortiz missed 72 games last year with a heel injury, that even last month, had not yet fully healed, according to The Boston Globe's Peter Abraham.
If Napoli or Ortiz hit the disabled list in 2013, Gomez is on the short list of players who could be expected to step in.
The right-handed slugger played in nine minor league seasons before making his major league debut with Boston last year, where he hit .275 in 37 games.
Gomez has hit a combined .291 with 94 home runs over the past four professional seasons. He's not known for his glove, but if given extended playing time in Boston, he could surprise with his bat.
Statistics via BaseballReference
Keep Reading

Boston Red Sox: Like this team?