Duke Basketball: Is Seth Curry or Mason Plumlee More Important to Blue Devils?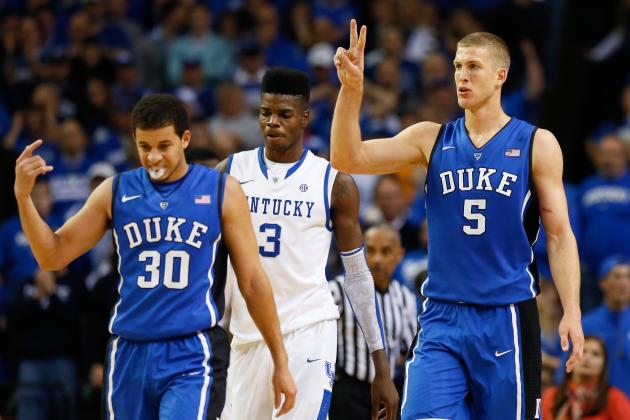 Kevin C. Cox/Getty Images

For the first time since 2006, the Duke Blue Devils feature a team that is built around a dominant, senior big man and a sweet-shooting, senior guard. In 2006, it was the record-setting combination of Shelden Williams and J.J. Redick. This season, it's the explosive duo of Mason Plumlee and Seth Curry.
Plumlee and Curry have both had outstanding seasons and are considered to be early front runners for All-ACC honors. So which player is more important to the success of the Blue Devils?
Is it Plumlee and his ability to dominate the paint? Or, is it Curry and his knack for hitting big shots when his team most needs them?
The following slideshow looks at who is more important for Duke.
Begin Slideshow

»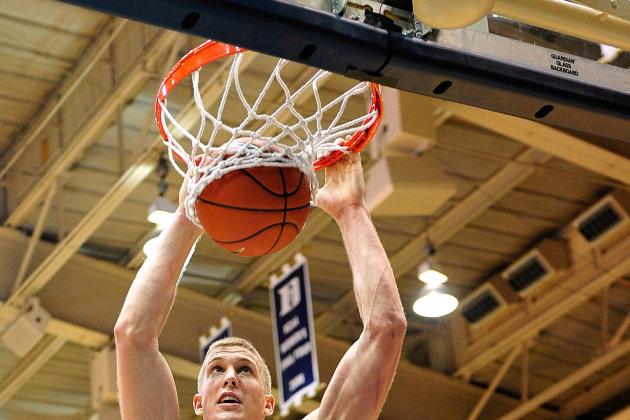 Grant Halverson/Getty Images

Mason Plumlee has been one of the most dominant post players in the country this year, giving Mike Krzyzewski a presence in the paint he has not had since Shelden Williams was collecting rent as "The Landlord."
Plumlee has improved his offensive game and worked to develop a hook-shot, but he still lacks a true "go-to" move in the post, which is surprising for a player with his statistics. Instead, Plumlee uses his superior athleticism and quickness to make plays in the paint. Currently, he is ranked second in the conference in scoring at 17.4 points-per-game.
The senior power forward has also shown the ability to make a tremendous impact on the game by rebounding the basketball. Plumlee is currently leading the ACC in rebounding at 11.5 rebounds per game.
He also has six games this season when has recorded at least five offensive rebounds, meaning he is getting extra scoring opportunities for his team.
Some might make a case for Alex Len or Richard Howell, but the numbers show Mason Plumlee has been the most effective big man in the ACC this season.
Advantage: Plumlee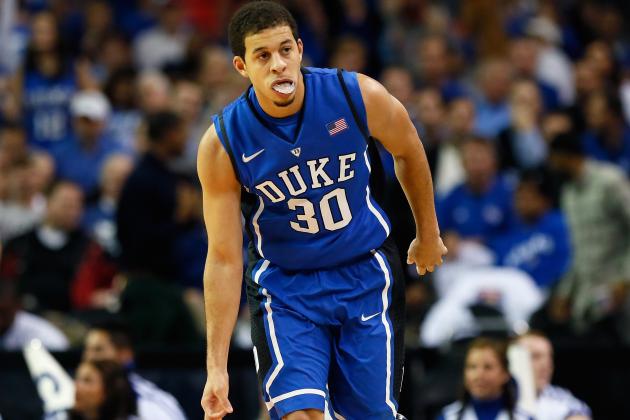 Kevin C. Cox/Getty Images

As good as Mason Plumlee has been in the post, Seth Curry has been just as good from the perimeter.
Curry has lived up to the hype he received when he transferred from Liberty University following his freshman year. Seth has followed in his father and brother's footsteps and become another long range gunner in the Curry family.
The redshirt senior from Charlotte, NC., is averaging 16.9 points-per-game and shooting over 45 percent from behind the three-point line, both of which are good for third in the ACC.
Curry's success from the perimeter is part of what has enabled Mason Plumlee to be so successful in the paint. When Duke runs its two-man offense with Plumlee and Curry isolated on one side of the floor, the defense is unable to provide help in the post because of Curry's ability to make the open outside shot.
Advantage: Curry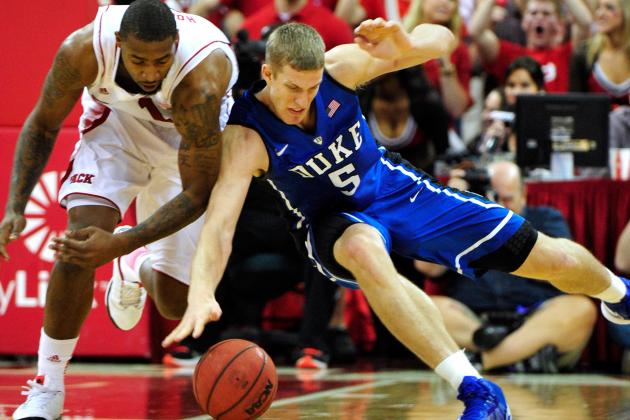 Grant Halverson/Getty Images

One of the more underrated parts of Mason Plumlee's game is his defensive ability.
Plumlee is currently averaging nearly two blocks and one steal per game, and he anchors the interior of Duke's defense. His experience has also made him a good help defender, which has become even more critical with the loss of Ryan Kelly.
Plumlee is also regarded as one of the best running big men in college basketball. This running ability makes him difficult to defend against in transition, but it also makes him a solid defender in transition.
If there is a weakness in Seth Curry's game, it would be his defensive ability, particularly this season. Curry's leg injuries have caused him to lose a step and he has trouble staying in front of quicker, more physical guards.
As one coach noted in a scouting report with Jeff Goodman of CBSSports.com, "You can really take advantage of a guy like Curry in ball-screens. Make him guard the ball."
Advantage: Plumlee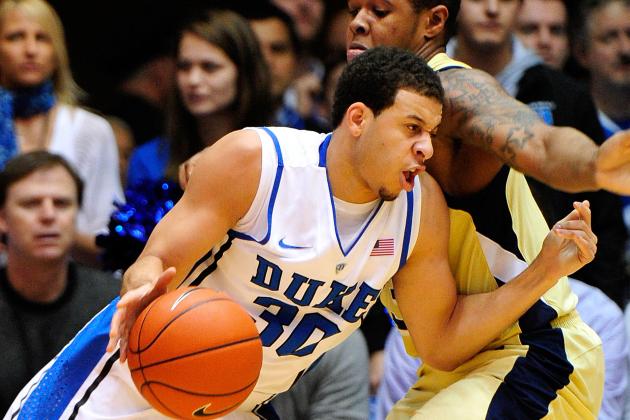 Grant Halverson/Getty Images

For those who think Seth Curry is little more than a spot-up shooter, I recommend they actually watch him play.
On a number of occasions this season, Curry has created his own offense with the shot clock winding down and the Blue Devils needing a big basket.
He made a key bucket down the stretch against Kentucky, knocked down huge three-point shots to keep Duke in the game against NC State and helped get the Duke offense going in a difficult first-half against Georgia Tech.
Curry has also elevated his game to another level since the Blue Devils lost Ryan Kelly to a foot injury. In the two games Kelly has missed, Curry has averaged 23 points while shooting 15-of-30 from the field, including 11-of-18 from beyond the three-point line.
It's become obvious that when Duke needs someone to take a big shot, Curry is going to be the one to do it.
Advantage: Curry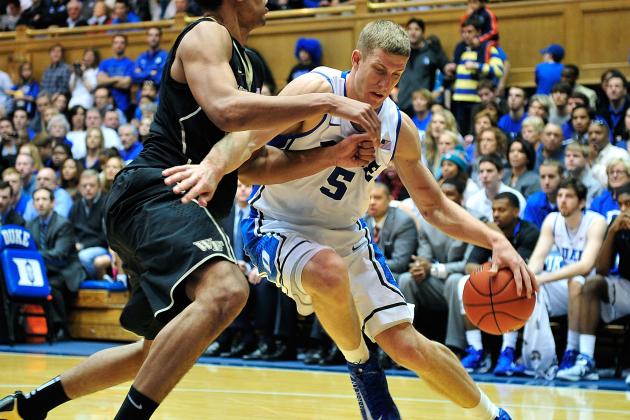 Grant Halverson/Getty Images

This is difficult because both players make each other tough to defend. Curry is easier to stop when Plumlee isn't on the floor and vice-versa.
However, in Jeff Goodman's scouting report for Duke, he asked four coaches who the key to stopping Duke is and all four of them chose Plumlee.
As one coach said,
"Plumlee is the key guy. Everything goes through him. They want him to touch the ball every time down the floor, just to see. Come help, he'll kick it out. Go one-on-one, he'll score. I definitely think Plumlee is their main guy."
Neither is easy to defend, but Plumlee appears to create the bigger match-up problem. His ability to run the floor also makes Mason a nightmare for opposing defenses.
Advantage: Plumlee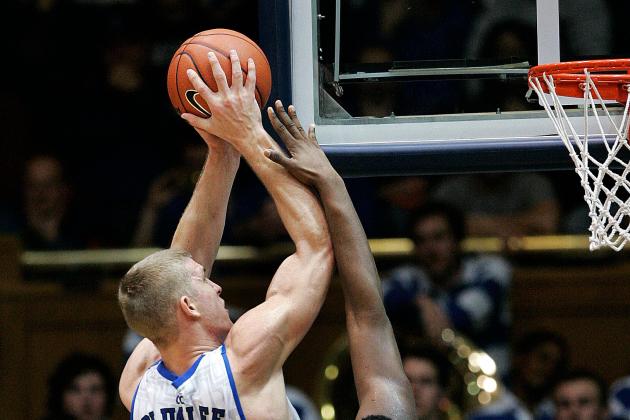 Mark Dolejs-USA TODAY Sports

After considering the previous criteria, Mason Plumlee gets the slightest nod in terms of importance over Seth Curry.
Both players are tremendously valuable to Mike Krzyzewski and the team could not afford for either of them to miss any time, but Plumlee's overall impact on the game makes him the most important piece on this team.
Fortunately for Duke, having two players that are so talented and valuable make it difficult for opposing teams to figure out how to stop either one.