Boston Bruins: 3 Takeaways from Their 2-1 Shootout Win over Winnipeg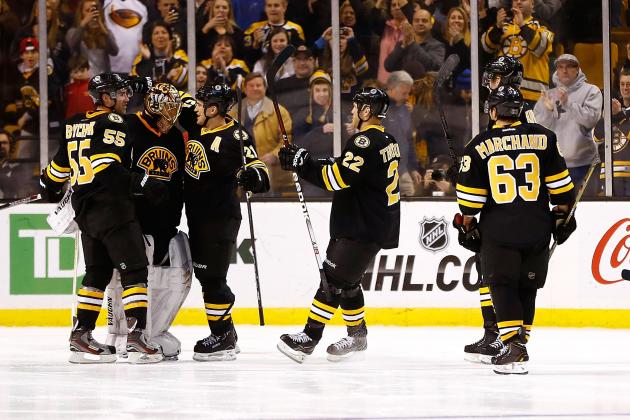 Jared Wickerham/Getty Images

Tyler Seguin and Patrice Bergeron could not solve Ondrej Pavelec on any of a combined nine shots in 65 minutes of full-fledged hockey action. But once all opposing skaters were cleared for the shootout, the Boston Bruins linemates inserted the deciding goals to garner the extra point in a 2-1 triumph over the Winnipeg Jets.
Bergeron and Seguin combined for exactly one-third of Boston's 27 stabs at Pavelec, although a dense 15 different skaters recorded at least one stab at the Jets goaltender. That included every forward aside from grinders Daniel Paille and Shawn Thornton.
There was just as much balance on opposing property as there was in stymieing Winnipeg on the home front, enabling an arm-wrestling match that saw each party succeed once on 27 shots apiece.
Although the Bruins ultimately emerged with the maximum two-point package and can be satisfied with the 2-0-0 start to their season, the course of Monday afternoon's action still unveiled room for improvement.
With three points cultivated from the TD Garden ice, two going to the Bruins and the other given away to the visitor, it is appropriate to underscore two pluses and one blemish on Boston's end.
Here they are in a little more depth.
Begin Slideshow

»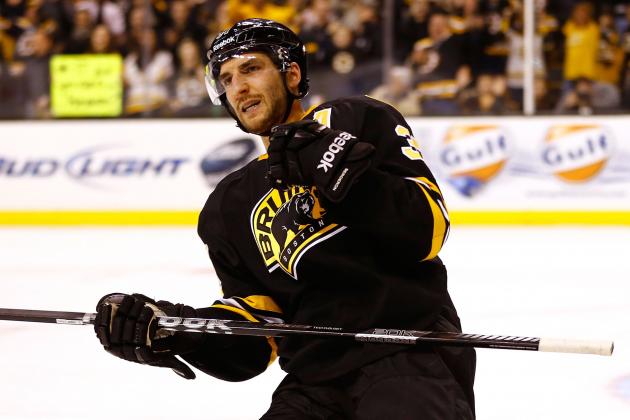 Jared Wickerham/Getty Images

Tuukka Rask was directly tested once over a scope of four short-handed segments Monday, snuffing an Olli Jokinen wraparound with less than two seconds to spare in regulation. His skating mates kept the Winnipeg power play from pestering him on two kills in the second period and then for a combined 2:49 of short-handed action in overtime.
Bergeron played like a true reigning Selke Trophy-winner in the way he spearheaded much of that PK and at times converted defense to offense when his team was a man down. When a Johnny Boychuk sentence carried over to the bonus round, Bergeron won the opening draw at center ice and the next faceoff 19 seconds later on Winnipeg property.
Later, with towering captain Zdeno Chara off for holding and 26 seconds to spare, Bergeron blocked a Tobias Enstrom attempt.
Defensemen Adam McQuaid, Aaron Johnson and Andrew Ference each preceded Bergeron in blocking a Winnipeg power-play bid in either the second or fourth period. Ference and Boychuk combined for nine blocks overall, and the team 22, as it gave Rask a manageable workload of 27 challenges.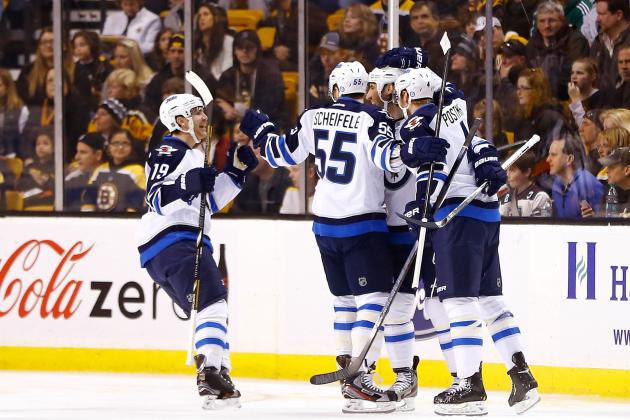 Jared Wickerham/Getty Images

To start Monday's matinee, the home faithful saw two unsavory omens in as many minutes of play, as the Bruins brooked two progressively detrimental testaments to a slow, early afternoon start.
They iced the puck off the opening draw and then shed first blood within the first two minutes, as Winnipeg's Chris Thorburn polished a Paul Postma rebound.
A Brad Marchand equalizer at 14:12 of the opening stanza proved to make the decisive shootout possible. However, fate played a part in granting the Jets a regulation point, as four of Boston's regulation stabs hit the pipe of the Winnipeg cage.
In essence, delete those first two minutes and the Bruins would have put Winnipeg away without having to rely on the arbitrary one-on-one lightning round. That will be something to jot down for future reference.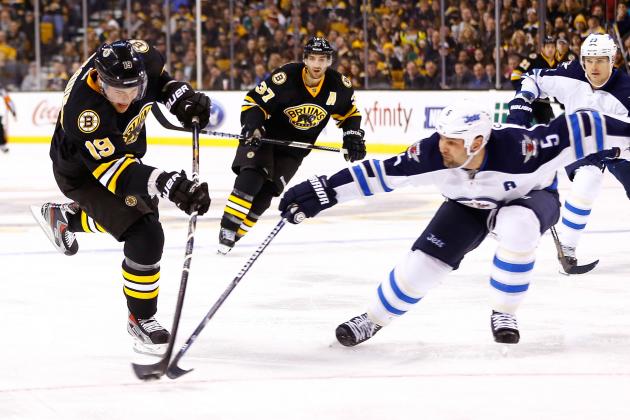 Jared Wickerham/Getty Images

As mentioned, Tyler Seguin had one of the better multitudes of stimulating looks around Pavelec's net, but he is still without a goal through two games. However, he set up Marchand's strike within seconds of forcing a turnover to hatch the goose egg in his point column.
While finally beating the likes of Pavelec on a penalty shot may not count towards his individual transcript, that along with his assist ought to give Seguin a timely mental boost as he continues to re-acclimate to the NHL.