Where Does Pacquiao vs. Marquez Rank Among Best Boxing Rivalries?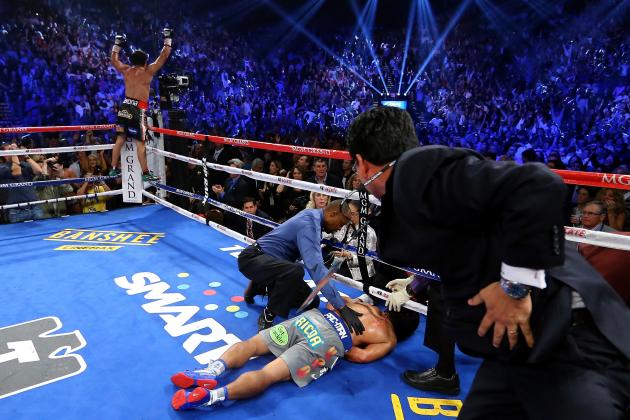 Al Bello/Getty Images

Rivalry is the great dramatic engine that drives our love of sport. To be sure, athletic competition is compelling in its own right. But when the opponents share a history of antagonism, fan interest inevitably peaks.
In each of the past two years, the biggest event in boxing has been the latest chapter in the Manny Pacquiao-Juan Manuel Marquez rivalry. There is a good chance Pacquiao-Marquez V will provide some of the sport's biggest memories in 2013.
Trying to determine the greatest boxing rivalries of all time is a daunting, if intriguing task. While there can be no doubt about which rivalry must rank No. 1, and several other rivalries stand out for obvious inclusion, this is still the sort of article where I am conscious of leaving off several worthy contenders and am confident that readers will point out at least one or two more that make me do a Homer Simpson "Doh!" for having overlooked them even for consideration.
For the sake of this list, I have only considered rivalries of three fights or longer. I have also given a preference to rivalries which had major historical significance and/or relevance to establishing dominance in a weight class.
Because of these two considerations, a number of very important and extremely popular rivalries will not be included.
Begin Slideshow

»
Stanley Ketchel and Billy Papke fought four times between 1908 and 1910, with Ketchel becoming the first-ever two-time world middleweight champion along the way.
Ketchel won the first bout by a 10-round decision. Papke took the second bout, and the world title, by a Round 12 TKO. Ketchel won his title back in the third fight with a Round 11 KO. He won the fourth bout by a 20-round decision.
The January 2013 edition of The Ring has a great write-up by Don Stradley about the fourth Ketchell-Papke fight, which really gives a great sense of bruising, bloody nature of this early boxing rivalry.
I have made this a special three-man slide, because the historical significance of this three-way rivalry has a lot to do with the fact that all three men faced the same career discrimination due to their African-American heritage.
Denied world heavyweight title fights in the first quarter of the 20th century, the three men instead fought each other again and again, often contesting for what promoters called the World Colored Heavyweight Championship.
Langford fought all the way from welterweight to heavyweight and is regarded by many boxing historians as among the handful of top pound-for-pound fighters of all time. Standing at just over 5'7", he campaigned at heavyweight at an explosive 185 pounds.
According to the boxrec.com records, he fought his great rival Sam McVea 15 times, beating him seven, losing to him twice and drawing against him six times.
Harry Wills was a half dozen years younger than Langford and a true heavyweight, standing 6'2" and weighing in at about 220 pounds. Known as the Black Panther, I would rank him as perhaps the best heavyweight fighter to never wear the crown, as both Jack Dempsey and Gene Tunney avoided him in his prime.
Wills and Langford fought 16 times, with the younger, bigger man compiling a record of 12-2-2. Wills and McVea also fought six times, with Wills winning three, McVea winning two and one bout being ruled a no-contest.
Jack Britton and Ted "Kid" Lewis fought an astonishing 20 times between 1915 and 1921, often for the world welterweight championship.
Lewis is often referred to as the greatest pound-for-pound English fighter of the 20th century. His official boxrec.com record is 192-32-14 with 79 KOs. Britton was a defensive specialist, with a career record of 104-28-20 with 30 stoppages.
The Lewis-Britton series was extremely even, with Britton winning nine fights, Lewis seven and four fights ruled draws.
Barney Ross and Jimmy McLarnin fought an extremely close and competitive three-fight series for the world welterweight championship in 1934 and 35. This was in an era when there was only one true champion in each division.
After winning world titles at lightweight and junior welterweight, Ross moved up to 147 to challenge McLarnin for his belt on May 28, 1934. Ross won by split decision.
Less than four months later McLarnin took the rematch, also by split decision. Exactly a year after the first fight Ross retained the welterweight title in the rubber match, with a very close unanimous decision.
Charley Burley and Holman Williams are two of the most talented boxers who never won world titles, part of a group of talented African American fighters in the 1950s who were carefully avoided by the welterweight and middleweight champions of the day.
Instead, like Langford, McVea and Wills in earlier decades, they ended up fighting each other again and again.
Altogether, Burley and Williams clashed seven times, with three wins for each man and a no-contest.
While researching this article, I came upon a new book to put on my waiting to read list: Charley Burley and the Black Murderer's Row by Harry Otty. The book highlights a number of talented and overlooked fighters from the era.
This is a rivalry something like the Red Sox and Yankees in baseball. On paper it doesn't necessarily look that close, but the action along the way makes it extremely compelling nonetheless.
The Jake LaMotta-Sugar Ray Robinson rivalry stretched over eight-and-half years and six fights. Their first meeting on October 2, 1942 was won by Robinson by unanimous decision.
LaMotta came back to win the first rematch on February 5, 1943, handing Robinson the first loss of his career. Just three weeks later, Robinson prevailed by unanimous decision in a rubber match.
Two years later, in February of 1945, Robinson won a fourth match by unanimous decision. In September of 1945, he beat LaMotta for a fifth time by split decision.
Nearly five-and-a-half years passed before the two rivals met for a sixth and final time, on February 14, 1951. The result has gone down in boxing history as "The Valentine's Day Massacre," a brutal Round 13 TKO for Robinson, famously dramatized by Robert Deniro in the LaMotta biopic Raging Bull.
To give an idea of how great boxing was during the golden ages of the 1940s and 50s, LaMotta could also easily be considered for inclusion here due to his rivalries with Jimmy Reeves or Fritzie Zivic. Robinson waged a classic four-fight series late in his career with Gene Fullmer.
The late 1940s and 50s were for the middleweight division what the 1970s were for the heavyweights, an era loaded with legends. In the years following the second World War, two of the biggest stars in the 160-pound division were Tony Zale and Rocky Graziano, who engaged in a classic three-fight series while contesting for the world title.
Zale won the first fight on September 27, 1946 by a Round 6 KO. The fight was selected by The Ring as the 1946 Fight of the Year.
The rematch was held on July 16, 1947, with Graziano recapturing the world title via a Round 6 TKO. Once again, The Ring picked it as Fight of the Year.
The rubber match, on June 10, 1948, was a one-sided Round 3 KO for Zale.
Willie Pep and Sandy Saddler's four-fight series for the featherweight title of the world is one of the more celebrated rivalries in the sport's history, and the fourth and final bout has been ranked as among the most violent and lawless of the gloved era.
Pep is considered by many boxing historians to be the best defensive fighter of all time. He compiled a professional record of 229-11-1 with 65 stoppages.
At nearly 5'9", Saddler had a big frame for the 126-pound division. He was a brutal puncher and infamous for roughhouse tactics. His career record was 144-16-2 with 103 stoppages.
Saddler shocked the champion in their first matchup, in October of 1948, KOing Pep in four. But "Will o' the Wisp" came back strong in the rematch, recapturing the belt with a unanimous decision in February of 1949.
Pep quit after round eight of the third match, his shoulder injured during a clinch.
The same Ring story mentioned in the Ketchel-Papke slide also had a great write-up of Pep-Saddler IV. The defensive wizard Pep attempted to match Saddler's street fighting tactics. Although he led slightly on the cards after nine rounds, he once more was forced to quit, this time with an injured eye.
In the era between Joe Louis and Rocky Marciano, Joe Walcott and Ezzard Charles battled for supremacy in the heavyweight division, meeting four times between 1949 and 1952, splitting the series two wins each.
I rate Walcott, 51-18-2, 32 KOs, as among the most underrated heavyweights. In 1948 he dropped a split decision to Joe Louis, which Nat Fleischer described as highly controversial in his seminal book The Heavyweights. Louis knocked Walcott out in the rematch.
Charles, 93-25-1, 52 KOs, is by most reckonings a top-five all-time light heavyweight, and arguably among the top 20 to 25 at heavy.
Charles won the first two meetings by unanimous decision, in June of 1949 and March of 1951.
In July of 1951, Walcott finally got revenge, KOing Charles in Round 7. Walcott won the fourth and final bout by unanimous decision in June of 1952.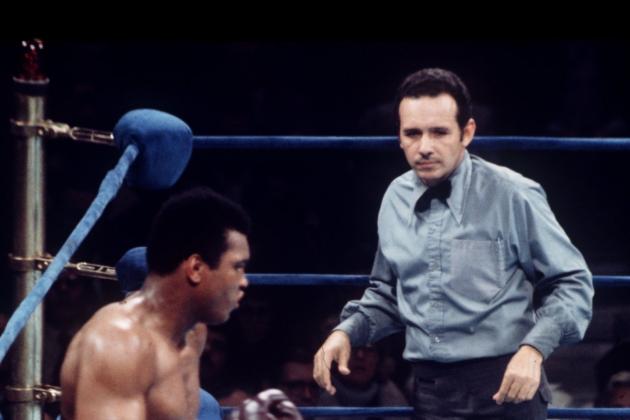 Getty Images/Getty Images

This is the greatest boxing rivalry of all time, and it's not even close. For generations of fans, Muhammad Ali-Joe Frazier has been the very definition of a boxing rivalry.
Beyond that, I would argue that it is the greatest rivalry in the history of modern sports.
It was fought for the World Heavyweight Boxing Championship, during an era when that title was still very much regarded as the greatest title in professional sports. The rivalry took on cultural and political significance almost never seen in sports.
In the ring, the action was desperate and compelling, as both men pushed the boundaries of human courage and endurance.
When Ali and Frazier met for the first time in March of 1971, Ali had only recently returned from a three-year break in his career, forced upon him when he was stripped of his titles and boxing licenses due to refusing to be inducted into the draft.
In the meantime, Joe Frazier had risen up to capture the vacated heavyweight crown. When the two former Olympic gold medalists came together in Madison Square Garden in 1971, the clash was elevated to major cultural status due to Ali's high-profile opposition to the Vietnam War.
Ali was the fighter of the counter-culture and the peace movement. Frazier, unfairly, was assigned the banner of the establishment.
In the first fight, Frazier shocked the world by dropping Ali with a big left hook in Round 15, before going on to capture a unanimous decision.
Ali won a good, but not all-time great, rematch by a 12-round unanimous decision in January of 1974, again at Madison Square Garden.
In October of 1975 they traveled to the Philippines for the rubber match. In what Ali dubbed "the thrilla in Manila," both men took brutal punishment in what many regard as the greatest fight of all time. Ali prevailed when Frazier's trainer, Eddie Futch, refused to let his blinded fighter go out for the 15th and final round.
Special mention also has to be given to Ali's extremely close three-fight series with Ken Norton.
In the early years of this century, Juan Manuel Marquez labored somewhat in the long shadows cast by his celebrated countrymen, Marco Antonio Barrera and Erik Morales, who fought a classic three-fight series between February of 2000 and November of 2004.
All three fights were contested for world titles, at 122, 126 and 130 pounds, respectively. Beyond that, status as Mexico's greatest current boxing star hung in the balance.
Morales won the first meeting by split decision in February of 2000. Barrera won the rematch by unanimous decision in June of 2002 and the rubber match by majority decision in November of 2004.
Morales also had a three-fight series with Manny Pacquiao, and prior to Marquez's stunning knockout, he was regarded as the last man to legitimately beat Pacquiao (excluding Timothy Bradley's widely disparaged split decision last June). But Morales was stopped twice in rematches.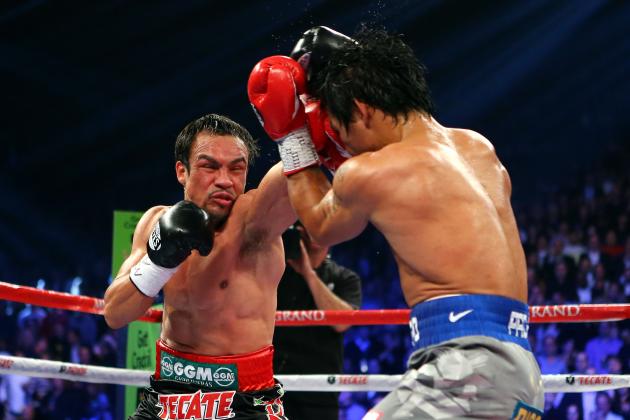 Al Bello/Getty Images

Juan Manuel Marquez and Manny Pacquiao have fought four times since 2004 and may very well fight again in 2013. Their rivalry is easily the greatest boxing has known in the 21st century.
While Morales and Barrera was pretty special at the time, neither of those future Hall of Famers is quite in the class of Marquez and Pacquiao. The Micky Ward-Arturo Gatti rivalry had Hollywood-style action and momentum swings, but in none of their three fights were significant divisional or pound-for-pound rankings at stake.
Marquez-Pacquiao has featured unbelievably competitive action, heart-stopping drama and moments of high skill and heroic resiliency from both future first ballot Hall of Famers.
Although the rivalry has occurred during an era when boxing has struggled for mainstream popularity, it could be argued that this has made Marquez-Pacquiao all the more important. In an era when the sport has been desperate for major stars and events, Marquez-Pacquiao has emerged as an incredibly compelling story that draws tons of casual fans back to the ring.