UFC on Fox 6 Fight Card: Info and Predictions for Johnson vs. Dodson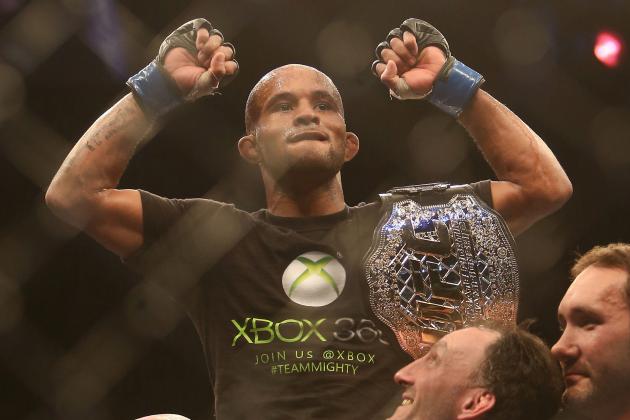 Tom Szczerbowski-USA TODAY Sports

Demetrious Johnson will defend the UFC flyweight title for the first time in the UFC on Fox 6 main event against John Dodson.
Also featured on the network-televised fight card will be a light heavyweight slugfest between Quinton "Rampage" Jackson and Glover Teixeira as well as potential title shot eliminators in two other weight divisions.
In the lightweight class, former WEC stars Anthony Pettis and Donald Cerrone will potentially compete for a rematch with UFC champion Benson Henderson. Meanwhile, at featherweight, Erik Koch and Ricardo Lamas will also look to take step closer to the belt.
UFC on Fox 6 will take place this Saturday at the United Center in Chicago. Before then, let's take a closer look at each of the matchups on the fight card.
Begin Slideshow

»

UFC.com
How to Watch
Facebook Prelims at 4 p.m. ET
Records
Simeon Thoreson (17-3-1 MMA, 1-1 UFC)
David Mitchell (11-2 MMA, 0-2 UFC)
Preview
Mitchell last fought Paulo Thiago in August 2011, so he will be returning from an extremely long layoff for this matchup against Thoreson. In addition to the potential rust associated with that, Mitchell is likely fighting for his UFC job after losing in his first two Octagon appearances.
In those first two bouts, Mitchell had problems staying off of his back against grapplers like Thoreson. Though Thoreson might not have the takedowns of Thiago and T.J. Waldburger, he has the ability to sweep Mitchell and possesses a reach advantage should he have difficulty taking this fight to the ground for any reason.
Prediction
Thoreson defeats Mitchell by unanimous decision (30-27, 30-27, 29-28).

UFC.com
How to Watch
Facebook Prelims at 4 p.m. ET
Records
Rafael Natal (14-4-1 MMA, 2-2-1 UFC)
Sean Spencer (9-1 MMA, 0-0 UFC)
Preview
Natal was originally expected to meet Magnus Cedenblad at UFC on Fox 6, but an injury allowed Spencer to step in and make his UFC debut.
Although Spencer owns an impressive 9-1 record, the natural welterweight will be taking a significant step up in size and competition for this fight.
With five Octagon appearances under his belt, Natal has a big edge in experience and should have a chance to show off his submission game for the first time against an unproven opponent.
Prediction
Natal defeats Spencer by submission (rear-naked choke) at 2:17 of the first round.

UFC.com
How to Watch
FX Prelims at 5 p.m. ET
Records
Mike Stumpf (11-3 MMA, 0-1 UFC)
Pascal Krauss (10-1 MMA, 1-1 UFC)
Preview
It has been 16 months since Stumpf last competed and lost to T.J. Waldburger. Upon his return on Saturday, Stumpf will find himself up against another grappler in Krauss, albeit one who hasn't had the same level of success inside the Octagon.
Neither Krauss nor Stumpf stands out as a significantly better wrestler than the other, so there's a chance their grappling cancels out, and this fight turns into a stand-up contest.
Should that happen, Krauss has shown a more well-rounded arsenal than Stumpf in his two UFC appearances and should be able to squeak by in this matchup.
Prediction
Krauss defeats Stumpf by unanimous decision (29-28, 29-28, 29-28).

UFC.com
How to Watch
FX Prelims at 5 p.m. ET
Records
Mike Russow (15-2 MMA, 4-1 UFC)
Shawn Jordan (13-4 MMA, 1-1 UFC)
Preview
Russow and Jordan are both coming off of their first UFC losses, but that is where the comparisons between these heavyweights end.
A former NCAA champion football player at LSU, Jordan is much more athletic than Russow, who doubles as a Chicago police officer. On the other hand, Russow is much more experienced than Jordan, having fought under the Pride FC banner at one point in his career.
Jordan has been at his best when fighting other muscle-bound sluggers. Against Russow, technique may overcome athleticism.
Prediction
Russow defeats Jordan by unanimous decision (30-27, 30-27, 30-27).

UFC.com
How to Watch
FX Prelims at 5 p.m. ET
Records
Ryan Bader (15-3 MMA, 7-3 UFC)
Vladimir Matyushenko (26-6 MMA, 8-5 UFC)
Preview
In their most recent outings, Bader and Matyushenko had two-fight winning streaks ended by light heavyweight contenders. An impressive win on Saturday, would go a long way toward getting either fighter back on track.
Both fighters are heavy-handed wrestlers, but Bader's youth and athleticism should be enough to overcome the experience of 42-year-old veteran Matyushenko.
Prediction
Bader defeats Matyushenko by knockout (punch) at 1:45 of the first round.

UFC.com
How to Watch
FX Prelims at 5 p.m. ET
Records
Clay Guida (29-10 MMA, 9-7 UFC)
Hatsu Hioki (26-5-2, MMA, 2-1 UFC)
Preview
A long run in the UFC's lightweight division has come to an end for Guida. Now, he will try to make a new run at UFC gold with the help of a move to 145 pounds. Hioki, a former Sengoku and Shooto champion, will welcome Guida to the featherweight division.
Should Guida make his first cut to 145 pounds without detriment to his physical ability, he would have a significant and important strength advantage over Hioki in a bout that is likely to be determined by clinch work and takedowns.
Prediction
Guida defeats Hioki by unanimous decision (30-27, 30-27, 30-27).

UFC.com
How to Watch
FX Prelims at 5 p.m. ET
Records
T.J. Grant (19-5 MMA, 6-3 UFC)
Matt Wiman (15-6 MMA, 9-4 UFC)
Preview
Up-and-coming lightweights Grant and Wiman are on impressive runs, but one fighter will have to take a step backward on Saturday, while the other could earn a fight with an elite 155-pound fighter.
Both fighters are entertaining grinders who push forward for three rounds or until they find a way to stop their opponents. It will be tough for either man to finish this fight, though, as Wiman's knockout loss to Spencer Fisher in May 2006 marks the only time either competitor has been stopped inside the Octagon.
There's a good chance this fight will be decided by the judges, and both fighters will have done everything within their power to win, so someone will probably walk away disagreeing with the call.
Prediction
Grant defeats Wiman by split decision (29-28, 28-29, 29-28).

UFC.com
How to Watch
Fox main card at 8 p.m. ET
Records
Erik Koch (13-1 MMA, 2-0 UFC)
Ricardo Lamas (12-2 MMA, 3-0 UFC)
Preview
When given the chance to stand with opponents, Koch has shown some serious finishing ability.
Lamas may be ranked higher than Jonathan Brookins, whose takedowns Koch was mostly able to stuff, but he doesn't put as much pressure on opponents as the TUF winner does.
Koch will eventually have to defend takedowns in this fight if he starts conservatively. However, if he brings the fight to Lamas early, the potential for a quick stoppage is there.
Prediction
Koch defeats Lamas by technical knockout (punches) at 2:59 of the first round.

UFC.com
How to Watch
Fox main card at 8 p.m. ET
Records
Anthony Pettis (13-2 MMA, 2-1 UFC)
Donald Cerrone (19-4 MMA, 6-1 UFC)
Preview
Although Pettis reached greater heights than Cerrone in the WEC's lightweight division, Cerrone has taken himself to a new level inside the Octagon. More importantly, he's remained much more active than Pettis, winning twice as many fights as Pettis has competed in since the WEC closed its doors.
This matchup should produce a very technical and entertaining stand-up contest, but Pettis' 11-month layoff will hurt him in the later rounds against an opponent who moves forward constantly.
Prediction
Cerrone defeats Pettis by unanimous decision (29-28, 29-28, 29-28).

UFC.com
How to Watch
Fox main card at 8 p.m. ET
Records
Quinton Jackson (32-9 MMA, 7-4 UFC)
Glover Teixeira (19-2 MMA, 2-0 UFC)
Preview
I don't know how many times I'm going to fall into this trap, but Jackson once again has me believing he's motivated and in shape for his upcoming fight with Teixeira. Even if he's not, Teixeira has yet to prove himself against an elite light heavyweight despite all the hype surrounding him and his first two UFC wins.
There's a good chance Teixeira will come out and grapple with Jackson, which wouldn't be a bad idea at all considering his jiu-jitsu black belt, and Jackson's odd disdain for having to work on his takedown defense.
However, the Brazilian likes to trade with opponents, and he was rocked by Fabio Maldonado, so one clean shot from "Rampage" is all it would take for the former UFC champion to leave the organization with a bang.
Prediction
Jackson defeats Teixeira by technical knockout (punches) at 3:41 of the second round.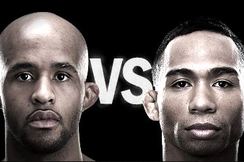 UFC.com
How to Watch
Fox main card at 8 p.m. ET
Records
Demetrious Johnson (16-2-1 MMA, 4-1-1 UFC)
John Dodson (15-5 MMA, 3-0 UFC)
Preview
This fight might be best viewed in slow motion, as two of the quickest fighters in MMA will face off for the UFC flyweight title.
With two knockouts in his three UFC bouts, Dodson may be a bit more explosive than Johnson. However, he doesn't possess the same level of experience inside the Octagon as the former top bantamweight contender and current 125-pound champion.
Johnson has also better takedowns than Dodson despite competing against larger opponents in the 135-pound class for most of his career.
Prediction
Johnson defeats Dodson by unanimous decision (49-46, 49-46, 48-47).