Norwich City: 4 Things We Learned from Liverpool Defeat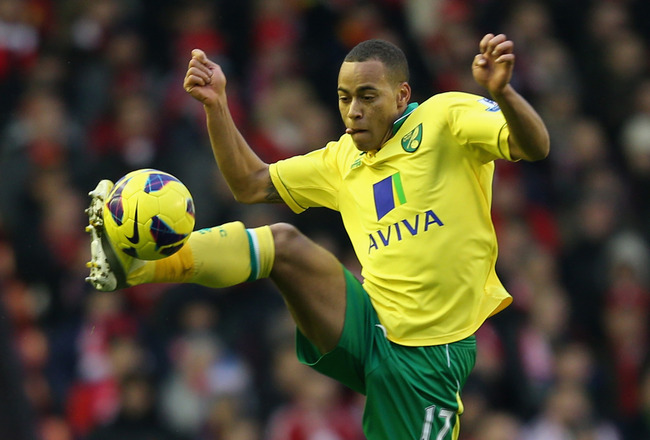 Mark Thompson/Getty Images
The Liverpool game was one that most of us would like to forget, but it did happen and Norwich lost the game 5-0. As painful as it is, it's necessary to go through the game to see what we may have learned, a task that is always difficult when the gulf between the two sides is so significant.
Again, it wasn't so much what we learned about Norwich City, but which ideas have been reinforced by this unfortunate defeat. So, grab whatever you need to enjoy another Norwich City-inspired slideshow.
The Defence Loses Its Solidity Without Sebastien Bassong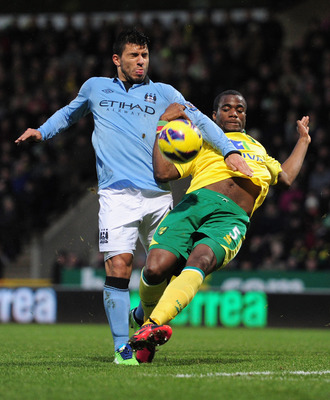 Jamie McDonald/Getty Images
When the news filtered through before the game that Bassong would be missing through injury, it had a lot of Norwich City fans fearing for the result. In a cruel twist of fate, those fears were absolutely on the money.
Luis Suarez and friends completely destroyed the Canaries' rearguard without the popular defender present. His defensive and organizational skills were badly missed.
Of course, this is largely an assumption because Norwich might have conceded five goals even with the assistance of Sebastien Bassong. However, the evidence suggests that things defensively go wrong when he is not there and largely right when he is.
So, all Canary fans will be hoping that it is nothing serious, and the player will be fit again for the next league game against Spurs. But Chris Hughton may also want to wonder about the possibility of bringing in another defender in the transfer window.
Norwich City Must Get Back to Passing the Ball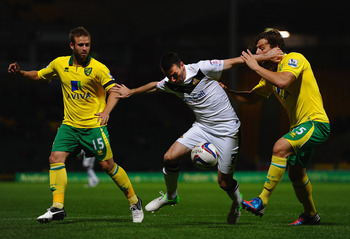 Laurence Griffiths/Getty Images
There is a clear connection with the team getting results and the club's best players passing the ball well.
In my memory, during the 10-match unbeaten run, possession football was very important and the club did a good job of keeping the pressure off. It's also fair to say that the team were very solid and hard to break down in that period.
Many Norwich City fans have been calling for some time for David Fox to get an opportunity in the team. It was fair enough to keep him out of the picture when the team was unbeaten, and Johnson and Tettey were playing so well.
But with the team struggling to pass the ball, it might be time to bring our very own pass master back into the fold.
Is It Time for More Radical Changes?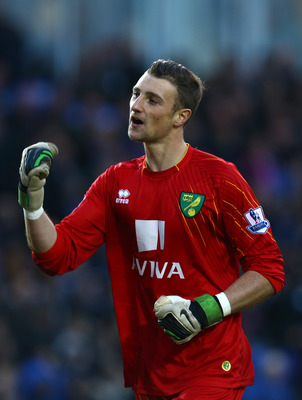 Jan Kruger/Getty Images
We know that Chris Hughton tweaks his team a bit with the odd change here and there. However, it tends to be within the status quo. But with this poor run of form continuing, it might be time to bring some players in from the outside or even consider changing the system.
Youth could form part of the solution with the Murphy twins getting rave reviews lately. Declan Rudd is also one that hasn't done anything wrong. The David Fox point has been made, but there is also the now fit-again Andrew Surman.
A change in the formation may be worth looking at if Chris Hughton feels he has the right personnel to make it work.
Added Firepower Should Still Be the Top Priority of the Transfer Window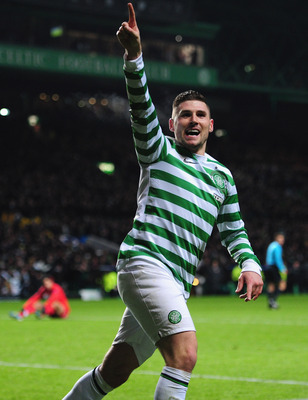 Stu Forster/Getty Images
Many people would say that another quality striker would not have changed the result against Liverpool, and they may well be right. However, it's important to remember that good strikers can score a game-changing goal in seconds.
Had that happened early in the second half, then it surely would have changed the game in a very positive way for Norwich City.
Chris Hughton may feel that he needs to strengthen the defence in the aftermath of this game. However, it's important to remember that Norwich were strong defensively earlier in the season and can get back to that place again.
For more great Norwich City coverage like this visit www.canarieschatter.com and follow James Kent on Twitter and Facebook.
Keep Reading