5 Things to Watch for on Jan. 21 Edition of WWE Monday Night Raw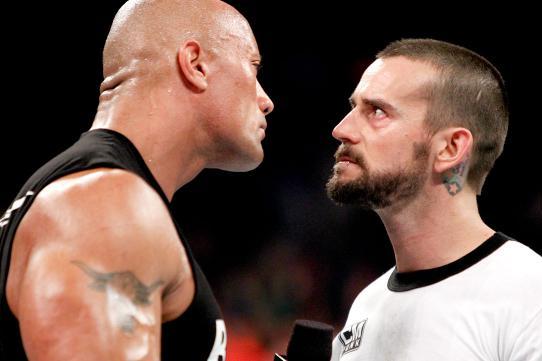 Photo courtesy of WWE.com
The long wait for the Royal Rumble is nearly over, but there is still one episode of Monday Night Raw remaining before the road to WrestleMania truly begins. While some fans may have been disappointed with last week's 20th anniversary show, the WWE figures to go all out during tonight's go-home Raw.
The upcoming Royal Rumble has the potential to be the greatest of all time, as the always-entertaining Rumble match will be supported by the WWE Championship match between CM Punk and The Rock. The two combatants have stood face to face over the past couple weeks, and it will be interesting to see who has the upper hand heading into the Rumble.
There is plenty else worth monitoring as well, with the World Heavyweight Championship and Tag Team Championships officially scheduled to be defended at the Royal Rumble. Alberto Del Rio figures to have an advantage over Big Show, but Dolph Ziggler is always lurking around the corner with the Money in the Bank contract in tow. Also, Team Rhodes Scholars are threatening to take the tag straps from Team Hell No.
This particular time of year almost always leads to a higher-quality WWE product, and I doubt that things will be any different in 2013. The WWE wants to start the year off on the right foot and that involves putting on a great Royal Rumble pay-per-view. Here are the top five things you should keep an eye on while watching the final Raw before the Rumble.
Begin Slideshow

»
Although it has only been going on for about two weeks, the feud between The Rock and CM Punk is among the most entertaining in the WWE in recent memory. Punk will defend his WWE Championship and put his 400-plus-day reign on the line against The Rock at the Royal Rumble, but first they will have one final showdown on the go-home edition of Raw.
The feud has been fairly even thus far. The Rock executed a Rock Bottom on Punk two weeks ago, but Punk retaliated by starting a brawl with The Rock last week. Tonight will be extremely important in terms of putting a bow on their feud and preparing for the Rumble, but it's extremely tough to tell how the WWE will go about things.
Since The Rock was able to hit Punk with his finisher two weeks ago, I'm guessing that Punk will be given the same opportunity this week. Despite Punk's impressive run with the title, most believe that The Rock is going to win, but allowing Punk to stand tall on Raw might plant some seeds of doubt in the minds of fans who aren't giving him a chance.
Although the writers could very well be saving it for the Rumble pay-per-view, I could also see The Shield attacking The Rock tonight. The Shield has gotten involved in Punk's business since the group's debut, but it has yet to mention The Rock. It's only a matter of time before Dean Ambrose, Seth Rollins and Roman Reigns attempt to take out The Great One, and doing it on Raw would make it abundantly clear that they are threats to help Punk retain the title at the Royal Rumble.
The WWE Universe was taken aback when Alberto Del Rio beat Big Show for the World Heavyweight championship on SmackDown two weeks ago, but the fans seem to have taken to Del Rio as a face and are firmly behind him.
It was announced on Raw last week that Big Show would exercise his rematch clause at the Royal Rumble, so tonight's Raw and the ensuing SmackDown will be all about making Del Rio vs. Big Show seem like a big deal.
With the Rumble match and CM Punk vs. The Rock already on the Royal Rumble card, most fans aren't thinking much about Del Rio vs. Big Show.
With that said, their Last Man Standing match on SmackDown was spectacular, and they won't have the pressure to blow the roof off the building like Punk and Rock will. They can essentially go out there and do their thing, and if it's great, then it will add to what already promises to be a fantastic event.
Del Rio is a great in-ring worker and Big Show is underrated in that regard, so I feel as though they have what it takes to put on a good show. My only question pertains to whether or not a stipulation might be added to the match prior to Sunday.
There is no question that the Last Man Standing condition made their SmackDown encounter much better than it otherwise would have been, so I would very much like to see a new stipulation.
Ideally, if the WWE is truly trying to get Del Rio over as a top-level face, his match with Big Show will be booked as an "I Quit" match. Del Rio is a submission specialist thanks to the Cross Armbreaker, and it would be a major coup to make The World's Largest Athlete give up.
It may seem like it's a bit late to add something like that to their Rumble match, but with two great bouts already on the card, the WWE should try to knock it out of the park with a great World title match.
Dolph Ziggler is unquestionably one of the WWE's rising stars, and with the Money in the Bank contract in his possession, it's only a matter of time before he becomes World Heavyweight champion.
With that said, the creative team has done an awful job of preparing him to make that leap, especially lately. With each passing day, it gets more and more likely that he'll cash in, so it's imperative that he is made to look strong moving forward.
Ziggler struggled after initially winning Money in the Bank, as he lost pay-per-view matches to Chris Jericho and Randy Orton. But he scored a big win at Survivor Series and beat John Cena in the ladder match main event at TLC—albeit with help from A.J.
Rather than building on that momentum and ensuring that the fans will accept Ziggler as a credible champion when he does cash in, though, the writers apparently believe that having Ziggler lose to Cena constantly is a better course of action.
I don't have any issues with Ziggler losing a match once in a while since he's a heel, and I can even stomach Cena winning since he's the face of the company, but I fail to see how Ziggler losing to Cena constantly on Raw is beneficial. If the goal is to make Cena look strong, which isn't even necessary, then have him beat mid-card guys and superstars who aren't on the verge of a colossal push.
It hasn't been enough to simply have Cena beat Ziggler; rather, he has done it in ridiculous fashion. Cena has defeated Ziggler with a single Attitude Adjustment in each of the past two weeks, despite Ziggler emptying his holster on Cena and getting help from A.J. and Big E Langston.
Since I fully expect Cena to eliminate Ziggler in the Rumble as well, hopefully the writers finally give Ziggler his due to tonight and allow him to stand tall over Cena in some way.
The Royal Rumble is now less than a week away, and while CM Punk vs. The Rock is obviously getting a ton of attention, and for good reason, the main attraction for many fans remains the 30-man Rumble match.
Only about a third of the Rumble field has been announced to this point, and while I don't necessarily expect a blitz of Rumble announcements tonight, it stands to reason that we could at least see a few.
One notable name that has yet to declare himself a Rumble participant is Ryback, so he will almost certainly make it official on Raw. While John Cena is the definite favorite to come out on top, Ryback is probably next in line and will definitely be someone worth watching in the Royal Rumble match.
That exact environment helped launch the likes of Diesel and Kane to new heights, so even if Ryback doesn't win, he could very well make a huge impression that helps him down the line.
In addition to Ryback, I believe that The Shield will enter the match as well. Ryback has been the group's main adversary as of late, along with Randy Orton and Sheamus, so it makes sense that they would want to enter the match to eliminate the three of them.
The obvious way to do it would be for them to attack Ryback tonight during his announcement. Orton and Sheamus would naturally make the save, and perhaps it could turn into a situation where they toss Dean Ambrose, Seth Rollins and Roman Reigns over the ropes to assert their dominance.
Those announcements would essentially make half of the Rumble field known, while the rest will be filled in with mid-carders and surprise entrants.
Even though Cena appears to be the obvious Rumble winner, I'm excited about the Rumble match since there's a distinct possibility that the WWE could decide to pull a swerve. Whatever the case, it's shaping up to be a fantastic match.
The Divas championship hasn't exactly been spotlighted much as of late, but the division did seem to at least be stabilized with Eve holding the title. She certainly came into her own from an in-ring perspective, and her heel character was polished as well.
Now that Eve has officially left the company, though, the onus is on Kaitlyn to carry the flag for the WWE's female wrestlers.
Kaitlyn finally beat Eve for the Divas championship last week after several failed attempts, and it's clear that the WWE hopes she can become the next Trish Stratus or Lita. I don't see that happening, but Kaitlyn certainly has a lot of things going for her.
She's obviously attractive, but she also has an engaging personality and a powerful in-ring style, so she should acquit herself well. The real issue here is determining who she'll face now that the divas division is depleted beyond belief.
A.J. is the easy answer since she and Kaitlyn were best friends before A.J. turned on her. But that may not happen until just before WrestleMania. In the meantime, Kaitlyn's best options are Tamina Snuka, Natalya and Layla. Both Natalya and Layla are face, so they may not seem like possibilities, but after what I saw on SmackDown last week, I believe that Layla is the best choice for Kaitlyn's holdover feud.
Kaitlyn was speaking with Layla and Alicia Fox backstage, and Layla held Kaitlyn's belt for a few seconds. She looked like she didn't want to give it back, and it certainly seemed like a moment that was foreshadowing something.
Ideally, Layla will win a No. 1 contender's battle royal to set up a friendly match at the Royal Rumble, but she'll lose and turn heel out of frustration afterward. The WWE is short on heel divas, and Layla has proven capable of playing that role in the past.
Follow @MikeChiari on Twitter and listen to him on Ring Rust Radio.