3 Reasons Rick Nash Is the Key to a 2013 Rangers Stanley Cup Victory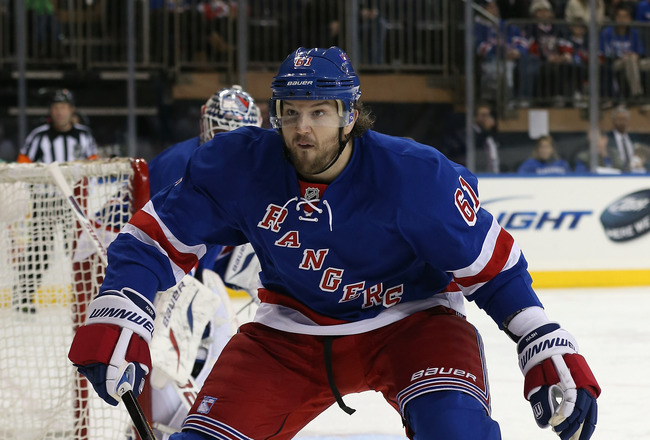 Rick Nash holds the keys to the Rangers' success.
Bruce Bennett/Getty Images
Rick Nash was the New York Rangers' big-ticket acquisition, and his numerous skills are the key to a 2013 Rangers Stanley Cup victory.
Nash brings a diverse skill set that can be utilized in a number of different ways.
If Nash plays to his potential, there is no reason why he shouldn't help the Rangers become a better team.
Read on to find out why Rick Nash holds the key to the Rangers' Cup hopes.
Offense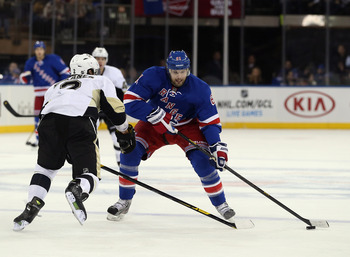 The Rangers need Nash to contribute on offense.
Bruce Bennett/Getty Images
Rick Nash is a prolific scorer. In fact, he's one of the best in hockey.
Since coming into the league in 2002, Nash has scored 290 goals and added 259 assists.
While in Columbus, opposing teams game-planned to stop Nash.
They shifted defenders to his side to try to limit his effectiveness.
Despite this, Nash still put up big numbers.
Now in New York, Nash will have talented teammates like Brad Richards and Marian Gaborik to help shoulder the load.
Nash won't be alone this year, meaning that he has the ability to put up huge numbers. The more that he can put up, the better that it is for the Rangers.
Power Play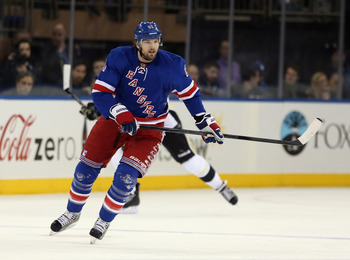 Nash should improve the Rangers power play.
Bruce Bennett/Getty Images
Rick Nash is prolific on the power play.
In his career, Nash has scored 83 goals on the man advantage while adding 99 assists.
Last season, the Rangers had the 23rd-ranked power play, scoring on 15.7 percent of their chances. In 2010-11, the Rangers had the 18th-ranked power play, converting on 16.9 percent of their chances.
Nash should help improve that.
He has a dynamic shot and can play anywhere in the offensive zone. He can use his big body to shield the goalie or to bully his way in the slot, and he can use his powerful shot from the point or the half-wall.
The Rangers will need Nash to continue his power-play prowess if they want to advance far in the playoffs.
A dangerous power play is one of the keys to a Cup run, and if the Rangers can improve theirs, they'll be playing deep into the playoffs.
Penalty Kill
The Rangers don't need too much help on the penalty kill.
Last season, they were ranked fifth in the league, stopping 86.2 percent of chances.
But they did lose two top penalty killers in Brandon Prust and Ruslan Fedotenko to free agency.
Nash should soften the blow of losing those players.
Nash is a different kind of penalty killer, because he's a threat to score short-handed. His first goal as a Ranger came short-handed.
In his career, Nash has scored 15 short-handed goals and has five short-handed assists.
Nash gives the Rangers a threat on the penalty kill that they haven't had in years. If he can score three or four goals when down a man, the Rangers will be better off for it.
Keep Reading

New York Rangers: Like this team?