WWE Raw Live Results, Reaction and Analysis for Royal Rumble Go-Home Show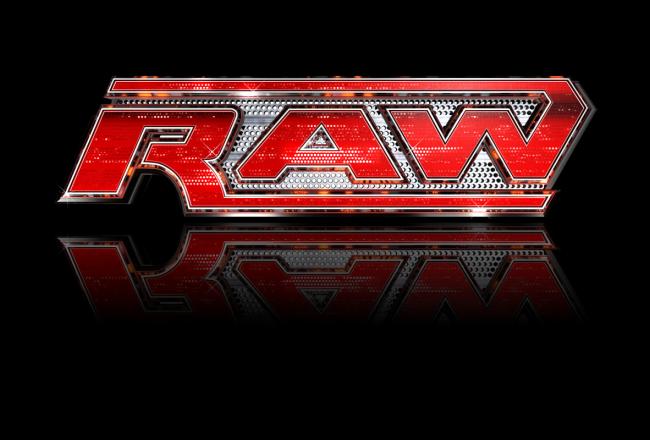 WWE.com

Welcome to the Bleacher Report live coverage for the Royal Rumble go-home Monday Night Raw on Jan. 21, 2013, from the HP Pavilion in San Jose, California.
The Royal Rumble is just six days away, and WWE will be looking to finalize some of the storylines heading into the pay-per-view, as well as to add some more participants to the Royal Rumble.
Last week, we had the 20th anniversary of Monday Night Raw, and WWE decided to make it a low-key affair after recently celebrating Raw's 1000th episode.
This week, we are bound to see segments involving The Rock and CM Punk's feud, The Shield, The World champion Alberto Del Rio and hopefully some more names added to the Rumble. We could also see another appearance by Ric Flair after he and Miz had a good time messing with Antonio Cesaro during MizTV last week. If anyone can get Miz over as a babyface, it is The Nature Boy.
Will anyone else make a return to WWE and enter the Royal Rumble?
Will The Shield get involved in any matches?
Can Dolph Ziggler have a match with a clean ending?
Who will make the next stupid joke about Cody's mustache?
Bookmark this page and come back tonight at the start of the show for answers to these questions, as well as live coverage of all the action as it happens.
Follow me on Twitter @BR_Doctor
I enjoyed tonight's show for the most part. We had some good wrestling, decent storyline progression and a few other good segments as well.
The Rock and CM Punk both delivered their typical great promos against each other and The Shield made The Rock their next target.
I am really looking forward to the Royal Rumble on Sunday. Make sure to come back and Join me as I cover the Rumble live here on Bleacher Report.
Antonio Cesaro says he will win the Rumble match next. How many mics does WWE have on hand?
3MB join the party next, and Slater's mic doesn't work at first. They are followed by Rhodes Scholars, The Usos, Brodus Clay, Khali, Curt Hawkins, Epico and Primo and Michael McGillicutty.
All hell breaks loose and people start tossing each other out of the ring like this is the Rumble match.
The show ends with Ryback in the ring beating on an Uso.
Miz comes out next, and of course says he will also win the Rumble. Kane and Bryan are next.
I am waiting for someone to yell "No, I'm Spartacus!"
After the break, John Cena's music hits and he comes down to the ring to talk about the Royal Rumble.
They have been hyping this promo all night. It better end with someone going through a table or I am going to be upset.
Cena talks about the mixed response he got during his entrance. He talks about how Sundays are supposed to be for resting.
Cena has some exchange with a kid at ringside and ends up saying his gamer-tag is skidmarks.
Cena actually said something kind of witty to a woman at ringside about only posting pictures she is in where she looks good after a night of partying.
Sheamus comes out after Cena says he will win the Rumble and he says he will win the Rumble instead.
Prime Time Players come out, which must mean they are in the Rumble as well. Orton's music hits and it looks like we might get most of the entrants revealed.
Michael Cole reveals that the second Hall of Fame inductee is Bob Backlund.
Yes Yes Yes!!!
There are few more deserving than Backlund. Congrats Mr. Backlund.
Tensai vs. Alberto Del Rio
Tensai is in the ring when Del Rio makes his way out after the break. Tensai hits a kick to the gut after the bell and then starts working over Del Rio in the corner.
He whips Del Rio across the ring and the climbs to the middle rope and drops a splash two times before getting a near fall.
Del Rio jumps off the middle rope and hits a flying headscissors. Del Rio hits a belly to belly suplex and then he lines up and hits the running enzuiguri in the corner.
Del Rio goes to the middle rope again and hits a moonsault for the pin and the win.
Winner: Alberto Del Rio
ADR is officially a face, which seems to make the crowd happy.
After the match Del Rio grabs a mic and tells Big Show that he will win their last man standing match just like he won the last one.
He counts to 10 in Spanish with the crowd joining in.Rodriguez get a Si Si Si chant going as Del Rio celebrates to his music.
Dolph Ziggler is the winner of the Beat the Clock Challenge. He walks up to Vickie after the break and says he is happy he gets to pick his spot in the Rumble.
He and AJ make out and Vickie gets a little grossed out. Vickie informs him that he only gets to choose between number 1 and number 2.
She walks off laughing as Ziggler looks pissed.
Either Ziggler will do the impossible and win the Royal Rumble and hold the Money in the Bank briefcase at the same time or he will be eliminated after a strong showing.
We get a replay of Rocky spitting up blood after the attack by The Shield, which is surprising seeing as WWE usually won't show blood if they have the choice.
CM Punk and Heyman are backstage and Vince McMahon walks up and tells them if The Shield gets involved in the match at the Rumble then he will hand down severe punishments.
Punk gets in his face and Vince says if they get involved he will strip Punk of the WWE title.
Wade Barrett vs. Sheamus (Beat the Clock Challenge match) Part 2
We return from break with 5:00 left on the clock. Barrett is in control and he gets a near fall after a snap suplex.
Cole says the WWE app showed this match during the break, but all I saw was Steve Austin winning the Rumble by last eliminating The Rock being played on the WWE app.
With 2:40 left, Barrett hits a nasty back kick and then another for a close two count. Barrett goes up to the middle rope and hits an elbow drop for another two count.
Barrett keeps checking the clock as he lifts Sheamus onto his shoulders. Sheamus reverses and hits White Noise with 1:23 left on the clock.
Sheamus calls for the Brogue Kick and AJ runs down and gets in the ring to distract Sheamus. Ziggler and Langston stay outside the ring and AJ quickly exits.
Sheamus runs into a Winds of Change for a two count. Barrett pulls down his elbow pad and turns around to get hit by the Brogue Kick.
The buzzer sounds and Sheamus realizes he did not beat the clock. ZIggler's music hits and he exits up the ramp.
Winner: No Contest
Barrett took what looked like a very hard Brogue Kick right to the face. I wonder if he just sold it well or got hurt?
Wade Barrett vs. Sheamus (Beat the Clock Challenge match) Part 1
The clock starts at 10:56 when the bell rings and Sheamus takes Barrett down first with a headlock take over. Barrett comes back and lock in a front facelock, which Sheamus uses to back Barrett into the corner.
Ziggler and Co. are show watching backstage as Barrett and Sheamus trade some hits in the corner.Sheamus hits the rolling senton for a near fall.
Barrett pulls Sheamus' arm over the ropes and then he clotheslines Sheamus over the top rope to the outside and we head to the break with 8:40 left.
WWE plays another MLK tribute and then we return to Cole and Lawler talking about what just happened in the ring.
After the clip we get Sheamus coming out for his match with Barrett.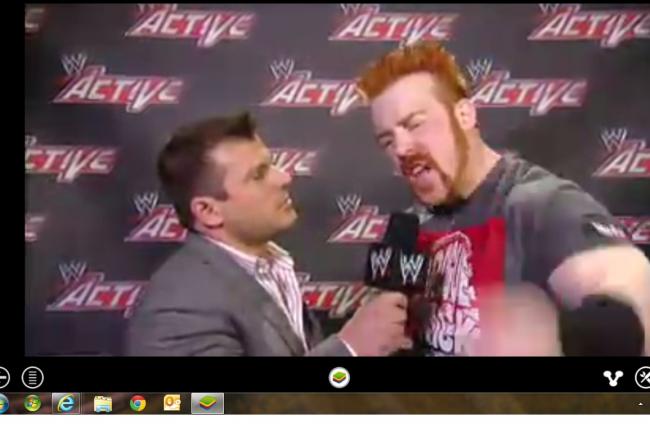 Sheamus talks about his BTC match against Wade Barrett to Matt Striker on the WWE App.
After the break we get Heyman talking about how he is going to do something special for CM Punk tonight.
Heyman says that everyone is acting like it is a foregone conclusion that Punk will leave the Rumble as WWE champion.
Rock's music hits and he comes out on the ramp. Rock holds up a ticket, which signifies that he bought it off the cop and came in as a fan.
Rocky poses in the corners as Heyman avoids him in the ring. We see Punk in the skybox watching with an amused look on his face.
Rock grabs a mic and thanks the San Jose PD for the ticket and Heyman says the ticket doesn't mean he can come in the ring.
Rock calls Heyman, Twinkie Tits and then tells him to leave before he gets beat up.
Heyman retreats and Rock looks up at Punk in the skybox. Rock talks about Punk being upset that the people love him.
He says even if you take everything away from him, The Rock will stand in front of him and rip his face off.
That was a really funny line for some reason.
What? Rock says he has worked for 10 years for this shot and like Martin Luther King (Yes, he really compared himself to MLK) he has a dream of being WWE champion.
I remember Rock just coming out and announcing he had a title shot at the Rumble a few months back.
Rock says that on Sunday the crowd will be doing the "Free at last" chant when he takes the title from Punk.
The lights go out and The Shield are attacking Rocky when they come back on. Rocky fights back a bit but they gang up on him.
They hit the triple powerbomb on Rocky and get some major heat for doing it. They exit up the ramp as Rocky lay in the ring.
Punk has a mic and says there is only room for one man at the top of the mountain.
Wow! Punk says "Free at last? You have to pay a price for your freedom." How many people do you think will call that racist by the morning?
I don't think that is the way Punk meant it, but with the way things are today it just takes a handful of people saying it on Twitter for something to take off.
Heyman and Punk are backstage and Heyman says he has a skybox for Punk so he can watch what Heyman calls a "Paul-Bomb."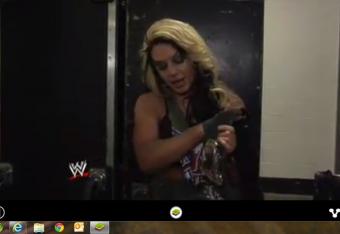 Alicia Fox vs Kaitlyn
After the break we get Kaitlyn coming to the ring for a match with Foxxy. Is Fox a heel or face this week?
Heel.
Foxxy grabs Katie and runs her face into the turnbuckle a few times. Kaitlyn gets right back up and throws Foxxy out of the ring.
Katie follows up with a sliding dropkick and then goes outside to take Fox down and hit some hard rights.
Fox ends up taking advantage of Katie taking too long to get in the ring and she whips Katie around the ring by her hair.
Fox hits a clothesline for a near fall and then she lock Kaitlyn in a read headlock.
I think I just heard Cole or Lawler say all women hate each other on commentary.
Kaitlyn hits the spear out of nowhere for the pin and the win.
Winner: Kaitlyn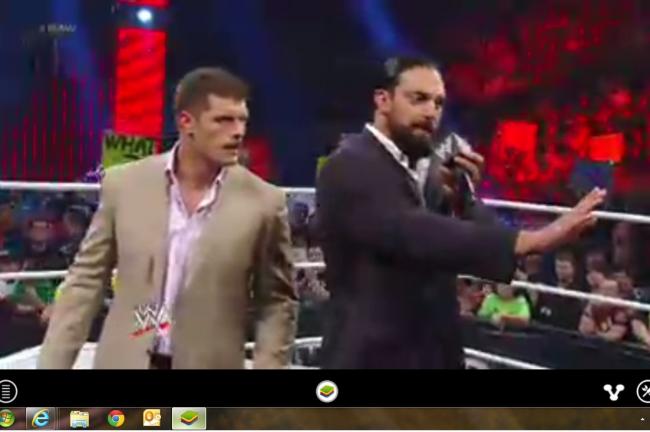 During the break on the WWE app they show Rhodes Scholars come out and get sent packing by Team Hell No.
After the break we get Dr. Shelby in the ring wearing a full cap and gown attire for the graduation of Kane and Daniel Bryan from anger management.
I am shocked there isn't a Harold chant going by now.
Shelby says he is very proud to be here and he welcomes Team Hell No to the ring. The come out in graduation gowns looking a little less than enthusiastic.
Bryan's hair is slicked back for the occasion. Shelby congratulates them on being able to overcome their issues.
He hands them their diplomas and caps and then he moves each man's tassle to the other side of the cap. I forget what the tassle is called.
Shelby says the two of them get to decide who is valedictorian. Kane says it should be Daniel and Daniel says it should be Kane.
Neither of them want to give a speech and they end up yelling at each other, which makes Shelby scream at them to stop.
Shelby asks them if a hug would make them feel better. Shelby says everyone everywhere should hug at the same time and Kane asks if Cole and Lawler have to and Shelby says yes.
Cole is the first one to open his arms and Lawler reluctantly gives him a hug to a pop. They make various people around the ring and make them hug.
Am I tripping or is this really happening?
Shelby does a countdown and has everyone hug at the same time and then Bryan's music hits and the segment ends with a group hug in the ring.
I thought or sure Rhodes Scholars would come out and make this into a fight, but it really was an entire segment which was basically devoted to hugging...on a wrestling show.
During the commercials the WWE app has been showing various Rumble wins from the past like Jim Duggan winning the first one and Ric Flair winning the WWF title at the 1993 Rumble.
Cole hypes Kane and Bryan graduating from anger management after the break.
Dolph Ziggler vs. The Miz (Beat the Clock Challenge match) Part 3
We return from commercial to see Ziggler holding Miz down with a headlock. Miz ends up hitting a few pinning combinations for near fall.
Miz hits a kick to the face for another near fall. AJ looks worried with only 3:10 left in the BTC time limit.
Miz almost gets DQ's nailing ZIggler with rights in the corner. He hits his running clothesline and then a diving axe handle for a near fall.
Miz tries for the SKF and he gets rolled up for a near fall. ZIggler hits the jumping DDT for another close two count.
With 1:50 left we see both men run into each other. Miz grabs Ziggler and hits a backbreaker and then locks in the figure four.
AJ distracts the ref and Langston pulls Ziggler to the ropes. Miz breaks the hold and chases ZIggler to the outside.
Miz gets distracted by Langston again and Ziggler hits the Zig Zag to get the pin and the win with 39 seconds left on the clock.
Winner: Dolph Ziggler at 10:56
We have seen some good wrestling tonight, and that match was no exception.
Dolph Ziggler vs. The Miz (Beat the Clock Challenge match) Part 2
During the break the WWE app shows us Ziggler controlling the match. He puts Miz in an armbar with 6:10 left on the clock.
Miz fights up with some hard left hands, but he telegraphs a back drop and Ziggler kicks him right in the face for a near fall.
Ziggler gets whipped into the corner, but Miz ends up running his own shoulder into the ringpost as we head back to the show on USA.
Dolph Ziggler vs. The Miz (Beat the Clock Challenge match) Part 1
Miz hits a nice dropkick right after the bell for a near fall. Ziggler answers back with a roll up for a two count.
Ziggler goes for a single-leg takedown, but Miz grabs him and locks in a headlock. Miz gets a couple near falls and Ziggler comes back with another roll up for another near fall.
Ziggler nails a dropkick for a two count with 10:03 left on the clock. Ziggler follows up with a neckbreaker.
A loud Ziggler chant starts going as he locks Miz in a sleeper. Miz breaks out and starts working the knee of Ziggler.
Ziggler sells a chop block better than anyone I have ever seen. It looked like he really got hurt, but he is just a pro at selling.
Langston runs down Miz outside the ring while the ref is attending to Ziggler. Ziggler rolls him back in for a near fall with 7:45 left on the clock as we head to a break.
Dolph Ziggler is out for the next Beat the Clock Challenge match with AJ and Big E Langston trailing close behind.
CM Punk's music hits and he comes out with Paul Heyman, but Punk is holding his WWE title instead of having Heyman hold it for him.
Punk holds his title high in the ring for a few moments before saying he holds the WWE title more dear to his heart than most people do their families.
He says for 428 days he has lived his life's work. Two guys who realize they are on camera start doing the Prime Time Players dance in the background of Punk talking very seriously about the WWE title.
Punk talks about how important the WWE title is. Punk says Rock knows he can't be as good as Punk is right now.
Punk says he has earned the right to "Be the man" and Rock hasn't, and in six days he will see what it is like to face Punk in a match.
He holds the title up as his music plays. He stands there for a minute as King throws to a graphic to hype a Cena appearance.
The Rock is still arguing with the cops at the arena about getting in to go to the ring. He tells them they are not here to protect and serve Vickie.
He says this is about the people and the people paid to see The Rock. He gets some of the cops to nod in agreement and then he manages to get a Rocky chant going from where he is.
One of the cops says he actually had tickets for tonight and he is missing the show to do this. Vickie runs in and tells them to arrest Rock.
They say as long as he is where he is right now he is not breaking the law. Vickie tells Rock she wants an apology and he tells her to shove it.
As we head to break it looks like he might be making some kind of deal with the cops.
Ryback vs. Heath Slater
The bell rings and Slater gets in a couple quick kicks to take Ryback off his feet. Ryback pops back up and hits a spinebuster on Slater.
He lines up and hits the Meat Hook clothesline. Ryback pulls Mahal into the ring and then throws him into McIntyre, who is on the apron.
Ryback grabs Slater and hits Shell Shocked for the pin and the win.
Winner: Ryback
Is his push dead in the water, or are they biding time.
Ryback grabs a mic and says his job is fun. He talks about how Sunday is his first Rumble match.
He says he will win the Rumble and headline WrestleMania and then he gets a Feed me More chant going to end the segment.
This article is
What is the duplicate article?
Why is this article offensive?
Where is this article plagiarized from?
Why is this article poorly edited?