Joe Flacco and the Baltimore Ravens have made it to the Super Bowl following a thrilling 28-13 victory over the New England Patriots last night in Foxborough. In his third trip to the AFC championship game, and second AFC championship game against the Patriots, Flacco has finally gotten the "big game" monkey off his back.
Granted, the biggest game is still to come, when Flacco and the Ravens travel to New Orleans to play the 49ers in Super Bowl XLVII two weeks from now. However, for now there is no arguing Flacco has posted the biggest win of his still relatively young career.
So what now for Flacco? Is he elite?
When I think of elite, the first names that come to mind, in no particular order, are Manning, Brady, Brees and Rodgers. Flacco may be worthy of a top ten quarterback nod, however I'm not ready to give him the "elite" title just yet.
That being said, Flacco is very good. He might even be great, especially in the playoffs. We've seen this before, it's not easily forgotten the regular season stats Eli Manning posted in the Giants' Super Bowl runs in the 2007-2008 and 2011-2012 seasons.
Perhaps it's a clutch gene, where quarterbacks who post good but not great stats in the regular season can suddenly elevate their game to elite status for a few games in the playoffs. Or maybe it's the desire to win one more game for your beloved team leader before he sails off into the sunset.
Regardless of what may be driving Joe Flacco this post season, there's no denying his recent success is a true sign of growth through post season experience.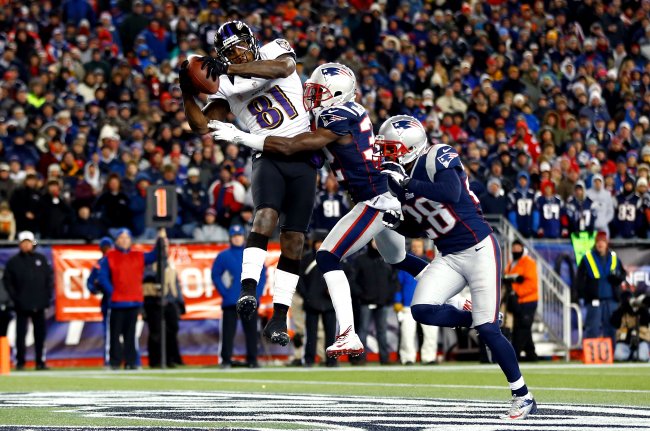 Jared Wickerham/Getty Images
Let's go back to the first three seasons Flacco had in the postseason. The Ravens went 4-3 in playoffs between 2009 and 2011.
While they were winning games, and even reached the AFC championship game in 2009, Flacco's performances through that stretch were nothing more than average, and in some cases awful, with the only exception being the 2010 wild card game against the Kansas City Chiefs.
In his first seven playoff games Flacco threw for 1,050 yards, four touchdowns and seven interceptions, while averaging a quarterback rating of 57.4. Flacco apologetics will likely make the argument that he did what it took to win, but in reality no quarterback posting numbers at that rate would be in the NFL for long. But that is the beauty of maturity and growth in the NFL.
Getting back to the present day Ravens, this postseason Flacco has been nothing short of spectacular. As a matter of fact, in the last two postseasons Flacco has been arguably the best quarterback in the playoffs, posting 1,335 yards, with 12 touchdowns and only one interception averaging a 108.1 quarterback rating going 4-1 over that time.
Not only has Flacco performed like one of the best quarterbacks in the playoffs the last two seasons, it's who he has been doing this against.
Last season the Ravens traveled to New England for the AFC championship game, and fell a dropped pass or missed field goal short of possibly going to the Super Bowl, depending on who you want to blame.
However, in that game, Flacco went into Foxborough and outperformed future hall of famer Tom Brady. Throwing for 306 yards, for two touchdowns and one interception, Flacco appeared to be doing everything right to lead the Ravens to the Super Bowl for the first time since 2001.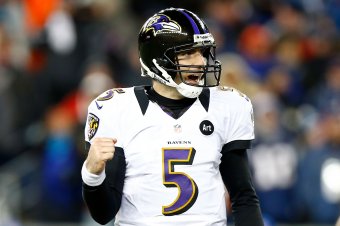 Jared Wickerham/Getty Images
Flacco would get his chance at redemption this season though, and has so far taken advantage of his second chance in every game this post season.
First the Ravens faced the Indianapolis Colts in the AFC wild card game, led by rookie sensation Andrew Luck. The Ravens won the game rather easily, defeating the Colts 24-9 and moving on to the divisional round. Flacco threw for 282 yards and two touchdowns, and did not throw an interception.
The following week the Ravens traveled to Denver to face long-time nemesis Peyton Manning. If there's one quarterback the Ravens have struggled to stop throughout their history, Manning would be that guy. With an 8-2 career record against the Ravens, things were setting up to look like another typical exit from the post season for Baltimore.
Not only were the Ravens facing Manning, but they were also going up against one of the top defenses in the league, led by second year sensation Von Miller and a veteran cornerback in Champ Bailey.
Things were different for Baltimore this time however. Joe Flacco went into Denver, and again out performed the opposing quarterback. With a little bit of fourth quarter drama, Flacco threw an improbable 70-yard touchdown pass to wide receiver Jacoby Jones with 38 seconds left in the game, forcing overtime.
Baltimore would eventually win the game 38-35 early in the second overtime on a Justin Tucker 47-yard field goal, putting the Ravens back in the AFC championship game for the second consecutive year, again at New England. Flacco finished the game with 331 yards passing, three touchdowns and no interceptions, as opposed to Manning's 290 yards passing with two touchdown and one interception.
Who do you think will win Super Bowl XLVII?
I can only imagine the confidence the Ravens went into Foxborough with yesterday. Having just defeated Manning and the Broncos on the road, knowing that they had beaten New England earlier this season and the fact that they almost won there last year, what doubt could the Ravens really have had?
The Ravens didn't just beat New England in last night's championship game, they made a statement, and who made the biggest statement of all? Again, it was Joe Flacco.
Yes, the Ravens' defense was phenomenal, shutting out the Patriots in the second half and holding Brady and company at bay. But in a quarterback driven league, it's Flacco who will get most of the recognition, as he deserves.
Flacco again went into New England and out performed Tom Brady in the AFC championship game for the second year in a row. Finishing the game with 240 yards, three touchdown passes and no interceptions, Brady went for 320 yards with one touchdown and two interceptions, throwing his second interception late in the fourth quarter that subsequently ended the game, giving Baltimore the victory 28-13, putting them in the Super Bowl.
So what do we make of Joe Flacco now, who is playing in the final year of his contract? His regular season numbers suggest that he is very good, however not worthy of top quarterback money. However, his recent post season numbers may suggest otherwise.
Joe Flacco has shown a tremendous amount of growth over the last two postseasons. His numbers speak for themselves, along with the teams he is beating, and who he is beating to get there.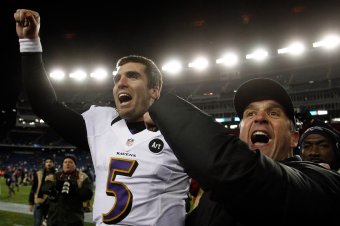 Jim Rogash/Getty Images
Without getting too much into his career record as the Ravens quarterback, he is still 54-26 in the regular season with an 8-4 playoff record. In a league where winning is everything and the only thing that really matters is championships, even his record will factor into his nearing payday.
Flacco has had to undergo a tremendous amount of questioning and scrutiny throughout his career on whether or not he was the man who was capable of leading the Ravens to a Super Bowl. With that being put to rest, the next question is whether or not he can win one.
Based on his recent performances and his noticeable growth throughout the playoffs, Flacco will have one more game, the biggest game of his career, to show fans and critics alike just how much he has grown in the last few seasons.