The Senior Bowl gives coaches the best chance to see what top prospects would be like on their respective teams. With this in mind, there are a lot of players who must use this opportunity to prove their value.
In the months leading up to the NFL draft, there are a lot of ways for these college players to boost their profiles. All of them are trying their best to prove that they should be taken highly in the draft.
However, for this group of players, the Senior Bowl might be the most important week of their lives. They need to use the practices and the game to improve their stock before the draft.
Mike Glennon, QB, North Carolina State
The entire quarterback class at this event is intriguing. While Geno Smith and Matt Barkley are absent, the game features talented college players like Tyler Wilson, E.J. Manuel and Landry Jones.
However, Mike Glennon comes in with a disadvantage of an underwhelming college career.
At North Carolina State, the quarterback led the nation in interceptions, and his efficiency rating of 130.7 ranked No. 66 among qualified players.
What Glennon has going for him is his size and arm strength. These must be on display for the NFL scouts throughout the week of practice. During the game, he needs to avoid the mistakes that plagued him during his career.
He wants this to be the lasting impression that teams have of him entering the draft instead of his three-interception performance in the Music City Bowl.
Denard Robinson, WR, Michigan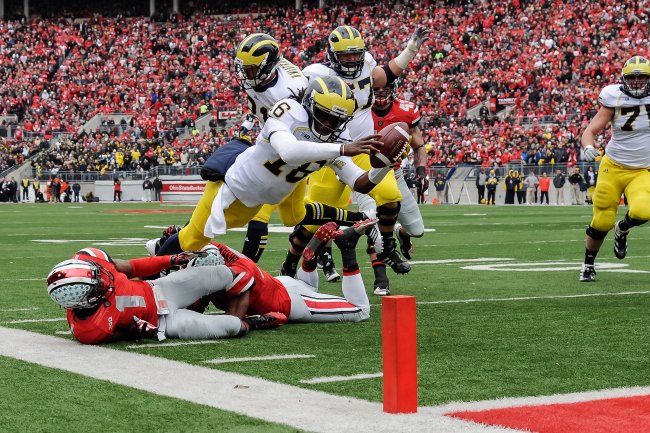 Jamie Sabau/Getty Images
That position is not written incorrectly. The best rushing quarterback in NCAA history will attempt to play receiver at the Senior Bowl and hopefully in the NFL.
This switch has worked in the past for players like Josh Cribbs and Brad Smith, and Denard Robinson has the athleticism to make it work too.
Unfortunately, being a receiver in the NFL requires more than just speed and agility. Robinson must show that he can catch the ball, as well as run routes and be strong enough to block at the next level.
Based on his Michigan career full of highlight-reel plays, it is very likely that someone takes a chance on Robinson. However, he can move up draft boards if he shows that he can be a game-changing talent who is as versatile as he is talented.
Eric Fisher, OT, Central Michigan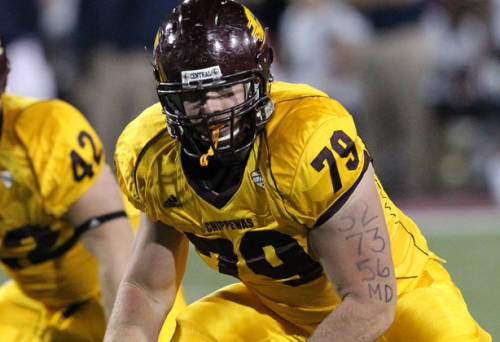 While many NFL teams were disappointed that Jake Matthews and Taylor Lewan decided to return to school, Eric Fisher must have been the happiest person in the world.
These two offensive tackles were expected to be taken in the top half of the first round, but instead, Eric Fisher gets a big boost as possibly the second-best player at his position.
Still, it is much easier blocking defensive linemen in the MAC than it is in the NFL. Although he has the physical tools, the tackle must prove that he can be effective against the best players in the country.
Fisher is in good shape to be selected in the middle of the first round, but a poor performance in this event will have him slide down very quickly.
Ezekiel Ansah, DE, BYU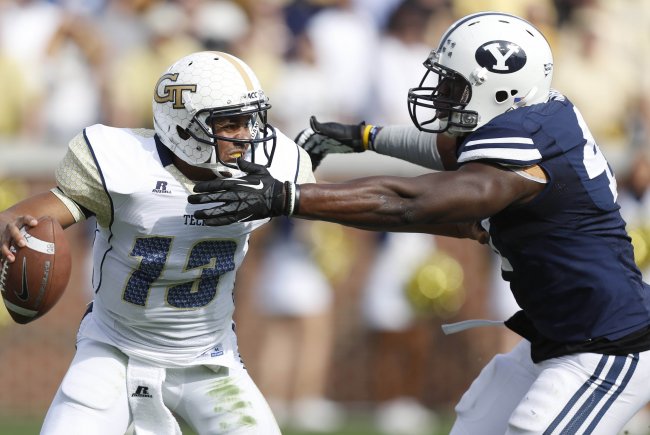 Josh D. Weiss-USA TODAY Sports
The linebacker/defensive end has shown a lot of potential in his time at BYU and could possibly be a first-round pick in April.
On the other hand, potential does not always lead to production. This is why teams will take an extra look at Ezekiel Ansah during the week.
Ansah only had a handful of sacks this season, and he only played sparingly before that. Considering teams were busy focusing on teammate Kyle Van Noy, the senior should have had more success.
However, he is still one of the more talented players that will be at Mobile for the Senior Bowl. He has a chance to stand out from the crowd in both practice and the game and show that he can be an elite defensive player.
A lot of teams are looking for pass-rushers, so the opportunity is there for the taking.