UFC on Fox 6: Demetrious Johnson vs. John Dodson Head-to-Toe Breakdown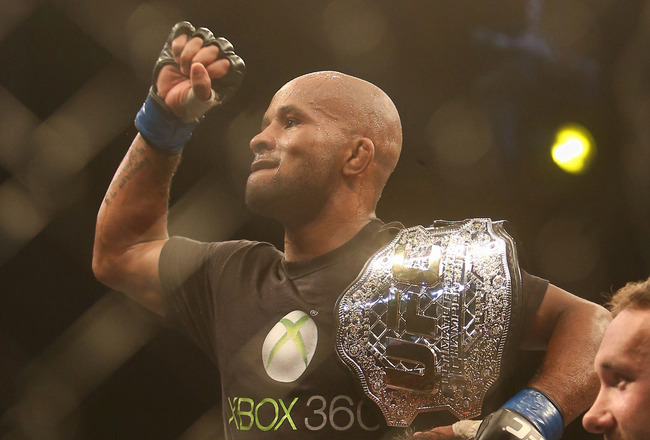 Tom Szczerbowski-USA TODAY Sports
UFC on FOX 6 is headlined by Demetrious Johnson defending his UFC Flyweight Championship against top contender John Dodson.
This will be Johnson's first defense of the newly-minted title. He captured the championship by way of split decision over Joseph Benavidez at UFC 152.
Dodson earned his title shot by TKO'ing Jussier Formiga in October. The victory moved his UFC record to 3-0 overall with two wins being in the flyweight division.
The main event will surely deliver on action with two of the sports' most exciting and fast-paced fighters. Johnson and Dodson will try to make a statement that the flyweight division is just as entertaining as any other under the UFC banner.
This is how the fight breaks down.
Striking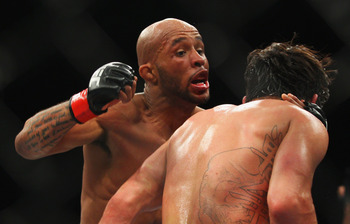 Mark Kolbe/Getty Images
Johnson's striking has looked fantastic in recent fights, and Dodson has been putting opponents away with his power. It is a very even category.
Dodson is strong and compact. When he lands a strike, it has power behind it and could put you down. Johnson, on the other hand, is more of a point striker. He has some power, but he is more about accumulating strikes on his opponent.
Technically speaking, the edge has to go to Johnson. The totality of his striking has been on display more than Dodson's. That is not to say Dodson is lacking in the department.
Dodson has more power in his strikes than Johnson, but the champion holds the edge due to his overall technique.
Edge: Johnson
Wrestling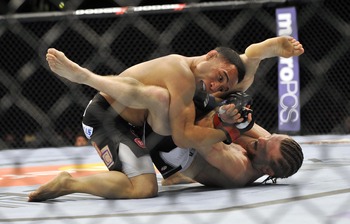 Joe Camporeale-USA TODAY Sports
This is another category of splitting hairs. Both fighters are excellent.
Dodson was a three-time high school state finalist in New Mexico, and picked up two state titles in the process. Training at Jackson's MMA has certainly only improved his wrestling ability.
We have seen Johnson use both his offensive and defensive wrestling abilities since he has joined the UFC. He has the ability to decide where the fight takes place. Johnson uses his striking to set up the takedowns, and that makes them much more effective.
Based upon wrestling alone, Dodson gets the nod; however, Johnson could easily get the better of Dodson at UFC on FOX by using his striking to set up his takedowns.
Edge: Dodson
Submissions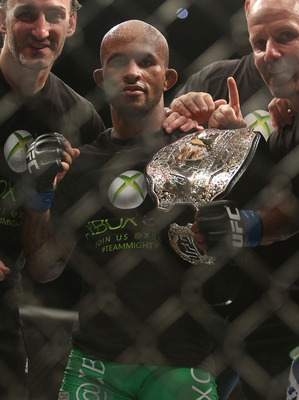 Tom Szczerbowski-USA TODAY Sports
These two flyweights prefer to exchange strikes as opposed to having a grappling battle, but if it does go to the ground, Johnson should have the advantage.
He has been involved in some quality grappling exchanges against the elite flyweights and bantamweights over recent years and held his own. Most of the time, he came out out on top. He also has six submission wins to his credit.
Dodson has a couple submission victories on his resume, but he rarely looks to use that ability. If the fight hits the ground, he wants to punish his opponent with ground-and-pound to get the stoppage.
Based on what we have seen inside the cage, Johnson has a clear edge on the mat.
Edge: Johnson
X-Factors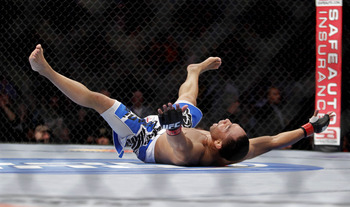 Bruce Kluckhohn-USA TODAY Sports
Dodson's X-Factor: Being First
Dodson cannot allow Johnson to dictate this fight if he wants to wear gold.
The challenger must be the aggressor and get off his offense first.
Johnson has the complete package and that will keep Dodson guessing over the course of the fight, unless he can be first in the exchanges and force Johnson to react to his moves. Johnson will be difficult to stop. This very well could be a 25 battle, and Dodson needs to accumulate as many points as possible.
Johnson's X-Factor: Transitions
Johnson's ability to switch from striking to wrestling is fantastic, and he will need that against Dodson.
Johnson is certainly a capable striker, but with Dodson's power there is no reason to risk it. However, he needs to threaten with strikes first and use that to change levels and wrestle.
If the champion can do that he will be well on his way to defending the championship strap.
Prediction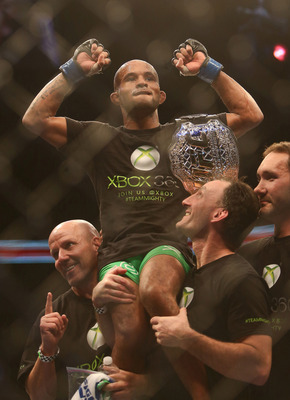 Tom Szczerbowski-USA TODAY Sports
If Dodson cannot find success early with his power, then this will be a long fight for him. Johnson will drag him into the championship rounds.
Dodson is certainly capable of winning this fight and should not be a big underdog, but Johnson will top him on this night.
Johnson will grind on Dodson in the early rounds to take away the power of Dodson. He will not get caught early and make Dodson work.
Once in the championship rounds, Dodson's quickness will have slowed and Johnson will be able to find his first finish since 2010. He will utilize his striking to set up the takedown, and then he will catch a fatigued Dodson in a rear-naked choke.
Prediction: Johnson defeats Dodson via submission (rear-naked choke) in the fourth round.
Keep Reading