6 Compelling WWE Feuds for Wade Barrett in 2013
gamestop
Finally, Wade Barrett is on a roll in WWE.
Since beating Kofi Kingston for the Intercontinental Championship December 29, Wade Barrett has only lost one singles match. That loss came to Kofi Kingston in a Gauntlet match on Main Event.
Barrett also has a clean victory over Randy Orton, one of the top faces of the company.
In my honest opinion, Barrett should be the Intercontinental Champion and the World Heavyweight Champion. He has proven that he can put on great matches with top talent and deserves a chance to carry a major title.
In 2012, Wade Barrett suffered a dislocated elbow. This injury came at an unfortunate time. He missed six months of his career including WrestleMania 28.
Now that the Barrett Barrage is back and more powerful than ever, it's time to look at possible feuds that Wade Barrett could (and should) have in 2013.
Begin Slideshow

»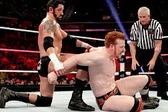 wwe
Wade Barrett vs. Sheamus would be one the most compelling feuds of 2013 In fact, both superstars have a lot in common.
They are both European, similar in size and weight, (roughly the same height with a billed a discrepancy of 15 pounds) under the age of 35 and considered to be brawlers in the WWE. They also have high-impact finishing moves that they use to easily dispose of their opponents.
Barrett and Sheamus had a mini-feud towards the end of 2012. Out of four singles matches, Sheamus won all of them, two by disqualification and two by pin-fall.
These matches occurred during Sheamus' rivalry with The Big Show, so the brief set of matches between the two brawlers never really truly evolved into a feud.
The matches between Sheamus and Barrett were phenomenal. They were fast-paced and hard-hitting, something WWE fans, such as myself, love to see.
I have no doubt that Sheamus vs. Barrett will happen in 2013.
If Barrett were to get the best of Sheamus, it would help further his career immensely. Since Sheamus is a top face in the company, a successful and victorious rivalry would make Barrett a top contender for the World Heavyweight Title.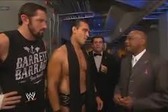 grapplecrap
Wade Barrett and Alberto Del Rio have been tag team partners on more than one occasion, but they've never faced off in Singles Competition.
Now that Alberto Del Rio is a face, a feud between the two would be something fresh and new to the WWE Universe.
One way to kick off the feud would be Barrett calling out Del Rio, commenting on his face turn and that Del Rio sold out and wanted to become a Latino Hero.
Another way to begin the rivalry is if Barrett compared his home country to Del Rio's. Barrett could say that he thinks the English are far superior to the Mexicans or something along those lines, creating ethnic tensions between the stars. Barrett has used this method before in his brief feud with Sheamus.
As of today, Alberto Del Rio is the World Heavyweight Champion, but I don't expect him to hold the title going into WrestleMania.
It's only a matter of time before Dolph Ziggler cashes in his Money in the Bank briefcase and steals the title away from him.
On paper, it may not look like the most entertaining rivalry, but both superstars are great on the mic and top-notch, in-ring competitors.
I think they could do something special.

fanpop
Surprisingly, Wade Barrett and The Miz have never had a singles match against one another. This is because both Superstars have portrayed heels throughout their WWE careers.
Towards the end of 2012, The Miz left his heel persona and turned face.Miz' face turn opens a lot of new opportunities for feuds in 2013.
Enter Wade Barrett.
In my opinion, a Wade Barrett and Miz feud would be something new and exciting. Miz is one of the most popular Superstars in the WWE today, so feuding with him could give Barrett a lot of heat and credibility.
Booking a Miz and Barrett feud may be easier than you think.
Last year, Kofi Kingston beat The Miz for the Intercontinental Championship. After the victory, Kofi feuded with Wade Barrett. Barrett got the best of Kofi and is now the current Intercontinental Champion.
Barrett could bring up the fact that he beat Kofi Kingston for the I.C Title, something that The Miz could not do.
A more far-fetched, but interesting way to start the feud is if Barrett brought up his NXT Season 1 victory.
Miz and Barrett were contestants on separate WWE reality shows. Miz came in second place on the fourth season of Tough Enough, while Barrett won the first season of NXT.
Barrett could say that he's a winner and that Miz is a loser, or something corny like that.
Hopefully, we see a Wade Barrett and The Miz feud in the near future. I think that the chances of this happening are far more realistic than a Barrett vs. Del Rio rivalry.
fanpop
Wade Barrett quickly ascended to the Main Event scene as the leader of Nexus.
Nexus was a heel stable that consisted of all eight NXT Season 1 Rookies.
The main reason for Barrett's quick success was John Cena, with whom he had his first major feud in WWE.
For the most part, Cena buried Wade and The Nexus.
However, at Hell in a Cell 2010, Barrett got his first and only win over Cena. Because of the loss, Cena had to join The Nexus.
Nexus vs. John Cena was one of the best feuds of 2010.
Three years later, I see no reason why Wade Barrett and John Cena can't feud again. Barrett would be a worthy opponent and the two already have history with one another. Could another highly entertaining rivalry be created?
I wouldn't mind seeing Barrett and Cena feud for the WWE Championship, but I don't think the WWE has that much trust in Barrett yet, which is very disappointing.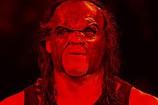 wrestlersway.blogspot
Wade Barrett and Kane wrestled to a no-contest draw last November on SmackDown. The match didn't last very long since both Survivor Series 2012 teams got into a brawl and it eventually escalated into the ring.
Wade Barrett vs. Kane would be an interesting feud to see in 2013.
In order for this to come to fruition, Kane and Daniel Bryan would need to split up, but stay on good terms, a difficult scenario in any event.
Kane is one of the most well-respected wrestlers in the business today. If Barrett were to feud with Kane, there is no doubt in my mind that he would put Barrett over.
Some may argue that Wade is already over but, despite strong performances and clever promos, he doesn't get the loud crowd reaction his success warrants.
Kane has been in the WWE for over 15 years and I think a feud with Barrett would help further Barrett's career.
Both WWE Superstars are 6'7-plus and powerful enough to match each other punch for punch. We would see a lot of impressive moves and the rivalry would be something we haven't seen before.
I'm not sure what the WWE's plans are for Kane and Daniel Bryan after they split up, but I hope to see Kane and Wade Barrett in the ring together on more than one occasion.
fanpop
Wade Barrett and Randy Orton have an extensive history.
They had a tremendous feud that started back in 2011. At TLC 2011, Randy Orton defeated Barrett in a Tables Match. It was one of the more exciting table matches in recent memory, as Orton beat Barrett with an RKO through the table.
At Survivor Series 2011, Wade Barrett led his team over Team Orton in the traditional Survivor Series elimination match. Barrett beat Orton, who was the last remaining member on the team Wasteland.
The better-than-expected feud came to an unexpected end when Orton was injured during a Falls Count Anywhere match. The injury occurred on the December 30, 2011 edition of SmackDown and kept Orton out of action for up to six months.
Two months later, Wade Barrett suffered an injury as well. Barrett suffered a dislocated elbow during a Battle Royal match. This injury happened on the February 20, 2012 edition of Raw and would keep Barrett out of action for six months.
Since Barrett was feuding with Orton, who is a top star, the WWE must have had big plans for the Englishman.
Barrett was scheduled to win the 2012 Money in the Bank ladder match at WrestleMania 28. However, since Barrett was injured, the WWE removed (and ultimately postponed) the MITB match.
I think it would be smart if the WWE had Barrett and Orton rekindle their fire in 2013.
Unfortunately, it doesn't seem like this feud will happen, considering Randy Orton is set for a heel turn (spoilers) in the near future.
Which Wade Barrett feuds would you like to see? Which feud do you think would be best for Barrett and his career? Send me your comments and suggestions in the comments box below!
Adrian Fylonenko is an aspiring writer who plans to major in Journalism. His interests include writing and debating about all things wrestling. Bleacher Report has given him the opportunity to improve and perfect his craft. Adrian is active on social media and if you have any questions or suggestions, you can do so on Twitter and Facebook . Word on the street is if you follow him, he will follow back.
All comments are greatly appreciated and will be responded too. Thank you for reading and for your support.