2013 March Madness Field of 68 Projections: Jan. 21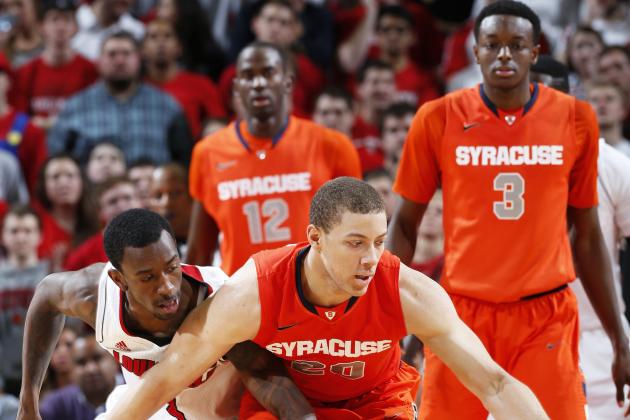 Joe Robbins/Getty Images

This is really turning into a season of parity in college basketball.
By Jan. 14, there were no undefeated teams remaining. As we enter the fourth week of January there are just six one-loss schools left: Duke, Arizona, Kansas, Michigan, Syracuse and Stephen F. Austin.
The feeling is whoever gets into the tournament has a shot to win a few games.
As always, I am not trying to guess how teams will finish the year. Rather, I am simply seeding them based on their current resumes.
I like to break teams down into three categories:
1. Wallflowers are bubble teams, because everyone wants to get into the Big Dance, but not all of them have the guts to ask a girl out onto the dance floor.
2. An Elite team that is safely in the field is "Dancing with a Hottie."
3. A school in the middle is "Dancing with Its Sister."
For two of the past three years, my final bracket projections have been more accurate than those of ESPN's Joe Lunardi, and I had the most accurate projections in the country in 2011.
I'll begin with the two First Four at-large-bid games:
(12a) Alabama vs. (12d) Charlotte
(12b) Oklahoma State vs. (12c) Xavier
First 10 Teams Out: Southern Miss, Wisconsin, Maryland, UMass, Iowa State, Temple, Texas A&M, Arizona State, La Salle, Saint Mary's
The projections are presented in slideshow format, with each major conference receiving its own slide.
First up is the ACC.
Begin Slideshow

»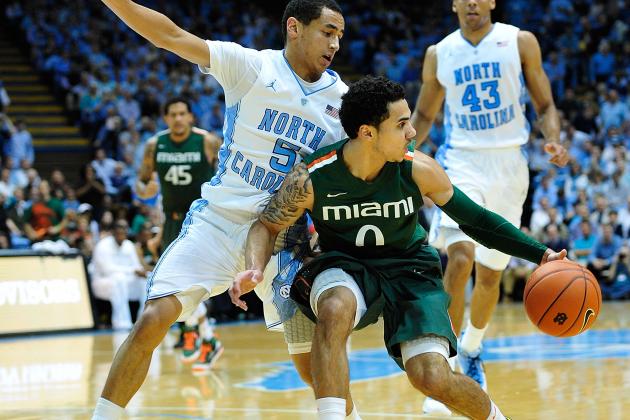 Grant Halverson/Getty Images

Dancing with a Hottie: Duke (1), Miami (3)
Dancing with Its Sister: NC State (5), North Carolina (7)
Wallflowers: Maryland (third team out)
Which is the only undefeated team in the ACC? You guessed it—Miami.
The Hurricanes have won five straight and are 4-0 in conference with three of those victories coming on the road. Their RPI is fourth in the nation and they've played the toughest schedule in the country, which includes the second-strongest non-conference slate. The U is 7-2 against the top 100 with a very impressive triumph over Michigan State back in November. But the real test comes Wednesday against Duke.
North Carolina State couldn't keep the momentum going after beating Duke, falling to a last-second shot at Maryland last Wednesday. The Wolfpack also struggled in a four-point home win over Clemson on Sunday.
The Terps would have been in the field this week, but they followed up that win over NC State with a 10-point loss at Carolina. Maryland's computer numbers are weak (RPI 65, SOS 127) thanks mostly to a dreadful non-conference schedule that ranks 299th in the land.
Florida State was barely in the field last week, and now the Seminoles are not even in consideration. They dropped to 10-7 after putting up just 36 in a 20-point shellacking at Virginia.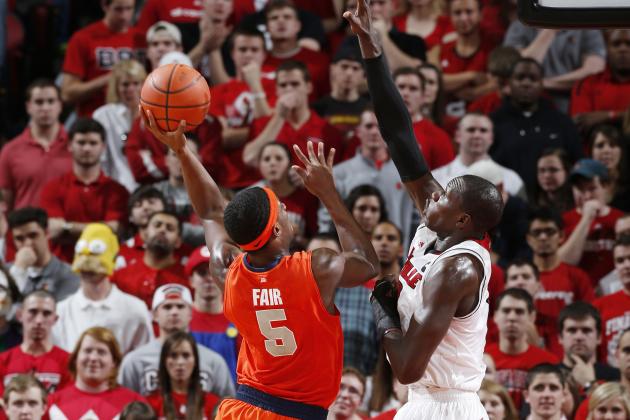 Joe Robbins/Getty Images

Dancing with a Hottie: Syracuse (2), Louisville (2), Cincinnati (4)
Dancing with Its Sister: Marquette (7), Notre Dame (8)
Wallflowers: Georgetown (11), Pittsburgh (12)
Brandon Triche had the game of his life, scoring 23 points on 9-of-13 shooting, and Michael Carter-Williams overcame eight turnovers to make a key steal and dunk in the final minute. Syracuse became the first team in four years to beat the No. 1 team in the country on its home court Saturday. The Orange knocked off Louisville, 70-68, in one of the best games of the season.
SU still does not have enough to be a No. 1 seed yet, as that was just its first win over a team ranked in the top 34 of the RPI, but Jim Boeheim's bunch proved they are a legitimate national title contender.
Less than 48 hours after beating the Cardinals, the Orange hosts Cincinnati in a Martin Luther King Day matinee at the Carrier Dome. The Bearcats seem to have gotten their ship in order, winning three straight, including a 71-69 decision over red-hot Marquette. The Golden Eagles had won six in a row before Saturday's loss to Cincy.
Notre Dame slips a spot after falling at St. John's on Tuesday, 67-63.
But Georgetown is the team really in trouble of falling out of the field. The Hoyas' 61-58 setback at South Florida on Saturday was their third loss in five games. Their computer numbers are bad (RPI 57, SOS 90) and have losing records against the top 50 (1-2) and top 100 (3-4).
Pittsburgh is heading in the other direction. The Panthers beat UConn on Saturday and have now won three of four to get back into the field.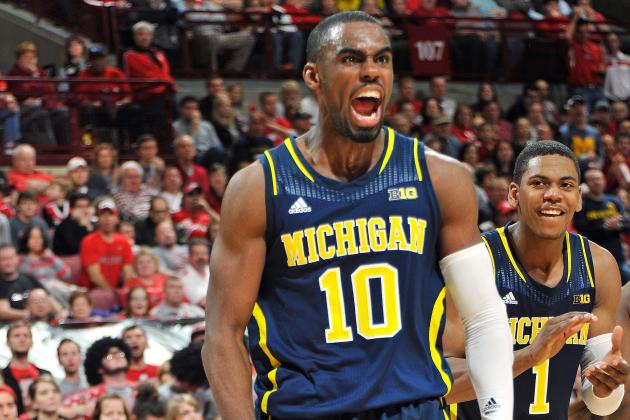 Jamie Sabau/Getty Images

Dancing with a Hottie: Michigan (1), Minnesota (3), Michigan State (4)
Dancing with Its Sister: Indiana (5), Ohio State (6), Illinois (8)
Wallflowers: Wisconsin (second team out)
Michigan is back up on the top line following its really impressive win at Minnesota and Louisville's loss to Syracuse.
The Gophers, meanwhile, drop to a No. 3 seed, having lost two straight since starting 15-1.
But Indiana had the most curious loss last week, falling at home to Wisconsin. The Hoosiers' resume does not compare well to the teams ahead of them on the S-curve right now. They have just two top-50 wins and 10 of their 16 victories have come against schools ranked outside the top 100.
Ohio State drops down with a loss at Michigan State on Saturday. That's nothing to really be ashamed of, except the Buckeyes are now only 1-4 against the top 50.
Illinois extended its losing streak to three with an embarrassing 68-54 loss at home to Northwestern on Thursday. The Illini were tremendous in the non-conference season, beating Butler and Gonzaga, but are just 1-4 in Big Ten play.
Wisconsin could have been in the field this week after shocking Indiana on the road, but then the Badgers lost at Iowa.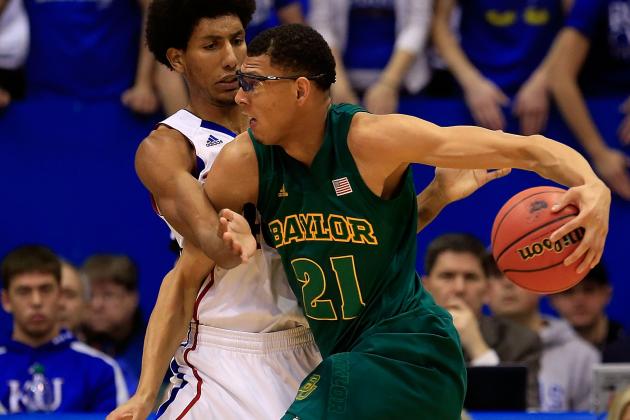 Jamie Squire/Getty Images

Dancing with a Hottie: Kansas (1)
Dancing with Its Sister: Kansas State (5), Oklahoma (7)
Wallflowers: Baylor (11), Oklahoma State (12b), Iowa State (fifth team out)
Oklahoma slips one line after losing at Kansas State on Saturday, 69-60. The Wildcats, meanwhile, have won eight straight.
Baylor was crushed at Kansas on Monday and then decided to play a non-Division I school in the middle of January.
Iowa State has won three in a row and seven of eight, but the Cyclones still lack a lot of meat on their resume with just one top-50 victory over BYU and only two top-100 triumphs (West Virginia).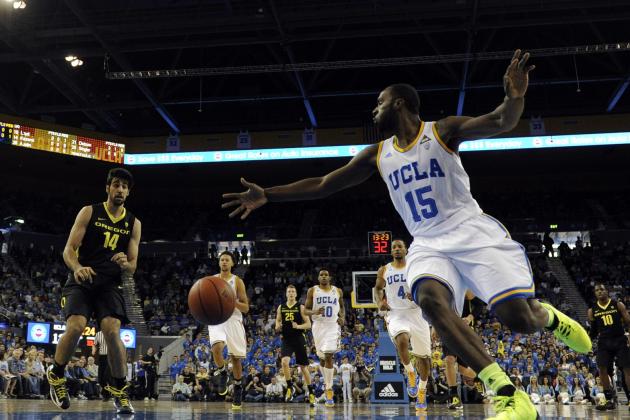 Richard Mackson-USA TODAY Sports

Dancing with a Hottie: Arizona (1), Oregon (4)
Wallflowers: UCLA (9), Colorado (10), Washington (11), Arizona State (eighth team out)
Oregon had a pleasant trip to Los Angeles last week, edging USC by two before snapping UCLA's 10-game winning streak. The Ducks have won seven straight of their own and are alone atop the Pac-12 standings at 5-0.
All of the league's bubble teams lost last week: UCLA (Oregon), Colorado (at Washington), Washington (Utah) and Arizona State (Arizona).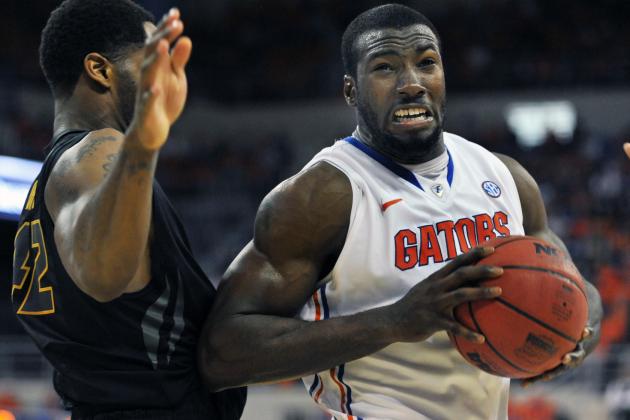 Al Messerschmidt/Getty Images

Dancing with a Hottie: Florida (3)
Dancing with Its Sister: Missouri (6), Ole Miss (8)
Wallflowers: Kentucky (10), Alabama (12a), Texas A&M (seventh team out)
Florida romped its way to a sixth-straight win on Saturday, crushing Missouri, 83-52.
Ole Miss is also on fire, running its win streak to seven with triumphs over Vandy and Arkansas last week.
Alabama took Texas A&M's spot in the field by beating the Aggies, 50-49, on Saturday. That's three straight wins for the Tide, who have no top-50 wins but impressive strength of schedule numbers (32 overall, 48 non-conference).
Arkansas has been removed from consideration after a loss at Ole Miss.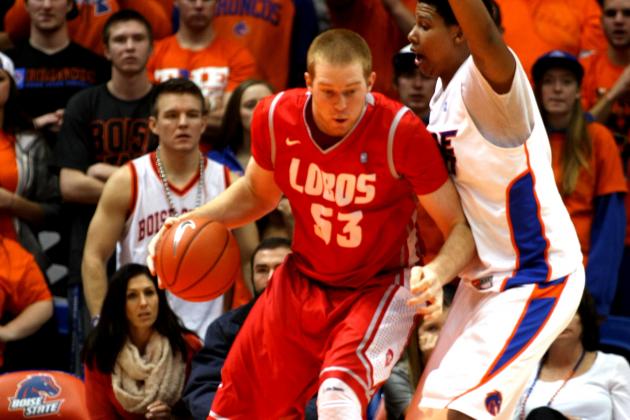 Brian Losness-USA TODAY Sports

Dancing with a Hottie: New Mexico (2)
Dancing with Its Sister: UNLV (6), San Diego State (7)
Wallflowers: Boise State (9), Wyoming (9), Colorado State (9)
New Mexico is back up on that second line following an impressive win at Boise State. That's three in a row for the Lobos, who have a top-8 RPI and schedule strength. They also have sparkling marks against the RPI top 25 (2-0) and top 50 (5-0).
San Diego State went 0-for-2 last week, losing at home to UNLV before getting beat by 13 at Wyoming.
Colorado State is back into the field—and by a wide margin—after downing Air Force and UNLV last week. The Rams are up to 17th in the RPI and have won 24 straight at home.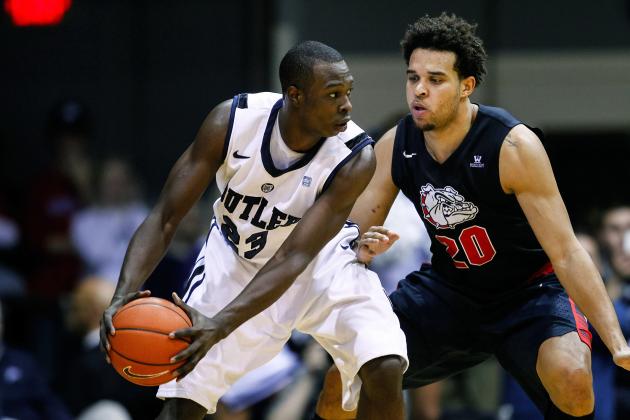 Michael Hickey/Getty Images

Dancing with a Hottie: Butler (2)
Dancing with Its Sister: VCU (5)
Wallflowers: Xavier (12c), Charlotte (12d), UMass (fourth team out), Temple (sixth team out), La Salle (ninth team out)
Could Butler be on its way to a third national championship game in four years? It's possible. The Bulldogs moved their win streak to 13 with a buzzer-beater win over Gonzaga on Saturday. They are 4-1 against the top 50, 8-1 vs the top 100, 7-2 away from home and 12th in the RPI.
Charlotte is barely hanging onto a spot following a 20-point loss at Richmond. A 5-2 record away from home and no sub-100 losses are playing in the 49ers' favor.
Xavier moves into the field with a win over La Salle on Saturday. That was the Musketeers' fourth-straight victory and their third over a top-50 opponent against just one loss. That 15-point victory over Butler back on Nov. 13 is also looking pretty good these days.
Temple tumbled all the way out of the field following a home loss to Saint Bonaventure on Saturday. The only reason the Owls are still getting mentioned here is because of their win over Syracuse, but there's nothing else remotely impressive on their resume.
Saint Louis and Saint Joseph's have both been removed from consideration following losses to Rhode Island and VCU, respectively, which pushed their RPIs under 75.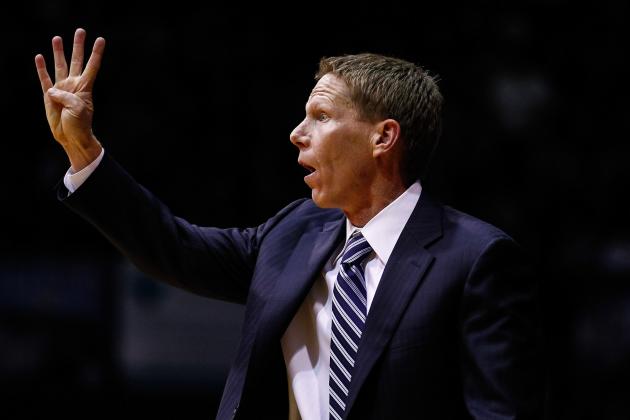 Michael Hickey/Getty Images

Dancing with a Hottie: Gonzaga (3), Creighton (4)
Dancing with their Sister: Wichita State (6), Belmont (8)
Wallflowers: Indiana State (10), Memphis (10), BYU (11), Bucknell (12), Southern Miss (first team out), Saint Mary's (10th team out)
Gonzaga and Butler switched places on the S-curve following Saturday's dramatic finish.
Wichita State leaps up after beating Creighton. The Shockers are 15th in the RPI, 3-0 against the top 50 and 6-1 vs the top 100.
Belmont has won six straight. The Bruins are 24th in the RPI, 5-2 against the top 50 and 6-4 away from home.
Indiana State moves to safer ground thanks to a pair of conference wins last week. The Sycamores have two ever-improving top-50 victories (Ole Miss and Miami), as well as the 42nd-toughest schedule in the country.
Memphis has won eight in a row and is 3-0 in Conference USA play. Southern Miss is also undefeated in that league and finds itself just out of the field this week. No bad losses and an 8-4 road/neutral record are positives, but the Golden Eagles do not have a single top-100 win.
BYU drops to a No. 11 seed following a one-point home loss to Saint Mary's.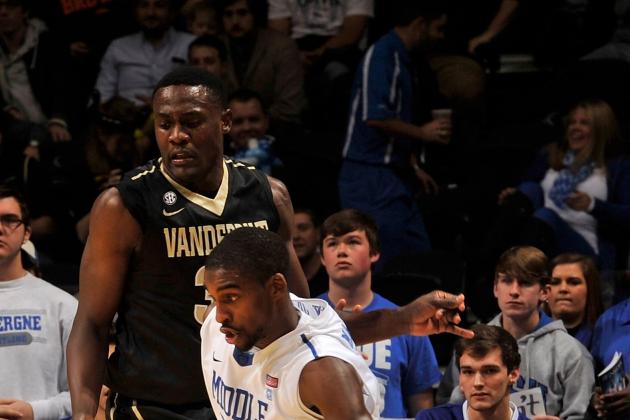 Frederick Breedon/Getty Images

No. 13 Seeds: Middle Tennessee, North Dakota State, Louisiana Tech, Akron
No. 14 Seeds: Stephen F. Austin, Harvard, Valparaiso, Long Beach State
No. 15 Seeds: Weber State, Albany, Northeastern, Bryant
No. 16 Seeds: Davidson, Niagara, Southern vs Stetson, Norfolk State vs Charleston Southern
Follow me on Twitter @JordanHarrison.