10 Recruits with the Most Swag in 2013 Class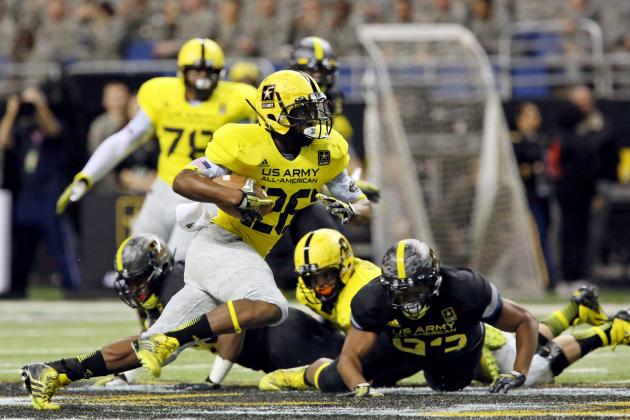 USA TODAY Sports

The 2013 class is full of swag. There are a number of recruits in this class that are major playmakers, great interviewees and have more ink on their arms then they will every put into a notebook.
Every team needs playmakers and athletes that believe they can win. These 10 guys are the cut above the rest when it comes to game-day swag.
These players will decide on their future in less than a month, but one thing that will never change is the reputation they have plowed ahead with through the recruiting process. Here is a look at the 10 most swag-filled recruits for the 2013 class.
Begin Slideshow

»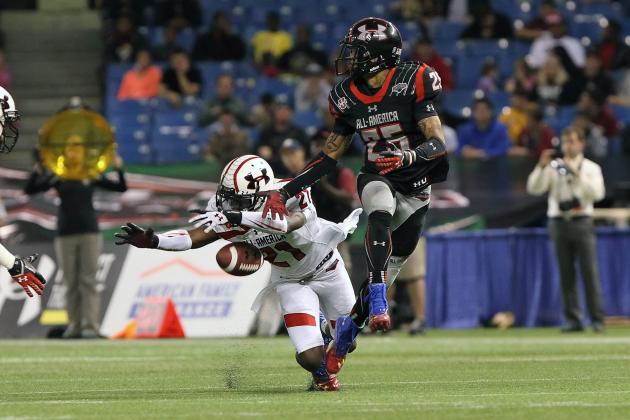 Kim Klement-USA TODAY Sports

When looking for recruits that carry swag, the first name that pops up for 2013 is Laquvionte Gonzalez. Gonzalez is loaded with tattoos, and provides some of the best interview material in the current recruiting class.
Gonzalez is also a baller. He has been dangerous all season as a senior in high school, but how he will transition onto the field in college is still up in the air.
Despite the questions about his future position, Gonzalez plays as electric as any athlete in the country and is one of the most dangerous return men in the country. His mix of interview skills, play, and ink make him a shoe-in for this list.
Reuben Foster may be the most confused recruit in the 2013 class currently. Despite the confusion, he is an elite recruit with unmatched talent at the linebacker position.
He has a bull mentality on the field and will be a force for whichever team lands his signature this February.
Foster is also one of the best interviewee's in the rising class. He and fellow recruit Tray Matthews have given some gems to the recruiting world talking about future college plans together.
After getting an Auburn tattoo on his forearm and then decommitting from the school, Foster is now looking at a number of different schools. He is riding the recruiting trail for everything it has to offer, and for that Foster leaves a unique mark on the process.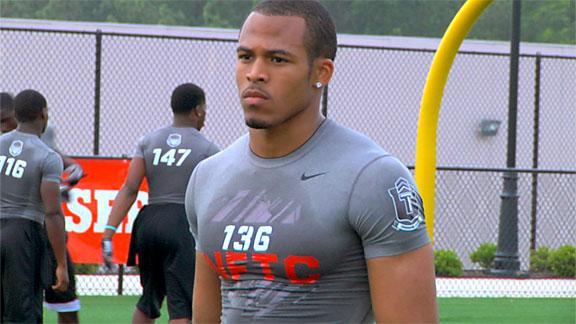 Photo via ESPN.com
Tray Matthews is currently a safety commit for Georgia. He has often joined Reuben Foster in interview videos where both talk up each other's recruiting choice and the possibility of playing with each other in the future.
Mattews is a very tough player on the field, and he will fit the safety role well for the Georgia Bulldogs. He has the talent to play in year one.
His talents mixed with his on-camera persona make Mattews a perfect fit for this list. He is going to bring a lot of power and range to the Georgia defense. Look for Mattews to be one of the favorites of the Georgia signing class in February.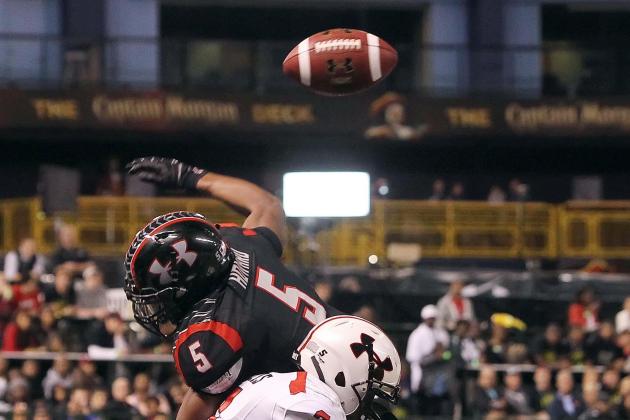 Kim Klement-USA TODAY Sports

Priest Willis is one of the few true lockdown corners present in this class. He is a very strong player that uses his length to leverage receivers.
He is one of the best players in the country and is the No. 1 player in the state of Arizona. He is heading in the right direction in his recruitment, taking all his visits with his last coming to UCLA on January 18.
No matter where Willis signs, his new team will grab an in your face type corner that will be able to handle the heat that arrives with major programs.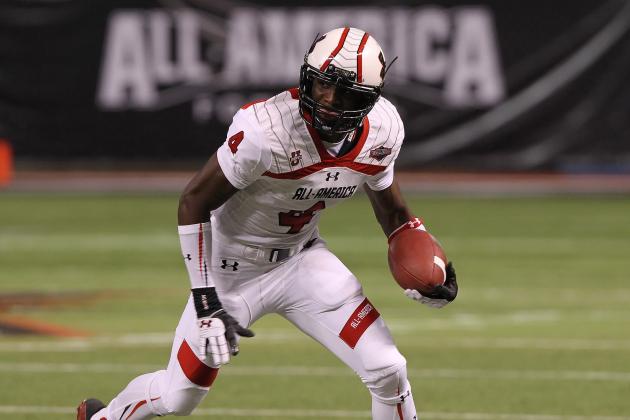 Kim Klement-USA TODAY Sports

Laquon Treadwell is now an Ole Miss commit, but getting there was a difficult task. He was a tough recruit to read, but by the end of the year, it was clear that Treadwell was gone.
Treadwell is a clean cut guy that just out plays everyone around him. He out physicals the competition, and he does unreal things in the open field with the football.
Ole Miss picked up swagger on roster with the commitment of Treadwell. He has the talent to walk in and compete on day one.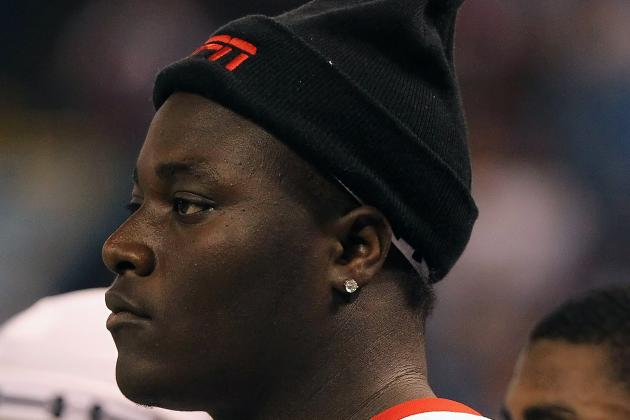 Kim Klement-USA TODAY Sports

Montravius Adams is one of the best defensive linemen in the 2013 signing class. Although, any school in his sights would be wise to take everything he says with a grain of salt.
Adams does well in interviews and keeps his possible decision as high in the air as possible. He is a great guy on video and plays with a nasty streak on the field.
No matter where he lands, he will be a rookie among many veterans on the field from day one. Adams has the swag that is looked for by coaches looking for rookie starters. He has the confidence and skill to be very competitive as a freshman.
Alabama landed one of the best athletes in the country when Derrick Henry committed this year. He played in the Army All-American game as a running back and owned the competition. Henry was a man against boys.
His style of play mixed with the beast mode he pulled in the all-star game gives Henry a unique swag. He will be one of the best athletes in this class as it progresses through the next few years.
Look for Henry to be one of the leading players for Alabama Crimson Tide in the coming years, and for his confidence to help keep the Tide roster on the right track to wins.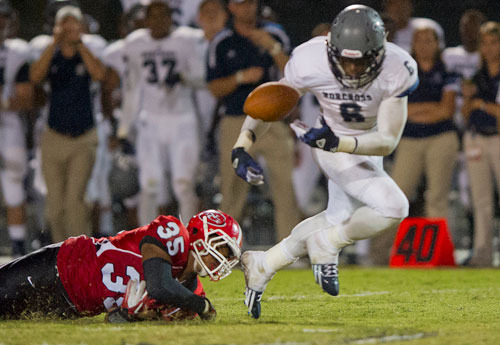 Photo via Scout.com
Alvin Kamara is one of the remaining uncommitted running backs in the country. He has lightning quick speed and hands that make him a dangerous dual threat from the backfield.
He has taken two official visits with his latest at Alabama on January 18.
What gives Kamara his swag is his onfield persona. He carries himself like he will score with every touch, and it rubs off in interviews as well.
Look for Kamara to be one of the exciting signing day surprises this year.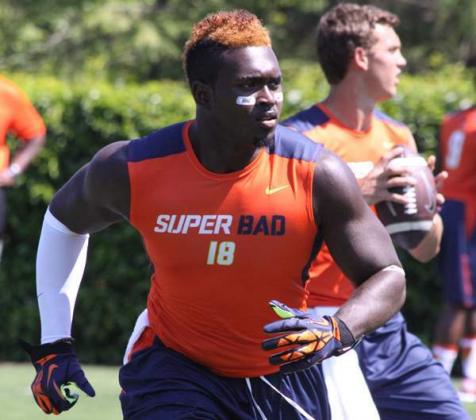 Photo via Rivals.com
For starters, Derrick Green has a multi-colored Mohawk. End of swag description.
Green has to be one of the most electric players in the country heading into the new signing period, and brings a power and speed that is unmatched in this class.
Add to it the confidence on field and the hair, and this kid carries major swag. He will bring a spark to any team that signs him and compete right away for playing time.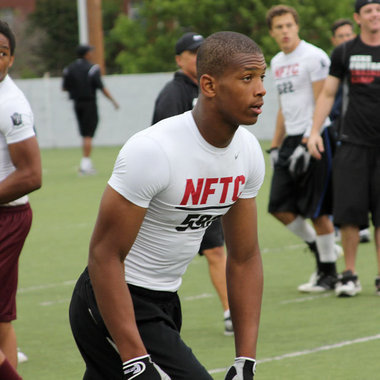 Photo via al.com
O.J. Howard committed to Alabama early in the recruiting process, but he continued to vet the Auburn program and create quite a stir on the recruiting trail.
His interviews have been fun to watch over the past year as he has progressed in his recruiting. His on-field play gives him the confidence to walk into an immediate role for the Alabama Crimson Tide.
Howard is the best tight end in the country this year, and his play and video personality make him one of the 10 most swag filled recruits for 2013.