Real Madrid: Rating the Madrid Players in La Liga Win over Valencia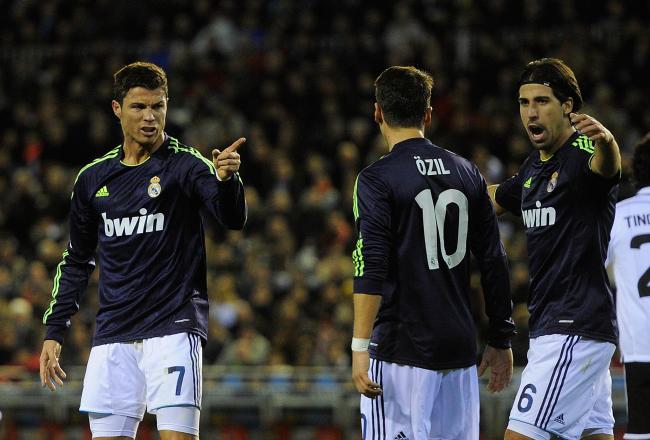 Gonzalo Arroyo Moreno/Getty Images
It's worth prefacing any of this with the point that Real Madrid's win over Valencia on Sunday night was Jose Mourinho's team at its most spectacular. The attacking display was phenomenal, breathtaking, and the crushing combination of pace, creative fluidity and finishing was the best we've seen all season from Madrid.
All of that high praise was central to the first half. If Madrid had come out for the second 45 and continued in the same attacking manner, it would have ended up being a score which could have sent waves around Europe. Not necessarily because it's something new, but with the Champions League knockout stage coming up in February, what better way to signal the turning of a corner?
It was a arguably a performance that split the attack from the defence as much as the two halves. The Madrid attack was ruthless in its dismantling of the Valencia back line; the defence were tidy, composed for the most part and efficient.
For that, it will be the attack which will be seen to have set the benchmark, with Cristiano Ronaldo and Angel Di Maria each getting a couple of goals and an assist, while Mesut Ozil was the orchestrator for much of the destruction.
Do we look to Valencia's weakened defence as playing part of a role in Madrid's emphatic triumph? I'm not totally for that viewpoint.
This has been a Real Madrid who have struggled for points, goals and confidence throughout the season, no matter who the opposition was. Yes, this was an occasion where Madrid capitalised on Valencia's weakened full-back positions, but such was Madrid's prowess, that they would have put many teams to the sword on the night regardless of who was in the opposition lineup.
Di Maria and Ozil appeared to have been given free roles in the attack, with the former popping up in more areas of the attacking third.
Gonzalo Higuain took his goal well—Real Madrid's first of the night—but it really was all about the attacking trio behind him.
It's also worth looking to Sami Khedira's continued efforts, even during a mostly difficult season for Mourinho's team. The German tirelessly worked to help out in defence and attack, when he certainly should have added to the final score with an effort of his own.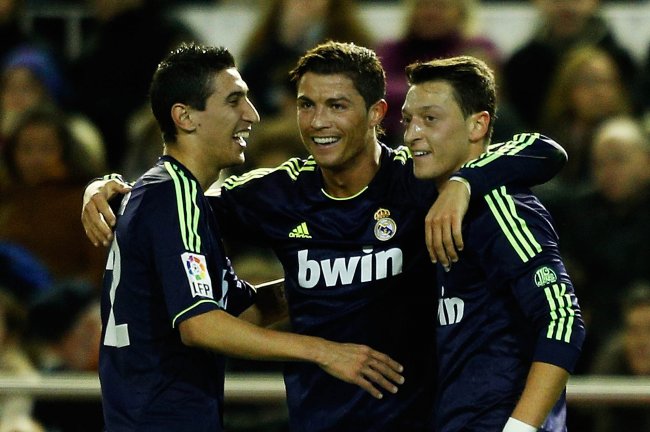 Gonzalo Arroyo Moreno/Getty Images
Whatever Mourinho has done in the days leading up to this game, it has worked. If there's a plan to get most of the team back on side, even for just the remainder of the season, then much more of the same is needed.
Real Madrid looked revitalised, a completely new and different team. It was exciting to watch, predominately because we know they're capable of this for almost the entire length of a season.
Iker Casillas 6
Iker Casillas put in a fairly good performance, although he was hardly tested for most of the match. While I still don't believe him to be anywhere near his best, his presence and experience will do a lot for the peace of mind of the defenders just ahead of him.
Raphael Varane 7
The young Frenchman will benefit the most from Sergio Ramos' absence via suspension. Raphael Varane continues to grow into a very good defender, one who Mourinho can call upon with confidence when his senior figures are unavailable.
Raul Albiol 6
Raul Albiol put in a much better performance in this game than previous outings. The former Valencia defender has been disappointing in his lack of leadership and overall quality when given game time this season.
But Albiol helped to provide a solid defensive display from the whole back line. Roberto Soldado, in particular, was kept quiet for long spells in the game.
Fabio Coentrao and Alvaro Arbeloa 6
Both Real Madrid full-backs played a safe but efficient game, getting forward when needed but remaining mindful that they were the visiting side, and Valencia had a number of threats in their attack. Both Jonas and Pablo Piatti had very little input in the most important half of the game—the first 45—and both Fabio Coentrao and Alvaro Arbeloa did a good job in helping to forge a competent and overall better Madrid defence.
Sami Khedira 7
As mentioned, Sami Khedira did well to get up and down the field. It perhaps says a lot about his role that he so often gets into the opposition penalty area undetected. If he could add the finishing ability of a forward, Khedira would increase his importance to the side significantly.
Xabi Alonso 7
Xabi Alonso's creative role wasn't as prominent as it can be, but he was nevertheless an important figure in nullifying the Valencia threat and moving the ball forward for counterattacks.
Mesut Ozil 9
It was a master class from Mesut Ozil against Valencia, and arguably, he wasn't even the best player on the pitch. The team does need the finishing ability of other forwards, but Ozil is the hub of the attack. He was involved in four of the five goals on the night, and much of his creative awareness was sensational.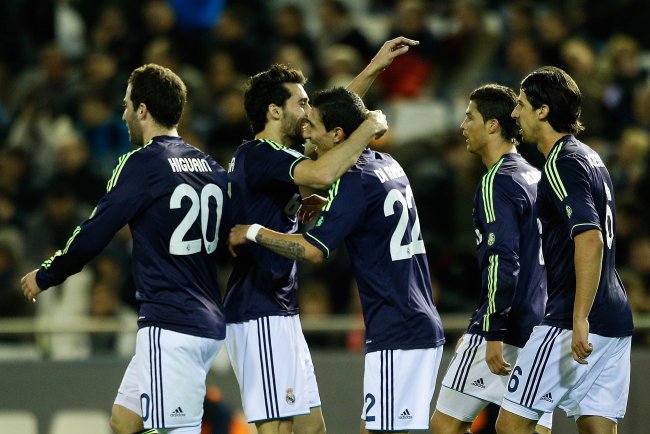 Gonzalo Arroyo Moreno/Getty Images
Angel Di Maria 9
Angel Di Maria has been the most frustrating player of the bigger names at the Bernabeu this season, but the Argentine put in his best performance by quite a distance at the Mestalla. He was given license to roam and was the first player to really come alive in the game for Madrid, as he set up Gonzalo Higuain twice early on. It was a new level of confidence from the attacking midfielder, and if this is the start of a renaissance for Di Maria, Madrid's attack will be close to unstoppable.
Cristiano Ronaldo 9
Two goals for Ronaldo, an assist, the added necessity of pace and power in the attack and the presence who lifts others in the team—this game was just another reminder of how important the Portuguese forward is for Real Madrid.
Gonzalo Higuain 8
Gonzalo Higuain could have had two on the day, but following his goal early on, he appeared to be pushed into the shadow of the attacking trio just behind him. Well, not really, he remained important in dragging defenders away from others, showed his quality in his movement, and the goal and overall performance was a positive step on the road back from injury.
Michael Essien, Luka Modric, Jose Callejon 6
Each of the substitutes came on in the second half to relieve the exceptional performances of three in the starting XI. While they looked to slot in without much worry, their contribution paled in comparison to those they replaced. Nevertheless, they are three good players to call upon and provide stability and some form of continuity.
This article is
What is the duplicate article?
Why is this article offensive?
Where is this article plagiarized from?
Why is this article poorly edited?

Real Madrid: Like this team?