Big East Basketball: Best Bets for a March Madness Title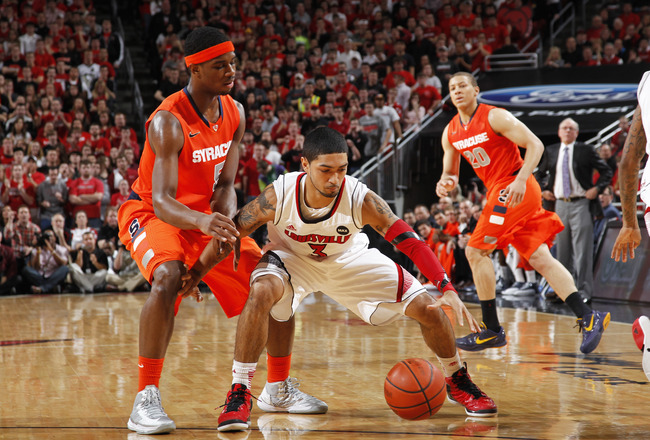 Louisville guard Peyton Siva and Syracuse forward C.J. Fair lead two of the Big East's best teams.
Joe Robbins/Getty Images
As one of the elite basketball conferences in the country, the Big East is sure to send multiple teams to the NCAA Tournament this season.
If questions arise about the dominance of the conference, in 2006 a then-record eight Big East teams earned a tournament berth. The conference tied the mark in 2008 and 2010 and in 2011, broke the record with 11 bids. No other conference has earned more than seven.
It's one thing to have teams make the tournament, but Big East teams are often successful as well. There has been a representative from the Big East in the Final Four in four out of the last five seasons, and in the 2008-09 season, both Connecticut and Villanova made the Final Four.
Now it's time to talk about the present.
Every team in the conference has a winning record. The only other conference that can say that is the ACC; however, the Big East is the only conference in which every team has at least 10 wins.
With a conference as deep as this one, anything can happen on any given night, but here are the best bets for Big East teams that can make a run in March.
On the Fringe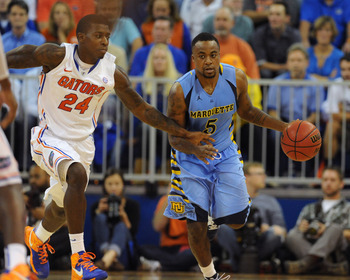 Al Messerschmidt/Getty Images
The following teams did not make the "Best Bets" for a title run because there are certain things holding them back from being considered top-level competition in the conference. They are almost there, but can't quite be considered a "no-brainer" choice.
Marquette (13-4, 4-1 Big East): Despite being third in the conference standings, the lack of finishing ability from the Golden Eagles is something to watch.
Marquette let a Seton Hall team with seven available scholarship players hang around until the final minutes of the game. If junior center Eugene Teague and junior swingman Fuquan Edwin hadn't fouled out of the game, the score would have been that much closer.
Pittsburgh (15-4, 3-3): This was a tough one. Although Pitt is an excellent passing team, ranking fifth in the country in assists, the lack of a dominant scorer is holding the Panthers back. Junior Talib Zanna and senior Tray Woodall lead the team with 11.8 and 10.7 points per game respectively.
Georgetown (12-4, 2-3): The lack of rebounding from the Hoyas is worrisome when considering them a contender. They rank 11th in rebounding margin in the conference, only averaging .8 more than their opponents with 13 games to play. Dominant teams are generally strong on the glass.
Connecticut (12-5, 2-3): The retirement of Jim Calhoun has certainly taken its toll on the Huskies, but breaking the trend from the first three, the UConn Huskies are on the fringe because their schedule favors them to be contenders for an at-large bid as Big East play winds down. They play Rutgers, Providence twice, South Florida twice, St. John's, Seton Hall, Villanova and DePaul, which are all winnable games for them. If they win these games, they'll be in prime position come March.
Cincinnati (16-3, 4-2)
Junior guard Sean Kilpatrick leads the Bearcats with 18.3 points per game
Jonathan Daniel/Getty Images
The Bearcats are coming off a win over No. 25 Marquette, led by junior guard Sean Kilpatrick's 36 points and four rebounds.
The team's biggest strength is its rebounding prowess. The Bearcats rank third in the nation, grabbing 42.8 boards per game. But it gets better than that.
The team is also very strong defensively, allowing teams to shoot just 36.9 percent from the floor, ranking only behind Syracuse in the Big East.
They also rank second in three-point field goals made per game, hitting 7.3 shots from beyond the arc.
With a recipe of stout defense, solid rebounding and the ability to catch fire from the three-point line, the Bearcats can definitely make a run in March.
No. 20 Notre Dame (15-3, 3-2)
This team can flat out shoot the basketball.
As a team, the Fighting Irish shoot 51 percent from the floor, good enough for fifth in the nation. From beyond the arc, the team shoots at 40.6 percent, which is 10th in the country.
The team's selfless play definitely contributes to the squad's high shooting percentage, as they always look to find an open man. Notre Dame averages 18.7 assists per game, which puts the Irish at second in the country.
The shooters are helped out tremendously by senior forward Jack Cooley, who demands attention from defenses in the post.
Cooley is averaging a double-double with 15.1 points and 10.7 rebounds per game. He is an absolute beast on the boards, as he has grabbed 12 or more rebounds in seven games this year, including 11 double-doubles.
Junior guards Jerian Grant and Eric Atkins are second and third in scoring respectively. Grant scores 12.4 points per game and Atkins scores 12.3. The two serve as the team's primary ball-handlers, with Grant dishing out 5.4 assists per game and Atkins recording 6.7 per game.
The team is very experienced as well, with eight upperclassmen and one graduate student, Scott Martin, who was granted a sixth year of eligibility in May 2012.
Martin is fourth on the team in scoring, chipping in with 8.4 points per game, but scores in spurts when the team needs him.
On November 29 in a battle with then-No. 8 Kentucky, Martin scored eight points in five minutes during the second half to extend Notre Dame's lead, which can be seen in the video above
Similarly on January 5 against Seton Hall, Martin scored 22 points on 8-of-11 shooting, including 6-of-7 from downtown.
With balance, efficiency and experience, the Fighting Irish can be a threat come tournament time.
No. 1 Louisville (16-2, 4-1)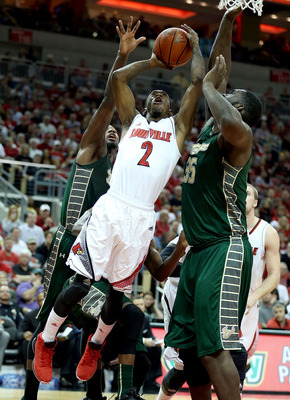 Russ Smith averages 19.3 points per game for The Cardinals
Andy Lyons/Getty Images
Although certain to fall in the rankings after a 70-68 loss to No. 6 Syracuse, Louisville still has a great chance of making noise come March.
The Cardinals lost leading scorer Kyle Kuric, who paced the team with 12.6 points per game last season en route to Louisville's ninth Final Four appearance in school history.
Senior guard Peyton Siva has not lived up to his hype entering the season after being named the Big East Preseason Player of the Year. Siva averages 11.3 points and 5.7 assists per game, which is hardly better than his totals from last season.
Junior guard Russ Smith has surpassed his expectations, however, and is scoring 19.3 points per game for the Cardinals.
With injuries to junior center Gorgui Dieng, who is a great shot blocker, and sophomore forward Chane Behanan, Louisville has not had its best team on the court.
The Cardinals certainly do not beat themselves. The team has a turnover margin of plus-7.50 per game, an alarming number. To put it in perspective, Louisville forces teams into 19.7 turnovers per game, while committing only 12.2.
The next best turnover margin in the Big East is Pittsburgh with +4.42.
If the Cardinals can get healthy, they can shut teams down in the tournament with their defense alone.
No. 6 Syracuse (17-1, 5-0)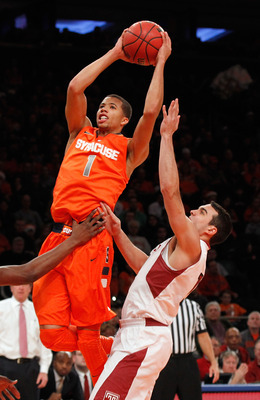 Michael Carter-Williams leads the Big East with 9.3 assists per game.
Mike Stobe/Getty Images
Since we we're talking about defense, the team with the best chance to win a title in the Big East is the Orange.
The notorious 2-3 zone is ideal for tournament play because it doesn't require as much effort from a defender. If these players were playing man-to-man or a press defense for an entire tournament, they would wear out much more easily.
The zone, a simple concept, is run to perfection by Jim Boeheim's squad, as they are holding opponents to a conference-low 35.8 percent shooting from the floor. The defense has allowed the Orange to outscore its opponents by over 20 points per game.
Syracuse stifles opposing offenses and forces them into bad shots or traps them into turnovers, which leads to fast-break opportunities.
Also, Syracuse is the fourth-best rebounding team in the country. If a team misses a shot, there's almost no hope for an offensive rebound.
Sophomore guard Michael Carter-Williams has been a monster for the Orange, recording 12.1 points and 9.3 assists per game.
Syracuse also receives major contributions from junior forward C.J. Fair and senior guard Brandon Triche.
Fair paces the Orange with 13.6 points and 7.1 rebounds per game, while Triche scores a team-high 14.6 points, grabs 3.6 rebounds and dishes out 3.5 assists per game.
Senior forward James Southerland was scoring 13.6 points per game before a suspension from the NCAA for academic reasons, according to AOL Sporting News.
The Orange have won seven consecutive games, with their only loss of the season coming on December 22 to Temple.
Coming off a confidence-boosting win over No.1 Louisville, Syracuse is in full control of the Big East.
Conclusion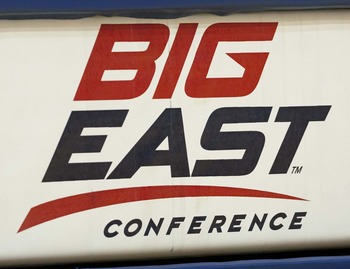 Jeff Hanisch-USA TODAY Sports
When it comes to Big East basketball, any team can win on any given night.
Whether the teams highlighted are the best bets to advance far into March or not remains to be seen; however, don't be surprised if one or more of these teams falls to a conference foe before then.
It happens every year.
Come tournament time, though, if a team catches fire like the 2010-11 Connecticut squad that won five games in five days to capture an automatic bid to the NCAA Tournament, all bets are off.
Keep Reading