6 Things We Learned from the NHL's Opening Weekend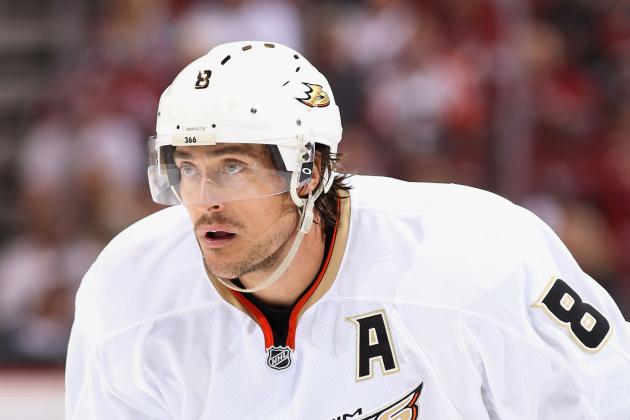 Christian Petersen/Getty Images

The NHL lockout has ended and hockey has begun! With the season's opening weekend over, fans have gotten a glimpse of what to expect over the next couple of months.
Some teams shined, others struggled, and others didn't leave much of an impression at all. But with almost five percent of the season complete for some teams, it's never too early to start looking back.
Here are six things we've learned, based on what's been played of the 2013 NHL season.
All numbers not otherwise cited were obtained via nhl.com, hockey-reference.com and capgeek.com.
Begin Slideshow

»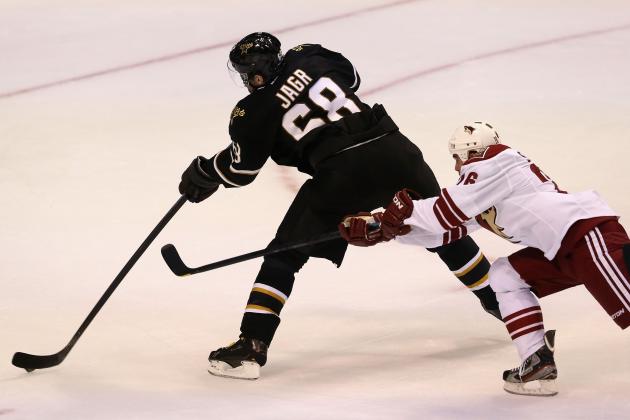 Ronald Martinez/Getty Images

It's hard to know what to expect from players during a shortened season. Arguments have been made that the lockout favored older teams, younger teams, deeper teams, teams with players overseas, teams without players overseas.
Well, two days in, one thing is perfectly clear: Age is not going to be slowing any of these players down.
The NHL's oldest players started out at a feverish pace: Anaheim Duck Teemu Selanne, the league's oldest at 42, scored two goals and assisted on two others in his team's opener against the Vancouver Canucks.
Jaromir Jagr, now 40 and on the Dallas Stars, started out every bit as quickly as Selanne, lighting the lamp twice and assisting on two more. He had a more quiet game Sunday, but it's hard not to be impressed by what he showed on Saturday. The same could be said for teammate Ray Whitney—also 40—who shared in Jagr's fun on opening night with a goal and an assist.
The 39-year-old Alex Kovalev only signed with the Florida Panthers last week, but he made a big splash in his opening game with a goal and two helpers. Elsewhere in Florida, 37-year-old Martin St. Louis scored twice and assisted on a third goal in the Lightning's 6-3 defeat of the Washington Capitals.
And, of course, Martin Brodeur started the New Jersey Devils' opener on Saturday, marking his 18th-consecutive season-opener for the team—an all-time record. He let in only one goal and stopped 18 shots taken by the New York Islanders.
It remains to be seen if older players will be able to handle a condensed season, but they very quickly shook off any concerns of rust or fatigue from the lockout.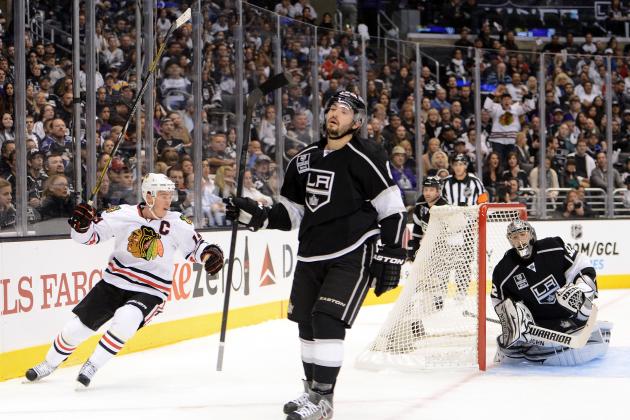 Harry How/Getty Images
Toews celebrates after giving his team a 4-0 lead in the season-opener.
It was less than three years ago that the Chicago Blackhawks hoisted their Stanley Cup. But in the couple seasons since then, they'd fallen into relative obscurity. The Blackhawks had to lose some key role players from their Cup run, and it did not seem like they could keep up with Western powerhouses like the Vancouver Canucks, the Detroit Red Wings, the Los Angeles Kings and others.
Well, this year, the Blackhawks look amazing. They opened the season on the road against the reigning-champ Kings and sent many fans home disappointed after a 5-2 rout. Sunday, they took on the Phoenix Coyotes and looked nearly as impressive in a 6-4 win.
During the past couple seasons, Jonathan Toews and Patrick Sharp have thrived. Toews has become one of the league's elite faceoff men while also captaining his team and racking up points. Both played just below point-per-game hockey over the two seasons.
Patrick Kane and Marian Hossa had struggled a bit more. Kane's production has been steadily declining for a few years now, and Hossa still hadn't returned to the form he's known to be capable of.
Well, any fears Hawks fans had about their offense should be quashed. Hossa has been electric, leading the league with four goals and five points. Kane has been right behind him with one goal and three assists. The two, combined with the still-dominant Toews and Sharp, make Chicago's offense one of the most dangerous in the league.
And while the team's defensive prospects are a bit murkier—the team has given up six goals in two games—they still already have a goal differential of plus-five.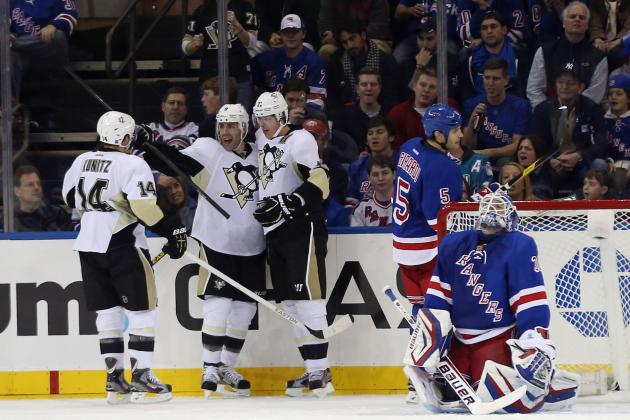 Bruce Bennett/Getty Images

The Pittsburgh Penguins have been near the top of the Eastern Conference for a while now.
Last year, they went into the playoffs poised for a deep run but were absolutely dismantled by the Philadelphia Flyers. The series was painful enough that it raised questions about whether the Penguins were still great.
Well, that's not a question anymore. The Penguins are fantastic.
The team is 2-0, having already defeated the Flyers and the New York Rangers. James Neal appears to be in even better form than last year, and the chemistry he's displayed with Evgeni Malkin has been near-magical. Those two skaters were the league's most dangerous duo last season, combining for 90 goals. This year, they appear to be looking to improve on those numbers.
And equally important, the team's captain Sidney Crosby is back and appears to be nearing full health. He has not yet had much of a presence on the scoring sheet, but he's playing with a comfort he didn't have last season.
Defenseman Kris Letang is also returning from last season's injury woes and, as an elite offensive defenseman, he adds another dimension to the Penguins' attack.
All the while, the team will be in the competent hands of goalies Marc-Andre Fleury and Tomas Vokoun. The Penguins appear to be firing on all cylinders right now.
The same could not be said of their biggest rival, the Philadelphia Flyers.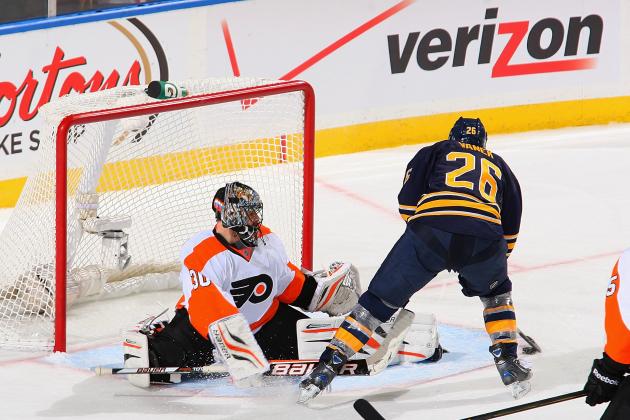 Rick Stewart/Getty Images

The Philadelphia Flyers, like the Penguins, have spent the last few seasons among the Eastern Conference elite. Recently named captain Claude Giroux placed himself among the league's best last season when he had 28 goals and 65 assists. However, recurring goalie problems always seem to cost the Flyers in the end.
Well, that goaltending is still an issue, and it doesn't look like things are changing for the better.
Of the three starting NHL goalies who have already started two games, Ilya Bryzgalov actually has the best goals-against average, the best save-percentage and the most saves. Unfortunately, he has still allowed six goals on 66 shots, helping the Flyers sink to 0-2.
Claude Giroux started out running with a goal in each of the games, but besides teammate Scott Hartnell, the team has been largely mediocre.
With some defensive questions still looming and Bryz still not looking like he did in Phoenix, the Flyers will have to see their impressive rookies from last season—Matt Read, Brayden Schenn and Sean Couturier—continue to produce reliably all season long.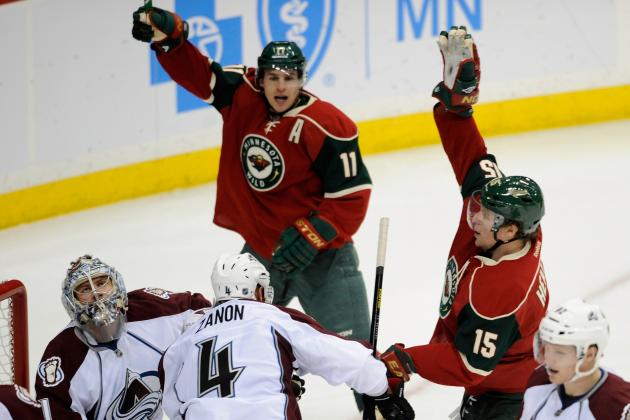 Hannah Foslien/Getty Images

During the offseason, the Minnesota Wild signed Zach Parise and Ryan Suter to matching 13-year, $98 million contracts. Some, myself included, were skeptical of what the two could add to a team largely made up of prospects and lesser-known players.
Well, the Wild certainly look good so far. Suter hasn't done much of anything, but Parise has had an immediate impact.
On Saturday, Parise set up Dany Heatley on the power play twice, and on Sunday he registered the only goal in a win against the Dallas Stars.
Besides Parise's immediate production, the possibility of Heatley returning to form has to be exciting for Wild fans.
Highly anticipated rookie Mikael Granlund also scored in the team's opener, marking the first of what could be many this season for the Finnish 20-year-old.
There was excitement about this year's rookie class before the season began. After all, Nail Yakupov, the Edmonton Oilers' first-overall pick, and his teammate, highly sought-after UFA Justin Schultz, will both be lacing up their skates this season as rookies. Judging from the games so far, a few other players may also have their eyes on the hardware.
Most notably, Jonathan Huberdeau, selected third overall in the 2011 draft, made a splash with a goal and two assists in his premier. Vladimir Tarasenko of the St. Louis Blues scored twice in his debut, and reigning AHL MVP Cory Conacher of the Tampa Bay Lightning had a goal and an assist in his first game with the big club. Fans also have their eyes on Mikael Granlund of the Wild.