WWE vs. TNA: Who's Been Better This Week? (Jan. 13-19, 2013)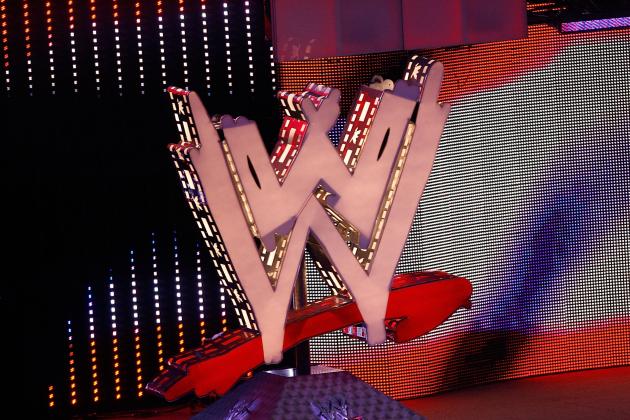 Jim Rogash/Getty Images

Hello and welcome again to the latest of my WWE vs. TNA articles, in which every week I review and analyse the main output of the two promotions and pick the best.
This week was a busy one, giving us the first pay-per-view of the year in TNA Genesis, while Raw celebrated its 20th anniversary. After last week's fantastic output, could the WWE keep its momentum going? Let's take a look.
Begin Slideshow

»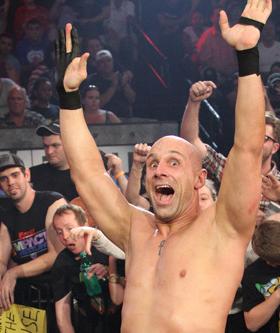 Image: impactwrestling.com
Genesis kicked off with a tag team championship match that didn't really get going for me, but the crowd was well into things, so it looked like it'd be a good night pop-wise.
Mr. Anderson vs. Samoa Joe was no classic for the ages, but it told a story and I'm moderately interested in further developments with Anderson and the Aces & Eights.
Christian York vs. Kenny King was a case of fits and starts in its first few minutes (with quite a bit of mis-selling to my untrained eye), but it really buzzed as it got going. For reasons I've elaborated on in previous editions (short version: he's more of a high-flier) I preferred Kenny King, who is now aided by the recent addition of his having a character, but I do also like Christian York.
The following X-Division Championship match was reasonably engaging, but I don't entirely see the point of the booking except to kill off another PPV title match with no change. It was something I don't recall seeing before at least, so I have no big complaints.
The story of Joseph "y'know, Abyss" Park continued as he faced Devon in another all-story bout. He might have been complete ham at some points, but an overplayed endearing character is still endearing.
Continuing the night's trend of storytelling, the Knockouts Gauntlet match told a terrific one with Gail Kim, and was lots of fun throughout.
I was ecstatic to see the brilliant Christopher Daniels defeat James Storm. That it gives Daniels a world title shot has me daring to dream that he might go all the way. This match was very good too, of course.
Sting defeated Doc in a boring dud.
The main event, Triple Threat, contained terrific action with a disappointing ending. Whenever there's collusion between heels, they always end it stupidly before it's seen through to its natural conclusion.
Had Jeff Hardy genuinely been eliminated first, that would have been a real surprise. To give the match its due though, there was some fantastic wrestling on display.
Genesis was all at least good apart from Sting vs. Doc, but it didn't deliver much in the way of changes or fresh results. It certainly can't compare to last month's TLC, but then not much can. Looking at what I've found to say, it all seems a bit dispassionate—partly due to the nature of recapping PPVs, but it's largely indicative of my overall feelings.
The possibility of Christopher Daniels as TNA Champion, though, makes it all worth it.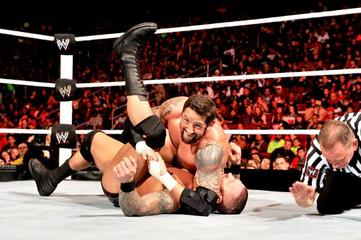 Image: wwe.com
Somewhat less publicised than the 1000th episode was the fact that this edition was the 20th anniversary of Raw. Last week's Raw was among the very best of the past year or more, so you would imagine they would have something even better lined up for the 20th anniversary.
One thing I immediately find brilliant and refreshing is Alberto Del Rio getting big face heat as World Heavyweight Champion. I've always loved him and it's great to see that others do as well now.
Following the fun of the opening, a bad omen was then sent as we were given Wade Barrett vs. Randy Orton—a match we've seen dozens of times before, and I don't recall it ever being good.
But this week was something special, because while the action saw the two going through their usual motions, something world-changing happened: Randy Orton lost.
Continuing to stretch the WWE's unblemished record of great TV into 2013, we saw the hotly anticipated return of Dr. Shelby in another addition to the canon of brilliantly fun Team Hell No promos. Kane followed it up by defeating Damien Sandow in near-squash time (later beaten by Daniel Bryan defeating Cody Rhodes in actual squash time).
The well-loved Mick Foley—who's never absent for long enough to be missed—was announced as an inductee into the WWE Hall of Fame Class of 2013, which surprised me because I thought he was in there already. The Shield came out to attack him, and then Ryback, Orton and Sheamus came out to respond, which I'm pretty sure has happened on every show for the past month.
Kaitlyn defeated Eve Torres in a match that surprisingly managed to be fairly gripping in places, despite the fact we've seen it quite a few times lately. I significantly prefer Eve, though the way the ending played out is something I don't recall seeing before, which always garners my approval.
I was surprised later to find out Eve's leaving the WWE.
Here's the problem with CM Punk vs. The Rock as an anticipated classic: CM Punk is a cowardly and weak cheater. He has WWE heel disease, to the point he even took quite a while over the jobber Brodus Clay. He hasn't won a WWE Championship match cleanly since last July's Money in the Bank.
The Rock (or as I'm sure Vince calls him, The Draw), by contrast, came back at WrestleMania and gave John Cena his first clean singles loss for almost exactly 5 years. What will feel weird will be that the match will go for at least 15 minutes before The Rock wins, rather than for two or three (assuming they don't give Punk the Daniel Bryan vs. Sheamus treatment, which I wouldn't put past them).
Miz TV featured Ric Flair doing his same dancing and yelling shtick that becomes more and more embarrassing the older he gets. Antonio Cesaro interfered using the tried-and-tested heel tactic of telling the truth.
If you read my criticisms of last week's John Cena vs. Dolph Ziggler match, they all apply here. It's tempting to start a weekly "What Has Cena Kicked Out of This Week?" section, which in this match included a Zig Zag, a top rope DDT and a cage door to the head.
The complete lack of threat anyone poses to Cena renders moot the quality of the action, much as I love to try and give credit where it's due.
The Rock Concert is a concept that no doubt brings many people joy. I am not one of those people. Perhaps it's a British restraint and a childhood involving the celebrity of someone named Craig David that sees a man referring to himself in the third person as someone to be ridiculed. Furthermore, his mix of double (and, for that matter, single) entendres and jokes any eight year old would be proud of don't do it for me.
If you disagree (which, statistically, you probably do), you'll like what I have to say about his wrestling a good deal less. But let's save that for another time.
Raw was pretty great throughout, excepting Ric "TNA" Flair's completely unwanted appearance and the last 15 minutes—and I've no illusions about the fact I'll probably be in a small minority regarding both of those. '
Taken on its own, John Cena vs. Dolph Ziggler was a fantastic match. As another brick in the SuperCena wall, however, it's becoming unforgivable.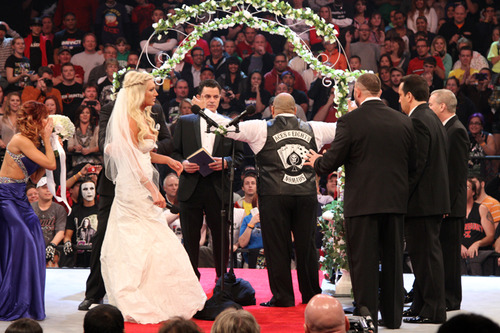 Image: impactwrestling.com
I really think the Bully Ray and Brooke Hogan wedding has fallen on the wrong week. Despite being the final show before Genesis, the previous week's Impact closed teasing this week's wedding. This show then opened with the focus being the wedding, with the fallout from Genesis coming after.
If TNA wanted to excite me though, they found the way. Christopher Daniels, possibly the finest professional wrestler of all time, gets a title match with Jeff Hardy next week, and having him mocking Jeff and his "Creatures" (and they sure are ripe for mockery) was a dream come true.
A tag match followed, but as with the last Jeff Hardy and James Storm vs. heels match, rather than give an allowable win to the heels to build momentum, the faces took it easily. At least Daniels beat Hardy up a bit after.
Velvet Sky defeated Gail Kim in a rematch due to Sunday's injustice. Gail Kim lost in the time-dishonoured fashion whereby a supposedly professional wrestler takes their eyes off their floored opponent to have a yell at the referee, only to shockingly be caught by surprise and defeated, all while anyone who's seen wrestling before sighs and rolls their eyes.
The age-old question of what's to be done with former world title contenders was solved for the most recent this week: Bobby Roode and Austin Aries will be feuding with the tag team champions. A handy solution.
The wedding itself was by-the-numbers until the huge twist of Taz being a convert to the Aces & Eights. I can't wait to find out the reasoning behind that.
Impact was a good show this week. There's not much to fault. What's really got me hopping with excitement is that Daniels may become world champion next week. With wins over AJ Styles and James Storm under his belt, is it so unlikely?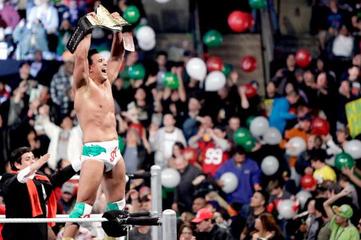 Image: wwe.com
Alberto Del Rio is a face and the World Heavyweight Champion. This brings me great joy, not only because I like him, but the cure of his WWE heel disease means this great wrestler will now be portrayed as brave and strong. A real breath of fresh air.
Antonio Cesaro vs. Kofi Kingston ended with a great spot, and continues to cement Antonio Cesaro as the top midcarder. He's frequently the wrestling highlight of the WWE's week.
Team Hell No and Randy Orton defeated The Rhodes Scholars and Wade Barrett. Orton briefly looked quite ordinary as he was hit by the Cross-Rhodes, but then managed to recover almost immediately.
Primo's impression of Ric Flair was the only real highlight of his loss to The Miz. It looks like The Miz will be permanently adopting the Figure Four Leglock, which is a good move because of its potential to be turned over.
The Shield delivered one of their shaky cam promos. It was OK, but I'm bored of them. A little bit of payoff wouldn't go amiss.
The final match, Alberto Del Rio and Sheamus vs. The Big Show and Dolph Ziggler, as ever contained great action with an inconclusive end.
After the fairly high quality of Raw and Impact, SmackDown let the wrestling week down a bit. It wasn't bad as such, there just wasn't anything to recommend in it.
Handing a substantial portion over to repeating the Rock Concert didn't endear it to me, either.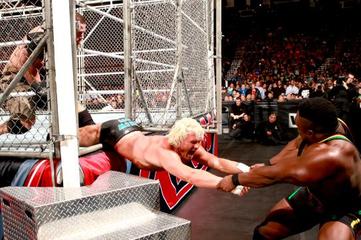 Image: wwe.com
Show of the Week: WWE Raw
As ever, this excludes the PPV. There's not too much to separate Raw and Impact, but Raw edges it for me.
Match of the Week: John Cena vs. Dolph Ziggler
Again, this doesn't include matches from Genesis. Hate it though I might for exemplifying SuperCena, I can't deny that this was a great quality match for TV. I suppose ambivalent is the word.
That's it for this week. Thanks for reading and all comments, thoughts, opinions, anecdotes, jokes and soliloquies are welcome and appreciated.