Pac-12 Football: Rating Every Pac-12 Team as a Contender or Pretender in 2013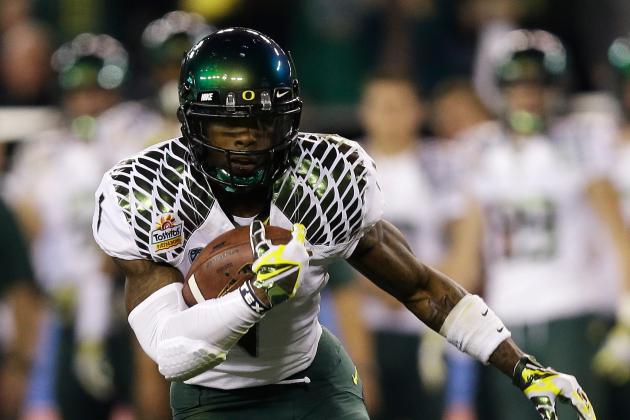 Ezra Shaw/Getty Images

The Pac-12 had a rough season in 2012. From preseason No. 1-ranked USC's epic fall to the Stanford showdown that cost Oregon a BCS title shot, 2012 was a heartbreaking year to be a Pac-12 fan.
Stanford and Oregon went on to major bowl games—and both won—but the national championship and Heisman trophy eluded the conference favored to win both.
A return to glory for the Pac-12 is not a given in 2013. Oregon lost renowned head coach Chip Kelly to the Philadelphia Eagles, and USC's star quarterback Matt Barkley is off to the NFL, his draft stock tainted by the Trojans' abysmal season.
Now that 2012's dust has settled, let's see which teams are legitimate contenders for the 2013 Pac-12 championship and beyond.
Begin Slideshow

»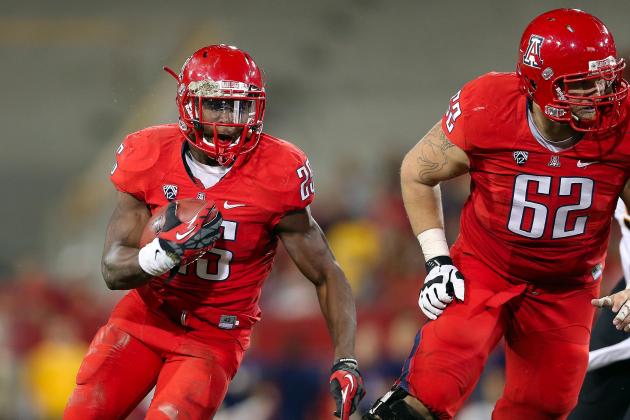 Christian Petersen/Getty Images

Pretender
Wildcats head coach Rich Rodriguez didn't have a bad season last year. In his first year with Arizona, his team went 8-5, finishing 4-5 in the Pac-12. It even defeated preseason No. 1- ranked USC.
This season, success will be more elusive for Rodriguez, who must replace star quarterback Matt Scott. On the bright side, running back Ka'Deem Carey will return to the Wildcats. Last season Carey led the nation in rushing, for a total of 23 touchdowns and over 1,900 yards on the ground.
While the Wildcats do not have the Pac-12's toughest schedule, they face formidable foes UCLA, USC, Oregon and rival Arizona State, to whom they lost last year.
If Rodriguez hopes to be a serious contender, he will need to fix the defense and find a quarterback who can complement the skill Carey brings to the offense.
Wildcat fans should look upon 2013 as a rebuilding year.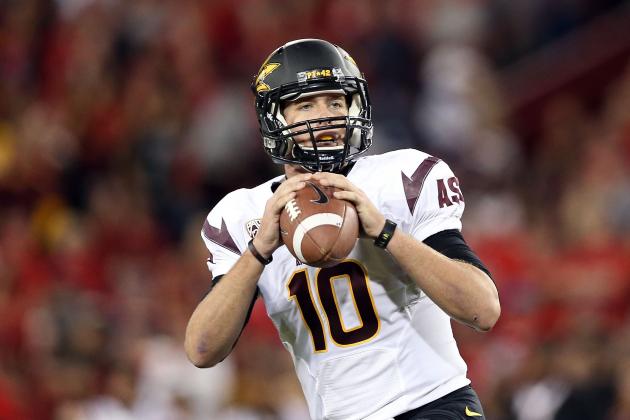 Christian Petersen/Getty Images

Contender
Arizona State is the sleeper team in the southern division of the Pac-12 this year. Even with a new coaching staff last season, the Sun Devils were still able to go 8-5 overall, 5-4 in the Pac-12.
Last season the Sun Devils offense ranked 14th in the nation in scoring, and with stars like quarterback Taylor Kelly, and running backs Marion Grice and D.J Foster all returning, this season looks promising.
On the other side of the ball, star defensive tackle Will Sutton will return to the Sun Devils for his senior season. Sutton dominated the defense last season, racking up 13 sacks, the third most of any player in the nation.
But 2013 will not be a walk in the park. ASU faces Wisconsin, Rose Bowl winner Stanford, USC, UCLA, Oregon State and national title contender Notre Dame.
Head coach Todd Graham is poised to have a great season in 2013. If he can find talented wide receivers to complement Kelly, and if he can beef up the defense, the Sun Devils will be solid contenders this year.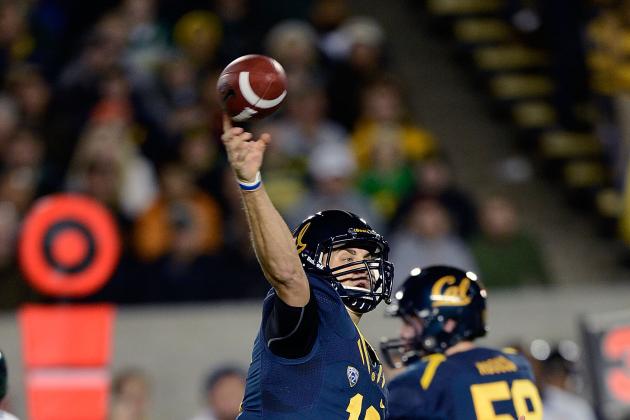 Thearon W. Henderson/Getty Images

Pretender
Unlike regional rival Stanford, which excels athletically and academically, the California Golden Bears leave much to be desired in the athletics department.
Finishing last year at an abysmal 3-9 (2-7 within the Pac-12,) Cal enters the 2013 season with little hope of contending for anything.
The problem is compounded by the loss of players in key positions. The Golden Bears will need a new quarterback, running back, receivers and several new offensive linemen. On the bright side, the guys who had those positions last year didn't do very well in them, so fresh faces may improve the team.
Starters have their work cut out for them. They face rivals Oregon, Stanford, UCLA and USC, as well as non-conference opponent Ohio State, which finished the 2012 season undefeated.
The Golden Bears have a new head coach in former Louisiana Tech head coach Sonny Dykes. Dykes made reasonable improvements during his two years in Louisiana, so perhaps there is hope for the Golden Bears. 2013 will definitely be a rebuilding year.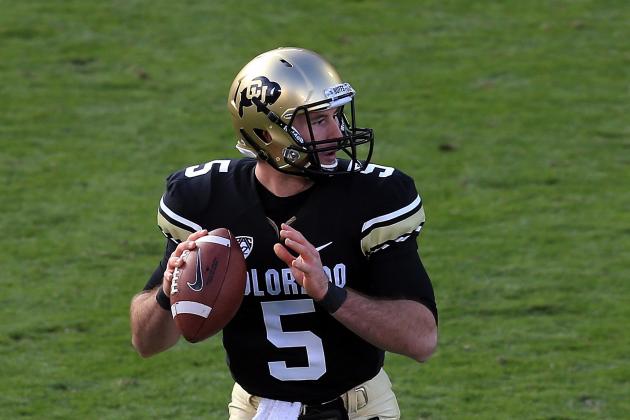 Doug Pensinger/Getty Images

Pretender
The Colorado Buffaloes finished their 2012 season at a jaw-dropping 1-11, (1-8 within the Pac-12.) Last season was not a fluke; the Buffaloes have won nine games in the last three years.
I'm not sure pretender fits in this case. Given up, complacent, and owning it all seem better monikers for a team that has clearly abandoned any hope of success.
The sole standout player on the team, punter Darragh O'Neill—who finished fifth in gross yardage last season—will return to the Buffaloes this season.
New head coach Mike MacIntyre faces an uphill battle next season as the Buffaloes take on the likes of Oregon, Oregon State, Arizona State, UCLA and USC. In Colorado's case, every team they play is formidable.
Mike MacIntyre comes to Colorado from San Jose State, where he presided over an impressive 13-game losing streak during his three-year tenure with the school. MacIntyre did improve in his final year at San Jose State, going 10-2 and earning the Spartans their first-ever end-of-season BCS ranking, placing No. 24.
2013 will definitely be a rebuilding year for the Buffaloes, but if MacIntyre could take San Jose State from 1-12 to 10-2 in three years, there may be hope for Colorado. Don't expect great things this season, though.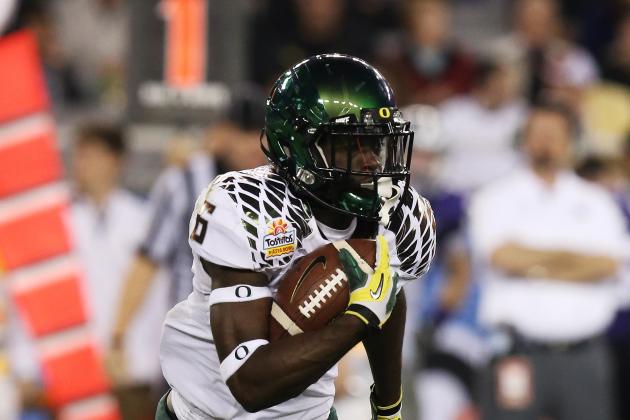 Stephen Dunn/Getty Images

Contender
Major contender. Even though the Ducks lost beloved head coach Chip Kelly to the Philadelphia Eagles, they will be a formidable opponent and major title contender in 2013.
The most significant obstacle for the 2013 Ducks does not appear to be talent, but their strength of schedule, or rather a lack of it. This season, Oregon's only major opponents are UCLA, Oregon State, and a rematch with rival Stanford—which cost the Ducks a shot at the BCS title last season.
At the helm of Oregon's famously explosive offense is sophomore quarterback Marcus Mariota, who is in the Heisman hunt this upcoming season. Last year he threw for 2,677 yards with 32 touchdowns—completing nearly 70 percent of his passes—and ran for another 752 yards.
Junior running back/wide receiver De'Anthony Thomas will also do offensive heavy lifting in 2013. Thomas ranked third in the nation and first in the Pac-12 last season in rushing yards per attempt, averaging 7.6 yards per carry.
As far as the defense goes, the Ducks will see seven starters return, including every starter on the secondary. The experience of the returning players should strengthen a defense that was occasionally criticized last season for not matching up to the high-flying offense.
This season you can expect Oregon to be a major contender for the Pac-12 title, with Stanford its only real challenger.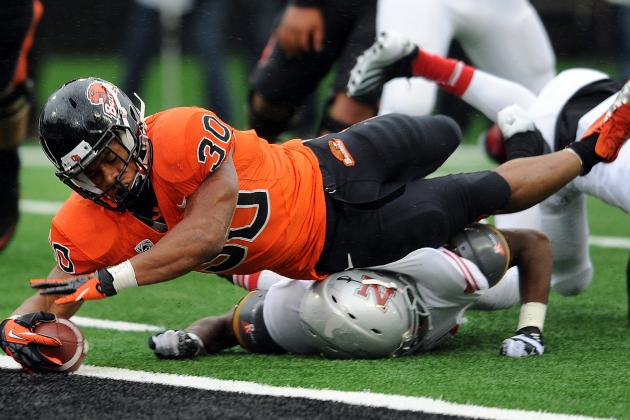 Steve Dykes/Getty Images

Pretender
Much as it pains me to do so, I have to label the Beavers pretenders in 2013. There is just no way they will survive scrapes with fellow northern division contenders Stanford and Oregon.
Last year Oregon State went a solid 9-4 (6-3 within the Pac-12,) but without a clear leader in the quarterback position, the road to the Pac-12 title game looks rocky. Adding to the Beavers' woes is the loss of leading wide receiver Markus Wheaton and star cornerback/defensive back Jordan Poyer.
On the bright side, star wide receiver Brandin Cooks, who had five 100-yard games last season, will return in his junior year. Cooks stands out as a wide receiver even in the Pac-12, where offensive excellence is commonplace. He ranked first in the conference in receiving yards per reception, averaging a whopping 17.2 yards and fourth in total receiving yards with 1,151 for the season.
On the other side of the ball, Oregon State's powerful defense will see seven of its starters return in 2013, so the team will be well-rounded.
The Beavs are a great team, and if they were in a different conference or even in the Pac-12 southern division, they would be contenders. There's just no way they will get past Stanford and Oregon.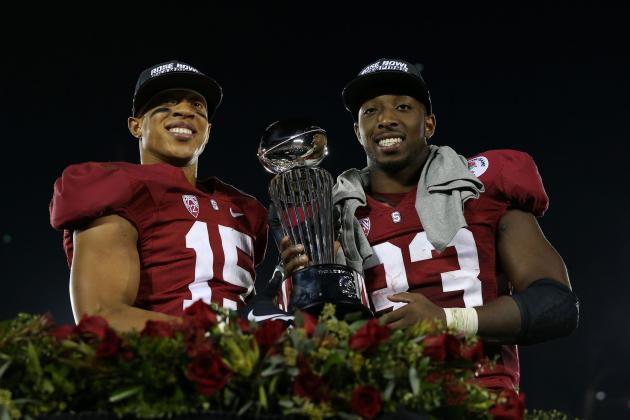 Jeff Gross/Getty Images

Contender
Barring an act of God, the real Pac-12 championship game this season will be when the Stanford Cardinal face the Chip Kelly-less Oregon Ducks for a rematch of their 2012 slugfest. Whichever team survives that game purchases its ticket to the Rose Bowl, since the southern division does not have a squad on par with the northern juggernauts.
Besides the Oregon showdown, the Cardinal will face Arizona State, USC, last year's southern division champs UCLA (whom they beat twice last season) and national title contenders Notre Dame.
Even with its tough schedule, Stanford is the clear favorite for the Pac-12 title.
The impressive Cardinal defense will return eight starters and will be among the nation's elite again this year. Shayne Skov, who had 80 tackles last year, looks to be the standout defensive player for the 2013 season.
Offensively, they will have to fill the void left by Stepfan Taylor, but returning quarterback Kevin Hogan—who took over mid-season for the inconsistent Josh Nunes—looks very promising. He had a 72.2 completion percentage as a starter, throwing for 964 yards and eight touchdowns with only three interceptions.
Expect to see Stanford as major players in the Pac-12 and beyond this season.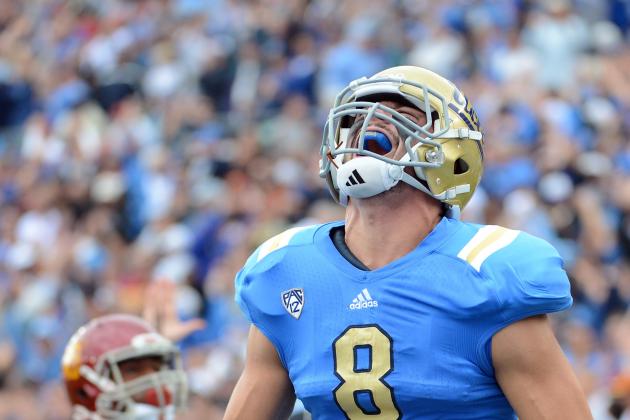 Harry How/Getty Images

Contender
Now that in-city rival USC has hit a rough patch, UCLA is the heir-apparent to the southern division of the Pac-12.
Last year the Bruins finished a solid 9-5 (6-3 within the Pac-12), losing to Stanford in the Pac-12 championship game.
This season the Bruins will have their work cut out for them, facing rivals Stanford, Oregon, Arizona State, USC and non-conference opponent Nebraska.
2013 will be a defining year for sophomore quarterback Brett Hundley, who ranked No. 1 within the Pac-12 in total touchdowns, with 38, and in passing yards, with an impressive 3,740 to his credit. He flew under the radar in 2012, but if he continues to improve, you can expect to hear a lot about him.
All-American linebacker Anthony Barr returns on defense to lead a front seven that will see five starters return to the line. As their performance in the Holiday Bowl last season illustrated, UCLA needs to improve its defense, so hopefully Barr will provide experience and leadership for the new players.
With the lights out over at USC, you can expect to see UCLA returning to the Pac-12 title game this year.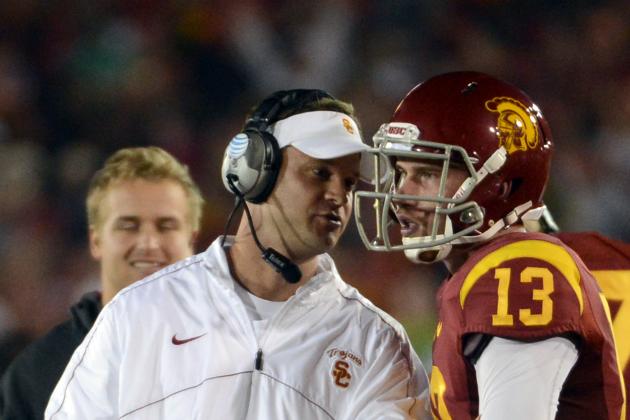 Harry How/Getty Images

Pretender
Oh, how the mighty have fallen. Last year USC started the season ranked No. 1 with then- Heisman favorite Matt Barkley triumphantly returning for what was supposed to be his golden season.
We all know how that story ended.
In what can only be described as one of the most disappointing seasons in college football history, the Trojans came unglued toward the end of their regular season, losing four of their last five games. Then they capped off the humiliation with a loss in the Sun Bowl to underdog Georgia Tech.
The Trojans had a hallmark season, all right, just not in the way they intended.
This season looks to be bleak, as embattled head coach Lane Kiffin remains at the helm, much to the chagrin of many USC fans.
Their schedule is not particularly favorable either. The Trojans will face Arizona State, Notre Dame, Oregon State, Stanford and in-town rivals UCLA. And they will have to do it without star quarterback Matt Barkley, who limped (literally and figuratively) away to the NFL after the disappointing season.
The sole ray of light for the Trojans will be the return of star wide receiver Marqise Lee who hopes to have better luck than Barkley in the Heisman race this year. Last season Lee had 1,721 receiving yards and 14 touchdowns.
In order for Lee to work his magic, he will have to jibe with sophomore quarterback Max Wittek, which appeared to be a problem in their game against Notre Dame last season. Of course, none of this will really matter if Kiffin continues his bizarre, erratic play calling.
Until the Trojans dump Kiffin, expect them to be pretenders.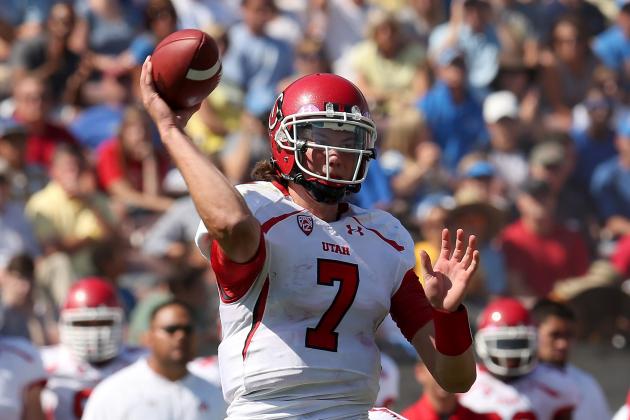 Stephen Dunn/Getty Images

Pretender
Utah head coach Kyle Whittingham is going to have his work cut out for him this year. The Utes will have to contend with the loss of Star Lotulelei and Dave Kruger from the defensive line as well as star running back John White.
To make matters worse, they do not have an easy schedule, taking on Oregon State, BYU, UCLA, Stanford, USC, Arizona State and Oregon.
For a team that went 5-7 (3-6 within the Pac-12,) when it had a decent defense last year, 2013 looks to be bleak.
Defensive end Nate Fakahafua will return to provide leadership to the new defensive starts. Fakahafua made 48 tackles last season with three sacks, but he alone will not be enough to prop up the Utes defense.
Short of a miracle, do not expect to see Utah in the Pac-12 championship.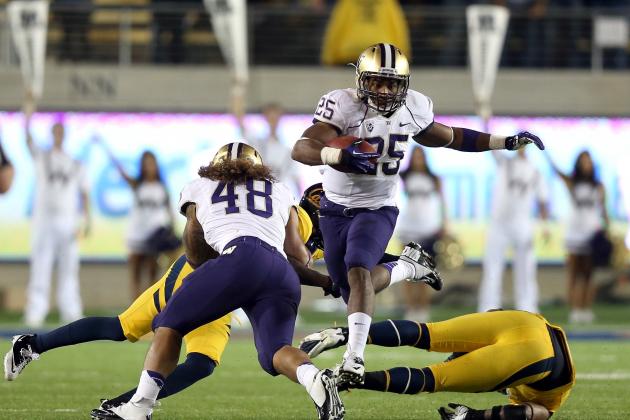 Ezra Shaw/Getty Images

Pretender
I will qualify that label by noting that this is the team that beat Rose Bowl champs Stanford last season. Have to give credit where credit is due.
Unfortunately, there is just no way they will beat out fellow Pac-12 northern division rivals Stanford and Oregon. The Ducks and the Cardinal are not the only intimidating teams on the 2013 schedule for the Huskies. They will face Arizona State, UCLA and Oregon State as well. For a team that only went 7-6 (5-4 within the Pac-12), that schedule is an uphill battle.
Quarterback Keith Price will return for his senior year and star tight end Austin Seferian-Jenkins, who caught 69 passes for 852 yards with seven touchdowns last season, looks to make 2013 his breakout year.
While the Huskies are a decent team, there is just no way to survive Oregon and Stanford, and back-to-back, no less. Unless both of those teams see major upsets, do not expect to see Washington in the Pac-12 championship.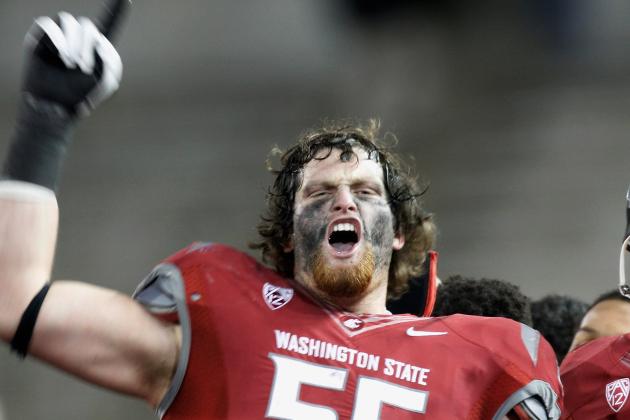 William Mancebo/Getty Images

Pretender
Washington State, like fellow northern division Pac-12 teams, stands little chance of surpassing Stanford and Oregon to be a Pac-12 title contender.
This season they will face the aforementioned Stanford and Oregon, along with Auburn, USC, Arizona State and Washington in what is sure to be a difficult season for the Cougars, which ended last season at 3-9 (1-8 within the Pac-12).
Head coach Mike Leach undoubtedly hopes to improve that abysmal record as he enters his second year with the school. With 20 starters returning this year, he may be able to do exactly that.
With a year like 2012 behind them, they only have to win two in-conference games to improve their record in the Pac-12. They can handle that, right?