Predicting the Los Angeles Dodgers' Breakout Players of 2013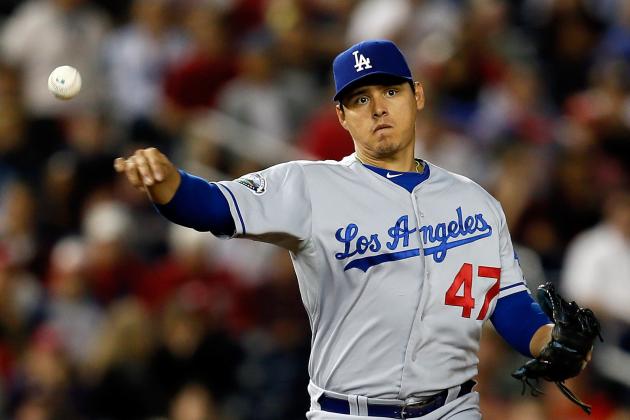 Rob Carr/Getty Images

We can all agree that the 2012 Dodgers were a massive disappointment—at least after the mega-trade spree following the All-Star break. But there was a silver lining.
Out of nowhere, Luis Cruz emerged to be a solid everyday third baseman. From the depths of mediocrity, catcher A.J. Ellis became an on-base machine. Shawn Tolleson moved up to the big league bullpen full-time and became a dependable big-situation reliever.
Most teams have their fair share of breakout players every season, and those were three for the Dodgers in 2012. With a rich, new roster, will the Dodgers find a few more diamonds in the rough this season?
The following five players seem most likely to break out in a big way next year.
Begin Slideshow

»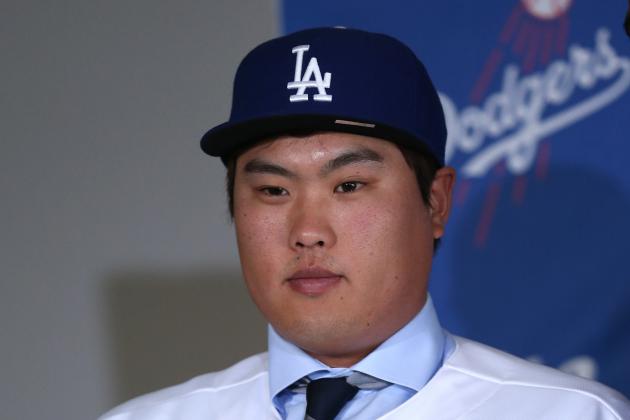 Stephen Dunn/Getty Images

I know a lot of scouts and analysts are down on the acquisition of Hyun-Jin Ryu, and I wasn't thrilled at first either. But the Dodgers have a good history of recruiting international prospects, especially pitchers.
This time I'm putting my faith in the scouting department. You have to like Ryu's immense success in Korea, his youth and the fact that he's a southpaw. There won't be much pressure on the guy like there was on Yu Darvish last year, as Ryu will be the fourth starter in Los Angeles, at best.
Even though Ryu was facing lesser competition in Korea, he strung together 23 quality starts in 2010 and has a long list of impressive, unique accolades (e.g. winning the pitching triple crown, Rookie of the Year and MVP in his first season in the KBO, in 2006).
Scouts say that Ryu's best pitch is his changeup—so even though he throws in the low 90s, he has mastered the pitch that is most baffling to opposing hitters. If Ryu really does have a filthy changeup, he's well ahead of many pitchers who came over from another country, just by virtue of having that weapon in his arsenal.
I'm not expecting a massive win total from Ryu in his first MLB season, but if he stays healthy and posts and ERA in the 3.50 range, I would not be shocked at all.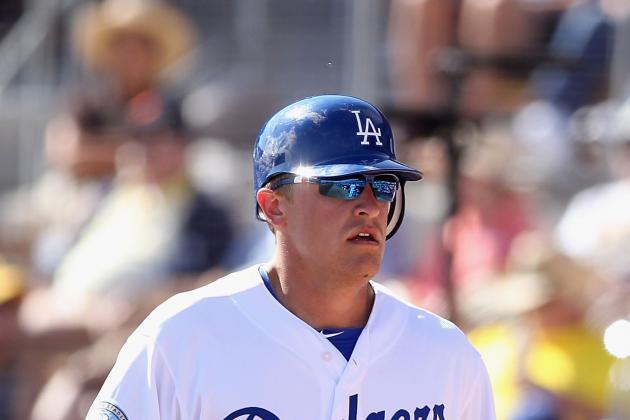 Christian Petersen/Getty Images

Granted, this will only be in a backup role. But, Fed-X is a guy that everyone in Dodger Nation has kept an eye on as he mashed his way to a .871 OPS in AAA over the last two seasons.
Barring injury or a major slump, A.J. Ellis is going to maintain his starting job in 2013. But we saw last year that Ellis can't hold up for an entire season and be productive. That means Federowicz is going to have more than enough chances to prove himself.
Federowicz only had a quick cup in the majors last season, but at least he'll have the first-time jitters out of the way. In the minors, he has shown a lot of promise in driving the ball into the gaps. In 2012 alone, Federowicz hit 34 doubles and drove in 76 runs in 115 games.
One thing Fed-X will most definitely have to work on in the bigs is cutting down on his strikeouts, and just improving his eye at the plate in general. But in a backup role, I can see him hitting .275 with 15 doubles. That would definitely qualify as a breakout season.
Harry How/Getty Images

This isn't exactly a breakout choice in the traditional sense, because Schumaker did establish himself as a solid backup for the St. Louis Cardinals previously.
But with Schumaker and Jerry Hairston, Jr. in the fold, the Dodgers have two very good role players off the bench who could make a big impact. I think this is the season in which the rest of the baseball world starts to take notice of Schumaker.
It's only natural over the course of a full baseball season for players to get injured and wear down. Schumaker will become the first option off the bench to fill in at every infield position, and maybe even in left field if Carl Crawford falters.
Schumaker's career highs came in 2009 when he hit .303 and got on base at a .364 clip. That was in a full-time role, but as a backup for the Dodgers, I think he will improve both numbers about five average points (.308 and .369, respectively) and play a key role in a few dramatic wins to open eyes around the league.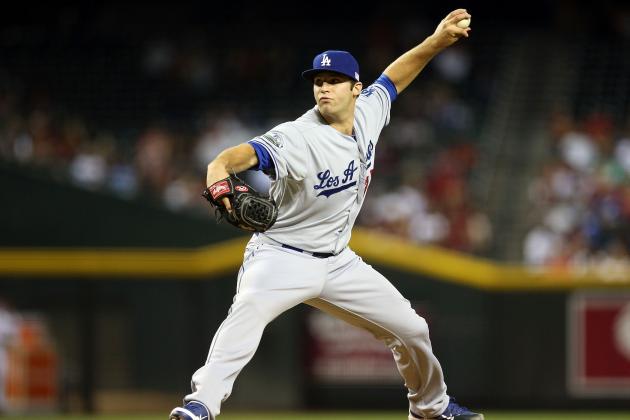 Christian Petersen/Getty Images

We got a sneak preview of the crafty young lefty's stuff last season, when he was called up out of desperation and a lack of bullpen southpaws.
Even though Rodriguez was drafted the same season he debuted, it's fair to say that the kid is ready to become a full-time member of the Dodgers' big league bullpen. He has good command, a nice breaking ball and the presence of mind to handle big situations.
The Dodgers signed J.P. Howell to a deal, and will have Scott Elbert back from injury, so Rodriguez might become the third left-handed option out of the 'pen. That sounds very nice— like some good seasoning for the second-year pro.
My bold prediction is that Rodriguez will evolve as the go-to lefty for Don Mattingly, and surpass both Howell and Elbert on the depth chart (don't get me wrong, the other two will be good...just not AS dependable). His deliberate, whip-like delivery is going to become a hitter's worst nightmare.
Don't expect an improvement from Rodriguez's microscopic numbers in 2012, but you can be sure a low 2.00's ERA and a batting average against just over .100 is in the cards.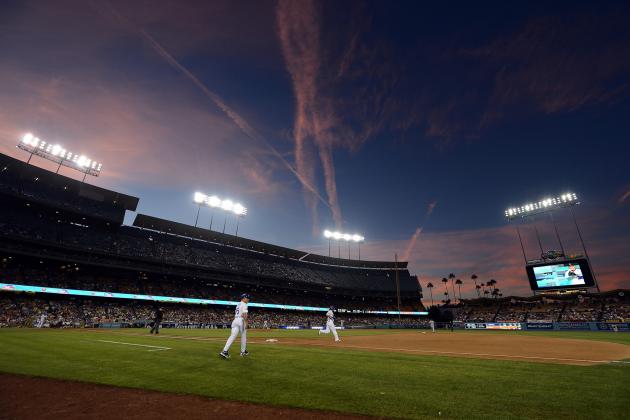 Harry How/Getty Images

Who? Well, diehard Dodgers fans should know who their 31st-round draft pick from 2008 is. He's risen through the ranks of the system better and faster than anyone expected and has become a legitimate starting pitching prospect.
Last season in Double-A, Magill went 11-8 with a 3.75 ERA, 2.75 K-to-BB ratio and 10.3 K/9. He led the Dodgers farm system in 2012 with his 168 strikeouts (in 146.1 innings) and seems to be improving every single season.
I wouldn't be surprised in the slightest to see Magill make his major league debut in 2013, even if just for a couple of spot starts to rest the other pitchers. And if anyone in the bullpen goes down with an injury, Magill should be on the short list for a quick call-up, likely behind Peter Moylan (if he makes the cut in spring training) and one or two others.
In a perfect world, Magill would come up and have a few Stephen Fife-esque starts for the Dodgers before being relegated to the bullpen. At that point it would be his job to stick, but I really think Magill has the stuff to put the front office and the rest of the league on notice in 2013.
It may be earlier than expected, but since when is a 31st-round pick supposed to make it this far in the first place?
For more Dodger talk, follow Jeremy on Twitter @Jamblinman!