2013 NFL Free Agency: Examining Each Team's Likely Game Plan
Jim Rogash/Getty Images

With only two NFL teams still playing football, 30 others are planning their offseason moves.
Once the Super Bowl is over, all 32 teams will be in free-agency mode. There are some big names available, and a ridiculous amount of money is going to get thrown around to players who deserve it and ones who don't.
Having a game plan going into the free-agency period is a key to coming out with successful pieces to help build a team—ask the Eagles how well throwing money to the best players works.
This is a team-by-team breakdown, broken up by division, of the most likely game plan each team will have going into the free-agency period.
Any names thrown out as possible targets for teams are simply just suggestions, nothing more.
Begin Slideshow

»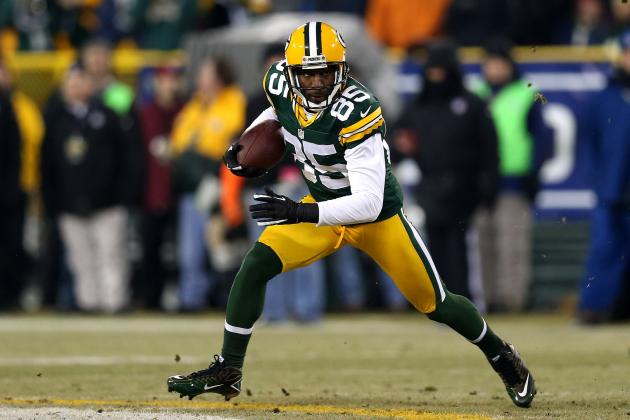 Jonathan Daniel/Getty Images

Chicago Bears
Don't let the firing of Lovie Smith after the season fool you, the Bears were a 10-6 football team. Don't let the 10-6 record fool you, the Bears still had their flaws.
The biggest flaw was in the offensive line, and Chicago has lucked into a good offseason for free agent offensive linemen. Big names like Ryan Clady, Jake Long and Andre Smith are on the market if the Bears want to make a splash in the open market.
The Bears will probably also look to re-sign Brian Urlacher and Henry Melton to keep the defensive side of the ball stable.
Detroit Lions
After a 4-12 season, there isn't much the Lions can't improve upon in free agency. Look for Detroit to target defensive players, especially in the secondary.
This year's cornerback class looks to be pretty deep. The Lions don't need a big name or an elite corner, they just need a defensive back who can cover someone, which is apparently easier said than done in Detroit.
Green Bay Packers
The big question hovering over the Packers in free agency will be Greg Jennings. Jennings is an unrestricted free agent and realistically probably won't return to Green Bay. The Packers will live. Green Bay will have enough on offense to absorb the loss of Jennings.
Look for the Packers to get a little deeper on defense in free agency. The Packers are unlikely to sign a big name, but with the amount of injuries Green Bay has experienced in the last few years, more bodies couldn't hurt.
The Packers are a build-through-the-draft team, so look for some minor value deals.
Minnesota Vikings
It became apparent to anyone watching the Vikings late in the season, there were no offensive weapons outside of Adrian Peterson. The return of Percy Harvin will help, but that won't be enough.
Don't be surprised to see the Vikings become sneaky players for big wide receivers like Dwayne Bowe or Mike Wallace in the offseason. Minnesota should look to strike with an impact offensive player, and give Christian Ponder someone to throw to besides Jerome Simpson.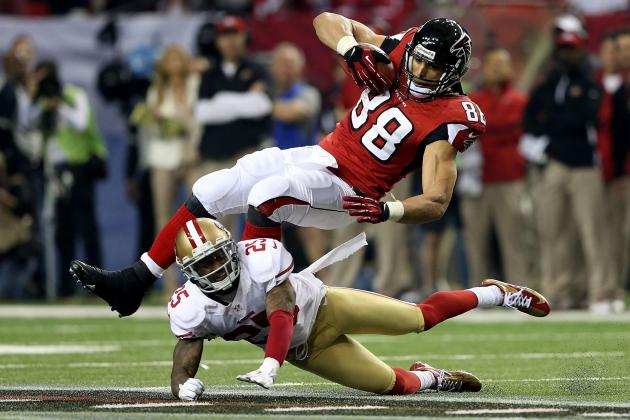 Streeter Lecka/Getty Images

Atlanta Falcons
If the Falcons can't get a defensive coordinator in free agency, they won't have many needs.
All kidding aside, Atlanta is a well-built and balanced team. The retirement of Tony Gonzalez leaves the Falcons with 930 yards and eight touchdowns worth of offense to replace, but don't expect any major moves because of that.
Carolina Panthers
The Panthers are stuck in the middle. A 7-9 record is an improvement on last year's 6-10 but not by much. According to Football Outsiders' DVOA, Carolina was ranked 10th in offense and 11th in defense, which is more balanced than a majority of teams in the NFL—and better than the 7-9 record would immediately suggest.
The Panthers are a young team, and with about a trillion dollars (estimated amount) invested in Cam Newton and the rest of the backfield, will probably stay that way building through the draft and laying low in free agency.
New Orleans Saints
The Saints need players who can play defense. It's that simple.
Tampa Bay Buccaneers
The Buccaneers went on their big spending spree in free agency last year, so they probably won't go crazy again.
Tampa should make re-signing defensive Michael Bennett a big priority before he gets a bigger deal on the open market.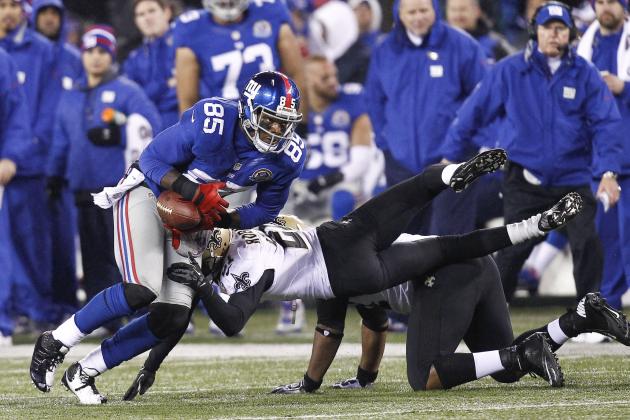 Jeff Zelevansky/Getty Images

Dallas Cowboys
Rob Ryan is gone, so the Cowboys' defense has already improved.
Dallas will try to re-sign Anthony Spencer and will probably make at least one more move for a defender, possibly a defensive back.
The Cowboys, like the Bears, have a need on the offensive line, so look for Dallas to throw tons of money at the group of Clady, Long, Smith and Sebastian Vollmer.
New York Giants
The Giants favor the draft more than free agency to bring in new players, and that probably will be their mindset again this year.
There are some prospective free agents the Giants should make a priority to re-sign. Tight end Martellus Bennett and safety Kenny Phillips should return. A deal will also probably get done with Victor Cruz, but as a restricted free agent, that isn't as big of an issue.
If the Giants do take a dip into the free-agent pool, expect a linebacker to be the target.
Philadelphia Eagles
At this point, the Eagles might not even know their free agency game plan yet. Philly doesn't have a lot of expiring contracts, so on the surface, things seem to remain the same.
Of course, as new coach Chip Kelly starts to evaluate the roster, many things could change.
Washington Redskins
Washington seems to be set on the offensive side of the ball with last year's free-agent purchase of Pierre Garcon.
The Redskins could look to sure up and deepen an injury-laden defense. The return of Adam Carriker and Brian Orakpo will almost seem like free-agent acquisitions heading into next season.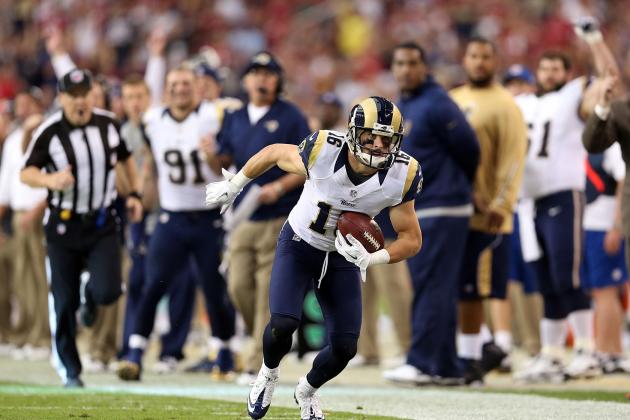 Christian Petersen/Getty Images

Arizona Cardinals
Can someone please throw an on-target pass to Larry Fitzgerald? If I'm Larry Fitzgerald, how am I not offering half of my contract to the front office to throw as much money as possible at Joe Flacco once the signing period starts?
If the Cardinals don't go that route, solidifying the offensive line is a must, so at least the person attempting passing to Fitzgerald can stay on his feet. Arizona's O-line was embarrassingly bad during the season. It might not get into Clady/Long territory, but even a deeper find will be an upgrade on that line.
San Francisco 49ers
As the 49ers are constructed right now—about to represent the NFC in the Super Bowl—there aren't too many needs in free agency.
Safety Dashon Goldson is the only major piece to possibly hit the market, so San Francisco won't have to make any major changes.
Seattle Seahawks
Imagine how dangerous Russell Wilson could be if he was throwing to better receivers than Sidney Rice and Golden Tate. This is complete speculation based on nothing, but how great does Greg Jennings in Seattle sound?
With no true holes, the Seahawks could make a big splash in free agency for the second year in a row.
Re-signing defensive tackles Alan Branch and Jason Jones will also be a priority.
St. Louis Rams
The Rams need to re-sign Danny Amendola. With Steven Jackson most likely leaving, St. Louis won't have an offensive threat without Amendola.
Otherwise, the Rams are in a decent position to not have to make any big moves. The Rams are a young team and will be improving as they age and mature with players such as Janoris Jenkins, Daryl Richardson and Brian Quick.
Outside of binging back Amendola, St. Louis shouldn't be desperate to make any major moves.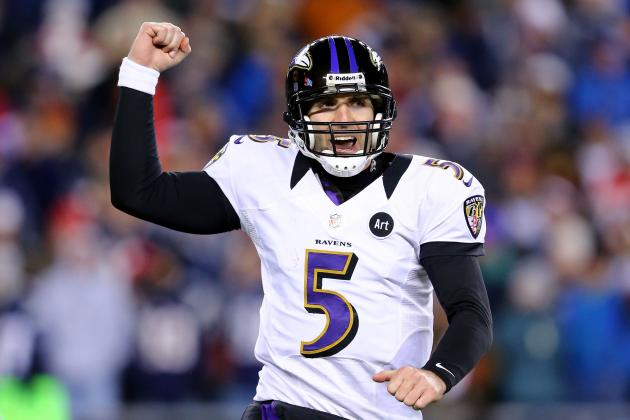 Al Bello/Getty Images

Baltimore Ravens
The Ravens are going to pay Joe Flacco the GDP of a small nation to return as the team's quarterback, win or lose in the Super Bowl.
Baltimore also has important players on its defense projected to hit free agency in Ed Reed, Paul Kruger and Dannell Ellerbe. If Baltimore re-signs all of those players, there won't be much left to bring many free agents in.
There are worse scenarios than keeping a team who just went (and possibly won) the Super Bowl together.
Cincinnati Bengals
If Andy Dalton played to the level of an average quarterback, Cincinnati would have a playoff win.
The Bengals have a handful of players they would like to re-sign, but that handful might be a little too big. Andre Smith, Michael Johnson and Rey Maualuga are just some Bengals hitting free agency.
Look for Cincinnati to re-sign whoever it can from that group, while signing new players to replace positions it lost—linebacker could be one of them.
Cleveland Browns
The Browns might be on the market for a quarterback. The Browns always might be on the market for a quarterback.
New VP of player personnel, Michael Lombardi, is not a big Brandon Weeden fan and may be looking for someone new the be under center as the future of the franchise, although there won't be much out there on the free-agent market.
Cleveland should re-sign Sheldon Brown and Joshua Cribbs, while making minor additions to the team elsewhere. The Browns have youth and talent at a lot of key positions and could see improvement without any major moves.
Pittsburgh Steelers
Pittsburgh is a team getting older, so the draft might be a better place to build than free agency—especially to fill the potential loss of Mike Wallace. If the Steelers do try for some free agents, look for them to target players who will protect their quarterback and rush the opposing one.
Pittsburgh won't be in the mix for the big-name offensive linemen, but the position is pretty deep and could improve without spending too much.
Anthony Spencer is an interesting name as a 3-4 linebacker who could fit well in the Steelers' defensive scheme.
Ronald Martinez/Getty Images

Houston Texans
The Texans need a second wide receiver to pair with Andre Johnson in the passing game. The only other threat when Matt Schaub goes back to pass is Owen Daniels, and although Daniels is a great receiving tight end, that's not a lot for a No. 2 target.
Brian Hartline could be good target for Houston. Hartline is really just Kevin Walter-plus, but that is better than just Kevin Walter.
Re-signing Connor Barwin and Glover Quin should also be a priority for Houston.
Indianapolis Colts
Don't be surprised to see the Colts throw their hand into the offensive linemen bidding. The more Andrew Luck is on his feet, the better it will be for the Colts' offense. Luck is Roethlisberger-like in his ability to move and improvise, but Indianapolis would prefer if Luck didn't get hit as much as Big Ben.
The Colts could also look at improving a below-average defense at any position. For some reason, safety Jarius Byrd just seems like a Colt—Indianapolis probably wouldn't mind.
Jacksonville Jaguars
Well, now that there's no chance for Tim Tebow, all the fun in Jacksonville is over. The Jaguars have plenty of places to upgrade, and new GM David Caldwell could sit in his office and throw darts at a board with position names to figure out where to upgrade first.
The only position you shouldn't expect the Jaguars to target is wide receiver, as they should be set with Cecil Shorts and Justin Blackmon.
Tennessee Titans
The Titans, like the Jaguars, have plenty of places for potential improvement. Tennessee should look to the defensive line—possibly stealing Terrance Knighton from Jacksonville—and secondary—with a deep corner market—for potential improvements.
One bright spot in Tennessee was the big-play ability of Darius Reynaud, especially on special teams, a player the Titans should look to re-sign.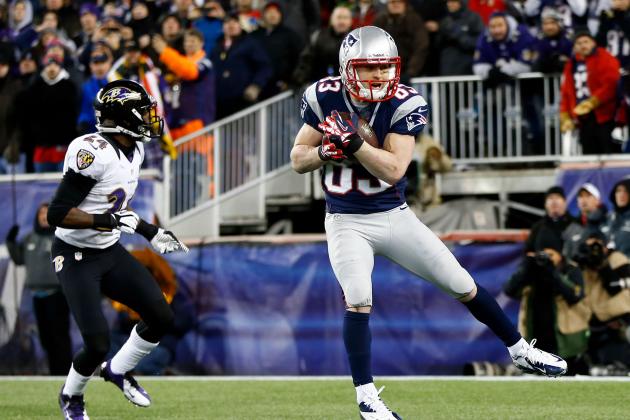 Jared Wickerham/Getty Images

Buffalo Bills
Before the Bills do anything in free agency, they need to re-sign Andy Levitre at guard. After that, the Bills can work on plugging the middle of the defense to stop opponents from running the ball.
After spending big last year on Mario Williams, don't expect a big contract for a Henry Melton-type.
The Bills could (and should) also sneak into the conversation for some linebackers like Daryl Smith or Rey Maualuga.
On the offensive side, James Casey could be an interesting name at tight end to expand the role he had in Houston.
Miami Dolphins
The Miami Dolphins have made it clear they need a No. 1 wide receiver. They won't mention how they traded away Brandon Marshall in the offseason last year, but still, they need a No. 1 receiver. That receiver is probably going to be Dwayne Bowe, Mike Wallace or Greg Jennings.
Miami also seems to be parting ways with Jake Long, which could possibly lead the Dolphins to pursue one of the other free-agent tackles to replace him.
Miami should also work on re-signing two underrated defensive players in Sean Smith and Chris Clemons.
New England Patriots
It's hard to believe New England is just going to let Wes Welker walk into free agency, but that may be the case. If Welker does leave, the Pats might replace him with another free agent—possibly someone bigger, like Dwayne Bowe.
If there's anyone who could make Reggie Bush become the offensive weapon most thought he could be coming out of college, it's Bill Belichick—just something to consider.
On defense, the midseason addition of Aqib Talib shored up the secondary, and if he is not re-signed, someone like Sheldon Brown should be targeted as a replacement—anything to not have Kyle Arrington play corner anymore (also a free agent, not expected to be re-signed).
New York Jets
If Mike Tannenbaum was still the GM of the Jets, the offseason plan would probably be hold tight and hope the other three teams in the division screw up their offseason plans.
With a new GM, the Jets might be a little more proactive—although with not much cap space to do so.
With the lack of cap space, the Jets are better off letting pieces like Shonn Greene go to free agency and replacing them with younger models in the draft.
The one piece the Jets probably will target in free agency is a veteran quarterback to compete with Mark Sanchez in training camp. The Jets should target Matt Moore—who isn't as terrible as you think he is—for this position.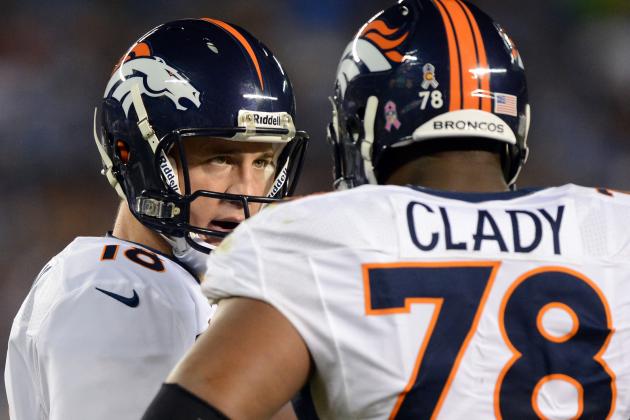 Harry How/Getty Images

Denver Broncos
To say the Broncos need to re-sign Ryan Clady would be a vast understatement. Clady is so important, the other tasks in the offseason should be rendered insignificant.
The Broncos won't be making many moves after a playoff trip—although after last year's playoff trip, they traded their quarterback and signed a new one.
Things won't be as busy in Denver this offseason.
Kansas City Chiefs
If Andy Reid's last few years in Philadelphia are any indication, expect the Chiefs to sign at least four big-name free agents and win about four games next year.
Kansas City has some talented players hitting free agency, but if that talent was only good enough for two wins, it's probably better to let them hit the market.
The Chiefs won't be looking for players with big names, but with so many holes, they'll be looking for value players all across the board. Unless, of course, the AFC Dream Team is still a possibility.
Oakland Raiders
The Oakland secondary spent the season looking like Carson Palmer was throwing on them in garbage time. Many positions for the Raiders need improving, but the secondary stands out the most.
The offensive line is young, so bringing in a veteran presence could help the line mature and keep Palmer—or Terrelle Pryor—on his feet.
San Diego Chargers
The Chargers are another team who could use some offensive line help. If Andy Levitre gets away from Buffalo, expect San Diego to pounce.
If the offensive line doesn't improve, a back like Reggie Bush could make sense as both an outside runner and a security blanket for Philip Rivers.
As another offensive weapon for Philip Rivers, Wes Welker, would probably enjoy the weather he briefly experienced in the NFL once out in San Diego.
Even if the Chargers don't get names like Welker or Bush, they will make a move to help Philip Rivers in some way.