Biggest Mistakes the Memphis Grizzlies Have Made This Season
Jonathan Daniel/Getty Images

A Memphis Grizzlies season doesn't find character without some grinding, but this season has seen some undue grit for this tightly knit unit.
A 12-2 start gave way to an 8-8 slide, and the team's offensive production mirrored the inconsistency of its record. The Grizzlies scored in bunches in November, forgot how to drop buckets in December and felt a frost on their shooting fingers in January.
Several things went wrong for them to start sputtering. To say that Mike Conley simply turned it over too much would be too easy of an explanation. One can also point to the disappointing three-point shooting. Also, fans of the team in the three shades of blue can lament the slow pace of the offense.
While wondering how the Grizzlies will push through the stretch run, fans can contemplate why Lionel Hollins had to push his squad so hard in the preseason.
More sighs shall be expressed as we reflect on the Grizzlies' biggest mistakes thus far.
Begin Slideshow

»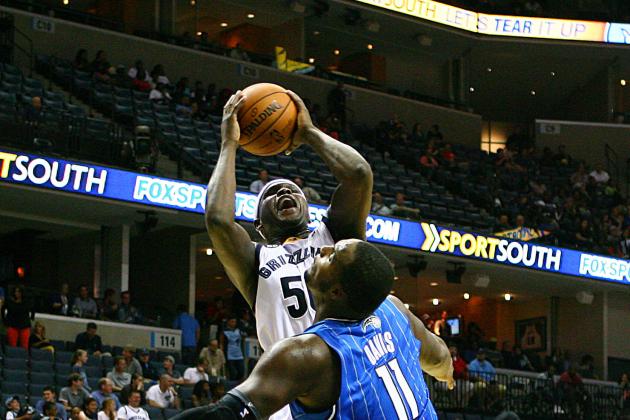 Spruce Derden-USA TODAY Sports

Most coaches would ease their teams through the preseason to get ready for the rigors of a long 82-game schedule.
Not Lionel Hollins.
He pushed his guys through exhibitions as though they were regular season games, playing starters the type of minutes they'd be expected to put in once the games started to count in the standings.
Zach Randolph played 30 minutes three times, while Rudy Gay and Marc Gasol went 30 minutes twice.
Indeed, the Grizz are one of the younger teams in the league. But Hollins' approach was entirely unnecessary. Zach Randolph needed some care since he had just returned to full health after missing most of the previous campaign with a partial MCL tear.
Above all, Hollins would be driving his squad throughout the regular season. He didn't need to burn them out before that by overplaying them in several meaningless games.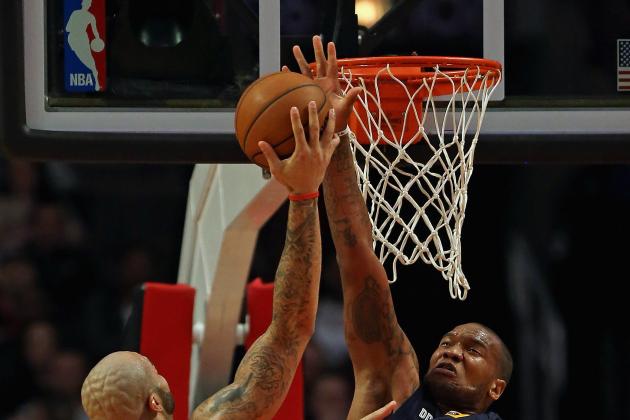 Jonathan Daniel/Getty Images

After emerging as a potent shooter last season, Marreese Speights seemed ready to take the next step as a popcorn bench scorer. But having been given relatively few minutes, he's hardly been able to make an impact.
Speights is shooting a modest 43.2 percent from the field. That's largely because he hasn't seen enough time to get into rhythm. He's played less than 10 minutes in eight games, shooting 36.8 percent in those games. In his 22 games with 10 to 19 minutes played, he shoots 40.5.
He has put in 20 minutes or more in just nine games—but in those games he's shooting 48.4 percent.
And it's not like he's not making the most of those minutes in facets other than scoring. He remains active in short time, with a 24.5 percent usage rate.
The 25-year-old made good in his last start, scoring 10 points and grabbing nine rebounds in 26 minutes.
Perhaps more outings of 20 minutes or more will prove how he can more productive with increased playing time.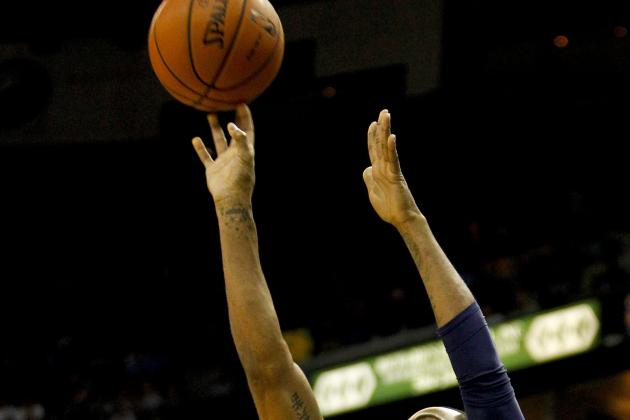 USA TODAY Sportss

The Grizzlies supposedly bolstered their three-point shooting in the offseason by acquiring Jerryd Bayless and Wayne Ellington. Yet Memphis remains one of the most inactive teams from beyond the arc.
Despite the arrival of these two outside shooters and the emergence of Quincy Pondexter as a three-point threat, Memphis is next to last in three-point attempts.
And the Grizz have hardly improved from downtown. Their 34 percent shooting from three-point range is 24th in the league, up from the 32.6 percent they shot last year. Three players are shooting better than 36 percent (Ellington, Pondexter and Mike Conley), but only two of them are currently active.
Ellington hasn't had enough chances. He is taking a career-high 2.4 three-pointers per game, but he is often left alone when standing on the outside. He's taken fewer than two threes in 17 of 39 games.
One might like to think that the team's success behind the arc will simply improve after Conley rediscovers his stroke after hitting just 32 percent since Dec. 1. But it's not that easy. Hollins needs to draw more offensive sets that can result in long-range shots.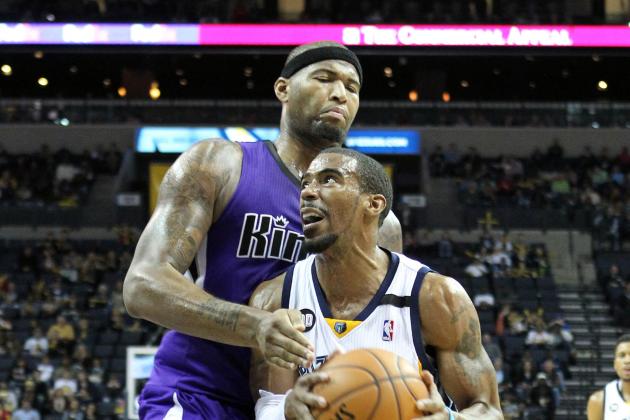 USA TODAY Sports

Too often has the Grizzlies' offensive play let the team down. Memphis has scored fewer than 90 points in nine of the last 14 games.
That's largely because the team has been stalling in their half of the court. Memphis averages 88.9 possessions per 48 minutes, 28th in the league.
This tepid approach was evident on Saturday as the Chicago Bulls rallied in the fourth quarter before succumbing to the Grizzlies' grit-and-grind style in overtime. Grizzly players struggled to get off shots: They had back-to-back 24-second violations in the latter part of overtime,
That triggered a testy reaction from Joshua Red Coleman of the 3 Shades of Blue blog via Twitter.
Guys...we've been over this. Shoot. The. Ball.

—Joshua Red Coleman (@3SOB) January 20, 2013
Even in overtime, Memphis had trouble keeping the wheels moving. They gave the Bulls an extra chance with an inbounds violation.
Mike Conley needs to keep the tempo high and, in general, Memphis players need to stay aware in the half-court offense.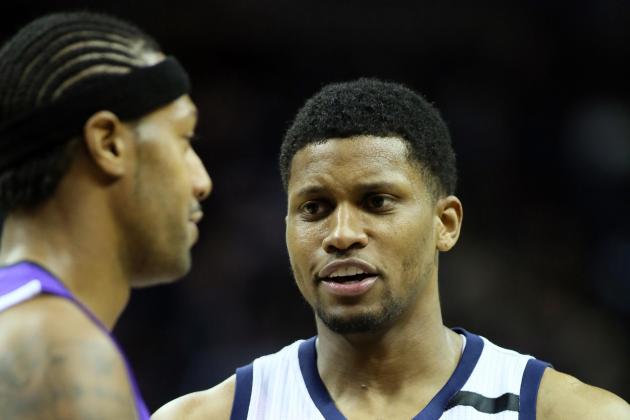 USA TODAY Sports

Remember when Rudy Gay said he felt motivated coming into the season because of his Olympic snub?
That seems long ago and quaint, considering how much he's tailed off after an intense start.
He averaged 19.4 shots per game in the first nine games and scored more than 20 points in six of the first 11. Since then, he's has scored 20 or more points just six times in his 27 games. His shots-per-game rate has fallen to 16.4.
While he had some poor shooting games at the start of the season, Gay usually bounced back with a strong offensive performance the next night. That hasn't happened recently. He's shooting a career-low 41.6 percent from the field.
Two areas have shown how he's not pushing hard enough to score. First is the number of field-goal attempts per game. Second is the proportion of shots taken from the outside. He's taking 2.9 threes per game—the most in four years—despite shooting just 31.2 percent. A total of 34.3 percent of his shots are from beyond 15 feet.
While he's starting to trend in the right direction, the 26-year-old still needs to attack the rim more often.
Knocking down half his shots in three of four games before Saturday's matchup with Chicago provided some encouragement, but he tallied 20 points in only one of those games.