Vitor Belfort and the 10 Biggest Head Kick Knockouts of the Past Year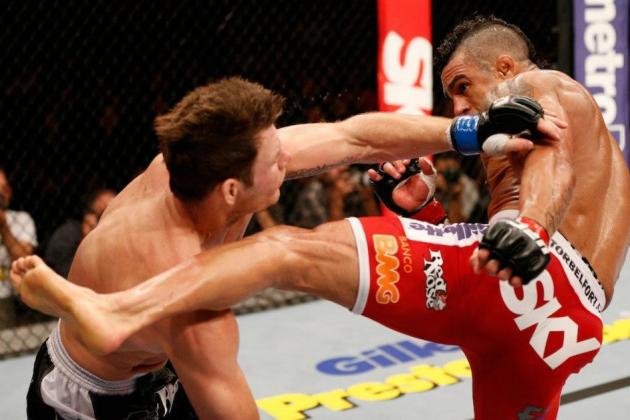 Photo credit: UFC
I fancy myself a bit of a head kick connoisseur. So yeah, I slightly enjoyed myself Saturday night during the main event of UFC on FX 7 in Sao Paulo, when Vitor Belfort thwarted Michael Bisping's latest title aspiration with a single dome-side shinbone.
Once the smoke had cleared and the custodians stood quietly push-brooming away the roasted ants, I realized I was involuntarily stroking my beard, which is how bearded men think.
Sure, I mused, Belfort's kick was terrific. But it was merely the latest confection during this truly memorable 12-month run. It's been quite a stretch lately. An excellent vintage. And I, for one, want to drink in the aroma. The feet aroma.
Here are the top 10 best head-kick knockouts from January 2012 to January 2013. And if you think you know the full list going in, you may want to read anyway.
Begin Slideshow

»
Division: Light heavyweight
Event: Xtreme Fight Night 9, Sept. 21, 2012
Result: Anthony Johnson def. Jake Rosholt by TKO (head kick), 4:22 of Rd. 2
Remember this guy? "Rumble" is still a dangerous, dangerous man. And he looks plenty comfortable—and still plenty powerful—at light heavyweight.
Rosholt's no pushover, but he crumbled under this Johnson head shot. It was almost a merciful end to a brutal bell-to-bell beatdown.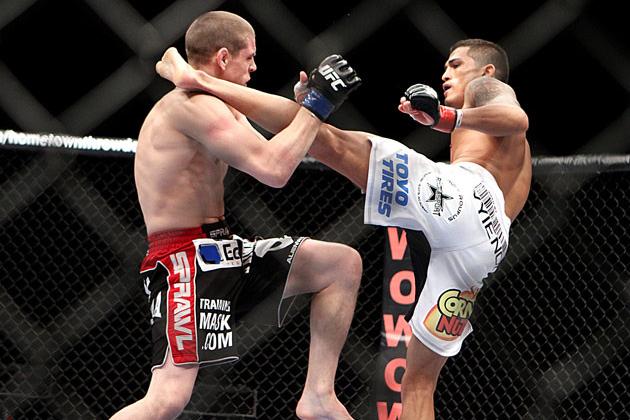 Photo credit: Tracy Lee for Yahoo! Sports
Division: Lightweight
Event: UFC 144, Feb. 26, 2012
Result: Anthony Pettis def. Joe Lauzon by KO (head kick), 1:21 of Rd. 1
Ho-hum. Another fight, another highlight-reel head kick from Anthony Pettis. I expect his upcoming fight with Donald Cerrone (who just missed this list himself) to be equally as predictably spectacular.
Division: Heavyweight
Event: Pankration: Battle of Empires 2, Dec. 15, 2012
Result: Rameau Thierry Sokoudjou def. Dennis Komkin (KO), 1:00 of Rd. 1
It was nice of the ring announcer to stop tickling the ivories long enough to introduce the fighters. And I bet he was glad he did it, too, as he was treated to a throwback Sokoudjou performance against beer commercial actor Dennis Komkin.
The weird thing about the kick, which happens just after the 3:00 mark of the video, is how anticlimactic it was. Delayed reaction from the ref. No reaction from Sokoudjou at all. The fact that the fight apparently took place in a piano lounge didn't help much, either.
Nevertheless, a powerful, thudding blow from the former phenom.
Division: Light heavyweight
Event: Resurrection Fighting Alliance 2, March 30, 2012
Result: Maurice Smith def. Jorge Cordoba by KO (head kick), 2:05 of Rd. 3
Maurice Smith did this when he was 50 years old. That's a high number. But he sure looked like a punisher against Cordoba.
Media analysis: That announcer should have gotten more excited. Don't be afraid to let loose in there, Brosephine!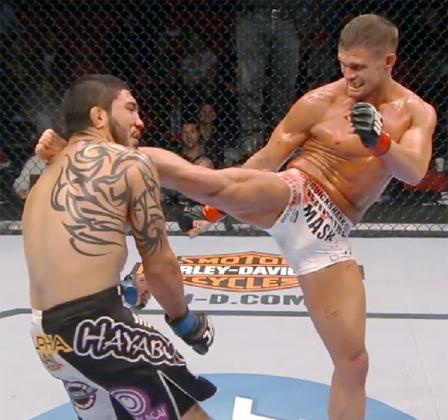 Photo credit: Cage Wall.com
Division: Lightweight
Event: UFC on Fox: Henderson vs. Diaz, Dec. 8, 2012
Result: Daron Cruickshank def. Henry Martinez by KO (head kick), 2:57 of Rd. 2
Plenty of tweeters were doffing their caps to the toughness of Martinez, who absorbed more than his share of shots throughout. Turns out he was merely a Wiffle ball, his toughness the tee.
Cruickshank spent a lot of time working the solar plexus. Accordingly, Martinez had his hands low. WHAM.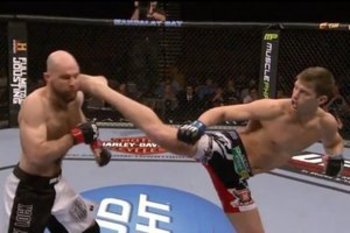 Photo credit: Bloody Elbow
Division: Welterweight
Event: UFC 143, Feb. 4, 2012
Result: Stephen Thompson def. Dan Stittgen by KO (head kick), 4:13 of Rd. 1
Blindside: (1) To hit or attack on or from the blind side, or (2) To catch or take unawares, especially with harmful or detrimental results.
Thompson literally blindsided Stittgen here. He just sends the foot right up over Stittgen's shoulder and drops it on his jaw. Ka blam, is what I say to that.
Division: Lightweight
Event: Bellator 76, Oct. 12, 2012
Result: Eddie Alvarez def. Patricky Freire by KO (head kick and punches), 4:54 of Rd. 1
This may very well have been what touched off this current bidding frenzy around Alvarez. But it was a great kick on an elite opponent in Freire, and it re-established Alvarez as a force in any promotion's 155-pound division.
Division: Middleweight
Event: UFC on FX 7, Jan. 19, 2013
Result: Vitor Belfort def. Michael Bisping by TKO (head kick and punches), 1:27 of Rd. 2
This one gets extra points for coming during a main event that took place in the cradle of MMA and aired around the world. Belfort matched and raised the left high kick he threw at the end of the first round with a shin-to-skull explosion in the first phase of the second.
Under the lights, Belfort delivered. Bisping didn't. But that's a story for another slideshow.
Division: No idea...welterweight?
Event: Some time in October 2012
Result: Mikhail Balakirev def. Some Dude by KO (Rolling Wheel Kick), during one of the rounds
As you may have noticed, details on this one are a bit sketchy. But who cares...just the watch the video. I mean...wow.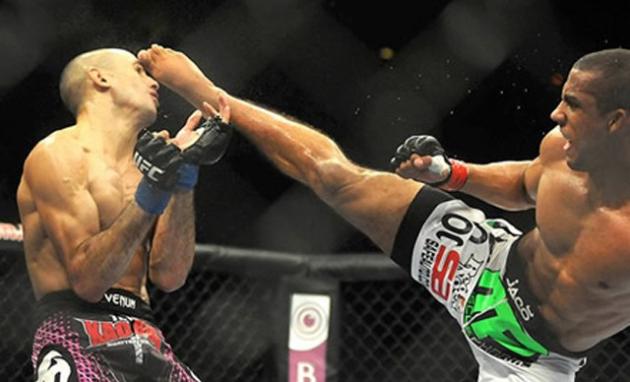 Photo credit: Fight Day/Heavy MMA
Division: Lightweight
Event: UFC 142, Jan. 14, 2012
Result: Edson Barboza def. Terry Etim by KO (spinning wheel kick), 2:02 of Rd. 3
Barboza's downright cinematic iron-boarding of poor Terry Etim received Knockout of the Year honors from the UFC and several other places. And deservedly so. It's hard to imagine a head kick KO—hell, any KO—as perfectly awesome as this one.
Barboza's kick will probably exist at the top of these kinds of lists as long as these lists exist.
Follow Scott Harris on Twitter.