Atlanta Falcons: 5 Cost-Effective Moves the Falcons Can Make This Offseason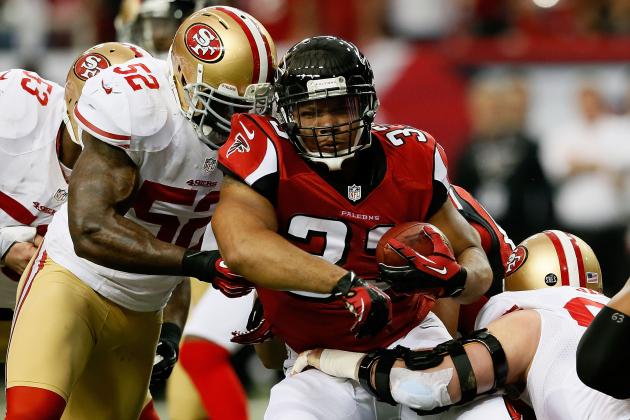 Kevin C. Cox/Getty Images
Releasing Michael Turner will be a no-brainer for the Falcons this offseason. But what are the other moves the Falcons should make?
On the heels of the Atlanta Falcons' NFC Championship Game loss to the San Francisco 49ers, the offseason may be the last thing fans are thinking about.
But as slow as time may be passing right now, March will soon be upon us.
At that point, it'll be time for the Falcons to seriously consider the most cost-effective moves they can make.
The Falcons currently sit at just under $113 million. With the salary cap expected to be somewhere around $120 million, that doesn't give too much room to work with.
Making the following five moves, however, would help.
Begin Slideshow

»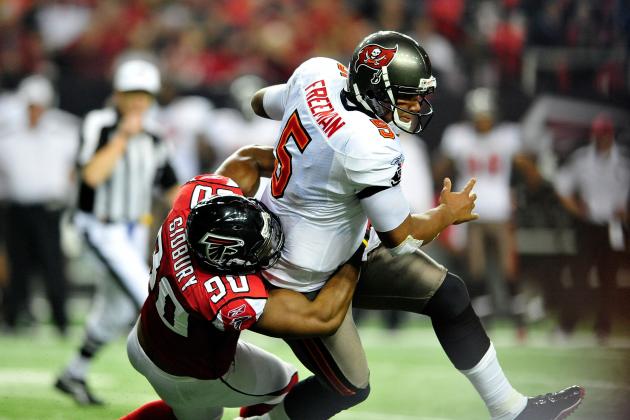 Grant Halverson/Getty Images
In a contract year, Lawrence Sidbury didn't do enough to warrant an extension.
One tackle.
That's defensive end Lawrence Sidbury's stat line for the entire 2012 season, one in which he saw action in just 10 games.
Most of that came on special teams for the third-year veteran—far from the breakout season expected of him after he recorded four sacks in 2011.
Perhaps last season was just a fluke for Sidbury; maybe first-year defensive coordinator Mike Nolan didn't feel he fit his schemes. Whatever the reason, it's clear Sidbury is no longer wanted in Atlanta.
Considering he's set to hit free agency this offseason after completing the last of his four-year, $2.19 million rookie deal, giving Sidbury his walking papers would be simple addition by subtraction for the Falcons.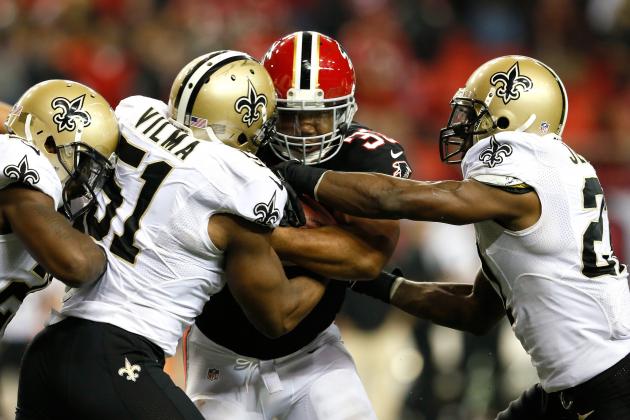 Kevin C. Cox/Getty Images
Michael Turner will be making more than he's worth if the Falcons keep him in 2013.
Running back Michael Turner's time is up.
After taking on a workhorse role in ex-coordinator Mike Mularkey's run-heavy offense from 2008 to 2011, Turner took a backseat in first-year coordinator Dirk Koetter's high-flying passing attack this season.
The result: Turner went from 301 carries for 1,340 yards and 11 touchdowns in 2011 to just 222 carries for 800 yards and 10 touchdowns this year.
But it wasn't just scheme that led to Turner's decline in production—age played a big role too, as the 30-year-old Turner ran with noticeably less burst and power than in years past.
Turner still has one year left on his contract, but he's not going to get any faster anytime soon. Cutting him now would allow the Falcons to save $5.5 million toward the cap next season—money better saved for other players, like Turner's eventual replacement.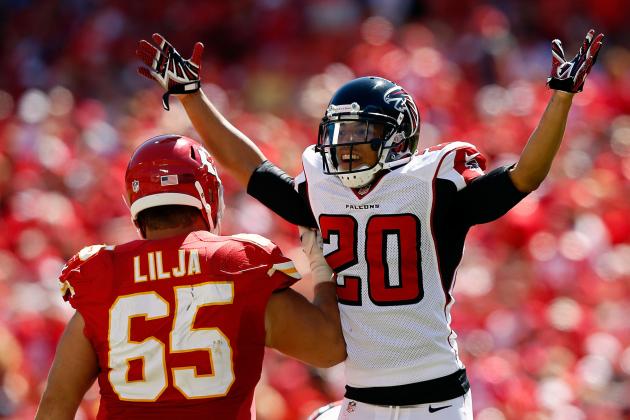 Jamie Squire/Getty Images
Brent Grimes will be looking for a big pay day. The Falcons shouldn't give it to him.
When cornerback Brent Grimes went down for the season with an Achilles injury in Week 1, it looked as though his loss would be a big blow to the Falcons secondary.
But there to step in almost seamlessly was third-year veteran Robert McClain, who went from camp body to starting nickelback alongside Dunta Robinson and Asante Samuel.
McClain went on to impress all year long, proving to be one of the team's surest tacklers and displaying exceptional ball and cover skills.
The 29-year-old Grimes, a free agent in 2013, will surely be chasing a top-dollar, multi-year deal year after playing at a Pro Bowl-level in the 2009 and 2010 seasons and entering 2011 under the franchise tag.
Yet despite all of Grimes' talent, he's simply an expendable luxury at this point with the blossoming McClain presenting the Falcons with a cheaper and more sustainable long-term option.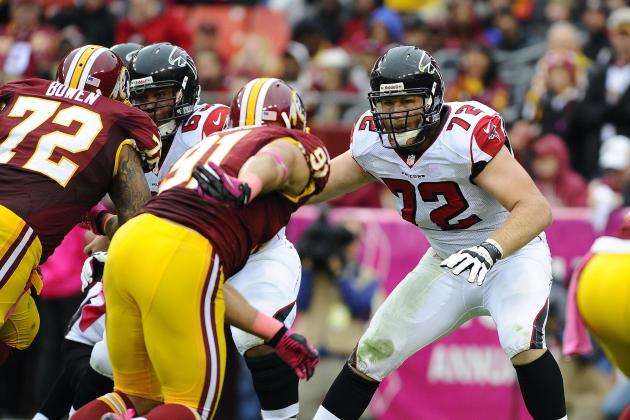 Brad Mills-USA TODAY Sports
Re-signing Sam Baker will be cheaper than acquiring a big-name free agent.
No, Sam Baker likely will never be a franchise left tackle.
But in 2012, the fifth-year veteran proved to be good enough.
At this point, the Falcons can't ask for much more.
Baker, a free agent this offseason, is coming off the final year of the rookie deal worth $13.5 million he signed in 2008.
If the Falcons re-sign him at a slightly higher cost, it would not only be cheaper than trying to acquire a high-prized free agent to fill the position, but logical as well. Falcons third-round pick tackle Lamar Holmes is waiting in the wings to take over the starting job—after all, why pay top dollar for a franchise tackle now if you could develop one for cheap later?
Streeter Lecka/Getty Images
Matt Ryan deservedly is set to be the Falcons' biggest cap hit of 2013. Still, the Falcons surely would like to lower it.
The rumors started to swirl Sunday when Fox insider Jay Glazer reported that the Falcons are looking to extend Matt Ryan's contract this offseason.
Despite Sunday's loss to the 49ers, there's no question Ryan is the future of this team and a big pay day awaits him on the horizon.
But whenever it does come, the Falcons should make sure to structure it well.
Ryan's cap hit for the 2013 season is currently set to be $10 million, the biggest on the team. Ryan undoubtedly deserves it, though with how tight the Falcons currently are under the cap, it would make sense to structure his extension so that the brunt of Ryan's deal comes in 2014 and beyond.
All stats retrieved from NFL.com. All player contract information retrieved from Spotrac.com.