Most Well-Rounded Fighters in Each UFC Weight Class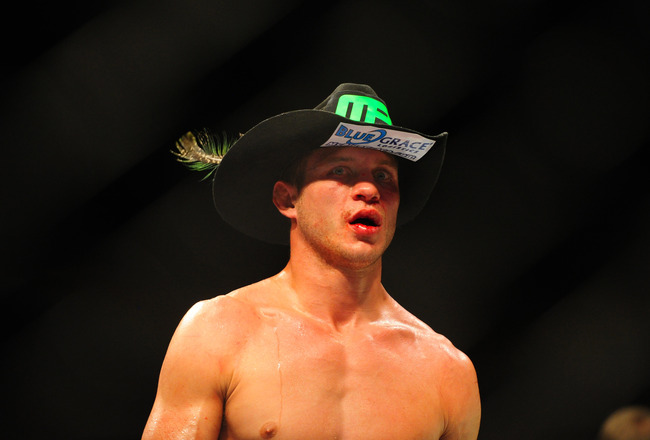 Mark J. Rebilas-USA TODAY Sports
What exactly does it mean to be well-rounded?
Is it a fighter's ability to mesh individual disciplines like striking, wrestling, jiu-jitsu and muay thai into one polished arsenal?
Or, is it a fighter's ability to finish fights, maintain composure, strike with intelligence and keep a focused game plan?
Truthfully, it can be either. But for a meaning that's often tossed around the sport of MMA these days, there's only a handful of athletes currently gracing the UFC roster that encompass the essence of truly being well-rounded.
In no specific order, here's how they break down.
Flyweight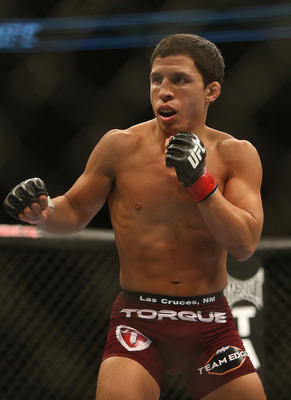 Tom Szczerbowski-USA TODAY Sports
Demetrious Johnson
Johnson's innate ability to strike with speed and precision from changing angles truly allows him to pick opponents apart. When fighters try to take this away from "Mighty Mouse," he uses excellent wrestling skills, takedown defense and sharp transitions to keep the fight standing. He's, by far, one of the most well-rounded fighters on the planet.
Joseph Benavidez
Despite losing to the aforementioned Demetrious Johnson, Benavidez is still one of the most well-rounded small fighters in the sport today. His striking has evolved immensely over the years, turning an athletic wrestler into a bona fide finisher. In any case, the 28-year-old has been nearly unbeatable throughout his career due to his world-class conditioning and overall will to win.
John Moraga
Not too many people know who Moraga is, so it should come as a surprise that he's on this list. With that said, the 28-year-old's track record suggests he does in fact belong here. Having only lost to the explosive John Dodson throughout his 14-fight career, Moraga has been able to mesh excellent wrestling with athleticism to stop most of his opponents.
Not to mention, his submission game is evolving every time he competes, and his natural punching power ranks alongside some of the best flyweights in the world.
Bantamweight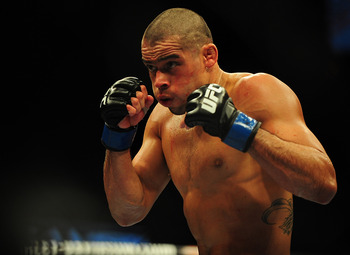 Anne-Marie Sorvin-USA TODAY Sports
Dominick Cruz
Cruz's world-class footwork and controlling takedown defense have translated into one of the best bantamweight arsenals in the world. He's used it in the past to eliminate power wrestlers, athletic strikers and submission experts. The UFC champion may not be the best jiu-jitsu practitioner in the division, but his length and overall discipline instantly make up for it.
Renan Barao
There's a reason Barao hasn't lost in nearly eight years. He's downright nasty. With a blackbelt in Brazilian jiu-jitsu and one of the most explosive striking games in division history, the interim champion has looked unstoppable in the UFC. Not to mention, he's only been taken down once in his last six fights.
Urijah Faber
Despite looking like an aging veteran who should test the waters as a flyweight, Faber still possesses one of the best overall games in MMA. His striking is crisp, even though he has trouble using it against longer opponents, his wrestling is elite and his guillotine is world-class.
It's troubling to think he's not even close to a title shot in 2013, but Faber should have no problem finding success.
Michael McDonald
McDonald isn't just a 21-year-old knockout specialist who may end up becoming the youngest UFC champion ever by the end of the year. He's also a great kickboxer who possesses a brown belt in Brazilian jiu-jitsu. McDonald also has one of the best guards in the division, as well as an 86 percent takedown rate.
Featherweight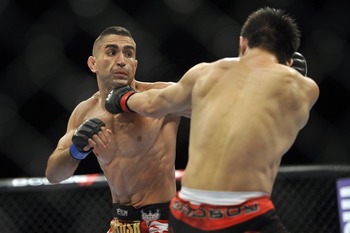 Joe Camporeale-USA TODAY Sports
Jose Aldo
Never really mentioned alongside Anderson Silva, Jon Jones, and Georges St-Pierre as the best pound-for-pound fighters in the world, Aldo truly possesses one of the best skill sets possible. With bone-crushing kicks, explosive punches, worthy submissions and one of the best takedown defenses in the world, the Brazilian hasn't tasted defeat in over seven years.
Frankie Edgar
There's no doubt that Edgar is going to be more dangerous as a featherweight than he was as a lightweight titleholder. That's truly scary to think about.
Regardless, at any weight, Edgar possesses elite footwork, one of the best chins in the business, and the scrambling ability of a mongoose. It's going to be interesting to see how he handles the more athletic Jose Aldo early next month.
Chan-Sung Jung
What can be said about Jung that hasn't been seen in his fights? Not much. The guys have literally done everything inside the cage. From great power striking to unfathomable submissions, "The Korean Zombie" has showcased elite talent in every facet of his fight game. He needs a title shot sometime this year.
Ricardo Lamas
There's a few other featherweights that could have landed in this spot, but Lamas truly deserves it. He's done nothing but evolve as a fighter over the past few years, including a submission victory over Cub Swanson and a destructive decision over Hatsu Hioki.
In any case, Lamas has displayed an ability to defeat an opponent by any means necessary. He can take them down, throw them around, submit them, strike with them or just grind out a victory by using his natural strength.
Honorable Mentions
Dustin Poirier, Chad Mendes, Erik Koch and Cub Swanson
Lightweight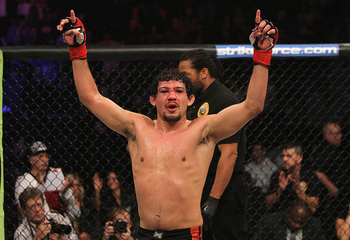 mmasucka.com
Benson Henderson
As one of the most physically superior lightweights to ever grace the Octagon, Henderson has displayed sheer dominance over the past few years. As the current titleholder, the dynamic fighter needs to keep everything in perspective.
As long as he can maintain his ability to sling powerful kicks and utilize his power wrestling to stay off the mat, "Smooth" will stay a deadly force.
Gilbert Melendez
The UFC newcomer is ready to showcase his world-class skills on the grand stage. Coming over as the former Strikeforce lightweight champion, Melendez poses an immediate threat to Benson Henderson's title reign.
Having trained with the Diaz brothers over the past few years, Melendez often utilizes dirty boxing, excellent ground transitions and a sound takedown defense when he competes. He's one of the best 155-pound fighters in the world for a reason.
Nate Diaz
Despite getting tossed around by the much stronger Benson Henderson in his most recent defeat, Diaz should still progress as a title threat in 2013. His precise boxing and timely submission attempts are beyond elite, and his ability to get in the mind of an opponent is second to none.
At the end of the day, Diaz is a world-class gamer. A guy who can make any fight interesting and test the waters in any facet.
Donald Cerrone
Easily one of the best pound-for-pound kickboxers in the UFC today, Cerrone also possesses a submission game that's often regarded as a divisional bar. He'll ultimately have a shot at beating Anthony Pettis next weekend on FOX in order to make a run at the lightweight championship later this year.
It'll be interesting to see if Pettis can finally give Cerrone his first KO/TKO defeat of his career.
Honorable Mentions
Jim Miller and Anthony Pettis
Welterweight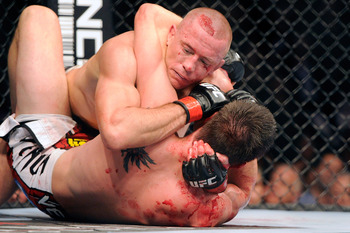 Eric Bolte-USA TODAY Sports
Georges St-Pierre
This should come as no surprise. Georges St-Pierre has been one of the best fighters in the world for nearly a decade. He's displayed an ability to beat opponents down physically and mentally.
By utilizing his superior athleticism and world-class conditioning, GSP can beat any welterweight on the planet. His chin may not be the best around, but his striking, wrestling and transition game surely is.
Nick Diaz
Just like younger brother Nate, Nick Diaz has encapsulated the fight world by turning nearly every single one of his fights into an all-out brawl. Capable of pushing the pace against any welterweight in the UFC, as well as some middleweights, Diaz often crushes opponents by backing them up into the fence and slinging punches in bunches.
It's a game plan that has dismantled the very best.
Carlos Condit
Condit's kickboxing skills, evolved submissions and knockout power all culminate into one of the most well-rounded games in the sport today. He was practically a few punches away from finishing Georges St-Pierre in their title fight after leveling the champion with a head kick.
In any case, Condit is a tough out for any fighter. He's gritty, wears his heart on his shoulder, and never seems overwhelmed or afraid to sling leather.
Rory MacDonald
More or less GSP 2.0, MacDonald has done everything in his power over the past two years to show why he deserves a shot at the welterweight title sometime in 2013.
The 23-year-old has only lost to Carlos Condit in his entire career, using strong takedowns, punishing ground-and-pound and unmatched cardio to wither opponents. He's truly the new breed of top-level MMA athletes.
Honorable Mentions
Nate Marquardt and Martin Kampmann
Middleweight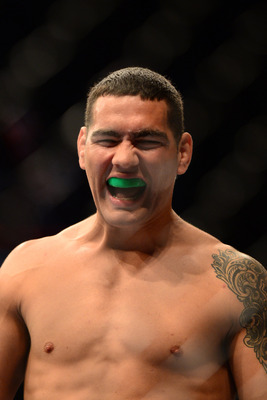 Kyle Terada-USA TODAY Sports
Anderson Silva
Needless to say, Silva is the best fighter of all time. He didn't earn that title by just utilizing one discipline and beating opponents with one destructive skill. He's done it by molding nearly every MMA facet into one glorious arsenal.
From last-second submissions to front heel-kick knockouts, Silva has tread water in the middleweight division since his arrival and has traversed the light heavyweight ranks with relative ease. His spot on this list goes without saying.
Luke Rockhold
Quite possibly the least-hyped fighter coming over to the UFC from the dissolved Strikeforce roster, Rockhold could have immediate success in the middleweight division for various reasons.
First off, he's a punishing athlete. Maybe the most athletic guy in the division. Secondly, he's a tremendous striker on the back of elite kickboxing skills. Lastly, he knows how to finish fights and does it fairly often.
Chris Weidman
Similar to Rory MacDonald, Weidman evolved in the sport of MMA by training in nearly every facet of fighting. From wrestling to striking, jiu-jitsu to muay thai, Weidman seems to have it all figured out.
Just to show his versatility as a future middleweight title contender, the 28-year-old dismantled submission specialist Demian Maia and the heavy-hitting Mark Munoz in the same year. That's pretty impressive.
Honorable Mention
Ronaldo Souza, Alan Belcher and Hector Lombard
Light Heavyweight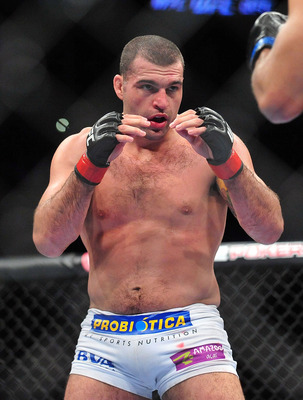 Gary A. Vasquez-USA TODAY Sports
Jon Jones
Similar to Anderson Silva, Georges St-Pierre and Jose Aldo, Jones has found great success in the UFC by implementing various techniques and disciplines when he fights. To think that his striking has evolved to where it is today in just a matter of four years is beyond comprehension.
That dedication and overall knack for soaking up all the knowledge he can has led Jones to becoming a future Hall of Famer. He already has the most submission victories in UFC light heavyweight history and has finished the very best fighters in the world. He's done it by attacking every part of an opponent's body until they fold.
Alexander Gustafsson
Based on size, Gustafsson seems like the best bet to give Jon Jones a run for his money. Stylistically, as well as skillfully, the Swede is a threat to not only Jones, but any light heavyweight in the world.
With great grappling skills, excellent kickboxing, punching precision and the natural ability to finish fights, Gustafsson has become one of the most well-rounded young stars in the game.
Mauricio "Shogun" Rua
Rua can bang with anyone. From Dan Henderson to Lyoto Machida, the former UFC light heavyweight champion has displayed elite talent against the very best in the world. He has found it difficult to string victories together, but that's a result from stepping inside the Octagon with the intention of producing some of the best fights of the year.
In any case, Rua poses an immediate threat on his feet with crisp kicks and lunging punches, off his back with a good guard and especially in the clinch with devastating uppercuts.
Lyoto Machida
Quite possibly the best counter-striker to ever grace the Octagon, Machida is still a world top-three light heavyweight. His ability to defend his opponent's best shots has launched Machida to the top of the division over the past few years.
He's displayed world-class jiu-jitsu, karate, grappling and takedown defense. Not to mention, he possesses unsuspecting power in each one of his limbs.
Honorable Mentions
Phil Davis, Gegard Mousasi, Rashad Evans and Glover Teixeira
Heavyweight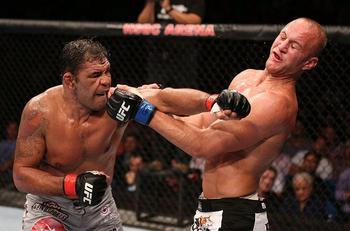 mmaopinion.co.uk
Cain Velasquez
After dismantling Junior dos Santos on his feet, it's safe to say that Velasquez now possesses a deadly striking game. That's alarming, considering the guy is already one of the best takedown specialists in the world.
Now, he's going to find it much easier to either land heavy bombs on an opponent's chin or shoot for a double leg and batter his foe via ground-and-pound. In other words, Velasquez may be the most dominating heavyweight champion the UFC has ever seen.
Many people consider Mir a declining contender who probably won't make another title run. While that prediction does hold some merit, considering his recent flop against Junior dos Santos, it just isn't fair to the 33-year-old. The fact of the matter is that Mir is still young enough to make one more run.
He still possesses the best submission game in the heavyweight division and is still capable of striking with any opponent outside of the division's Top Five. If he can knock off Daniel Cormier in April, people will jump back on the Mir bandwagon.
Alistair Overeem
When people think about "The Demolition Man," they think about the bruising kickboxer who knocked Brock Lesnar into retirement. But more often than not, those are the people who don't know how and when Overeem made a name for himself in the sport.
The guy busted onto the MMA scene all the way back in 2005 when he submitted Vitor Belfort in Pride to spark the Middleweight Grand Prix tournament. Now while Overeem is much bigger now and has more success laying his legs into opponent's ribs, he does still possess the ability to submit almost any heavyweight in the UFC.
So even though he doesn't possess Velasquez's wrestling or Mir's willingness to snap bone, he's capable of doing more than punching and kicking.
Minotauro Nogueira
It's crazy to think that Nogueira is slightly underrated these days. Sure, he's an aging veteran who's had more surgeries than Greg Oden (for my basketball lovers out there), but the Brazilian still possesses one of the most dangerous arsenals in the game.
He can roll with anyone, literally anyone, and can throw down with some of the best strikers in the heavyweight division. Needless to say, he's a guy you never want to sleep on.
Honorable Mentions
Antonio "Big Foot" Silva and Stefan Struve
For more UFC news and coverage, Follow @DHiergesell
Keep Reading