49ers-Falcons: Atlanta's Biggest Winners and Losers from Sunday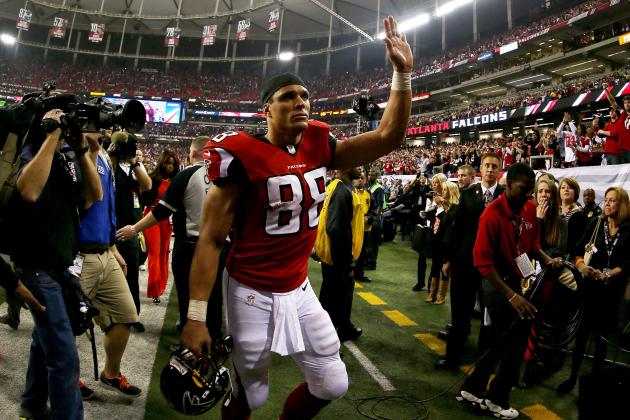 Mike Ehrmann/Getty Images

To San Francisco 49ers fans, Sunday's NFC Championship was an instant classic. For Falcons fans, the other side of the pillow wasn't cool anymore.
For the second straight week, the Falcons surrendered a three-score lead. This time, Matt Ryan couldn't pull the win out like he had done so many times before.
Atlanta scored just one touchdown in the three tail quarters, as the 49ers outscored them 28-7 en route to the Super Bowl.
Here are the winners and losers of Sunday's classic contest.
Begin Slideshow

»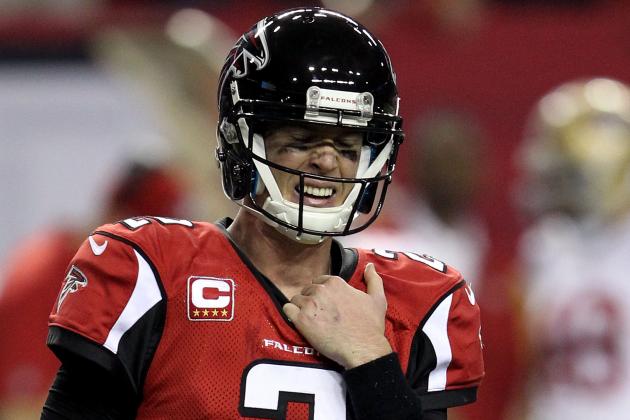 Streeter Lecka/Getty Images

People are going to say things about Matt Ryan. Those people are going to be very wrong.
A mishandled snap, interception and a third-quarter timeout definitely changed how the game ended for Matty Ice, as did the simple fact his fourth-down pass fell incomplete in a situation where he has flourished throughout his career.
But, against the apparent best defense in football, Ryan completed 30 of 42 passes for 396 yards and three touchdowns for a quarterback rating of 114.8.
This team has lived and died on the arm of its quarterback time after time in the past five years, and most of the time he's done the unthinkable, as he did last week.
Ryan is the franchise. Atlanta is going to be a Super Bowl contender as long as he's under center in a Falcons jersey.
Streeter Lecka/Getty Images

Stephen Nicholas has been considered one of the more underrated linebackers in the NFL.
Unfortunately, he didn't show much on Sunday.
Nicholas had serious trouble covering 49ers tight end Vernon Davis and also got the Falcons into trouble with a very uncharacteristic (that's an understatement) personal foul penalty.
Nicholas is a very good player with starting potential, but he chose the wrong time to have a bad game.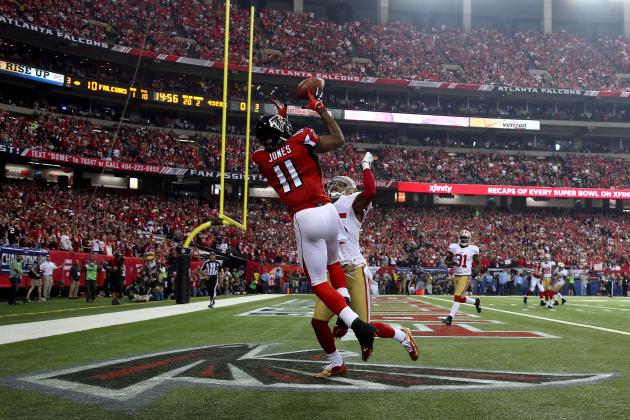 Chris Graythen/Getty Images

As of right now, no NFL receiver not named Calvin Johnson can make a person shake their head like Julio Jones.
The All-Pro receiver had an all-world game, catching 11 passes for 182 yards and two touchdowns.
Jones showcased his ability to stretch the defense, as well as some sticky hands and great jump-ball ability.
There will never again be questions about the draft picks traded to get Jones. He's a game-changing talent.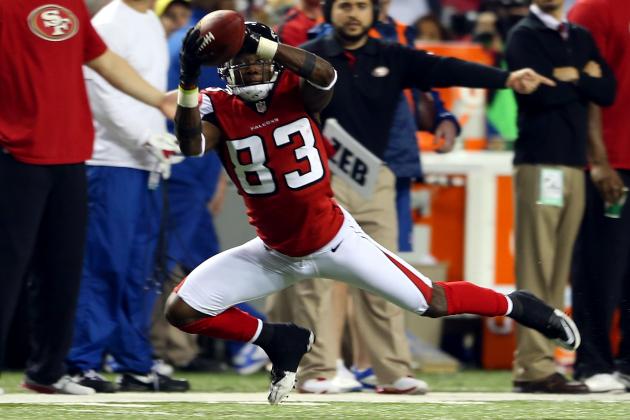 Mike Ehrmann/Getty Images

You hate to say it, but Douglas was on the end of a major game-changer.
Yes, the ball that looked to have been dropped was called a catch and the Falcons advanced field position.
But, the ball thrown to Douglas wasn't inaccurate. Douglas was wide open but stuttered a tad on his way to track it and had to dive to make a catch.
Had Douglas run clean, he could have easily caught that pass and taken it to the house. There wasn't a single defender behind him.
A score there would have given Atlanta a very late 31-28 lead.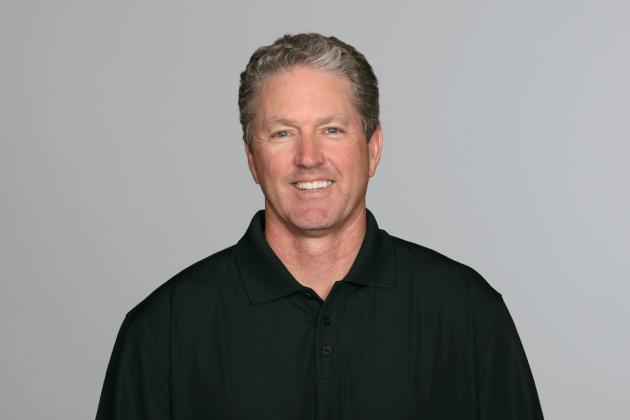 Handout/Getty Images

Falcons offensive coordinator Dirk Koetter had a fine game.
Once again, a more creative and loose running game meant more yards and honesty from the defense.
But the real awe came from the fact San Francisco simply could not find a way to stop Atlanta's passing attack. The Falcons arsenal of weapons once again proved to be too much for any defense.
And, Koetter's willingness to go deep definitely showed in the first half. Turnovers cost the Falcons points, but Koetter's offense only stopped itself.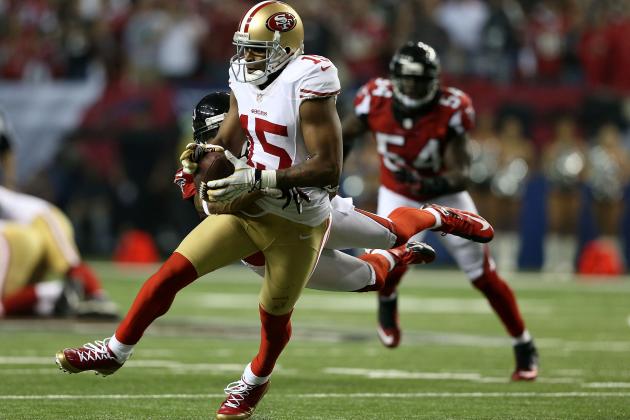 Streeter Lecka/Getty Images

Atlanta's defense did not have an answer for San Francisco's passing attack.
Falcons defensive coordinator Mike Nolan did a good job in the first half of neutralizing the option, but Colin Kaepernick settled in and quickly proved he's quite a pure passer.
Nolan couldn't adjust, as the 49ers dominated the majority of the game by finding huge gashes in the passing zones and running lanes.
Nolan is a great coordinator and needs a ton of added depth and defensive talent. If Atlanta bulks this defense in the offseason, it will look like the best team in the NFC.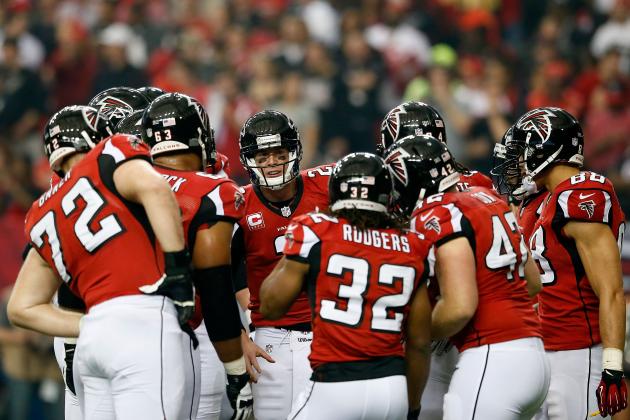 Kevin C. Cox/Getty Images

San Francisco came into this game with a feared defense. Aldon Smith and Justin Smith were more than expected to have a great game.
They didn't.
The Falcons front five held their own and kept Matt Ryan protected enough to make throws down the field. Yes, Ryan took a hit at the end of the game that may turn out to be a significant injury, but the Falcons offensive line proved its worth by not allowing a single sack.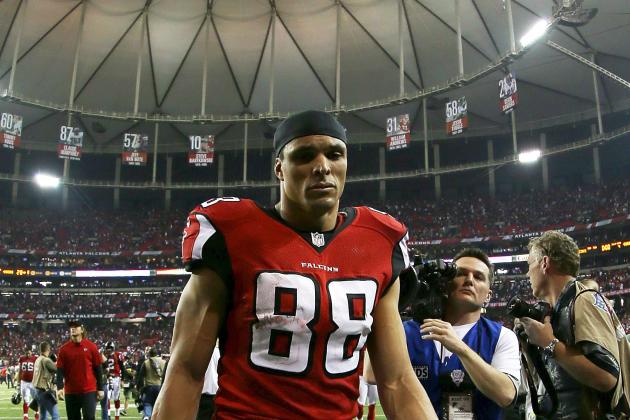 Mike Ehrmann/Getty Images

It's hard to believe, but Tony Gonzalez may have just played his final game as a Falcon. There's a lot of heartbreak on that face.
Gonzalez caught eight passes for 78 yards and a touchdown in the loss. His scoring grab gave the Falcons a 24-14 halftime lead.
He said he's 95 percent sure he's retiring, but some think that remaining 5 percent could multiply after a gut-wrencher like that.
Gonzalez brought an X-factor to this offense that will never be replaced. If this was truly his last game, every NFL football fan needs to take the time to thank him.
There was no greater football player to walk off that field on Sunday than Tony-G.