Pittsburgh Steelers: 5 Potential New Starters for the 2013 Season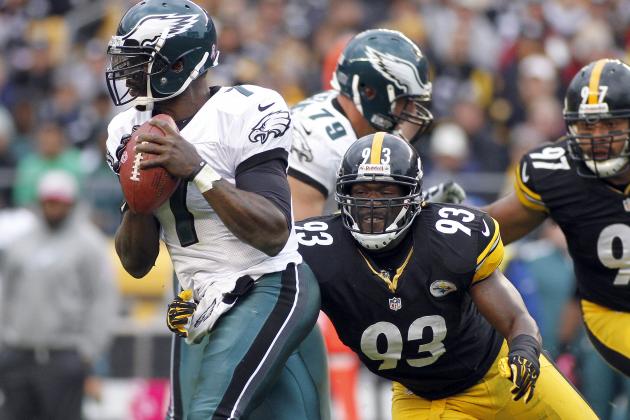 Justin K. Aller/Getty Images
Jason Worilds will start at outside linebacker if the Steelers release James Harrison.
A missed playoff appearance could mean big changes for the Pittsburgh Steelers roster. General manager Kevin Colbert let it be clear that the team must make changes if they are to return to the playoffs in 2013.
"When you're 12-4 and a playoff team, sometimes you get mesmerized by your success and you get a little reluctant to change," Colbert told the Pittsburgh Post-Gazette, according to Ed Bouchette.
"If we don't change a roster that produced 8-8, we'd be silly to expect a better result."
The Steelers may not have a choice but to make some major changes as they will be at least $10 million, over the salary cap, according to ESPN's John Clayton, while having to make decisions on the 24 free agents (via Rotoworld) that they have.
Free agents include several of the Steelers' top offensive weapons—Mike Wallace, Emmanuel Sanders, Rashard Mendenhall, Jonathan Dwyer and Isaac Redman—as well as starting linemen Max Starks and Ramon Foster.
They are not without free agents on the defensive side of the ball where starters Keenan Lewis, Casey Hampton and Larry Foote all could test the open market.
But that does not mean all of the players will depart.
Pittsburgh will likely keep many of its restricted free agents and even some of the veterans at reduced costs. Foote told 93.7 the Fan that he would return at a reduced cost.
While an upgrade is necessary at inside linebacker, retaining Foote would be beneficial while second-year linebacker Sean Spence recovers from a knee injury.
However, the Steelers will be limited with how many veterans they can bring back, meaning players such as Wallace, Mendenhall and Hampton could depart leaving the Steelers in the need to fill their positions with new starters.
With NFL free agency less than two months away, here are five potential new starters for the 2013 season.
Begin Slideshow

»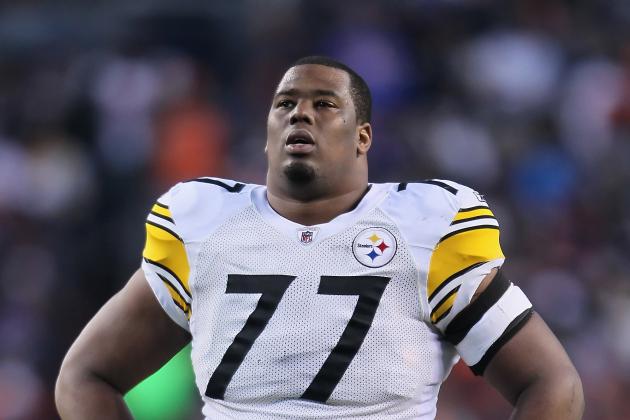 Jeff Gross/Getty Images
Marcus Gilbert will start at left tackle if Max Starks is not re-signed.
Max Starks has been a fixture on the Steelers' offensive line for a long time now, but that time may be coming to an end, and Starks knows it (via Mike Bires of the Beaver County Times).
Any time you draft tackles in the second round in back-to-back years, I think it's their plan to have them as the starting left and right tackles in the future. That's their goal. So being a realist, I am not expecting to be back.
That leaves Marcus Gilbert and Mike Adams as the options to start at left tackle. If last year was any indication, the job will go to Gilbert.
Last February, Kevin Colbert told 93.7 the Fan that the Steelers planned to shift Gilbert from right to left tackle. Do not expect those plans to change.
Adams struggled as a rookie when given the opportunity to play left tackle and actually played fairly well once taking over the starting job at right tackle. He became a force in the ground game, and he should be even better there next season.
Besides Adams flashing potential at right tackle as a run blocker, he also has not shown enough in pass protection for the Steelers to feel comfortable with him at left tackle.
That leaves Gilbert to take over this position. He may not be as good as Starks, but he is better than Adams in pass protection and should at least be a serviceable option at the position.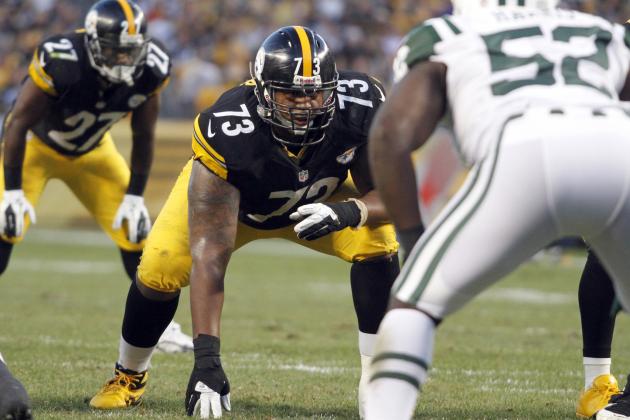 Justin K. Aller/Getty Images
Ramon Foster has experience at right and left guard.
Willie Colon has finished the year on the injured reserve for three straight seasons, and it is time that the Steelers find a more dependable option on the offensive line.
While they will miss the nastiness that Colon brings, they will not miss his undisciplined play.
In only 11 games, Colon had 10 penalties (three false starts and seven holding calls) and allowed four sacks.
Rather than continue with Colon, the Steelers should make the effort to re-sign Ramon Foster and plug him in at left guard.
Foster is a powerful lineman who can handle the large defensive linemen whom the Steelers face in the AFC North. He is also much more disciplined with only two penalties and four sacks allowed in 16 regular-season games last year.
What Foster lacks is some mobility, but that should not be much of an issue with Maurkice Pouncey and David DeCastro rounding out the interior of the line.
If the Steelers can't re-sign Foster, Kelvin Beachum should get first crack at the position and the Steelers should also spend an early draft pick on a guard.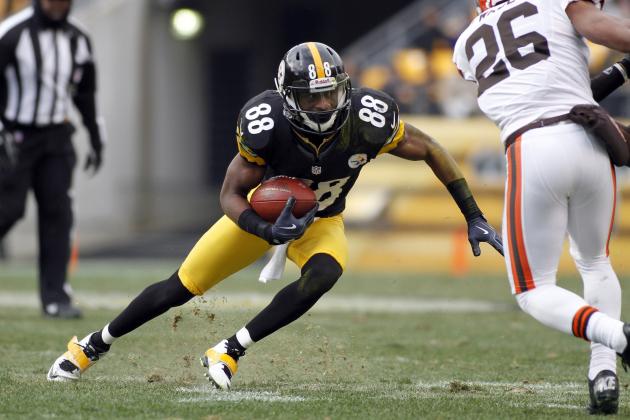 Justin K. Aller/Getty Images
Emmanuel Sanders may be a better fit in the slot than on the outside.
Mike Wallace has between a slim and none chance of returning to Pittsburgh and slim already has one foot out the door. That means that the Steelers must replace their biggest threat on offense.
The problem is it isn't easy to find receivers with the deep speed that Wallace has, and the Steelers will likely fill his role internally.
That means that the Steelers will re-sign Emmanuel Sanders and plug him in as the starter opposite of Antonio Brown. All of a sudden, you go from an intimidating deep threat lining up wide to a receiving duo that scares almost no one.
Sanders cannot replace Wallace's big-play ability or scoring production, and he may be even less physical than Wallace, who seemed to avoid contact at all costs.
Last year alone, Wallace had eight touchdowns—Sanders has five in his career. Sanders also doesn't have the deep speed that Wallace has and is not the type of receiver that opposing defenses will have to game plan for.
One advantage that Sanders will give the Steelers is that he is not afraid to go over the middle—though he did experience some ball-handling issues and drops this year.
In just one season, the Steelers went from a receiving unit that was supposed to be one of the deepest in the league to one that lacks a true No.1 option.
Sanders has some big shoes to fill, and he will not be able to do it alone.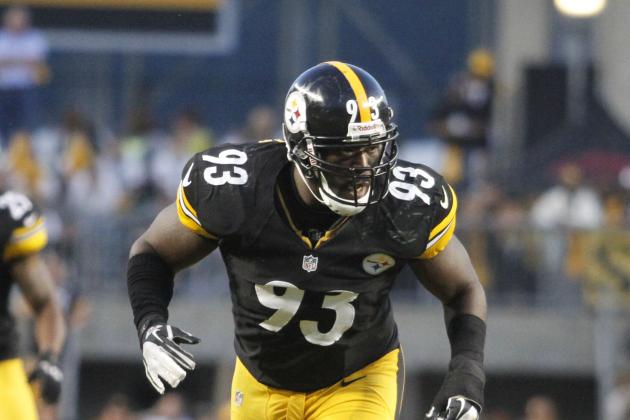 Justin K. Aller/Getty Images
There are still some questions as to whether or not Jason Worilds can be a starter.
James Harrison's time in Pittsburgh may be coming to an end if the Steelers feel that he is being paid too much given his lack of production—which he is.
This is no knock on Harrison, but age and injuries are beginning to get the best of the former NFL Defensive Player of the Year, and the Steelers need some fresh legs at the position.
That means that Jason Worilds will finally get the starting job.
Worilds was second on the team with five sacks while playing very little in 2012. This could be an encouraging sign moving forward.
Imagine what Worilds could do if he started a full season. He most certainly could put up at least 10 sacks. But beyond that, what does he offer?
Worilds has to do more than just rush the quarterback—something he hasn't done consistently, despite his numbers last year. He also needs to prove that he can be a force against the run as well as drop into coverage.
There is a lot to learn about Worilds, but there is a good chance that we will find answers to many questions next season.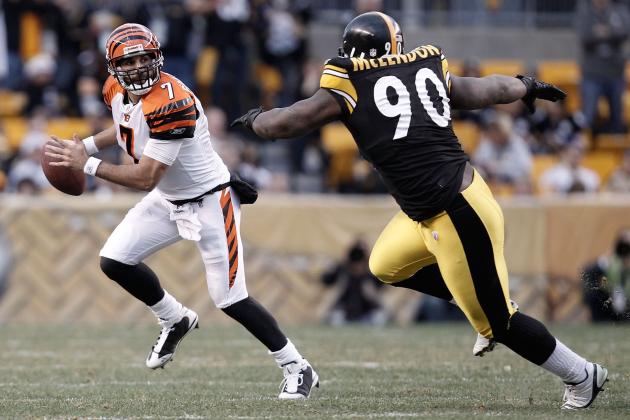 Jared Wickerham/Getty Images
Steve McLendon has shown enough to earn a starting role.
Ziggy Hood may be the strongest player in the weight room, but there is no player who plays stronger on the field than Steve McLendon.
McLendon figures to step in for Casey Hampton as the starter at nose tackle, and that will be a welcomed change.
While McLendon will not stop the run as well as Hampton does, he has the ability to collapse the pocket and is a pass-rushing threat from the middle. Last season, McLendon had two sacks in limited playing time and was able to put pressure on the quarterback a number of other times.
Hampton was solid from the middle of the season onward last year, but it is time to get younger.
The Steelers defense is built up the middle, and they must have a strong presence at nose tackle, inside linebacker and safety. They have a pretty good linebacker with Lawrence Timmons, a strong duo at safety with Ryan Clark and Troy Polamalu and McLendon would boost the presence in the trenches.
There may be some concerns with the new starters elsewhere on the team, but the team is in good hands with McLendon, as he will bring a new style to the defense to help stop the high-flying offenses in the NFL.