Oregon Football: 3 Reasons Why Bryan Bennett Needs a Position Change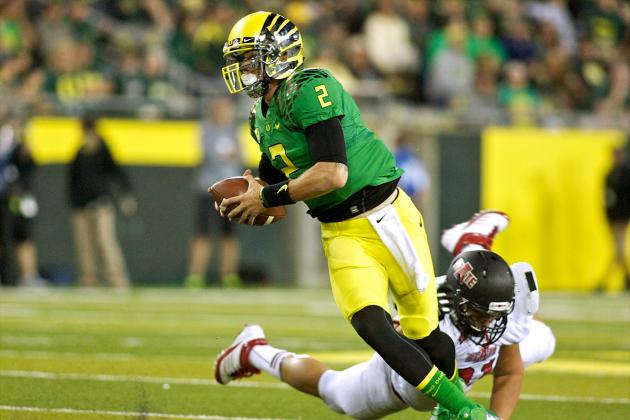 Craig Mitchelldyer/Getty Images

A year ago, most of us were almost certain that Bryan Bennett would be the starting quarterback for the Oregon Ducks.
Instead Bennett, a redshirt sophomore, was defeated by redshirt freshman Marcus Mariota in last year's quarterback competition to decide the replacement for Darron Thomas.
Now, there is no doubt in anyone's mind that Mariota should not be the starter, delegating Bennett to the bench, except in certain situations.
Bennett, however, is just too talented of an athlete for the Ducks, and new head coach Mark Helfrich, to keep off the field. Bennett has no future at quarterback with Oregon, so that means the Tarzana, Calif., native is going to need a position change.
Begin Slideshow

»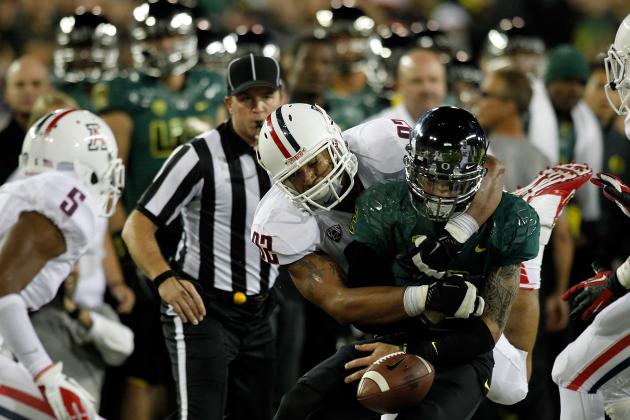 Jonathan Ferrey/Getty Images

As I said in the previous slide, Bennett has no future at quarterback at Oregon.
Mariota is just too darn good for Bennett to have any chance of beating him out. Bennett was also incredibly poor in mop-up duty last season, completing 54 percent of his passes for three touchdowns and three interceptions.
Does this mean Bennett will never throw another pass in an Oregon jersey? Of course not! It just means he shouldn't be a back-up anymore.
Chip Kelly and his staff did a wonderful job introducing a new formation with Bennett at quarterback and tight end Colt Lyerla at running back. The power tandem yielded success for the Ducks, which got me thinking, can we create a position for Bennett?
Bennett has got nice running ability, six touchdowns on the ground in 2013, but his stature (6'3", 200 lbs) does not fit that of a running back which means he'll have to do something else.
Or, Helfrich could just give him a Frankenstein-like position, much like De'Anthony Thomas, and we could see Bennett all over the field.
That's what I'm going with.
Bennett was also a starter in the secondary when he was in high school, so you may see Bennett playing on defense as well next season.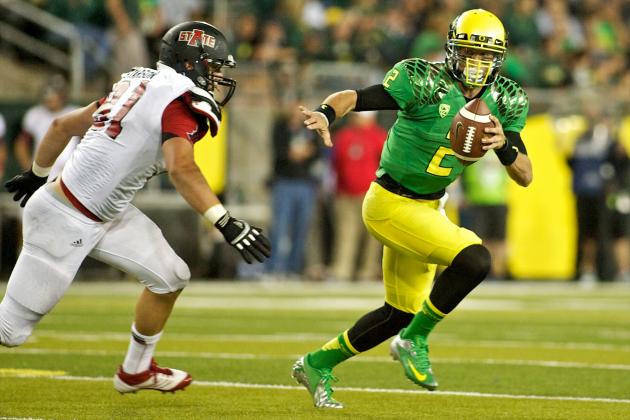 Craig Mitchelldyer/Getty Images

Bennett is an incredibly athletic young man who can contribute in all three aspects of an offense: running, receiving and passing, and keeping him off the field is a disgrace to the game.
With Mariota ruining any future that Bennett has as a quarterback at Oregon, Bennett needs to switch positions to play to Oregon's strengths.
It's no lie that Helfrich (still haven't gotten used to saying that yet) loves athletes, as evident with his incorporation in Oregon's offense the past four years, and Bennett is about as athletic as you can get.
Bennett can make plays with his feet and has the speed and strength to be a good receiver as well.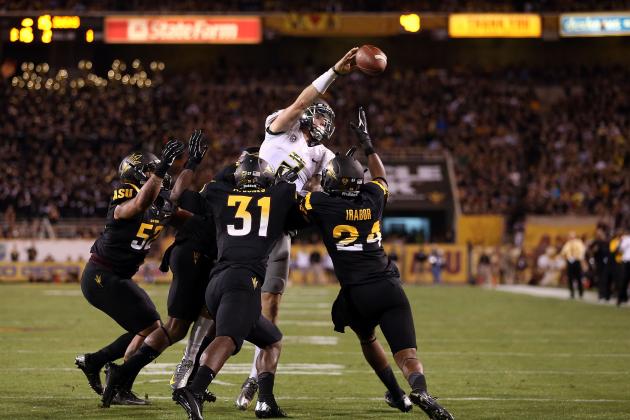 Christian Petersen/Getty Images

At 6'3", 200 pounds, Bennett has the ideal size for a receiver.
Next season, Oregon will only have two receivers over the height of 6'2", so Bennett's size at the position will be a huge boost for Oregon's receiving corps.
Bennett is a bulky 200 pounds,. which would also help bring some physicality and powers into Oregon's run game as well.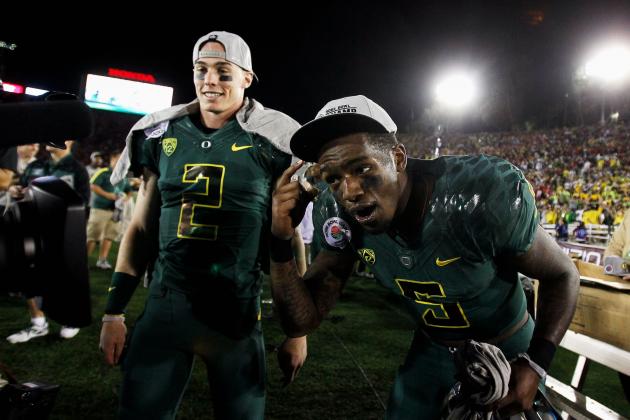 Jeff Gross/Getty Images

Twice, since losing the job to Mariota, has Bennett had the opportunity to transfer to any other school where could easily be a starter, and twice Bennett, has remained loyal to the Ducks and decided to stay at Eugene.
Bennett deserves the opportunity to contribute to the team and has earned the right to be more than the guy who comes in the game just to close for Mariota.
When Oregon has had guys like Jeremiah Masoli and Cliff Harris who continually run into trouble with the law and ruin the second chances, they are blessed to a receiver, can we please reward Bennett with substantial playing time?