Pittsburgh Penguins vs. New York Rangers: Live Score, Updates and Analysis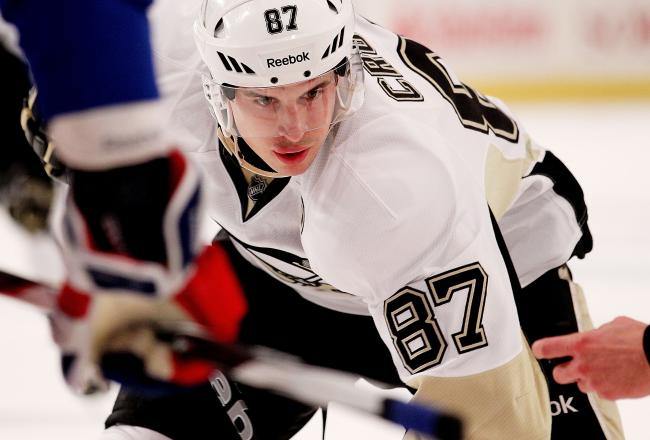 Nick Laham/Getty Images
The Pittsburgh Penguins chased Henrik Lundqvist in the 2nd period and never let up after that. The New York Rangers drop their home opener in a mildly embarassing fashion, as there was never really any doubt about this one.
Penguins - 6 Rangers - 3 is your FINAL SCORE
Signing off for the evening ladies and gentlemen.
Thanks for reading, hanging out and commenting. It's so good to have hockey back!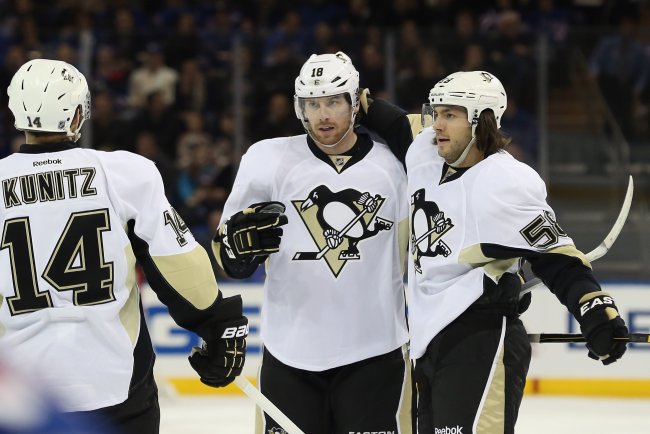 Bruce Bennett/Getty Images
Penguins on the other hand have been very impressive to start the season.
I've tried to catch at least 10 or 15 minutes of everyone that has played the last two days, and the Penguins have been among the best of them. No one in the NHL may be quite as fast and posses the team speed and IQ that they have in Pittsburgh.
Not a bad outing at all, what with beating the early season Cup favorites with a "backup" goaltender.
Scary note is that Crosby only has one assist thus far. Once he starts finding the back of the net, this team could be very hard to stop,
How impressive was Neal tonight though? He's developed such an outstanding chemistry with Malkin, and it shows nearly every time they are out there together.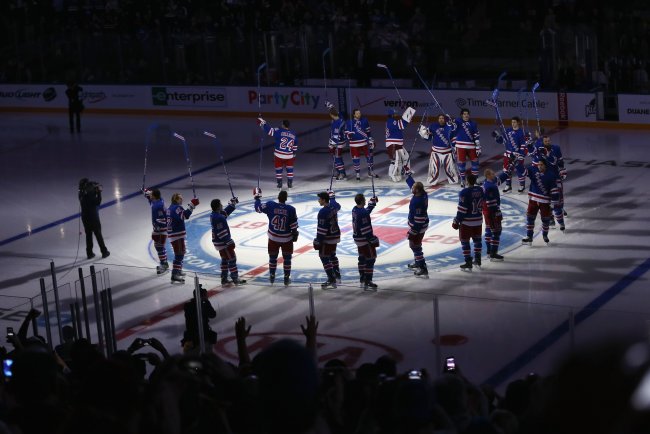 Bruce Bennett/Getty Images
The easy thing for Rangers fans to do at this point would be to kind of freak out. I'd hold off on that reaction just a bit.
You've got to remember that this is a team that has brought in several new faces, and will take some time to gel. I don't know what it is about New York, but they always seem to take a bit more time acclimating guys than other squads do.

Rick Nash is going to be outstanding for this hockey team. That line with him, Gaborik and Richards showed some flashes tonight that could turn out to be explosions by the end of the season.
Yes they got roughed up a bit in this game and against Boston, but they have the coaching and leadership to allow this one to roll of their backs. Just get back to business, and play some solid hockey in all three zones.
They also need to stay out of the box.
Luckily that's a much easier fix than, say, shoddy goaltending.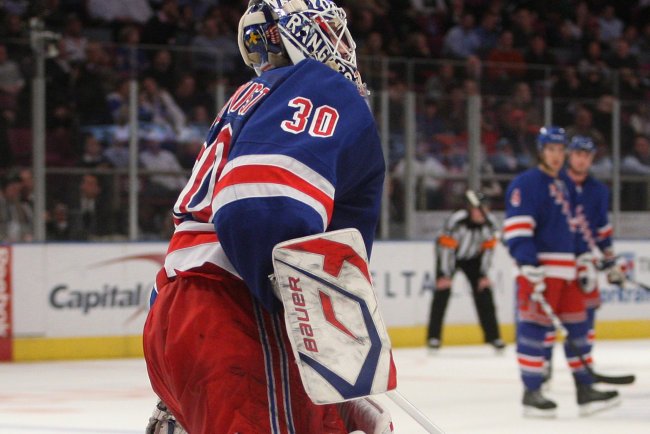 Bruce Bennett/Getty Images
Well there was never really any doubt about this game.
Rangers open the season with two straight losses, and the Penguins have won both of their games thus far.
James Neal was absolutley electric in this game, putting up 7 shots and making his presence felt every step of the way.
Rick Nash got his first goal as a Ranger, and perhaps getting that monkey off of his back is a positive to take away from this game. They looked better than they did yesterday, but just not good enough. Not a happy opening night for New York.
When is the last time you saw Henrik Lundqvist get chased?
Penguins - 6 Rangers - 3 is your FINAL SCORE.
Stick around for some parting thoughts and to chat.
Kreider skates off under his own power which is a good sign.
Bad sign is that he crossed the blue line with his head down. May want to text Eric Lindros and ask him how that typically goes.
Not sure if that was a clean hit or not. Need to see another replay.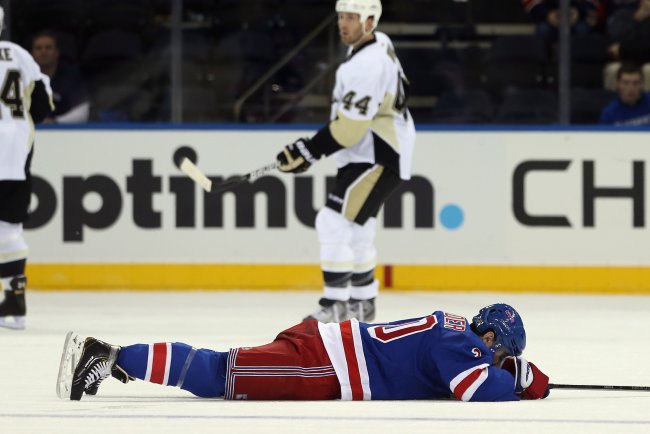 Bruce Bennett/Getty Images
Krieder just got lit up by Orpik and the kid is down.
KO.
Penguins 6 Rangers 3 Under a minute to play in the 3rd period.
Kris Letang kills any chance of a comeback as he scores into an empty net, with Biron pulled.
In a fitting play to end the evening, the Rangers turn the puck over at the line and it ends up in the back of the net. That little burst of competition was fun while it lasted.
Looks like it's going to be 4-on-4 to just about finish the game.
Adams smashed McDonagh, and the Rangers didn't like it. Matching minors.
Starting to see how dangerous this Gaborik-Nash-Richards connection could be.
Gabby has had three or four good looks here, and has whiffed on all of them. Rangers sustaining some pressure here...
Now lets see if the Rangers can mount their first real sustained pressure with this momentum. They haven't had much of that in this game, yet they still find themselves down by only a pair.
It seems like the Penguins have taken their foot off the gas here a bit. Playing their second game in 48 hours, that isn't surprising. If New York can find some fresh legs here, they can make this an interesting closing frame.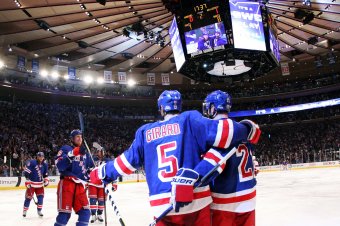 Bruce Bennett/Getty Images
Derek Stepan makes that play happen.
Nash scored short handed. Been a lot of talk about him being on the PK for the first time in his career. Maybe Torts was on to something.
Rangers within 2 with 5 minutes to go.
Rick Nash! Welcome to Broadway.
Rangers on the penalty kill again.
Penguins load 'em up, trying to set up Neal for the hat trick.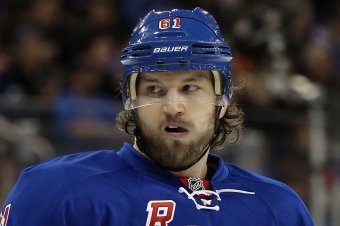 Bruce Bennett/Getty Images
There is a lot of talking going on between these two teams right now. I get the feeling like we could see some sort of mini-eruption as this game winds down.
Even Nash is getting into chirping matches, showing more care for his current Rangers team than he ever did in Columbus.
When he played for the Jackets I could have sworn he was Russian.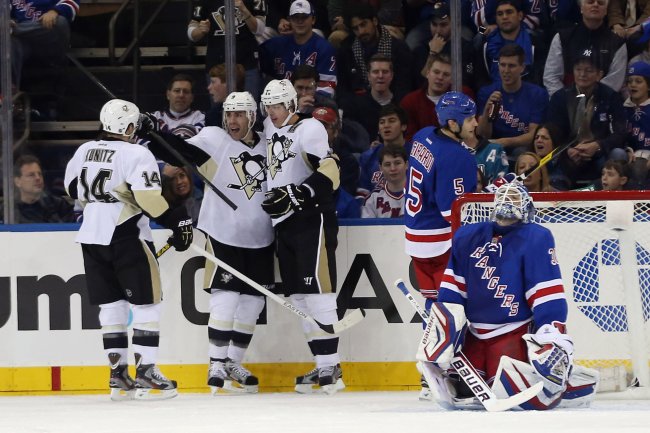 Bruce Bennett/Getty Images
Rangers are getting a first person taste of what it takes to be the class of the Eastern Conference. This is a team that could go the distance, but they are playing a lot of guys that have been there before.
Pens are making a mighty early season statement, beating the Flyers yesterday and manhandling the Rangers here today. These are two teams that are supposed to be able to hang with Pittsburgh.
Penguins kill off the penalty.
Very uneventful for a Rangers team that should be fighting for pride at this point. Not seeing any of that from New York.
Crosby-Malkin-Neal right back out on the ice after the kill. Crosby still looking for a point.
Rangers need to shoot. The. Puck.
Richards need to knock it off with the cute little drop passes. That's twice tonight that he's done that and the puck has ended up going the other way.
James Neal off for a slash.
Rangers load up on the power play. This could be a turning point in the game.
At least if they score here they'll have some more positives moving forward from this contest.
A lot of chatter between the two benches during commercial breaks.
Always gets entertaining when the coaches are getting into it. Maybe I spoke too soon about the lack of choppiness.
I was getting ready to say that this is when games tend to get a little chippy, but if you're the Rangers you have to keep pushing with the momentum from that goal.
They have the guns to get back into this thing. Another goal or a power play or two and this could get interesting instead of rough.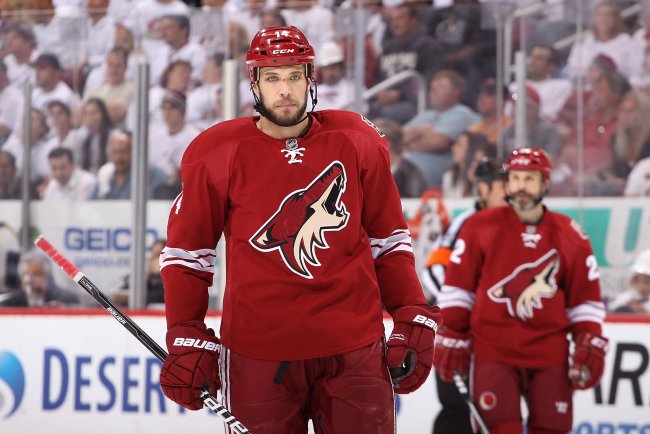 Christian Petersen/Getty Images
Taylor Pyatt from Del Zotto!
Almost a carbon copy of the Neal goal. Rangers have a little bit of life here.
Penguins 5 Rangers 2 13:37 in the 3rd Period
Neal scores on a pass from Malkin.
Never get sick of seeing those two names together.
Penguins - 5 Rangers - 1 14:49 3rd Period
Halpern and Rupp looked like Crosby and Malkin on that play. Slick.
This article is
What is the duplicate article?
Why is this article offensive?
Where is this article plagiarized from?
Why is this article poorly edited?