Cost-Effective Moves the Saints Can Make This Offseason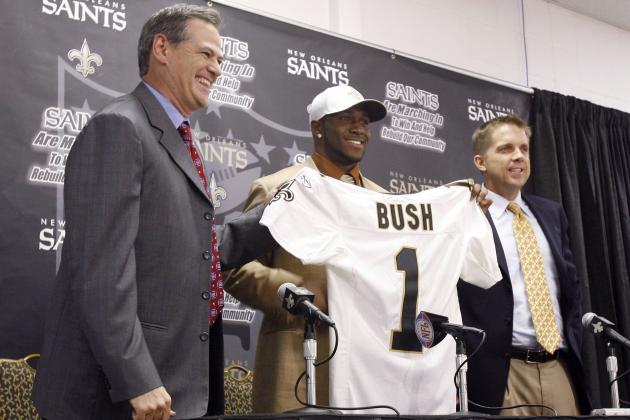 Chris Graythen/Getty Images
Needless to say, the Saints will not be looking to make the big splash in free agency or the draft that initiated the success of the franchise in 2006.
The New Orleans Saints promise to be cash-strapped in the 2013 offseason. Cost-effective moves are imperative for this team to get back to Super Bowl contention, which, of course, is the expectation for everyone in the organization—starting with Tom Benson but ultimately triggered by head coach Sean Payton.
The 2012 Saints finished 7-9, despite an expected win-loss expectancy closer to 8-8. With any luck, the team would have gone 10-6 and likely made the playoffs.
In other words, the team that finished 2012 is a good football team. Having Coach Payton back in two weeks can only help bring consistency and a calming effect to the Saints locker room.
Still, there are some minor moves, following some major restructuring to current team members, that the team can make which should increase the likelihood of regaining the clubs' winning ways.
Here are the most likely moves that could aid the Saints in 2013.
All contract information provided by Spotrac.com.
Begin Slideshow

»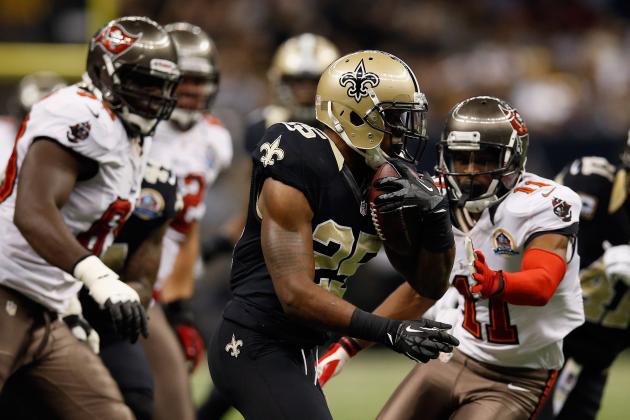 Chris Graythen/Getty Images

Rafael Bush is an exclusive-rights free agent—meaning the Saints are the only team who can sign Bush. Bush's only real option is to not play in 2013.
Because there are no other suitors for Bush's services, his value will stay relatively stagnant. Given his tremendous production at the second half of 2012, this is amazingly great news for Steve Spagnuolo and Sean Payton.
Spagnuolo will be allowed to employ a number of different sub-packages with Bush and have a plethora of gifted defenders at his disposal in 2013.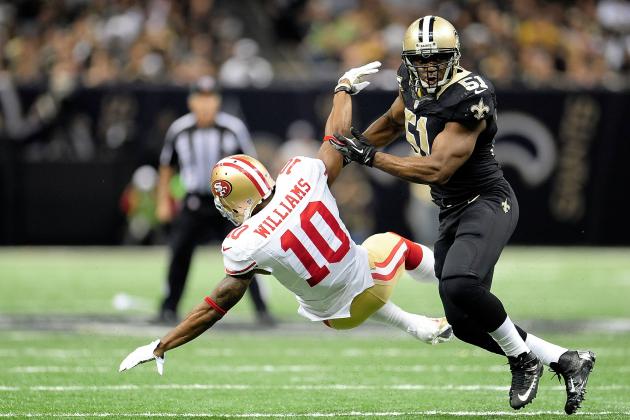 Stacy Revere/Getty Images

Jonathan Vilma is owed $4.8 million in 2013. His cap number figures to come in around the same number. For the production, Vilma is not worth that number.
With an expected $16 million figure needing to be cut from the cap in 2013—before the team can even begin re-signing its own players or signing free agents—Vilma is going to have to reduce that number.
Mickey Loomis has been a cap master in his time as the general manager of the Saints, thus it isn't as if that number is unworkable for the financial genius.
Because Vilma made a surprisingly nice transition to outside linebacker in 2012, the Saints are likely hoping to bring him back for at least one more season. Vilma, though, will have to swallow his pride by taking a lower-dollar deal to continue competing for the black and gold.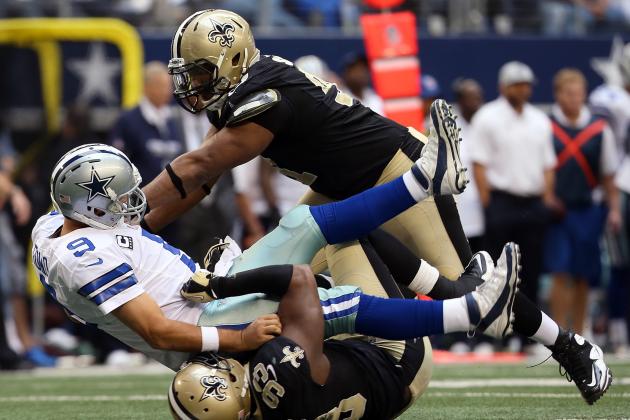 Tom Pennington/Getty Images

As Larry Holder said Thursday on The NOLA Rundown—you can listen here—Will Smith is one of those guys who knows something is going to have to be done with his contract this offseason. He has simply accepted that fact.
As Holder said on the show, Smith's cap number is north of $10 million, though he is set to make a $9 million salary.
Smith has only had two double-digit sack seasons in his career. Over the last three seasons, his seasonal high is just 6.5. But Smith is noted more for his ability to "set the edge" in the running game.
Forget the sack numbers, too, as Smith constantly arrived in the opponents' backfield in the latter half of the 2012 season. Sack numbers are only a part of what makes an effective pass-rusher. More important are the number of pressures that a player gets.
Those numbers are hard to authenticate, but it is fair to say that Smith's pressures made up for his lack of sacks. Even so, at age 31 (he'll be 32 on July 4), Smith is no longer the marquee name along the defensive line for New Orleans.
It is difficult to justify paying Smith more than the best player on the line, Cameron Jordan—who is owed approximately $1.5 million in 2013.
If Smith is willing to adjust his cap number to match that of Jordan—which understandably would be tough to swallow for the veteran—the marriage between Smith and the Saints can continue.
Otherwise, it would be better for both sides to break up and go their separate ways.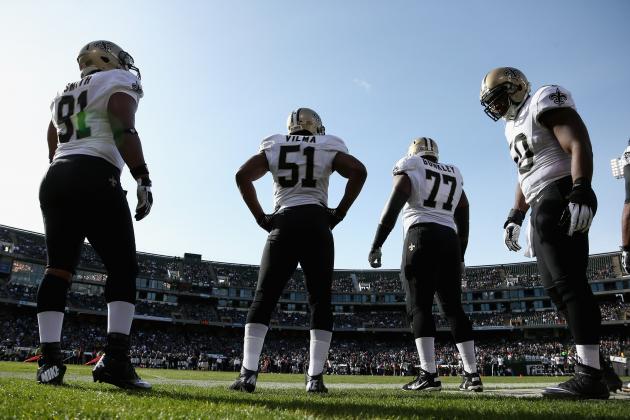 Ezra Shaw/Getty Images
Brodrick Bunkley is owed $3.7 million in 2013. He may not be anything more than a rotation player in 2013.
The statistics and film show that Brodrick Bunkley played well in 2012. Most of that increased production took place in the second half of the season—which conveniently coincided with the improvement of the defense as a whole.
His 2.5 sacks were nearly a career high. He greatly outperformed his DT linemate Sedrick Ellis in that number—which is funny since Bunkley's addition was supposed to free Ellis to create quarterback pressure. It worked the other way instead.
He also managed two passes defensed and combined for 23 tackles on the season in 15 games. Still, his play left something to be desired.
The Saints figure to be in play for one of the draft's premiere defensive tackles in the first round. Florida's Shariff Floyd, Ohio State's Johnathan Hankins or Missouri's Sheldon Richardson would each be excellent fits in Steve Spagnuolo's defense.
As such, Bunkley's role could be slightly diminished in 2013. Akiem Hicks figures to play a more important role, along with Tom Johnson.
All of that could mean restructuring Bunkley's contract to better fit his production.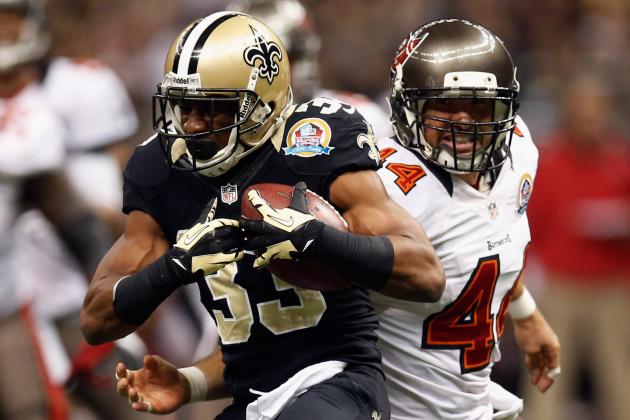 Chris Graythen/Getty Images

Mickey Loomis had Jabari Greer restructure his contract in the offseason of 2012. Greer was awarded for his efforts on the field—and the simple fact he was willing to help the cap-starved franchise—by gaining a deal that secured him as a Saint through 2015 (assuming the Saints do not cut him prior to that time).
Unfortunately, the move the two sides reached, and made in good faith that the most underrated cornerback in the NFL would continue to play at the same level, has backfired on Loomis and the Saints franchise.
Greer clearly lost a step in 2012. He is no longer the Saints' No. 1 corner. He is owed $3.6 million in 2013, $4 million in 2014 and $4.2 million in 2015.
The Saints cannot cut Greer, lest they end up paying a player who is not even wearing their uniform for the next three seasons.
The best solution is to be honest with Greer—who by all accounts is a reasonable person—by letting him know that his production slipped in 2012 and he is no longer the best corner the team has on its' roster.
As a result, he needs to be paid appropriately. He will never drop his salary from $3.6 million to Patrick Robinson's $725,000 level. But the Saints need to drop his cap hit as close to that level as possible (think roughly $1.5 million).
If anyone can do that, it's Mickey Loomis.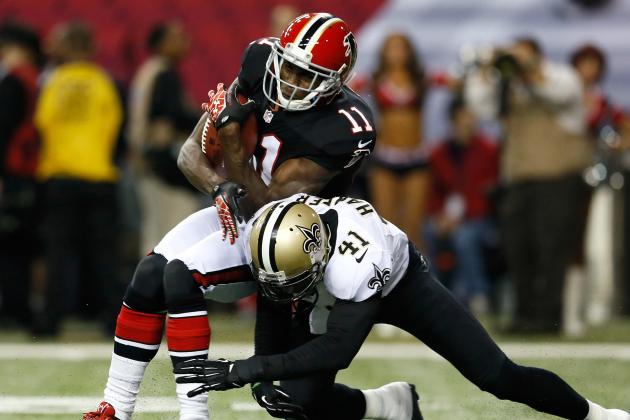 Kevin C. Cox/Getty Images

Roman Harper actually became a wonderful coverage safety in 2012 under Steve Spagnuolo. Of course, he was burned on a few occasions, but there is not a defensive back in football who is not burned at least 10 times in a 16-game season.
Statistical analysis appropriately gives credit to a career-high 11 passes defensed in 2012. He also notched two interceptions, which was the second most for one season in his career.
His tackles actually crept up to 89 solo tackles—a career high. In short, he had his finest season as a Saint in 2012. Still, Harper is making a ton of money for a player who is now 30 and lacks the ability to regularly convert interception opportunities into big plays.
Harper was the MVP of the Saints' secondary in 2012. But his $5.25 million cap hit in 2013 has to be staring Mickey Loomis right in the eye as he stares endlessly at his salary cap printouts.
He is owed $6 million in 2014 before becoming a free agent in 2015. The best bet for Loomis is to extend Harper in a similar manner to the Jabari Greer move last offseason.
Loomis can give Harper the long-term benefits and security to know he will remain in New Orleans, while also erasing some of the salary cap stress his current cap number places on the roster.
For a player destined to be a career Saint, it is really the only thing the team can do.
Assuming these five defensive players each take significant restructured deals, the Saints can save roughly $20 million for the 2013 season. Those moves should get them in positive figures and allow them to play with roughly $4 million in free agency.
Bush is an assumed re-signing, as is Elbert Mack. Together, they are likely to cost the Saints somewhere in the ballpark of $1.25 million. There are a few more moves the team can make, as follows.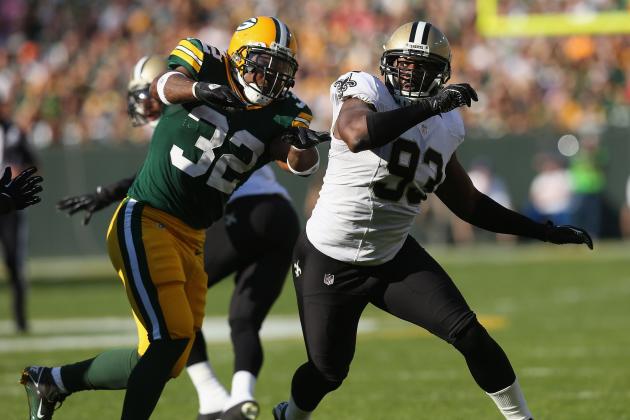 Jonathan Daniel/Getty Images

Since both Junior Galette and Brian de la Puente are restricted free agents, it is clear the Saints will re-sign each player.
That's a good thing since both are ultimately crucial members to the Saints' success. While de la Puente struggled at times in 2012, he figures to benefit from the reinstatement of Sean Payton, whose presence will only reinforce a quick-throw passing game in 2013.
Whoever the team gives authority to as offensive line coach, that coach will have some work to do in getting a unit likely to have two new starting tackles in sync with the rest of the line. Adding a new center to the fold wouldn't make a ton of sense.
As for Galette, re-signing him is essential for a team whose pass rush gained steam as the season moved along. The unit began understanding Steve Spagnuolo's rush schemes and perfected them.
In 2013, Galette will be a key player in the team going from a middle-of-the-road pass-rushing team to a top-of-the-line unit.
Also included in this slide should be reserve linebacker Jonathan Casillas, whose play in the nickel defense in 2012 exhibited his abilities and proved why the Saints decided to keep him for the past five years.
Finally, the Saints should re-sign Chase Daniel to a $2 million contract. Though he is now an unrestricted free agent, it is unlikely that any team will make a play for him to become its starting quarterback. Daniel is an ideal backup for Drew Brees in New Orleans.
These four players should cost the Saints approximately $7 million total to re-sign.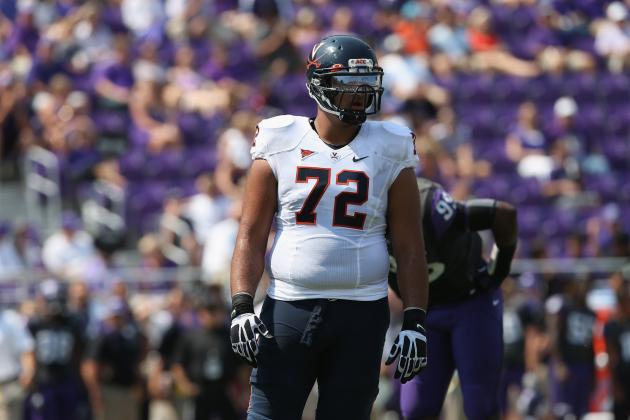 Ronald Martinez/Getty Images
Oday Aboushi is a senior offensive tackle from Virginia whose stock will rise through the draft process. He could become a first-round pick come draft day.
With the prescribed moves, the Saints will need a new left tackle to replace the departed Jermon Bushrod. Either in the first or third round, there will be good value available at the position. Oday Aboushi (pictured here) is a player who promises to climb up draft boards.
He projects as an NFL left tackle with nice pass-protection skills and enough physicality and agility to be effective in the run game. There are other options as well.
Either way, drafting a franchise left tackle promises to be significantly cheaper than re-signing Bushrod.
Additional depth can be found at outside linebacker, defensive end and tackle, along with a tight end and the possibility of an extra corner. Adding the center of the future makes sense, too.
Mickey Loomis will not be looking for Week 1 starters with any of his draft picks, save for possibly a first-round offensive-tackle selection. Thus, he can take the best player available and not overpay a single one of them.
It's nice to be the general manager for a team that is stacked with talent. It's even nicer to be in said position with Sean Payton set to return in two weeks.
There is a light at the end of the tunnel for the Saints. It includes many of the same players who finished the season in black and gold.
The 2013 version of the Saints will look largely the same as it did in 2012. But the salaries will be reduced, and the production increased.
What more can the Saints franchise ask for with the return of Coach Payton?