Cost-Effective Moves Washington Redskins Can Make This Offseason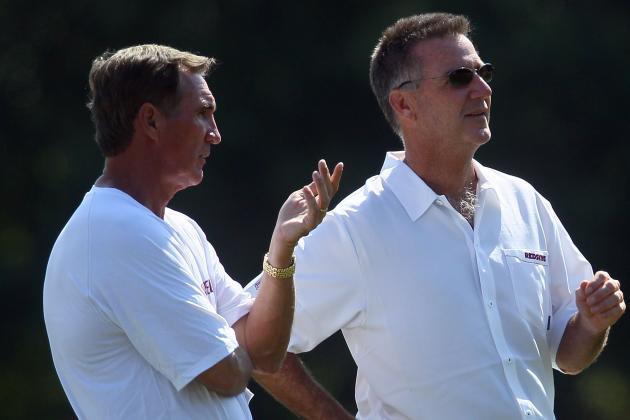 Win McNamee/Getty Images

Despite looming cap penalties that could set the team back $18 million this offseason, the Washington Redskins will still have the opportunity to make progressive moves for the organization that aren't necessarily harsh on the company dime.
Beginning with calls regarding last year's starters, the Redskins also have in-house decisions to make before entering April's draft. If the front office isn't confident in retaining certain contributors from last season, the team's draft strategy could certainly change.
Here are a few moves to get things started.
Begin Slideshow

»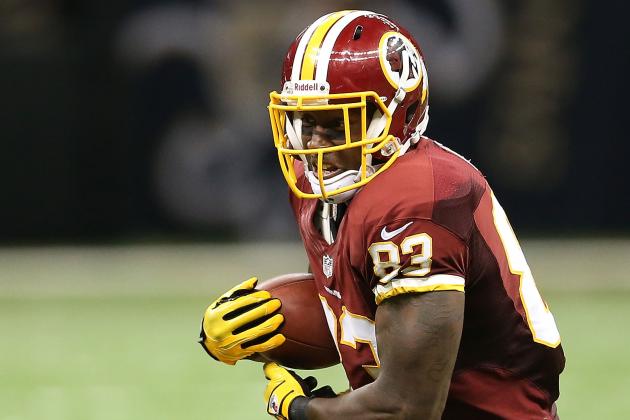 Ronald Martinez/Getty Images

After missing the last four games of the 2011 season due to suspension, tight end Fred Davis was hit with the franchise tag by the Redskins in 2012.
It was good timing for the Redskins, as they could retain the playmaking tight end they drafted three years prior and not lose much loyalty, considering Davis himself had disappointed the franchise.
During the first half of the Redskins' 27-23 loss to the New York Giants in Week 7, Davis tore his left Achilles tendon and was forced to miss the rest of the season. At that point, Davis' 23 catches for 312 yards led the team.
Considering the suspension from a year ago and his ugly injury from this past season, the Redskins will have a good chance at re-signing Davis for a reasonable price. In return, the Redskins retain a threatening tight end who should continue to mesh with Robert Griffin III and the young core on offense.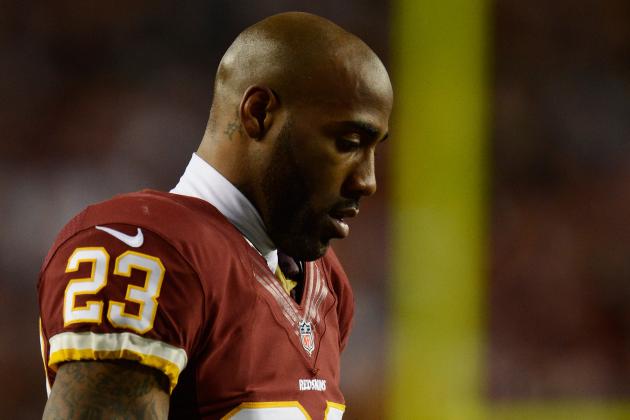 Patrick McDermott/Getty Images

Before the Week 9 bye, you'd be hard pressed to find a Redskins fan defending cornerback DeAngelo Hall and his play thus far.
Following the team's loss to the Carolina Panthers, however, Hall rebounded and helped the Redskins win seven straight on their way to an NFC East division title.
With two years left on his deal, Hall is due to make $7.5 million next season, and he has mentioned that he'd do "whatever it takes" to stay in Washington. If his words stay true, Hall should expect a decent-sized pay cut and maybe even a position move from corner to safety.
I criticized Hall early in the season and deservedly so, but Hall's play was a key piece to the Redskins' season and the defense's overall turnaround.
That said, Hall, who will turn 30 in November, isn't worth over $7 million next year.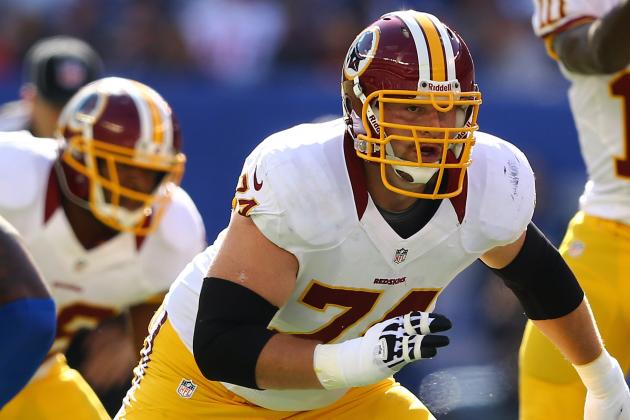 Al Bello/Getty Images

The Redskins may have addressed the right tackle position last offseason if they weren't hit with the first $18 million cap penalty. Instead, they went through with Tyler Polumbus holding down the right side, and he's set to become a free agent.
Although showing signs of decency here and there, Polumbus struggled a majority of the season, most notably in pass protection, and it'd be hard to imagine him being the team's primary option at right tackle next season.
In addition to free-agent names like Jake Long, Andre Smith, Branden Albert and Sebastian Vollmer, the Redskins also have last year's draft pick Tom Compton, who may or may not be ready by the time the season kicks off.
*Those free agent names aren't listed to imply the Redskins should go after any of them, or that they can afford their anticipated contract demands, but it is meant to give you an idea of the market.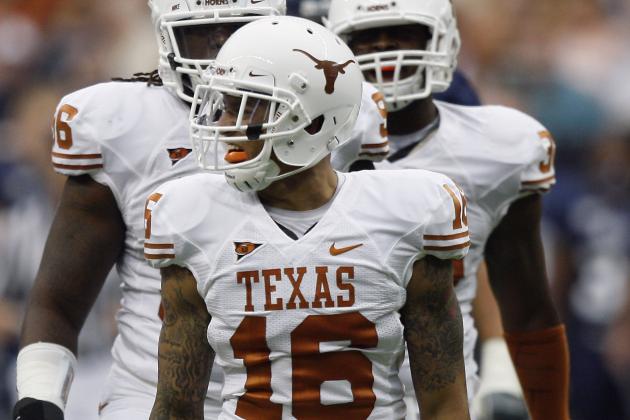 Bob Levey/Getty Images

Please disregard the enclosed photo of Texas safety Kenny Vaccaro. As my top-rated safety in the 2013 class and one of my biggest draft crushes this season, Vaccaro would simply be a delight in Washington.
Unfortunately, there's no way he's still around by the time the Redskins pick, and the team will still need to address its secondary. Although Brandon Meriweather showed promise during his brief stint last season, and rookie Richard Crawford took strides alongside cornerbacks DeAngelo Hall and Josh Wilson, the unit is far from settled.
If a guy like Lane Johnson from Oklahoma unexpectedly happens to fall, then taking a solid right tackle prospect wouldn't be frowned upon. Protecting RG3 would never receive such criticism. Otherwise, I would fully expect the Redskins to take a safety or cornerback with their first draft pick.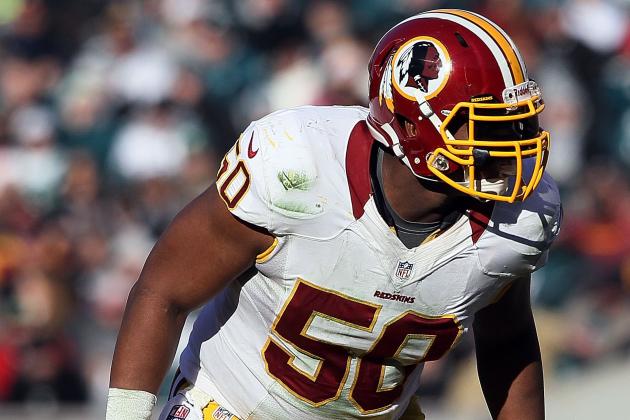 Alex Trautwig/Getty Images

Losing Brian Orakpo early in the year was one of the Redskins' biggest setbacks of the season.
On the other hand, Rob Jackson, Orakpo's replacement, was one the Redskins' biggest surprises.
Along with Jackson, fellow linebacker and special teams captain, Lorenzo Alexander, is set to become a free agent in 2013, and I would assume each are interested in returning to Washington.
Even when Orakpo returns to hold down the end opposite Ryan Kerrigan, the Redskins need all the pass-rushing talent they can get in order to provide a decent rotation. Rob Jackson provides that.
Both he and Alexander are important pieces to the team, both on and off the field, and both should be affordable this offseason.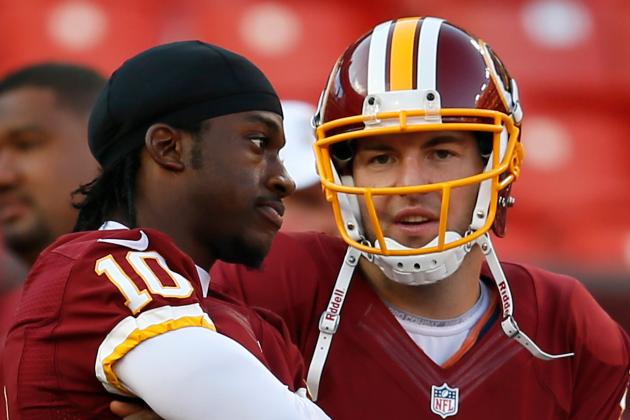 Rob Carr/Getty Images

Some fans may rejoice when hearing that Rex Grossman is set to become a free agent in 2013, but no one should get too excited.
As a guy who's completely on board for sitting Robert Griffin III for the entire season following his ACL surgery, I believe having a veteran quarterback to back up Kirk Cousins will be extremely important. And while I wouldn't necessarily put Grossman's name atop my list, I'm supportive of whomever Bruce Allen and Mike Shanahan deem best.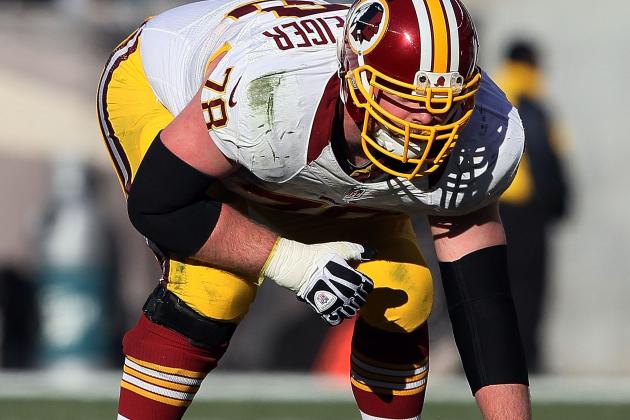 Alex Trautwig/Getty Images

The Redskins selected Josh LeRibeus in the third round of last year's draft after having lost starter Kory Lichtensteiger the year before to ACL surgery.
Lichtensteiger would start the 2012 season and play okay, but LeRibeus would get his chance at the end of year after 'Steiger was slowed by an ankle sprain, and the rookie showed very well.
Lichtensteiger will be a free agent this season, and the Redskins will need to make a decision as to whether he returns to the team. Although the veteran says he prefers to return, LeRibeus may have showed coaches enough to earn the starting nod in 2013, making Lichtensteiger more expendable.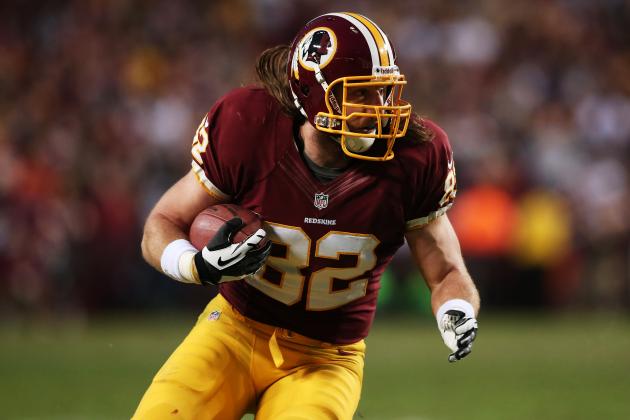 Win McNamee/Getty Images

The Redskins have a handful of restricted free agents who are all likely to return to the team next season. However, that's never a guarantee. The team needs to settle with these guys as soon as possible.
Fullback Darrel Young and tight end Logan Paulsen were both big-time contributors last season and spent valuable time as starters; Chris Baker played well enough along the defensive line, and bringing him back in order to add depth seems like a smart decision; and coaches showed the value they hold in long snapper Nick Sundberg when he went down with a broken arm early in the season.
As for return man Brandon Banks, also a RFA this offseason, the Redskins could easily move on and find a different way to implement speed on offense. His returning skills have diminished over the past couple seasons, his durability is questionable, and the team can find a better skill set elsewhere.