Duke Basketball: 5-Step Plan to Locking Up a No. 1 Seed in the NCAA Tourney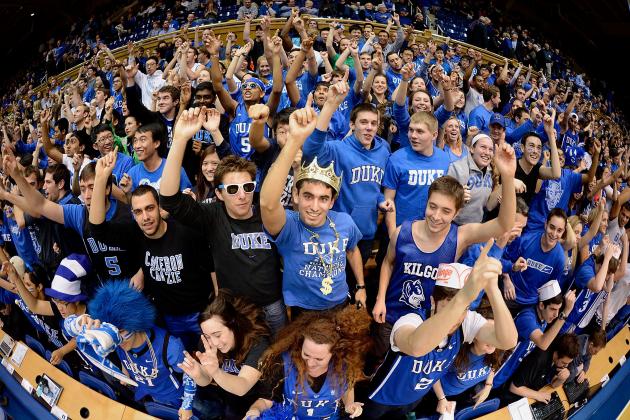 Grant Halverson/Getty Images

The success of each season for the Duke Blue Devils is measured by how well they fare in the NCAA tournament. Of course, a deep tournament run is made much easier by locking up a No. 1 seed.
In fact, three of Duke's four national championships have come from the No. 1 seed position. The outlier, the 1991 title, came from the No. 2 seed spot.
It follows, therefore, that for Duke to ensure that this season's early success is matched by a title run in the NCAA tournament, the Blue Devils' best bet is to lock up a No. 1 seed. That's almost assured so long as Duke wins either the ACC regular season or ACC tournament or both.
Of course success in the ACC is easier said than done.
In order to merit one of the four top seeds by winning the ACC regular season or ACC tournament title, Duke must focus on the following five areas.
Begin Slideshow

»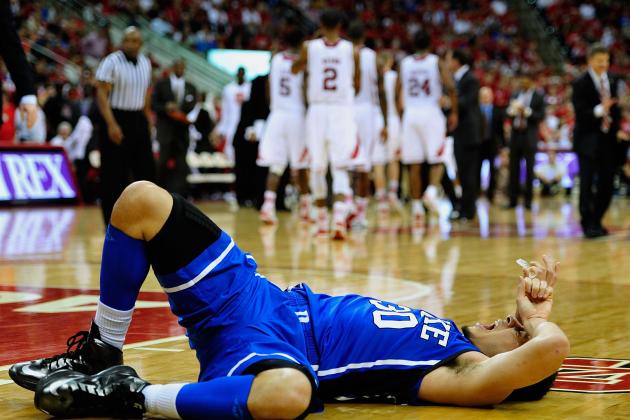 Grant Halverson/Getty Images

Fair or not, the NCAA selection committee factors in a team's injuries. If the selection committee anticipates an injury undercutting a team's regular-season accomplishments, it will punish the team with a lower seed.
In my opinion, that's ridiculous. The selection committee should only judge teams by their regular season resume and not the projected impact of an injury. Of course no one asked me for my input.
Duke has already been handed more than its fair share of injury problems. Another injury, especially to the already physically hamstrung Seth Curry, would sink Duke's chances to play well enough to earn a No. 1 seed.
But even if Curry manages to limp through the season effectively, if the grueling three games in three days ACC tournament schedule exacerbates his injury, then the NCAA may be less inclined to give the Blue Devils a top seed.
So not only does Duke have to stay healthy, it has to appear to be healthy so as to avoid the injury bias of the selection committee.
On the plus side, if Ryan Kelly comes back by the end of the season, the selection committee might be inclined to show bias in favor of Duke by assuming that Kelly's return makes the Blue Devils that much better.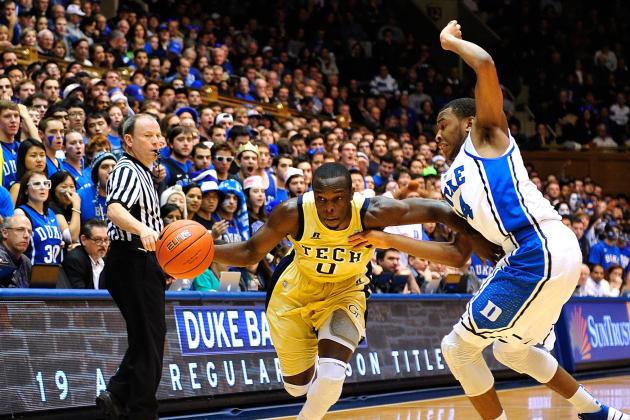 Grant Halverson/Getty Images

Part of being a No. 1 seed is establishing yourself as one of the best four teams in the country. When you look at the teams competing at the top of the current rankings alongside Duke, there's a common thread: They all run.
Louisville, Indiana and Michigan all play at a fast pace. One of the things Duke's loss to NC State highlighted is that Duke's transition defense leaves a lot to be desired.
Given Duke's rebounding struggles, there's a tendency for the Blue Devils to crash the boards. While that's great for the occasionally offensive rebound, it exposes the team to a quick strike on the other end.
Seth Curry isn't moving well due to his injury and Rasheed Sulaimon is just a freshman who hasn't fully figured out where his responsibilities lie in transition defense. If Duke can't play solid transition defense against the typically half-court minded teams of the ACC (NC State is an obvious exception to this), then the selection committee might be more apt to award a No. 1 seed to one of the teams playing a style that would likely exploit a massive flaw in Duke's game.
Improving its transition defense would not only increase Duke's odds at getting a No. 1 seed, it would aid the Blue Devils against up-tempo opponents they are likely to come encounter in the tournament itself.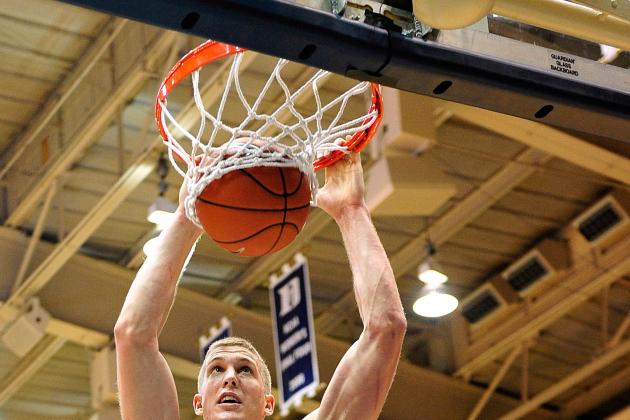 Grant Halverson/Getty Images

Duke should be running the offense through Mason Plumlee in the post. Against Georgia Tech, Duke showed that this was a point of emphasis. Unfortunately, Plumlee spent the first half drawing iron. For the first 20 minutes of the game, he shot 2-of-12.
Eventually, Plumlee started making shots, which forced Tech to double him in the post. Once the defense started to shuffle around in help defense, Duke's perimeter players were able to find space to shoot.
Another encouraging sight, in regards to Duke's post play, has been Amile Jefferson. Not only does Jefferson hustle for rebounds, he's shown a growing understanding of offensive and defensive positioning.
Josh Hairston has been decent on defense, but has yet to show up as a positive on the offensive side of the ball. In fact, Hairston has a bad habit of taking ill-advised shots from outside. Though Jefferson is just a freshman, he's more reliable than the junior Hairston to play within the parameters of the offense.
Jefferson has demonstrated that he's content to play defense, rebound and get points from offensive boards and inside dishes to him under the basket.
Marshall Plumlee and Alex Murphy will also be relied upon to make up for the loss of Ryan Kelly. In all, Duke must ensure that it has enough bodies to bang with physical teams like Miami and Maryland in order to capture an ACC crown.
Most importantly, the Blue Devils need to format their offense, through lineups and sets, to give Mason Plumlee the space to post up and he must make the most of his opportunities to score. Having a dominant player makes Duke tough to beat game to game, and that should assure the selection committee that it can reliably score against any opponent.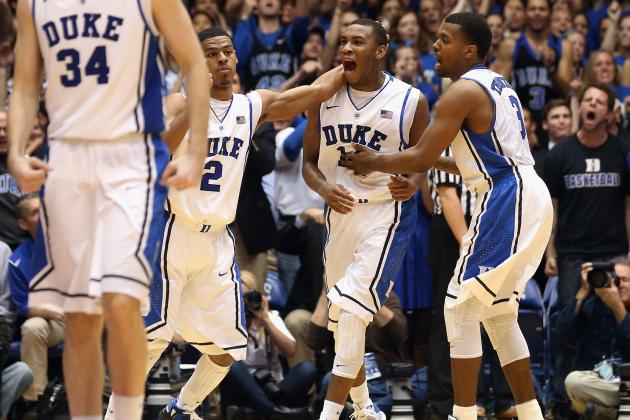 Streeter Lecka/Getty Images

Seth Curry is, as expected, the team's best three-point shooter. However, his nagging injury means that he could go down at any moment. Even if Curry guts his way through the entire regular season, the Blue Devils need another shooter to take some of the pressure off the hobbled veteran.
Both Quinn Cook and Rasheed Sulaimon started the year shooting the deep ball well. Recently, both backcourt bulwarks have struggled shooting from long range.
Prior to the Georgia Tech game, Sulaimon was 2-of-12 from three over five games. Cook, meanwhile, went 1-of-6 against NC State and 1-of-5 against Georgia Tech from behind the arc.
Sulaimon seems to have regained his stroke after going 3-of-4 from three against the Yellow Jackets, but the freshman sharp-shooter needs to provide a consistent three-point threat for Duke. If he's able to do so, it will extend the defense and prevent teams from clogging the paint to double-team Plumlee and prevent Cook's penetration.
Cook also needs to make the outside shot with regularity. His ability to drive has opponents playing off him. If Cook can create more of a threat from his three-point shot, defenders will have to play up on him. That should allow Cook to drive to the basket with greater ease.
Without Ryan Kelly, Duke is a much more traditional inside-out offensive team. That formula is only successful is the outside shooters are able to knock down threes. Furthermore, with Kelly gone, Cook needs to step up as the team's third-leading scorer while Sulaimon should elevate himself to a consistent double-digit contributor.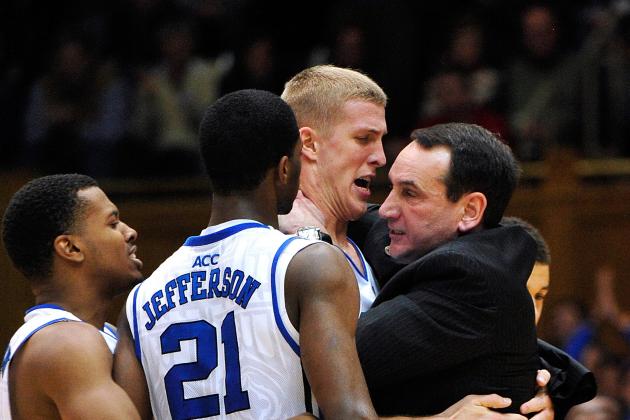 Grant Halverson/Getty Images

After defeating Kentucky, Minnesota, VCU, Louisville and Ohio State early in the season, Duke already has an impressive resume. Unfortunately, top teams in the Big Ten and Big East contending for a No. 1 seed will have plenty of opportunities in conference for marquee wins.
The ACC, on the other hand, doesn't offer Duke much in terms of opponents with national interest.
The rematch with NC State on February 7 in Cameron Indoor Stadium is an opportunity to chalk up another impressive win. But outside of the two North Carolina games, Duke won't play an opponent that garners national attention the way a matchup of two top Big Ten teams does.
As a result, any loss Duke suffers is perceived to be against a team far weaker than the quality competition found in other conferences. So any slip up suffered by the Blue Devils is a blemish far more glaring than a conference loss at the hands of a well regarded Big Ten or Big East team.
That being the case, Duke must atone for any off night suffered at the hands of a lesser opponent by making the most of games that draw a lot of eyeballs, including those of the selection committee, to the television set.
As I mentioned, the NC State rematch is on the top of that list and both rivalry games with UNC are opportunities for Duke to showcase its skills. But proving itself to be able to overcome hostile crowds at Maryland, Florida State and Miami would also serve to strengthen Duke's case for a No. 1 seed.
Regular-season losses aren't the end of the world, but if Duke's going to grab a top seed for March Madness, then the Blue Devils must make the most of their remaining marquee matchups.