Top 13 2012-13 UEFA Champions League Goals so Far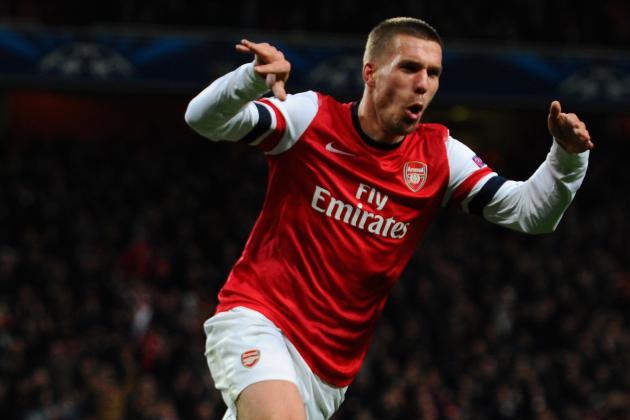 Mike Hewitt/Getty Images

The UEFA Champions League 2012-13 campaign has been filled with stunning goals so far.
We've enjoyed efforts from long range, mazy moments of individual brilliance and one or two that will dominate highlight reels for years to come.
I've taken a look through the Group Stage to hunt down the best. Is your favourite included? Read on to find out.
Begin Slideshow

»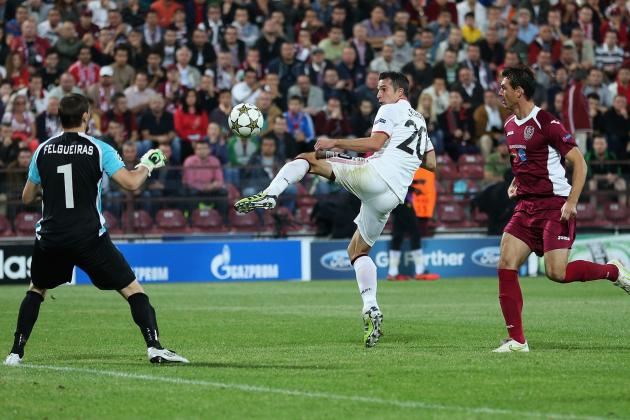 Julian Finney/Getty Images

Whittling down this list was extremely difficult. This year's competition has been crammed with goals that many remember fondly. Here's a handful that didn't quite make it onto the list:
Karim Benzema: Real Madrid 3-2 Manchester City, September 18
Robin van Persie: Cluj 1-2 Manchester United, October 2
Cristiano Ronaldo: Ajax 1-4 Real Madrid, October 3
Andres Iniesta: Barcelona 2-1 Celtic, October 23
Silvestre Varela: Porto vs Dynamo Kiev, October 24
Luis Alberto: Manchester United 0-1 Cluj, December 5
Group E: Nordsjaelland 2-5 Shakhtar Donetsk, November 20
No wonder Willian has his admirers. Judging by this goal, Chelsea and Spurs would do well to land the Brazilian for £20 million (via The Independent).
Once a misguided corner lands at his feet on the end of the area, all it takes is a dip of the shoulder and an accurate shot to send Shakhtar towards the knockout stages.
This goal makes the list for summing up everything the Urkainian outfit is about. Willian's ability to create an excellent goal from a difficult chance is one of the main reasons Shakhtar toppled Chelsea going into the next round.

Group G: Celtic 2-1 Barcelona, November 7
Okay, this goal isn't particularly special. A long ball catches Barcelona out, allowing 19-year-old Tony Watt to slot past Victor Valdes with amazing composure.
This strike makes the list for two reasons. The reaction at Celtic Park was unbelievable—Watt is unlikely to experience such rapturous celebration again in his career. Also, the youngster's winning goal played a massive part in sending the Scots into the last 16.
Group C: Anderlecht 0-3 Malaga, October 3
Malaga surprised everyone with an unbeaten run through the group stage. Eliseu's goal against a hapless Anderlecht had the Spanish outfit in dreamland during the second round of fixtures.
A corner drops to the Portuguese player's left peg in a pretty safe position. Unfortunately for the home side, Eliseu rifled it into the top corner without a second of hesitation.

Group C: Zenit Saint Petersburg 2-3 Milan, October 3
Stephen El-Shaarawy has been Milan's shining light this season. His goal against Zenit is one of individual brilliance—and as it turns out—importance to the Serie A side's progression into the next round.
With a burst of pace, clever flick and smart finish, the silly-haired Italian helped his team to all three points in Russia.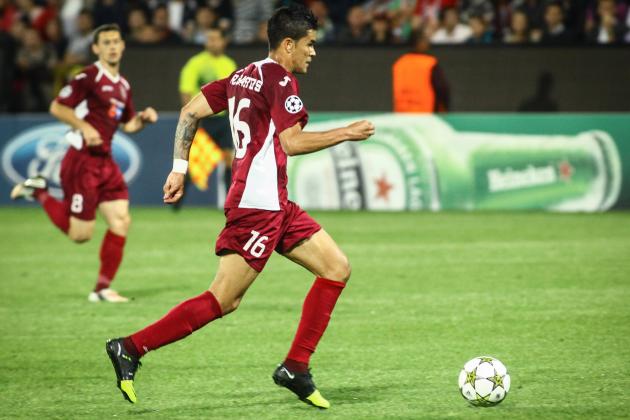 EuroFootball/Getty Images

Group H: Braga 0-2 Cluj, September 19
There aren't many videos of Bastos' goal online, but you can view his stunning moment of creativity right here.
This is one of those goals where everything goes right for the 28-year-old attacking midfielder. Setting up against his former club, watch as Bastos steals the ball, scrambles his way past the defence and lashes a thunderous blast into the net.
Group D: Borussia Dortmund 2-1 Real Madrid, October 24
A Champions League selection without Ronaldo and Messi? Well, just one makes it onto the list. Despite losing against Dortmund, Ronnie reminded the world exactly what he's capable of with a sublime finish over Roman Weidenfeller.
Latching onto a long pass, one bounce and a switch of body shape allows the Madrid man to dink over the approaching goalkeeper. This isn't as spectacular as other goals on the list, but Ronaldo's technique is second-to-none.
Group F: BATE Borisov 0-2 Lille, November 20
Djibril Sidibe certainly had a game of two halves against BATE.
He curled home a fantastic goal in the first 45 minutes. BATE's entire team could have been on the line and they wouldn't have stopped this one. It's a real postage stamp of a strike.
Unfortunately for the 20-year-old, he was sent off for a second bookable offence and Lille finished with just one win.
Group D: Ajax 1-4 Real Madrid, October 3
Scissor-kicks are in fashion this year. Karim Benzema didn't need a second opportunity to finish an incisive attacking move with one of the competition's most memorable goals.
Watch the big man screw his body into the shot for extra power. He was never going to miss.

Group D: Manchester City 2-2 Ajax, November 6
Moving on from Benzema's goal, another behemoth provided a moment of balletic skill during the Group Stage.
Yaya Toure is known for his unstoppable forward runs, not his ability to kill a high ball dead, turn on a dime and score within two seconds of receiving possession.
The speed in which he completes this move is incredible, even if it failed to save City's hopes of further European football for the season.

Group B: Arsenal 2-0 Montpellier, November 21
Here is a moment of real quality from Arsenal.
Lukas Podolski's short pass is chipped back towards his position by Olivier Giroud, allowing the German to smash beyond Montepellier's rearguard.
This is a flowing move from start to finish—one the opposition probably should have sat down and admired. It's not like Montpellier's defence were ever going to stop it.

Group E: Chelsea 3-2 Shakhtar Donetsk, November 7
Many will outline this goal as the best in the competition. Funnily enough, I don't even think it's Oscar's best this campaign.
The Brazilian capitalises on a poor clearance to swoop an impressive shot into the open net. He reacts instinctively, composes himself and uses the outside of his boot to comfortably score from just inside the opposition's half.
Group E: Chelsea 2-2 Juventus, September 19
Here he is again. I've placed this effort above the previous goal due to its sheer speed and creativeness.
Oscar flicks a pacey ball away from the opposition with a magnificent first touch. From here, a Michael Jackson spin sees off any threat and affords him one second to curl a ridiculously accurate humdinger into the top corner.
How often do you see Gianluigi Buffon at full stretch and still nowhere near the ball?

Group C: Anderlecht 1-3 Milan, November 21
Undoubtedly the best goal in the competition so far. Phillipe Mexes isn't renowned for scoring, let alone scoring bicycle kicks from the edge of the box.
He receives a free kick on his chest and has the audacity to launch a shot with his back to goal. In this instance, I urge you to watch the video numerous times. Words fail to describe just how perfect this moment is.
Do you agree with my choices? Will Mexes' goal be bested in the knockout stages? Let me know in the comments section below and be sure to follow me on Twitter: