2013 NFL Mock Draft: Projecting the Safest Pick for Every Team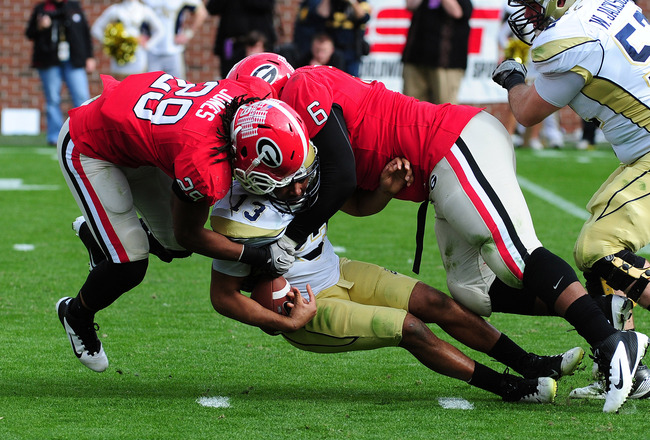 Scott Cunningham/Getty Images
"Safety first" isn't just a motto that Roger Goodell and his cronies put forth to appease former players, it's a solid draft strategy.
People always want to take risks when putting together their 2013 NFL mock drafts. But limiting risk is a mantra that many coaches and general managers follow.
Thus, these picks will focus on those players who are the best bets to produce, as opposed to drafting with the hopes that a certain selection reaches his supposed limitless ceiling. The focus is on finding the right spots where the potential value meets real substance.
With that in mind, click through for mock draft selections made with safety in mind.
1. Kansas City Chiefs: Texas A&M OT Luke Joeckel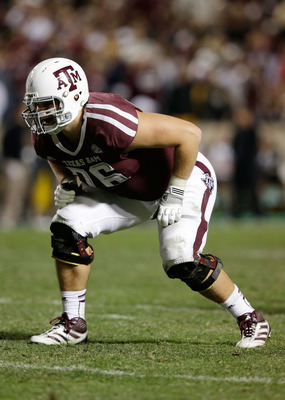 Scott Halleran/Getty Images
Remember, we're talking about the safest pick here. Reaching for Geno Smith, while he has the talent, is a gutsy (and probably foolish) move.
Defensively, there are plenty of questions for a unit that gave up over 26 points per game. But Jarvis Jones will take away from a decent linebacking corps (Derrick Johnson, Tamba Hali and Justin Houston). Plus, Dontari Poe is too young to bring in unless the new regime is willing to completely cut ties with Scott Pioli's picks.
Thus, grabbing the big tackle from Texas A&M is the smartest move left. Luke Joeckel can slide directly into the starting lineup and replace the departing Branden Albert.
2. Jacksonville Jaguars: Georgia LB Jarvis Jones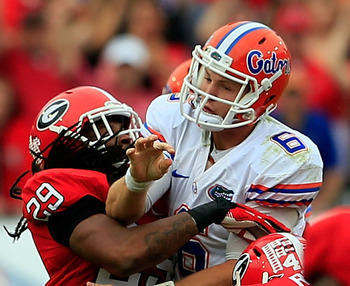 Sam Greenwood/Getty Images
There is absolutely no reason to be cute here. That waiting until the clock winds down and then handing in your pick like you're mulling it over is junk; it's just that—junk.
The Jacksonville Jaguars should have their pick in before any teams start calling with trade offers. They need defensive playmakers. Jarvis Jones is a defensive playmaker.
He can wreak havoc in the backfield (14.5 sacks and 24.5 tackles for loss) and drop into coverage. He even added an interception.
Flat out, the kid is someone who an offensive coordinator needs to account for.
3. Oakland Raiders: Utah DT Star Lotulelei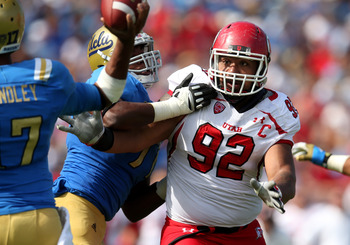 Stephen Dunn/Getty Images
Star Lotulelei is possibly the safest pick in the draft. You cannot teach quickness and speed to a man that big (6'4", 320 lbs). He either has it or he doesn't.
And Mr. Lotulelei has it.
He's a bigger Ndamukong Suh. An interior defensive force that can absorb blockers and still make a play. That's above and beyond the call of duty.
Alabama's Chance Warmack would also be a nice call in this slot, but the value offered by Star is too much to pass up.
4. Philadelphia Eagles: Alabama CB Dee Milliner

Dee Milliner NFL Player Comparison

A safe pick is one that can be plugged into the lineup without hesitation. It's a player you can trust to handle the basics of the position.
That's Dee Milliner.
He has decent size (6'1", 199 lbs) and isn't afraid to throw his weight around against the run. More importantly, cornerback is absolutely a position of need for the Philadelphia Eagles.
It'll be interesting to see which Eagles defensive backs remain on the roster next season. Regardless of whom they keep, they should certainly add Milliner. He's the best corner in the draft and has the natural instincts to help right away.
5. Detroit Lions: Texas A&M DE Damontre Moore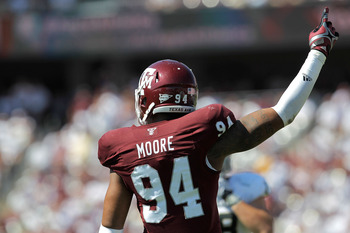 Sarah Glenn/Getty Images
The Detroit Lions are defensive-tackle rich and defensive-end poor.
Cliff Avril has taken a step back, but will still demand a contract that is too large in order to stay in Motown. Kyle Vanden Bosch was the worst-rated end according ProFootballFocus and isn't getting any younger.
Damontre Moore slightly edges out FSU's Bjoern Werner here. The longer arms to keep offensive tackles at bay and superior athleticism make him a more valuable commodity.
Chance Warmack again gets the shaft despite the Lions' need to get younger on the offensive line.
6. Cleveland Browns: Alabama OG Chance Warmack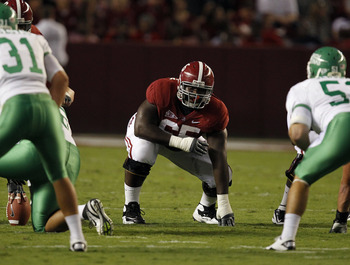 Butch Dill/Getty Images
Quiet your groans, Cleveland Browns fans. Chance Warmack is an impact player, it just isn't the type of pick that gets your engine revving.
Warmack is as safe as any pick in the draft. He's massive (6'3", 320 lbs) and pushes people around with ease. His presence will make things easier for Trent Richardson to deliver on his lofty draft status.
Since the Browns are likely to move to a 3-4 defensive scheme with the recent hiring of Ray Horton, Bjoern Werner isn't a good fit since he's not big enough to play inside and not quick enough to play outside linebacker.
Barkevious Mingo is certainly intriguing in this spot, but is too risky to be taken over Warmack.
7. Arizona Cardinals: Florida State DE Bjoern Werner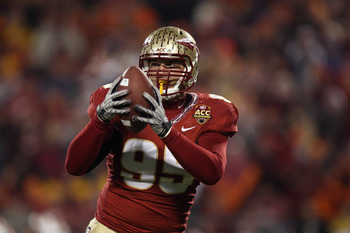 Streeter Lecka/Getty Images
A new head coach and defensive coordinator equal a new defensive scheme for the Arizona Cardinals. The Cards will likely shift to a 4-3 scheme under Bruce Arians and Todd Bowles, meaning a sleeker defensive end will be required.
Enter Bjoern Werner. He could easily be off the board by this point, but he would be a great pick, from a value or safety perspective, in this slot.
Darnell Dockett could very well be gone by the time Arizona opens camp, and Werner has proven he has the skills to get after the quarterback. He was a consensus All-American and racked up 13 sacks and 18 tackles for a loss.
8. Buffalo Bills: LSU DE Barkevious Mingo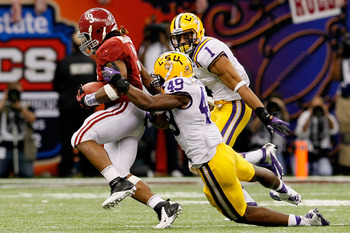 Kevin C. Cox/Getty Images
So much of the hype surrounding Barkevious Mingo is centered on his upside, mainly because his ceiling is ridiculously high. But that doesn't mean we can't give him a decently high floor as well.
Mingo may need to add a little weight as he's only 242 pounds, but he's 6'5" and there is plenty of room for him for him to add mass. His possible impact opposite Mario Williams is too large for the Buffalo Bills to ignore.
He's proven he can play at the defensive end spot, as he often did while at LSU. Mingo has some slight risk, but we're getting to the point where there are no more sure-fire home runs. Especially at positions of need for the Bills.
9. New York Jets: Texas S Kenny Vaccaro

Kenny Vaccaro NFL Player Comparison

Is this where the New York Jets take a chance on Geno Smith? In reality, maybe. In our version of the draft, no.
The right pick here is Kenny Vaccaro. The New York Jets could potentially lose both safeties to free agency, and neither would be much of a loss.
Bringing in Vaccaro would provide a defensive back who can make plays against the pass and the run. And he's easily the best safety in this year's draft.
10. Tennessee Titans: Notre Dame LB Manti Te'o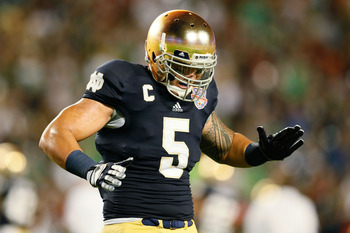 Kevin C. Cox/Getty Images
This is the part when you stop, stare and declare that the train has officially gone off the tracks.
Take it easy. I know that Manti Te'o is currently embroiled in the strangest controversies to ever hit the Internet. That doesn't completely negate the stunning career that Te'o has put together.
He's still a top-10 talent that will provide a thumper up the middle for a team that desperately needs it. He'll immediately bolster a rushing defense that ranked 21st, and he hauled in seven interceptions last year, good enough for second in the nation.
That's a complete linebacker.
11. San Diego Chargers: Central Michigan OT Eric Fisher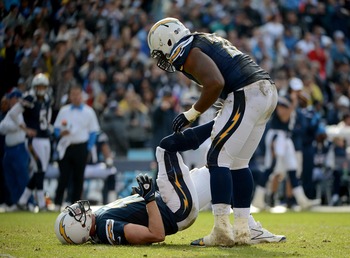 Donald Miralle/Getty Images
Somewhere, Philip Rivers is smiling.
The San Diego Chargers need to protect their one-time franchise quarterback. They shouldn't pull the plug until they see what he can do when allowed to keep his eyes down the field.
That's why Eric Fisher is the smart pick here. He's been dominant against inferior MAC competition and has the size (6'8", 305 lbs) and speed to handle players of any style.
12. Miami Dolphins: Missouri DT Sheldon Richardson
Ed Zurga/Getty Images
Cameron Wake needs some help. He racked up 15 sacks, but nobody else on his team was able to reach higher than five.
Therefore, the Miami Dolphins should add another sack artist, or someone who can at least create pressure.
There really isn't a safe defensive end at this spot who would provide the right value. So turning to Missouri defensive tackle Sheldon Richardson is the next best option.
He fell just four shy of the team lead in tackles, while also showing burst up the field to harass quarterbacks. He is able to keep offensive lineman off of him due to great hand use, making him a great bet here.
13. Tampa Bay Buccaneers: BYU DE Ezekiel Ansah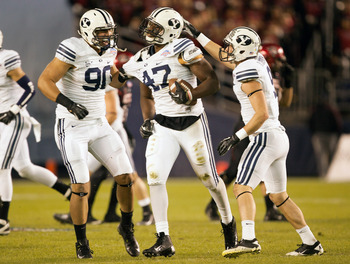 Kent Horner/Getty Images
The Tampa Bay Buccaneers need to find a way to stop the pass. There aren't any defensive backs that make you feel great about picking them in this spot, so we naturally turn to the pass rush.
Ezekiel Ansah is a fast-rising defensive end whose draft position is difficult to project. His stock could rise into the top 10 and fall back into the teens by the time the draft actually arrives.
The Bucs have spent a few picks on ends lately, but unsurprising injuries have limited their effectiveness. In Ansah, they get a prospect who can get after the quarterback, something Tampa has severely missed.
Some may still regard him as a project. His rapid improvement would suggest otherwise.
14. Carolina Panthers: Ohio State DT Johnathan Hankins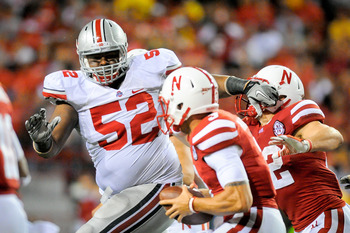 Eric Francis/Getty Images
The Carolina Panthers need a big man to take up space in between Greg Hardy and Charles Johnson. In this year's draft, there are few men better suited to such a task than Johnathan Hankins.
Hankins is not going to get after the quarterback. However, he can control the middle of the line, which will occupy an extra blocker, leaving Luke Kuechly to roam untouched. Kuechly racked up a ton of tackles on his own last year, there's no telling to what he'll do now.
The 335-pound man will also free up Hardy and Johnson to build on their combined 27 sacks last year.
15. New Orleans Saints: LSU DE Sam Montgomery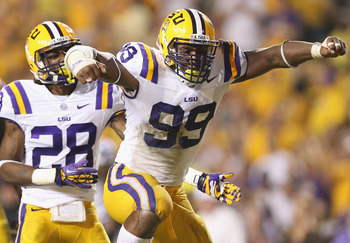 Ronald Martinez/Getty Images
The New Orleans Saints offense has to constantly operate on all cylinders in order for the Saints to win. The defense offers little resistance to opponents, whether through the air or on the ground (31st and 32nd, respectively).
Creating a pass rush, one that includes a player who can grab more than eight sacks, is the vital concern heading into the offseason. Sam Montgomery is the type of player who can prove valuable in such a search.
He racked up as many sacks as the Saints leader in fewer games and against far fewer passes. It might seem against the "safe" movement, but the need for a pass-rusher outranks any fears.
16. St. Louis Rams: Tennessee WR Cordarrelle Patterson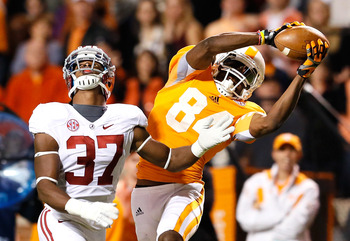 Kevin C. Cox/Getty Images
In a bit of luck, Jeff Fisher gets a present to help him rebuild a mediocre passing attack.
Our scenario presents Cordarrelle Patterson.
He will give Sam Bradford a legitimate red-zone target (6'3") as well as a safety (there's that word again) valve when things go haywire. As in, Bradford is on the run and needs a big play so throw it up and let Patterson go get it.
Additionally, his ability to make plays with the ball will provide a screen option for Bradford on the outside.
17. Pittsburgh Steelers: North Carolina OG Jonathan Cooper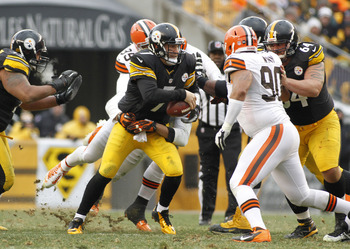 Justin K. Aller/Getty Images
The rebuilding project along the Pittsburgh Steelers front line is far from complete. The lack of talent almost literally killed Ben Roethlisberger this year.
Mike Adams might improve next year and David DeCastro should rebound from an injury-plagued year. However, there is an obvious lack of talent anytime Max Starks is a starting tackle.
Jonathan Cooper can immediately improve the interior of the line. He can create running lanes at each level of the defense.
18. Dallas Cowboys: Alabama OG Barrett Jones

Barrett Jones NFL Player Comparison

The Dallas Cowboys cannot run the ball.
And I certainly don't understand why Barrett Jones keeps falling down draft boards. The guy has shown he can play every position along the offensive line and do so well.
That seems like a valuable commodity to me.
Jones is most certainly a safe pick because he's a known quantity: a supremely talented and selfless offensive lineman. Just plug him in and then don't worry about that particular position for the next decade.
19. New York Giants: Oregon DE Dion Jordan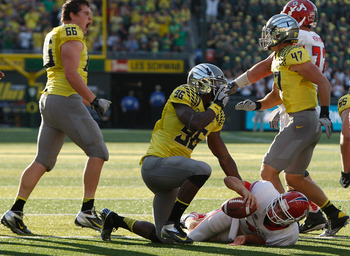 Kevin Casey/Getty Images
It's time. Every mock draft you will find has the New York Giants looking for a young pass-rusher. New blood is needed to replace Justin Tuck and Osi Umenyiora.
More than likely, Dion Jordan will have been taken by now. He isn't completely developed yet, but he is still a big enough playmaker to consider him a safe bet at No. 19.
He's long and has a Jason Taylor look to him (tall and lean). In fact, he is one-inch taller, meaning he has plenty of length to fend off offensive tackles. And to strip quarterbacks.
20. Chicago Bears: Notre Dame TE Tyler Eifert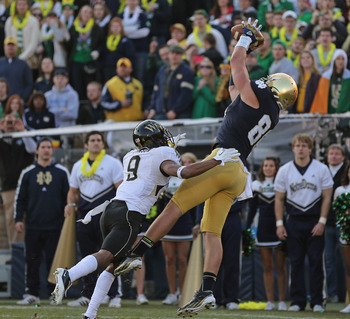 Jonathan Daniel/Getty Images
A defensive first round such as 2013's isn't going to yield enough offensive lineman for the Chicago Bears to address their biggest need. However, the next best form of quarterback security is tight end.
Tyler Eifert has completed a nice career in South Bend. Now, he's ready to move on to the Second City to become Jay Cutler's second-favorite target.
When Cutler isn't passing to Brandon Marshall, he's usually looking for Marshall while scrambling for his life. Having a big, sure-handed target who can line up all over the field can't hurt for when Cutler decides not to force it to Marshall.
Alec Ogletree was another thought here, but his need for coaching didn't clear the cost of a first-round pick. Not for the Bears anyway.
21. Cincinnati Bengals: Georgia LB Alec Ogletree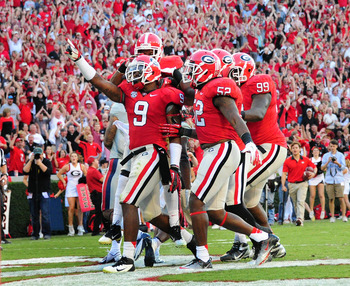 Scott Cunningham/Getty Images
All it took was one more spot and a team more linebacker-needy than the Chicago Bears.
There aren't any other positions where it would make sense for the Cincinnati Bengals to spend such a high pick. The linebacking corps is in trouble outside of Vontaze Burfict as Rey Maualuga isn't living up to the hype (18 missed tackles in 2012).
Alec Ogletree will give them someone who can make a difference. When a big play needs to be made, Ogletree can do it, whether it be in the backfield or in coverage.
22. St. Louis Rams: Stanford TE Zach Ertz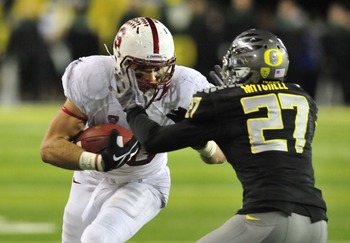 Steve Dykes/Getty Images
Again, can't find an offensive lineman to fit the bill, then go with a tight end.
Zach Ertz will go somewhere in the 20s anyways. Plus, the St. Louis Rams have already grabbed Cordarrelle Patterson in this scenario, meaning they probably wouldn't make a play for Keenan Allen.
Ertz comes in from Stanford, and the school knows how to use pass-catching tight ends. He'll be able to contribute right away and could easily become one of Sam Bradford's favorite targets by the end of the season.
23. Minnesota Vikings: Georgia DT John Jenkins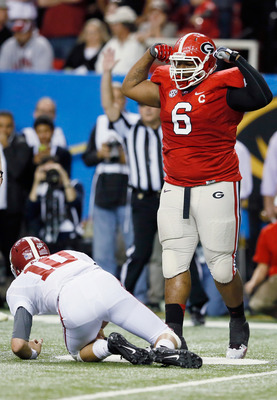 Kevin C. Cox/Getty Images
Percy Harvin is the only true receiver that the Minnesota Vikings have. Thus, many people see Keenan Allen from California here.
That's not a bad selection. But with all the talented wide receivers that could be available in free agency, the Vikings can use this pick to strengthen the always-strong Minnesota defensive interior.
John Jenkins is a behemoth (358 lbs) who can take care of the middle by himself. Put him next to someone in the 4-3 and there will be absolutely no running up the gut on the Vikings defense.
24. Indianapolis Colts: Alabama DT Jesse Williams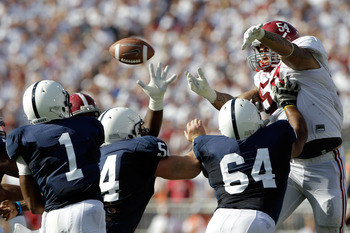 Rob Carr/Getty Images
The Indianapolis Colts are terrible defensively up the middle. Some inspired play helped cover the warts, but opposing running backs were allowed to do whatever they wanted.
That's why defensive tackle Jesse Williams makes a lot of sense here.
He provided the front line of another shut-down Alabama defense. He has the necessary demeanor and skill to immediately make an impact.
25. Seattle Seahawks: Florida DT Sharrif Floyd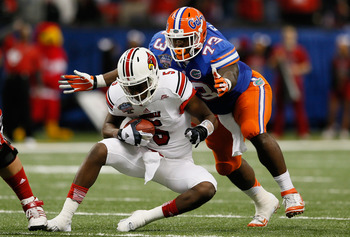 Kevin C. Cox/Getty Images
The Seattle Seahawks could use some offensive lineman to plug into the right side. Other than that, most other picks are going to be luxuries.
However, padding the defensive line against injury would be an intelligent luxury. Once Chris Clemons went down, the Seahawks pass-rush took a nosedive.
Sharrif Floyd would be an excellent pick to add some depth along the defensive line. His 303-pound girth means he can play inside, but he has the speed to play outside as well.
Seattle could bring him in exclusively on passing downs, which would certainly spark more quarterback hurries.
26. Green Bay Packers: Alabama OT D.J. Fluker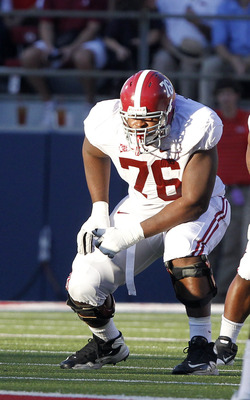 Butch Dill/Getty Images
If you watched the BCS National Championship Game, you're aware of how dominant Alabama's offensive line was. That's why it should serve as no surprise that the Alabama Crimson Tide will have three of those lineman drafted in the first round.
The Green Bay Packers were gashed by Colin Kaepernick. Yet, that looked like an issue of preparedness as much as talent.
The Packers need to do a better job in pass protection, and open clear running lanes since they lack a back with make-you-miss stuff. As pointed out by Drafttek, D.J. Fluker could be moved inside where he can use his massive frame to handle such responsibilities.
27. Houston Texans: California WR Keenan Allen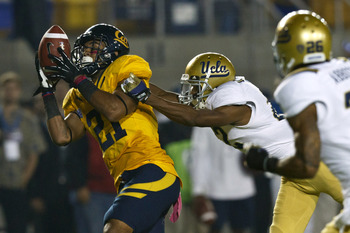 Jason O. Watson/Getty Images
This pick should come as no surprise either.
The Houston Texans' lack of a viable second receiving threat was ultimately their undoing. All an opponent needed to do was focus its attention on Andre Johnson (although that's not easy) and the passing game lacked bite.
Keenan Allen is a big receiver (6'3", 210 lbs) who can stretch the field horizontally, as in the defense must account for more than Johnson's half. He'll catch whatever is thrown to him and help move the chains.
28. Denver Broncos: Mississippi State CB Johnthan Banks
Kevin C. Cox/Getty Images
The Denver Broncos didn't get out of the Divisional Round because they couldn't stop the Baltimore Ravens.
I'm not pinning all that blame on Champ Bailey. He had a great year aside from that game.
But the time has come to get a little younger in the secondary. Johnthan Banks provides some youth and is a known quantity: a solid cornerback.
Not great, but solid.
29. New England Patriots: Baylor WR Terrence Williams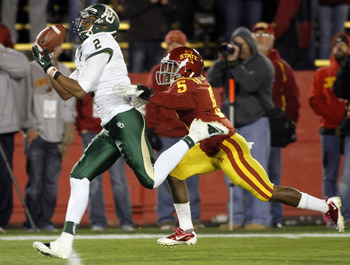 Matthew Holst/Getty Images
There is a lot of uncertainty looming for the New England Patriots wide receiving corps this offseason. Wes Welker must be franchise tagged or paid over a long-term contract while Julian Edelman is also set to hit the market.
Even if they were to keep one of those players, Brandon Lloyd hasn't turned out to be the deep threat that the Patriots coveted when they signed him. Terrence Williams would go a long way towards solving that problem.
The burner can stretch the field. He's also big enough to go up and challenge defensive backs for jumpballs.
30. Atlanta Falcons: Texas DE Alex Okafor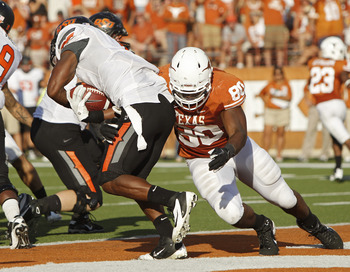 Erich Schlegel/Getty Images
The Atlanta Falcons offense is fine. The same can't be said for the defense.
Outside of John Abraham, the Falcons failed to generate much of a pass rush. Relying on an aging defensive end isn't a solid strategy moving forward.
In Alex Okafor, Atlanta gets a player who can provide some pass rush without sacrificing run support. He's an excellent talent that will be able to contribute from the opening day of training camp.
31. Baltimore Ravens: LSU LB Kevin Minter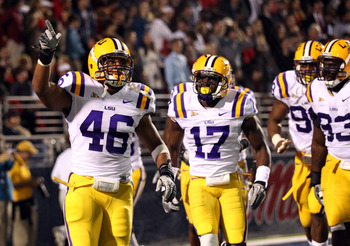 Joe Murphy/Getty Images
If you've been fortunate enough to avoid the scads of stories, Ray Lewis is set to retire after the Super Bowl. I'm sorry I had to be the one to break it to you.
Thus, the Baltimore Ravens should probably start looking to bolster their linebacking corps. Terrell Suggs' recent injury woes only add to the argument.
LSU's Kevin Minter has been a key cog in the defensive machine on the bayou. He has all the physical tools to handle pass coverage as well as stuff the run.
32. San Francisco 49ers: Purdue DT Kawann Short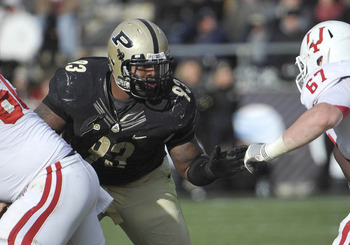 Sandra Dukes-USA TODAY Sports
There aren't many holes on the San Francisco 49ers roster. However, that doesn't mean there can't be improvements.
Isaac Sopoaga hasn't consistently performed up to the level of the rest of the defense. ProFootballFocus gave him a minus-9.5, by far the lowest grade on the defensive unit.
Kawann Short has the girth (325 lbs) to immediately fill the gaps and keep Patrick Wills and NaVorro Bowman clean. He's also quick enough to penetrate and make a play on his own occasionally.
Keep Reading